Challenges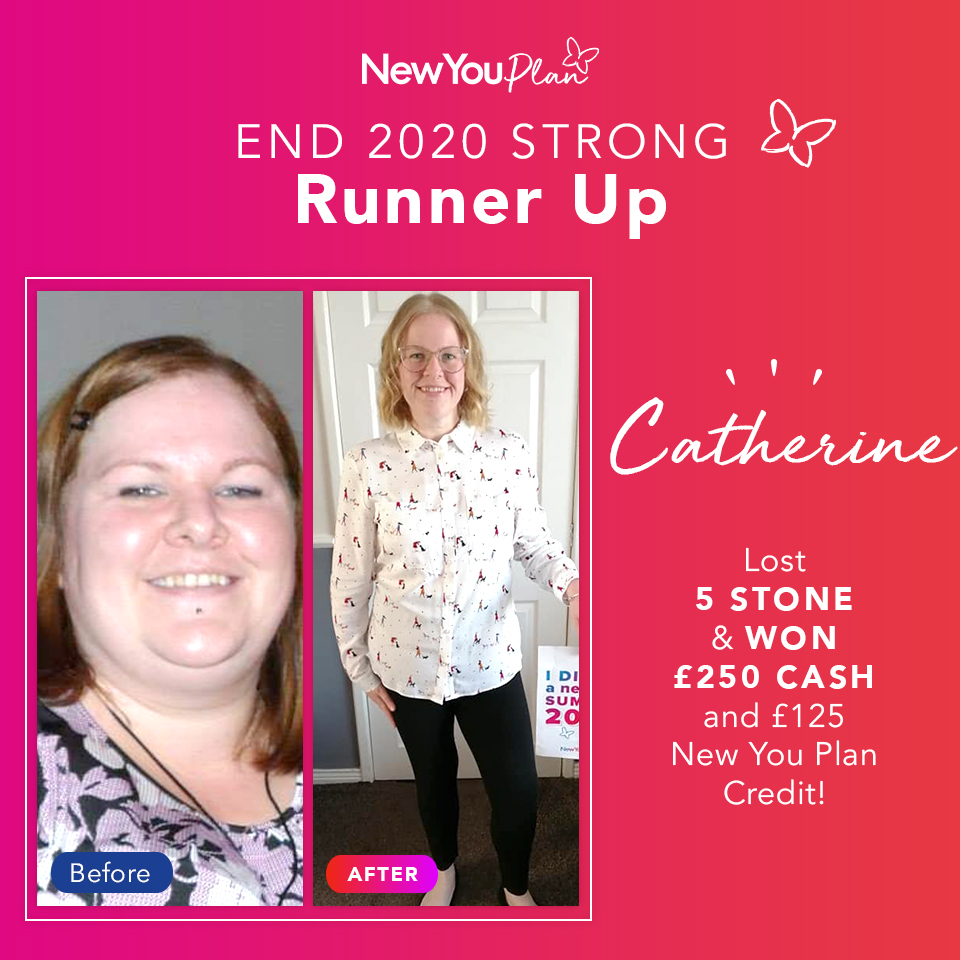 'End 2020 Strong' Challenge Runner-up, Catherine, lost five stone and five dress sizes and WON £250
Catherine started the New You Plan for health reasons and since April 2020 has lost an amazing five stone together with five dress sizes, going from a size 24 down to a size 14. 

She was crowned runner-up in the End 2020 Strong Challenge and won £250 in cash and £125 New You credit. 

Here's what she had to say about her journey so far…

How did you hear about the New You Plan?
I found it on Google. I did a similar diet about 15 years ago. Total meal replacement was on my mind and every time I googled it, I kept seeing the New You Plan. I kept going back to it. I looked at it first in December and didn't place my first order until April. I sat on it for four months before I really decided. I thought I would get a week box to try and if I don't like it then it's not the end of the world. 


What was your motivation to begin and stick to the plan?
Predominately it was health reasons. I could have gone to the doctors with my toe falling off and he would have said 'it's because you're overweight'. Every little thing I went for, it was 'if you lose some weight then you'll feel better' or 'if you lose some weight, your rash will go away'. It was always the same. So it was mostly for health reasons. I thought 'if I keep going the way I'm going then I'm going to explode'. 


How much have you lost in the End 2020 Challenge and how much in total on the plan?
On plan I've lost just over five stone over the past year since April but my total weight loss is about seven and half stone because I dieted about three years ago. 


How were you feeling before you started the plan?
So low. I had really bad social anxiety but I was so worried about what people would think. If I went out for a meal I thought people were looking at me. In my mind I could see people in the back of my head judging me constantly. It wasn't a good mindset to be in. 


What have you found most enjoyable about the New You Plan?
There's not a lot that I don't enjoy. I was telling one of my friends all about the New You Plan this week when my friend came round for a coffee as she's a big girl, she's been going to the gym and she's actually put four pound on this week so she was a bit disheartened. I was telling her that there's lasses on the group who have only lost a pound in a week and they feel better, their jeans fit better and they sleep better. The benefits that you don't even think about make your life so much better and so much easier. My attitude is better and I sleep better. That sets your day up so much better. 


Have you struggled with anything and if so, how have you overcome these struggles?
Definitely. Time of the month cravings for me has been a big stumbling block for me. I get lost in the cycle of 'I want, I want, I want'. I try to plan my packs for that time and an extra snack so I'll have a bag of gummies and keep my crisps for later. It's forward thinking and realising why I'm having a craving. It really helps to know the trigger, the reason and know there's a workaround. 


What are your favourite New You Products?
It changes all the time. In the beginning I couldn't stand the strawberry milkshakes and now they are my favourite. I love chicken soup too. 


How many dress sizes have you dropped?
I have gone from a 24/26 down into a 14 on the bottom and I can get into a 12 on the top. So five dress sizes. It still hasn't sunk in. My mind hasn't caught up yet.


Have you reached your target and if not, how much have you left to lose?
My original target was 10 stone but when I got to 12 I decided to change it and take it up to 11 stone because I felt really comfortable getting to 12 stone. I would be happy to maintain at this point. I would like to get down to 11 and that would take me to the healthy BMI range. So that is my goal after Christmas to drop one more stone and work on proper maintenance from there. 


Why did you decide to take part in the End 2020 Strong Challenge?
It was more taking part in the group and joining in with the group that kept me going. There's no pressure to be in the challenge so it's nice that you can come into it and it doesn't matter what the outcome is, just as long as you're taking part. I got to the end and felt like I hadn't done very good as I maintained for the last two months really. Everyone posting their pictures is lovely for you to see.


What is the biggest lesson that you have learnt taking part in the challenge?
Be kind to yourself. For the longest time, my life focussed on the negatives because that's what happens when you've got a low mental health. It becomes all consuming and it's really difficult to focus on the positives. And now it's finding the silver lining. That's the biggest lesson for me. Be kind to yourself. Look for silver lining. No matter how small, there's always something there and that changes your whole outlook, once you decide to look for the positives. Suddenly the negatives seem to just go away, as magical as it sounds. You're not thinking about it 24/7. 


Has the plan changed your life and has your health improved?
It has absolutely changed my life. I'm more confident. The house has never been so clean. My husband has never been so happy. The health side has been excellent. I'm not sitting on my backside anymore. I want to get up and move about. The dogs never been on so many walks.


What advice would you give to someone starting to New You Plan? 
Don't go in with major expectations but try. Give yourself the opportunity you deserve to have a go. It might not be for everybody but if you can get past that first big tough week you'll come out the other side laughing in the best position of your life and you'll thank yourself for doing it. 
Join our us for a New Year New You challenge and win £3000 CASH!