Candida's Blog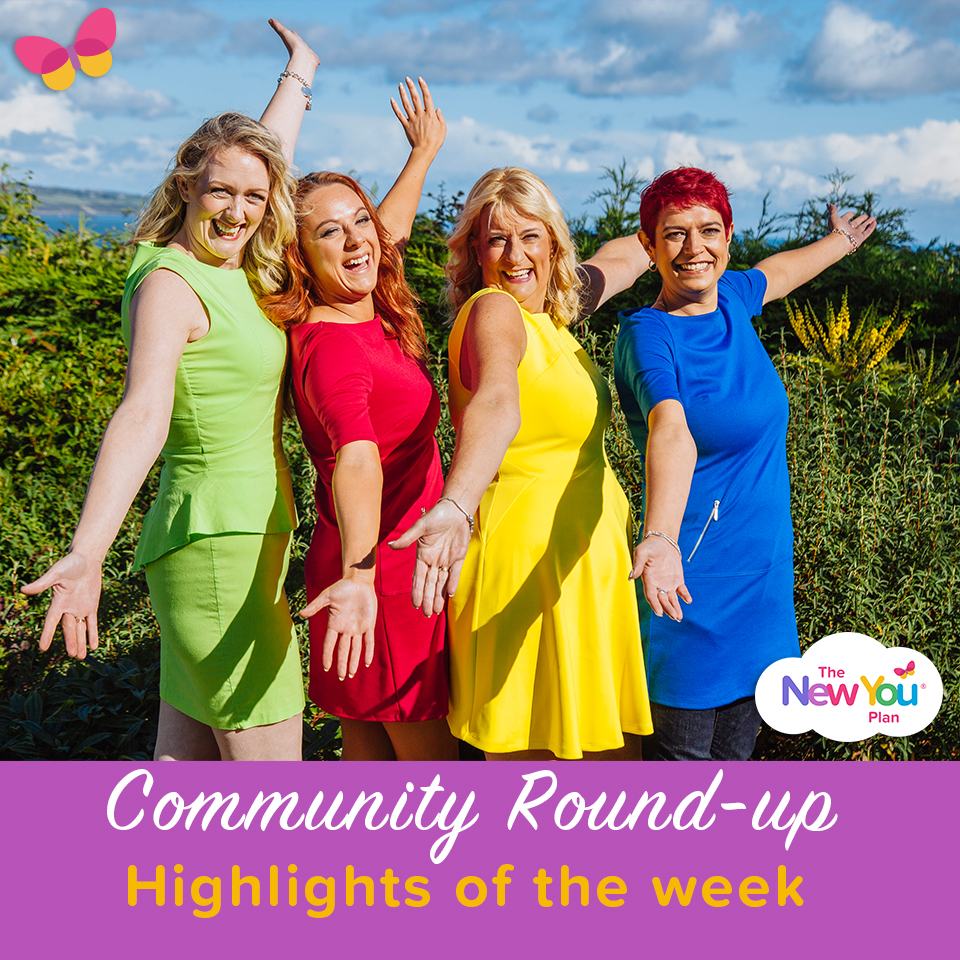 Our Diet Support Group Highlights Of The Week!

As another week passes, our Community Manager, Candida, rounds up her highlights of the week shares in our amazing diet support group.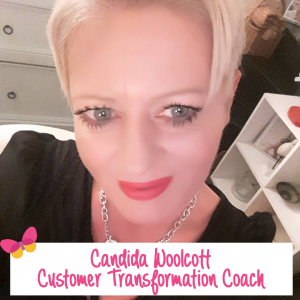 A great attitude becomes a great day, which becomes a great month, which becomes a great year, which leads to an AWESOME life. This is what we want for you! This week there's been so many uplifting and fabulous posts in our Secret Slimmers & Momentum Maintainers groups, which help to make our community so incredibly amazing.
There is nothing more fantastic than reading buzzing posts about your love for New You and how it is changing not just your body but your mindset too. We aim to lift you as high as possible to make your dreams come true.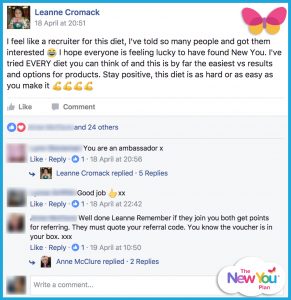 I absolutely loved Leanne Cromack's post which says it all: "…..I hope everyone is feeling lucky to have found New You. I've tried EVERY diet you can think of and this is by far the easiest vs results and options for products. Stay positive, this diet is as hard or as easy as you make it".
Secret Slimmers is all about endless support and helping to give you the utmost confidence to achieve your weight loss goals, or to perhaps help you through bad times which inhibit your goals. But no matter what, we will always be there for you!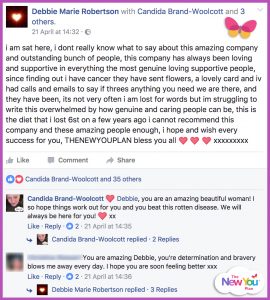 Debbie Marie Robertson posted a heart felt love for our incredible community and the support she has received from New You. She said: "I don't really know what to say about this amazing company and outstanding bunch of people, this company has always been loving and supportive, the most genuine people, since finding out I have cancer they have sent flowers, a lovely card and I have had calls and emails to say if there is anything you need we are there, and they have been….". When you face difficult times, know that they are not sent there to destroy you but to strengthen you!
Looking at some of your weight losses this week, you have been really focused and committed to the plan. Sue McKie has lost 25Ibs in 5 weeks. She said: "This diet rocks! It's the first time in my life that I have stuck to a diet 100%."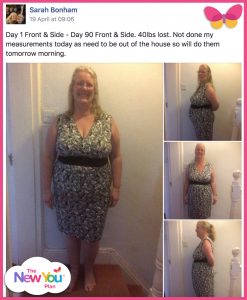 Sarah Bonham is looking incredible having lost 40Ibs in 90 days – WOW! Here's a closer look at her transformation photos!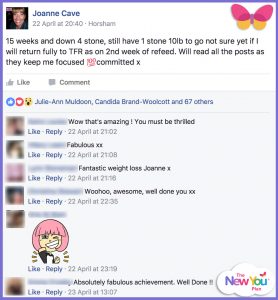 Joanne Cave is so close to her goal now with only one more stone to go, having lost a fabulous 4 stone in only 15 weeks.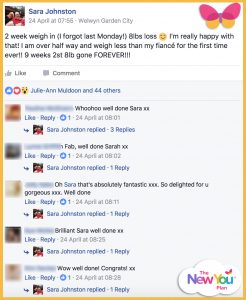 The lovely Sarah Johnston was happy to announce this week that she now weighs less than her fiancé.
A big C-O-N-G-R-A-T-U-L-A-T-I-O-N-S to Ashling Eagars Whelan! Ashling posted this: "I did it!! I've lost 2st. I started mid February and with the exception of two breaks I am finally gone from 11st 12 to 9st 12! I can't thank new you enough! I also owe a big thanks to my Aunty, who started me off on this amazing journey (my angel). She knew I could do this, she introduced me to this plan when I was at an all time low, hence why I call her my Angel. I need to loose a bit more but need to go back on re-feed, so I feel a bit scared by that, but I will succeed! It's very seldom I cry with happiness, but I did when I stepped on the scales this morning!!! Just know, if you are having a wobbly day, it will pass, you will and can do this! If I can , anybody can!!!!" WOOHOO!"
It has been battle of the chefs this week! Will Chef Pauline lose her culinary crown as Angela Efogwo tempts us with her creative delights? Angela's Chilli and Omelette wraps with a Curry Sauce drizzle looked tastetastic! Ingenious use of the packs and beautifully presented! We might have to bring back The New You Cook Off for 2017!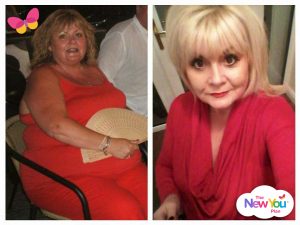 This week I would like to introduce you to one amazing and beautiful lady, who has been an endless support not only to me whilst I was on my journey but to all of you… Anne McClure!
Her dedication, immense knowledge and love shines through on a daily basis to brighten our days and keep us on the path to reach our goals.
Anne started her incredible journey back in June 2013 weighing in at twenty three and a half stone and lost a whopping 7 stone.
Anne had serious health problems which meant she really needed to lose weight. As you can see from her picture, she looks absolutely amazing. If you have never seen one of Anne's videos then you are sorely missing out on her excellent advice and her gorgeous soothing Scottish accent.
Anne lives in Carluke with her husband Jim and her three 'hairy weens'. She is a doting Grandmother and finds sanctuary regularly in her holiday home.
I have had the privilege of meeting Anne a few times and she is really one of the most inspiring, genuine and lovely people I have ever met and the most glamorous too!
Anne is one of our Cheerleaders/Admin and her contribution to our community is insurmountable. Her love of New You and Secret Slimmers shines through in all that she does for us!
Anne is currently back on plan after a series of exceedingly sad times for her and her family and totally smashing it once again! <3
Keep smiling Secret Slimmers! Never give up, no matter hard it may seem at times! Stay focused, stay positive, stay strong! Before you know it and in such a short space of time, the caterpillar will transform into a stunning, happy and beautiful butterfly! Have the most fantastic week!


________________________________________________________________________________________________
Start Your TFR Journey Today!

Getting started is the first step in your journey to a brand New You! To help you understand fully how our plan works, our Get Started page with designed specifically for people new to the plan.
Head over to our site where you'll find tonnes of important information including how our plan works, the science behind it, loads of top tips, information on our meals, as well as real customer testimonials.
Click here to visit our Get Started page!