Challenges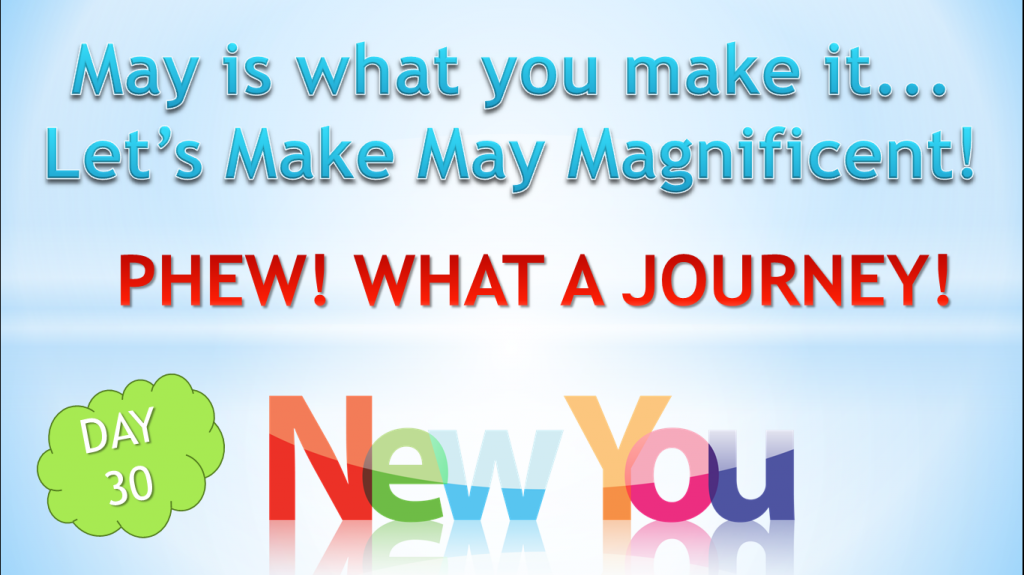 DAY 30 – New You Weight Loss Challenge – HIGLIGHTS OF THE MONTH – WATCH THIS VIDEO FOR A GREAT OVERVIEW

Day 30 of the new you plan weight loss challenge, and I hope you are feeling and looking GOOD.
This has been an amazing journey, and it is almost over! We have COVERED SO MUCH this month, with our daily blogs, videos, tasks and inspiration!
Like everything in life, the more you put in the more you get out, and I hope that you have made the most of this opportunity to follow this challenge, watch the videos and complete the tasks.
A BIG THANK YOU to everyone who left comments and participated in the challenge.
Today's video is a recap of the hi-lights of the month, looking at the key points that will HELP YOU TO MAKE THE LIFESTYLE AND MINDSET SHIFTS to help you create the new you for the long term.   If you have been following the challenge I hope this video is a great summary for you to remind you and refresh you to continue on your amazing journey.
If you are new to new you, then I hope you find this video a great source of inspiration, as it will offer you so much inspiration and great tips, if you want to find out more about any of the topics covered then you can find all the videos in the new you plan weight loss challenges section, you can watch all the videos at your leisure.
If you want to get started with the new you plan READ OUR GETTING STARTED PAGE.
Please remember to update the Weight Loss Leaderboard. – CLICK HERE TO UPDATE THE LEADERBOARD – I really want us to have an AMAZING TEAM RESULT!! Every pound counts, every person counts!! So please update the leaderboard!! xx
[highlight]TODAYS TASK – Please leave a comment below to share your HILIGHTS OF THE MONTH – What made MAY MAGNIFICENT FOR YOU??  I would love to know what you achieved this month both in your weight loss results, mindset shifts, habits formed'S TA, and any other important life goals that you achieved!  I will be giving prizes away tomorrow!! Tomorrow is the last day of the challenge!!  [/highlight]