Challenges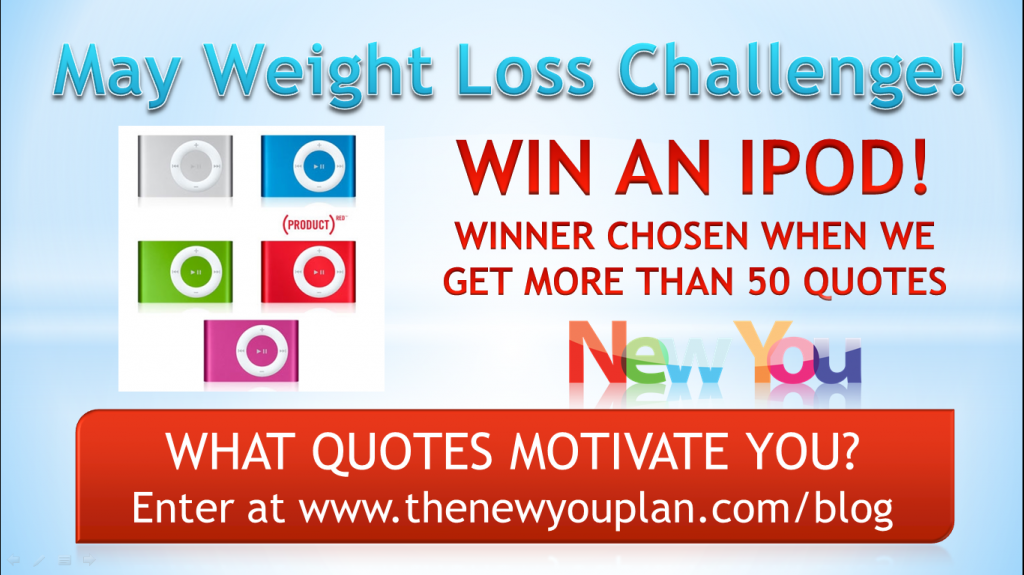 Day 13 New You Plan Weight Loss Challenge – WIN AN IPOD
Day 13 – Lucky for some!  Today you could be LUCKY and win an ipod!  Watch the video to find out how!
[highlight]I REALLY hope you will watch and listen to today's video, as I know this will help you if you have been struggling with your weight. [/highlight] I hope this message will give you the inspiration to take action to get on track.  If you have been following the challenge, I hope this message just gives you a good boost, to keep going, and not to get lax with your goals.  We are all on this journey for a reason… to enjoy a healthier, slimmer body and to be happier in our own skin.
If you want to register for the challenge or if you want to be add your weight loss results to the leaderboard –  CLICK HERE – and add your name or your weight loss result for this week!!
[highlight]Don't forget to take part in the competition, I am going to be giving away a FREE IPOD to the winner of this competition when we get over 50 quotes.  WATCH THE VIDEO TO GET THE FULL SCOOP.  All you need to do to enter is to leave a comment below with your favourite motivation quote, you do not have to be on the diet to take part in this competition, I really want to get as many inspirational quotes collected so I can make a free ebook to give away to our readers of the best weight loss motivation quotes.  So leave your favourite quotes below – when we get over 50 quotes I will choose a winner for the FREE IPOD! [/highlight]
Add quotes that motivate and inspire you to the comments section below to be in with the chance of winning an ipod! 
*Results may vary, this is not a guarantee.