Before & Afters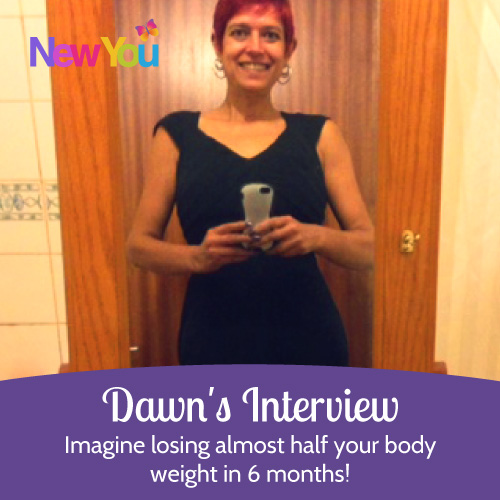 Dawn's Weight Loss Interview: Imagine losing almost half your body weight in 6 months!*
*Results may vary. This is not a guarantee.
Dawn's Weight Loss Interview:
Dawn lost 6stone ¾lb in 6 months!!!
The beginning:
I started on the 13th January 2014. I was sick of starting something I never finished and looking the way I did. I wanted to do it before I lost the waning elasticity in my skin (apparently from age 40!) My starting weight: 15st 10lbs, Loss on New You: 6stone ¾lb! In terms of the dress sizes I lost  6/7 (size 24 down to size 10/12). I wanted to feel good about myself for the first time in 41 years! I wanted to be able to buy clothes I liked and enjoy shopping instead of going to the back of the rack to see what the biggest size was.
Well firstly, I saw a waistline forming very quickly, within 4 weeks (I didn't think I'd ever have one!) and although my dress size took a few weeks to drop. I can now shop in Primarni (Primark), had no chance with size 24! I can also just take off the rack without having to search endlessly at the back for the largest size. I sleep a lot better, albeit for shorter periods, my weight no longer dictates the position I have to sleep. My blood pressure has also normalised.
Watch the Transformation Video:
How Dawn found the Support on The New You Plan:
How have you found the support in The New You Plan? Secret Slimmers / speaking to anyone in the office etc 🙂
Oh where do I start?! The support from the plan, from the members, is second to none. Customer Service goes above and beyond on every occasion and nothing is too much trouble for anyone. It's amazing and probably one of the reasons I've succeeded. I consider all of the customer service team friend and have made some lifelong friends in some of the members.
Dawn's Advice to anyone starting out on the plan:
To give it 100% from day one. It might be a struggle for the first few days but the rewards are amazing! 100% is the only way to guarantee the amazing results in the shortest amount of time. It's not feasible for some people I know that, and I'm not knocking those that take the scenic route, you do what works for you and your life. 100% was what worked for me. Know your trigger times, and plan for them, save a meal if you struggle in the evenings/weekends.
Dawn's advice to staying on track on plan:
For the first few weeks I planned my daily meals and tried different meals until I found what I liked most and the times of day that were best for me to eat. Knowing your hunger triggers is important, for me it was evenings and weekends so I made sure I had at least 2 meals left for evenings so that I didn't get hungry. The Secret Slimmers page is also essential for keeping you on track if you're struggling, if only to realise you're not on your own. I also decided to try different things with the packs, initially the cookakes, I wasn't the first to make cookies from the porridge but decided to try cakes. Creating recipes from the savoury meals kept my mind on track and the meals interesting. If I have a craving for sweet I make cookakes and eat them throughout the day (and take a multi vitamin J)
Dawn's Menu and Routine on our plan:
For the first few weeks I had a shake in the morning, a bar for lunch and left 2 meals for the evening. I filled up a one litre bottle of water at work and have a lovely stem pint glass to drink from. I changed to a 2 litre bottle and marked off each pint I drank. I knew that I needed to fill the 2L bottle twice during the working day to get 4 litres in. I also drink black coffee throughout the day.
Dawn's time on refeed
I did refeed to the letter of the guide, the first refeed I think I put on half a pound! I was less strict with myself on the 2nd one and did the guide on the first week and treated myself a bit more on the 2nd week.
Dawn's exercise on plan:
I didn't do any exercise at all, I wanted pure losses without muscle gain initially. I have now joined a gym and intend to kick it all off during my longterm maintenance.
Dawn's Favourite Products
Without a doubt the Chilli and Cottage Pie (mixed together!) and the hazelnut bars. I also love the puffs and soy nuts.
Dawn's Advice to anyone who is putting off getting started:
I know it can be hard for some, but 100% as best you can is the way to go. If I had strayed from 100% during the first 2 phases I don't think I'd have carried on, something clicked with me on this plan and I gave total commitment from the very first day. I appreciate it's hard for those who cook for families or work in the food industry but it really pays off if you can commit to 100% for at least the first couple of stone.
[box type="download" size="large" style="rounded" border="full"]THANKS DAWN FOR SUCH AN EPIC INTERVIEW!!!
PLEASE COMMENT BELOW FOR DAWN :)[/box]