Before & Afters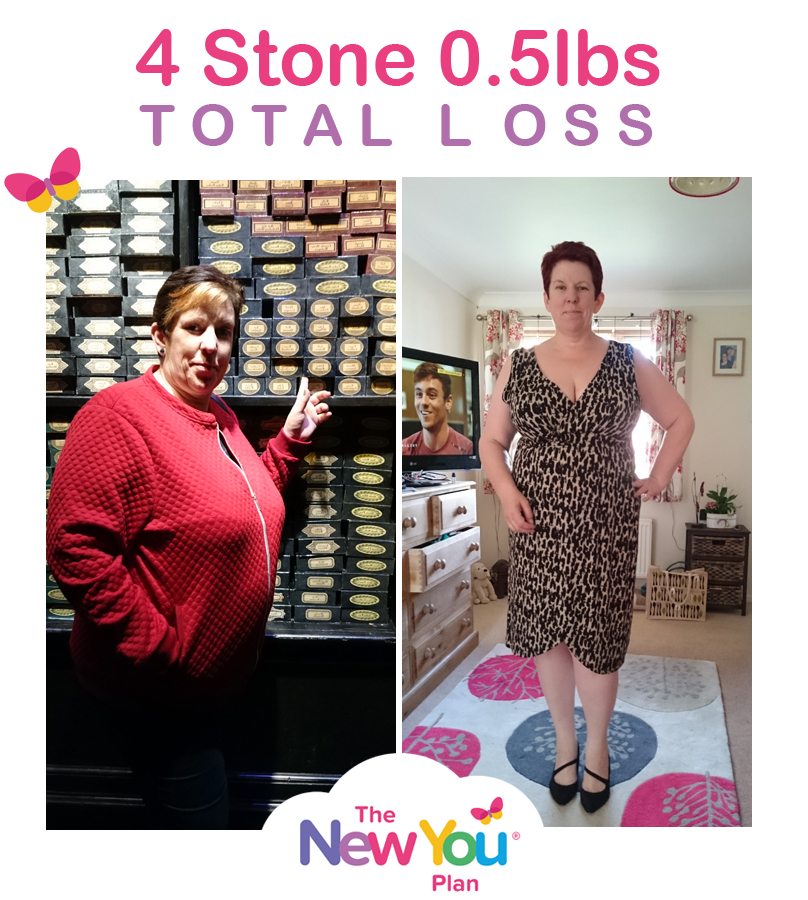 [Customer Interview] Julie "Ju" Rose Loses 56.5lbs* With New You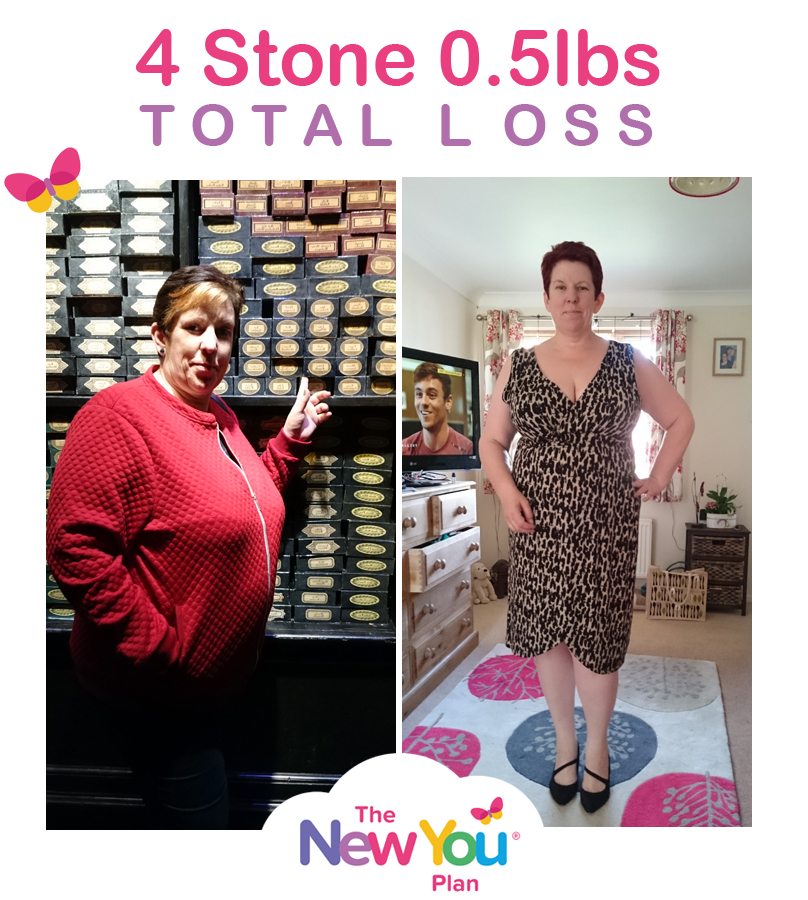 *Weight loss results may vary and are different for each individual.
"Before New You, my life was 50 Shades of Black – but now my plans for the future are all positive and my future is now multi-coloured!"
Julie—"Ju Rose" to her friends—grew up using food as a coping mechanism. Like most of us, food is a source of comfort, so when things looked bleak—and at one point in Ju Rose's life, it did—Ju Rose ate her sorrows away. This attempt to eat away the blues only backfired, as Ju Rose ballooned to over 20 stone.
The silver lining on the proverbial cloud started to show, as one day, Ju Rose spotted an ad for The New You Plan. Since she already tried to lose weight on Slimming World and Weight Watchers, she wasn't so sure if this was the right plan for her.
Then she gave The New You Plan a shot—and discovered that it was a rather pleasant programme to follow.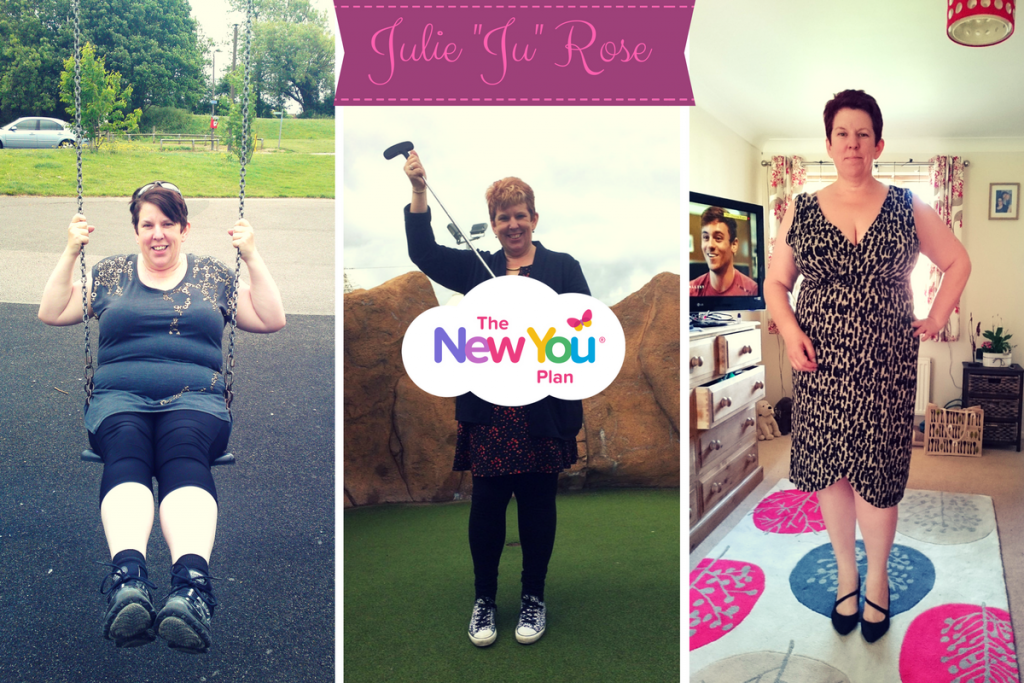 Ju Rose surprised herself that she was able to drop almost a whole stone in the first week—and today, she's down to the last 4 stone*.
Ju Rose says that The New You Plan has been such a pleasure to follow, especially since the meals are delicious. She is on the "Fast Focus Plan," which is a Total Food Replacement plan, and these are her favorite meals, snacks and shakes:
While she notes that taking up to 4 Litres of water daily was hard at first, she now drinks 4 Litres a day "like second nature." If you find that water drinking is tough, try the Water Flavourings—you may find that water drinking could be so much easier, with a little flavouring to help it go down.
Losing weight may not have solved all her problems, but it sure gave her the confidence boost she needed. The most recent dark moment in her life was due to a divorce of Kris and Bruce/Caitlyn Jenner proportions—her ex-husband realized he preferred to be a woman, so he up and left Ju Rose and their family. Her ex's newfound identity understandably undermined her own femininity and identity, and she was in a place where she needed to regain her self-confidence. Dropping from a size 26 to a size 18/20, Ju Rose felt better about herself, and it was truly the change she needed.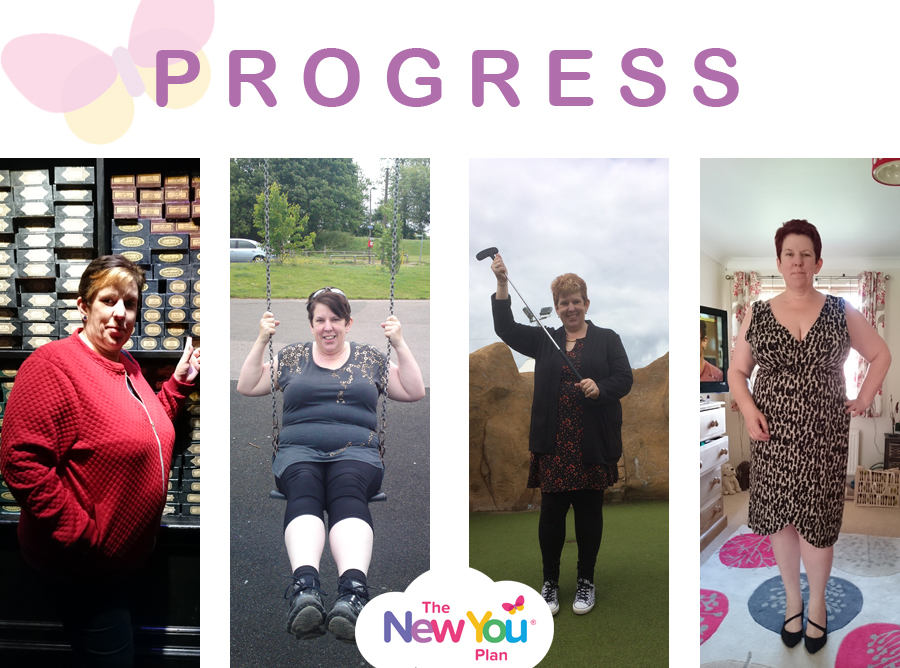 "All this love came bursting back at me, making me feel inspired and motivated."
What is more is that Ju Rose found a great community of like-minded, focused buddies on The New You Plan journey—men and women who are on their way to becoming the New, Better, Great, versions of themselves.
The self-confidence she desperately had to have, as well as the love, support, and appreciation she needed, she found in The New You Plan, and in the New You Plan community.
You could take Ju Rose's journey, too—rebuild your self-esteem, and find a community of fellow weight loss and life improvement sojourners who are willing to keep you on track and keep you feeling positive about the changes you're making.
Read Ju Rose tell the story of her journey from "50 shades of black," and on to the new "multi-coloured" version of her world in her own words:
Hi, I'm Julie (Ju, to my friends) I'm 47 years old and a single mum to two grown-up children who live with me in Daventry, Northamptonshire.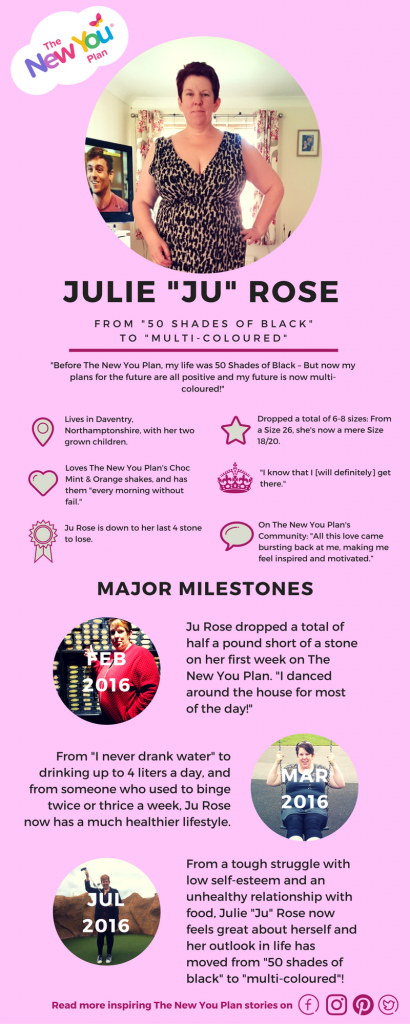 After almost twenty-four years (and having been constantly in one relationship or another since I was eighteen), a year ago I found myself stumbling through the strange world that was being single, after my husband got up one day and announced that he didn't love me, probably never did and wanted to start a new single (non-family) life as a WOMAN! – You can imagine what that did for my already-low self-esteem. It was the rock that threw me into the landslide of a deep depression. I was left with two shocked and angry children and all the bills we had jointly paid, running a house, and taking on all the family responsibilities that I had been used to sharing.
He wasn't social, so our life before he deserted the family consisted of spending my time with him doing what he wanted. When he left, I realised I didn't know who I was or what I liked, or how to make new friends. I have no family at all (not even a distant cousin) and when he left I also lost his side of the family. So it was just me, the kids and a few close friends, a couple who live hours away. Just telling them that he was leaving to be a woman was something that took me months to do. I felt so embarrassed and ashamed and I found I didn't want to share my woes with friends who had their own issues. One of these 'friends' even told me that I had to 'get over this because she was bored of me not being there for her.' Understandably, that didn't help to stop me slipping down the slope of sorrow and gloom.
So for nine months, I lived in a deep, deep depression, which I fed! Feeling sorrier and sorrier for myself which never helped the fact that I had always had a weight problem. I was bought up in a single parent house where my mother used food to solve all problems, and so I continued those habits into my own life. I would binge eat, it didn't really matter what, but binge to the point I could eat no more. Consequently, I entered adult life as, well, a big person. Twice I had managed to lose good weight (once with Slimming World and once with Weight Watchers, but I'd tried almost every diet under the sun over the years) only to put it straight back on as I had not learnt any new habits. I stepped on the scales religiously, but each week after weighing I would binge for the day and then start afresh in the new week, meaning my weight loss was always one step back before taking any forward.
My 16-year-old daughter became my best friend, my rock and my greatest supporter, and still is. I put a lot on her shoulders and she did me proud. She watched me go through the lowest of times, seeing me self-destruct and never gave up on me. I tried to hold it together while at work, where I was a new office manager in a very busy time there, working 12-14 hour days more times than I can count. My daughter was always there and never judged. I will never ever be able to thank her enough.
So nine months went by and I was over twenty stone, buying size 26 clothes and thinking nothing could ever make things right. I couldn't even walk up the stairs without getting breathless. Everything was bad and black!
Then one day, an advert popped up in Facebook, but it wasn't one of the boring ones that seem to get in the way more than anything else. Intrigued, I clicked onto this 'diet site', read the basics, and clicked off again. Of course I couldn't do that, it was a total food replacement plan, and I'd never be able to cope with that – and money was tight, I'd never afford it. A day or so later I went back on the site and realised that it wasn't actually expensive and I probably spend far more than that on the rubbish I was binging on each night. Another day or two later I visited the website again and for the first time in a year, I felt inspired. So I mentioned it to my daughter expecting her to laugh or tell me not to be silly, but she just turned round and said give it a go, what had I got to lose? It was that day that NEW YOU came into my life.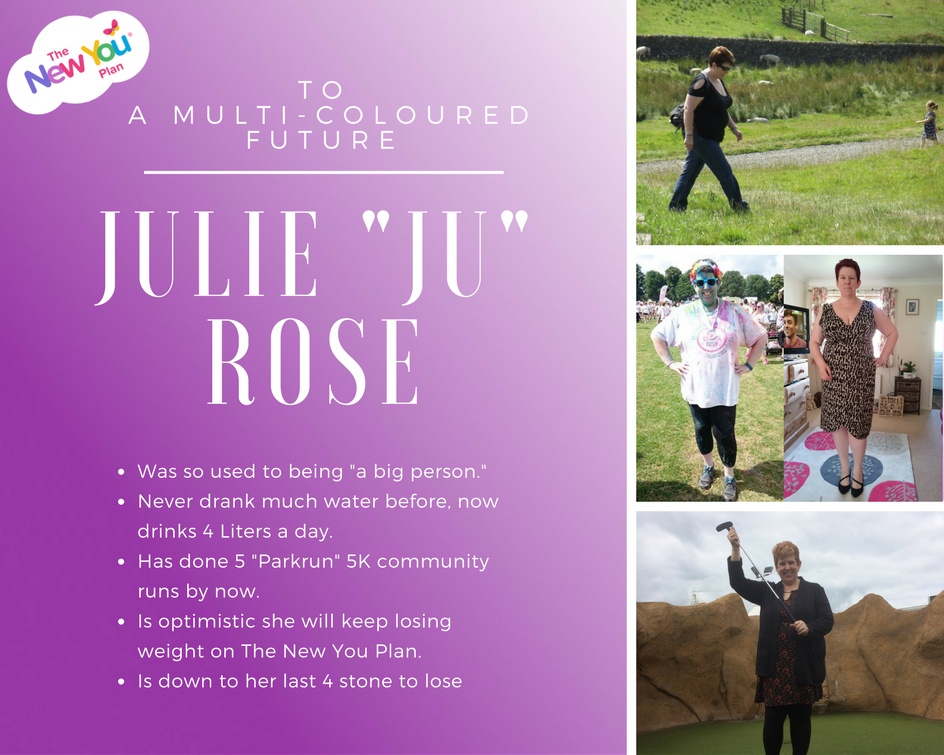 I ordered enough for a week, expecting for it all to taste horrid, for me to only stick on it for a day or two and to fail, like I had with various replacement plans before, although this would be my first total replacement plan. I waited in trepidation until this wonderful box turned up a couple of days later and it was beautifully wrapped up and inviting. The following day I started!
WOW!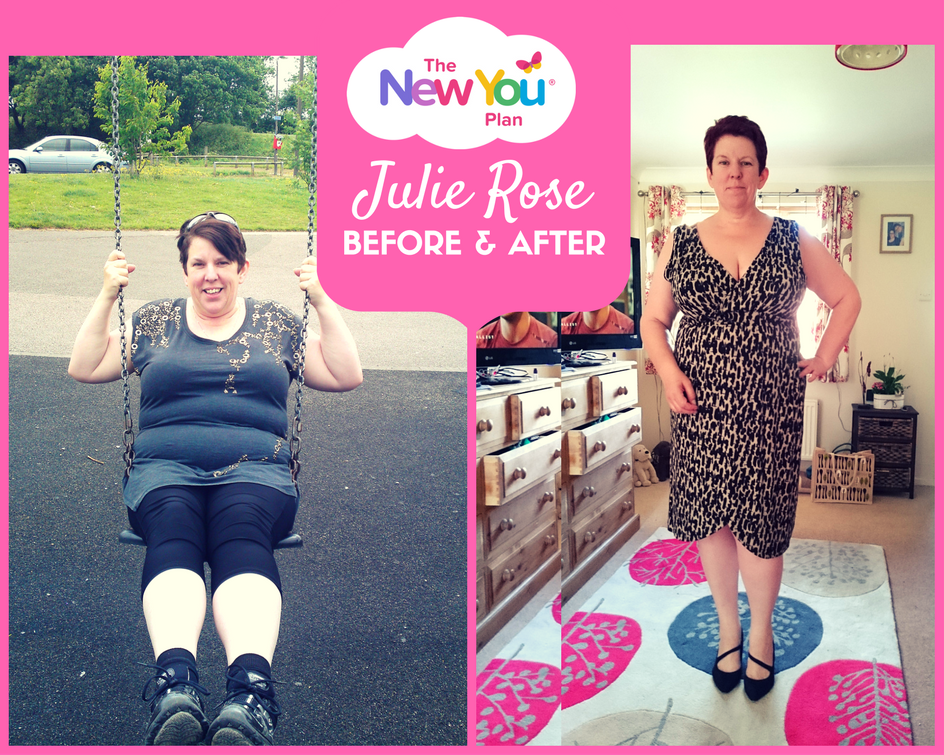 The first week was a blur, very busy at work, and it was maybe day four before I realised I had already completed four great days. I loved the shakes and the bars and the meals. It was all so tasty and filling. I found the water drinking hard, I never drank water and so the first week was probably only one litre a day (it took maybe three weeks before I could get up to four litres a day, which is now just second nature to me). I couldn't believe it when I was half a pound short of losing a stone in the first week. I danced around the house for most of the day!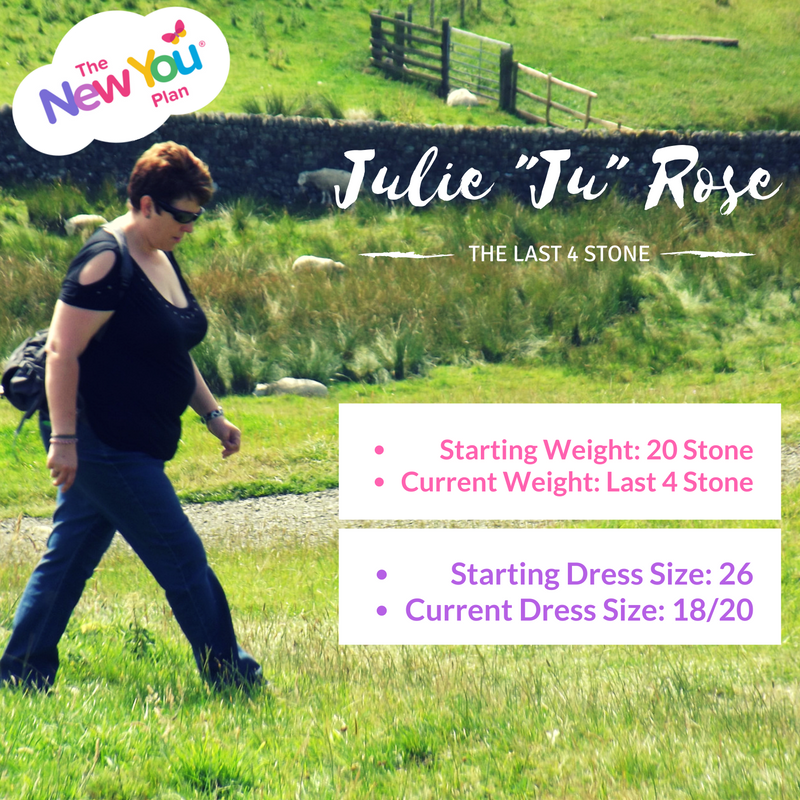 I ventured into my first message of the Secret Slimmer site and all this love came bursting back at me, making me feel inspired and motivated. At the time, I wasn't letting people into my life and so found all the love and support incredibly overwhelming. But the more I posted, the more I felt valued and liked. Quite a novel feeling! I spent the next few weeks testing all the products, working out which I liked and which I wasn't fussed on. Pancakes are one of my favourite and I love the Choc Mint (Refreshing Mint Chocolate TFR VLCD Shake) & Orange (Tempting Chocolate Orange TFR VLCD Shake) shakes which I have at work each day without fail. The bars are great for eating when out and the Pasta Carbonara (Yummy Pasta Carbonara TFR VLCD Meal) is great for a filling supper. Surprisingly, I found that the NEW YOU plan fit happily into family life. I was always used to cooking differently for the kids as they are meat eaters and I'm a pescatarian, so cooking my own meals didn't make any difference (except doubling the washing upload as I normally substituted an evening meal for cereal or fried-egg sandwiches!). I can admit that it was hard going around the supermarket in the first few weeks, I'd continually put things in the trolley before I got a weird look from my children and promptly realised I didn't eat that stuff and taking it back out. Now the weekly shop is so much easier as it's only food for the kids and I believe I even save money doing this plan as I don't visit the shops two or three times a week for binge foods.
Now it has become second nature; even the kids have fallen into my eating habits now! We've been on two holidays where I've stuck to plan, even managed a couple of meals out at the kids insistence! Thirteen weeks on, I'm four stone lighter, gone from a size 26 to an 18/20, feel healthier than I ever have, more energetic, have taken up running and have done five 'Parkrun's (5km community runs). Reading all the comments on the SS site keep me focused, and my most recent post resulted in more than 90 members liking my post – 90 people who thought I was inspiring! Honestly, I was overwhelmed and if that doesn't do something for the self-esteem nothing will.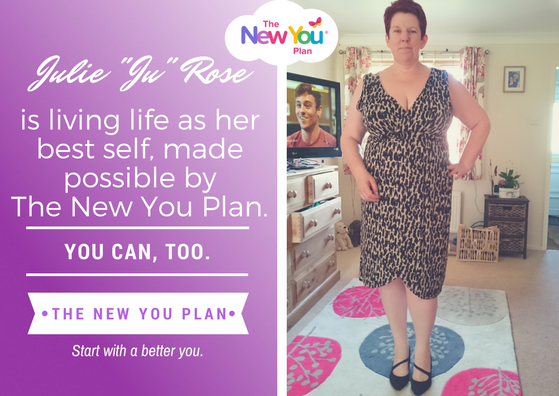 Yes, I still have a journey to lose another four stone, but for the first time ever I know that not only will I get there but also feel confident in the refeeding programme to maintain my weight loss. It seems I now give out positive energy – enough that one of my best friends along with one of my work colleagues has now joined the plan and SS site. Before New You, my life was 50 Shades of Black – But now my plans for the future are all positive and my future is now multi-coloured!
Love,
Julie xoxo
---
START YOUR TRANSFORMATION TODAY
If you're just starting out on your journey, or coming back to the plan then we would recommend our 60 TFR bundle. This bundle will last you for 14 days. You'll be able to enjoy 4 meals per day and 2-3 snacks per week.
What's even BETTER is that with The New You Plan we're more than just a diet company. We are a total lifestyle change: meals, mindset, motivation and maintenance. With unrivaled customer service, a 100% money back guarantee and unlimited online support you'll be able to get in the zone and smash your goals in 14 days.
Benefits of this incredible bundle:
Over 35 Delicious Meals and Snacks to Chose From
All New Customers get Free Gifts Worth £190.95
All new customers can swap products and benefit from a 100% money back guarantee!
Access to our Exclusive Secret Slimmers Facebook Group
Free Shipping on orders over £50!