Before & Afters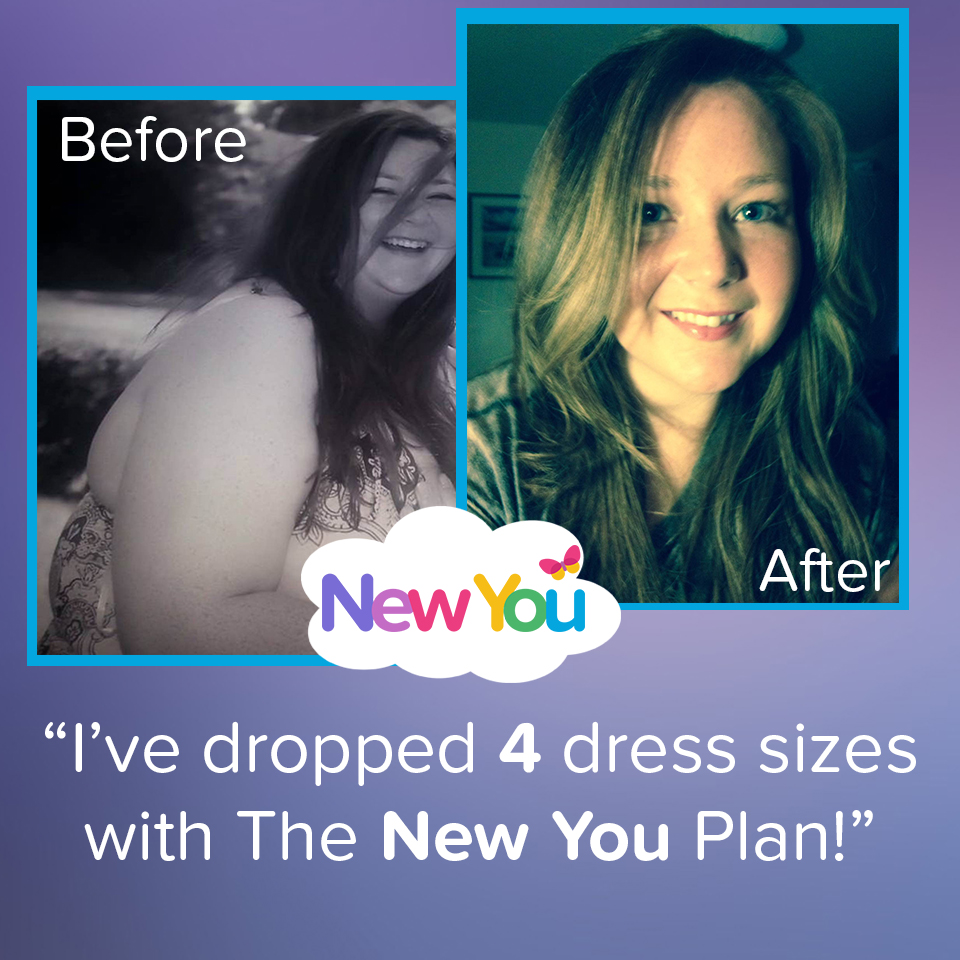 [Customer interview] "I've dropped 4 dress sizes with The New You Plan!'*
*Weight loss results may wary. This is not a guarantee.
Valerie's story is truly heartwarming. She perfectly shows that sheer determination to succeed will go a long way in helping you reach your goals! So far, she has lost a mega 4 stone since January and is over half way to reaching her goal. She has dropped from a size 22 to a size 14-16! Today, we caught up with Valerie who shares all her top tips, and discusses how the New You Plan has changed her life!
So Valerie, tell us how much weight you have lost
So far, I have lost over 4 stone!* I began the plan as a size 22 now and I can confidently buy size 16 clothing and fit into a lot of size 14s. I've also seen amazing inch losses, with 5 inches gone from under my bust, 3 inches from my thighs and a fab 10 inches from my waist.
Tell us when you started the plan? What was it that finally led you to getting started?
I'd been trying to start for a couple of years and then my mum was diagnosed with pancreatic cancer and my fiancé of 2 years left me. I moved to help look after my mum and lost about 2 stone on the plan. When she passed away the weight piled back on, so in January of this year I decided enough was enough! I was fed up saying no to things because I was worried about my weight and what people would say.
What were you hoping to achieve from The New You Plan?
To get to a weight that I'm confident with and to bring back the crazy bubbly person I used to be!
How has The New You Plan has changed your life?
I've still got around 3.5 stone to lose but this time I can see it happening. I still have my blip days but then I get right back on it! On holiday this year I wore a bikini…now I'm not saying it was pretty, but it was a huge step for me!
Is there a particular of piece of clothing that you've been dying to wear?
I just wanted to feel comfortable in my skinny jeans and not have to spend hours finding a flowing top that covers me up!
Our customers love the support from Secret Slimmers. Have you got in on the action?
I love Secret Slimmers! Even just reading through the posts can get you through a day were you want to blip! And everyone is so positive and supportive – the group should be so proud!
I hope you've found great support in our customer service team?
I've only had to call once and I'd give them 10 stars! I love how the team get involved with their own journeys.
Tell us, what New You Plan Meals and Snacks can you not live without?
Chicken Soup!! It's amazing, and so easy to do at work so no one is asking: "What's that?! Oh, dieting again?!" And the Crisps! I was missing something to crunch so these are perfect! My only problem is I have to hide them or I'd eat them all!!
Have you tried any of our Water Flavourings? Which is your favourite?
The Water Flavourings really helped me to increase my water intake. I think the Berry Blast is my favourite but I do like them all.
Do you have any tips for staying on track? How did you stop yourself blipping?
The Vegetable Broth does wonders!! And since the Pancakes have arrived I already feel like I'm blipping so I don't think about off plan foods! I've also made a deal with my dad. If I blip any day I have to give him £5. I hate parting with money so this works wonders! I've also made use of the BMI chart, which I have been crossing off as I move down towards my target weight.
We hear all the time about the amount of energy our customers have on the plan. Has this had an impact on your exercise?
Absolutely, I entered my first 5k in July and I am taking part in my first 10k at the end of September!
I'm sure there are loads of people reading this who just haven't taken that leap of faith yet. What advice would you give anyone considering starting their New You journey?
Don't say: "I'll start Monday" – when the delivery arrives just get stuck right in! And personally, I'm careful who I tell. There's so many negative people who will tell you it's going to make you sick etc. I told my doctor after I'd lost 3 stone and was expecting a huge lecture but he said you look healthy, if it works it works! Stay positive and if you blip don't worry! Drink water, water, water and get straight back on it! If you blip, get back on plan straight away and keep going. It's likely that you haven't done much damage with one blip, so just keep going. And finally, use Secret Slimmers!
Good luck!