Before & Afters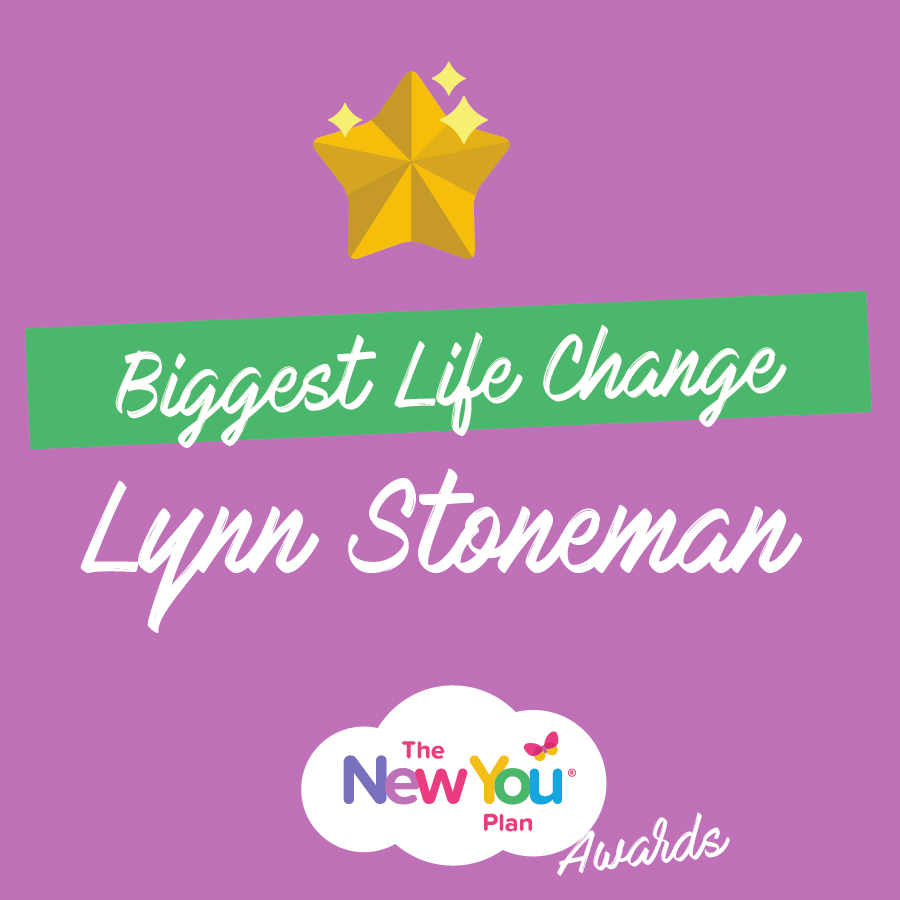 New You Awards – Biggest Life Change – Lynn's story

Name: Lynn Stoneman
Start date: May 2016
Start weight: 15s 3lbs
Weight lost: 5 stone, 3 lbs (73lbs)
Current weight: 10 stone
"Don't let anyone dull your sparkle"
When you chat to New You Plan customer, Lynn Stoneman you instantly get a feeling of warmth. This is a fun-loving lady with a huge heart, which is echoed by the fact that she lives in Cornwall with her two rescue dogs, who she has given a new lease of life. For someone so caring, it's only right that she should be happy and thankfully, Lynn has smashed reaching her goal, having lost an amazing 73lbs* and now weighing just 10 stone.
But what's more important than just losing weight, Lynn's life has completely changed, which is why she is the worthy winner of our New You Plan Award for Biggest Life Change.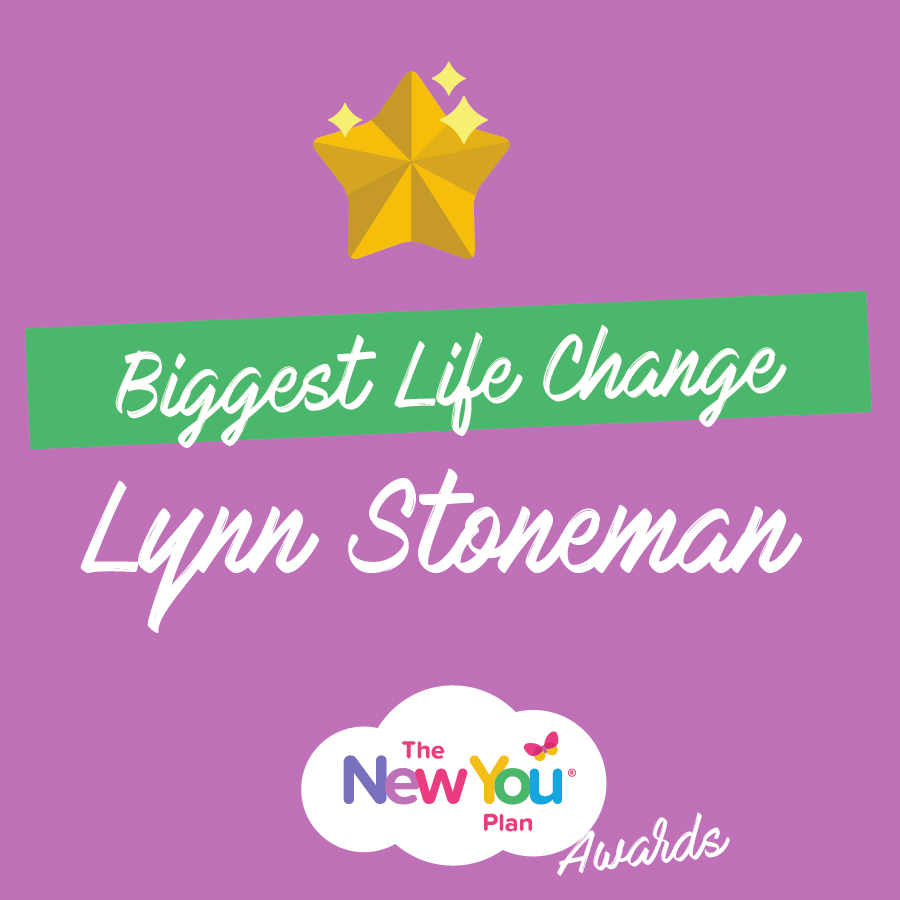 Speaking about her award win, Lynn said: 
"My motto would be: "Don't let anyone dull your Sparkle", which is more polite than my fridge magnet I made several years ago (which actually reads: "Don't let the ……. spoil your sunny disposition").
Thanks to the New You Plan award, currently, I am too motivated to quit! I was absolutely delighted to have won BIGGEST LIFE CHANGE.
It was a wonderful feeling to be recognised that the effect that The New You Plan has had on my life and how it has turned it around for the better.
Before I found The New You Plan in May 2016, I had given up the continuous battles with my weight. I was tired and decided that 43 years of yo-yo dieting were over and I would remain fat forever. I banished all thoughts of ever being permanently slim.  I rarely looked in the mirror and was unaware of how awful I looked.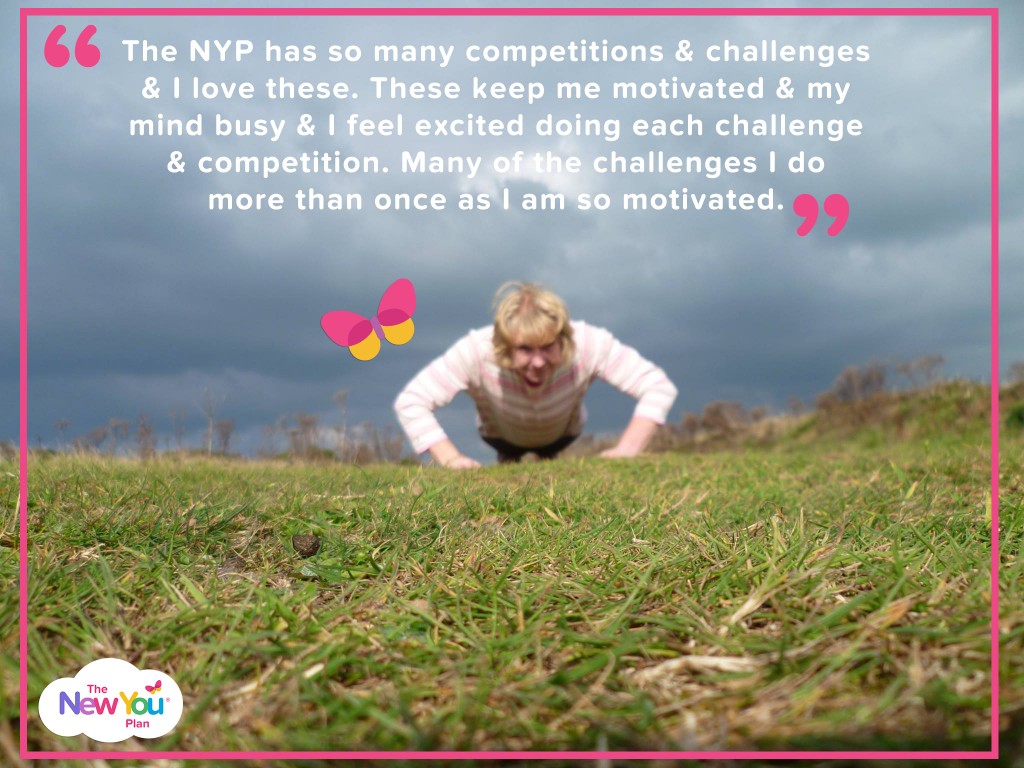 The NYP has so many competitions and challenges and I love these. These keep me motivated and my mind busy and I feel excited doing each challenge and competition. Many of the challenges I do more than once as I am so motivated.
I rarely posted in Secret Slimmers at the beginning of my journey and if I did I never got any comments or many comments and I usually deleted what I had written. However, as the weight began to drop from me, my confidence grew and I love posting in Secret Slimmers.
I am looking to 2017 being my year and to sparkle and shine more. I hope to remain a Cheerleader and to help inspire and motivate others to succeed and to make the NYP their last ever weight loss journey.
However, the main thing for me is to maintain weight at 10 stone for 2017. I have worked too hard to put it all back on now.
I have no happy childhood memories. I had to eat everything on my plate and I cannot recall my mother ever saying anything nice to me. My two sisters died, one was very young and had leukemia and the other died from breast cancer in 1985. I put up with mother's dreadful and rude behaviour for 50 years but we have now been been estranged for 9 years. I don't class her as family as a mother should love their daughter.
Meanwhile, I married a man who moved into my home. My husband would get fattening foods and buy so much chocolate and of course I ate it all. He made me depressed and he was controlling.  After 19 years I left my home but he found me and I moved back. I then moved out again and he committed suicide.  It took me over 19 years to realise that he was a sociopath and to learn that he had been stealing from me.  Meanwhile years of legal fees built up as I dealt with bad solicitors, while trying to fight for my home from his relatives. They took all my savings. All I had were my dogs, until the first one died aged 4, quickly followed by the other one. I was depressed for a further 3 years and I still haven't recovered.
This year I took the first steps on a long road to recovery and adopted 2 more dogs, before moving into a new home.  Sadly, the vicious cycle continued as my home was built by an independent cowboy builder who hasn't returned. I was left with insecure boundaries, floods and boiler leaks, plus there are nearly 100 other things wrong with the place.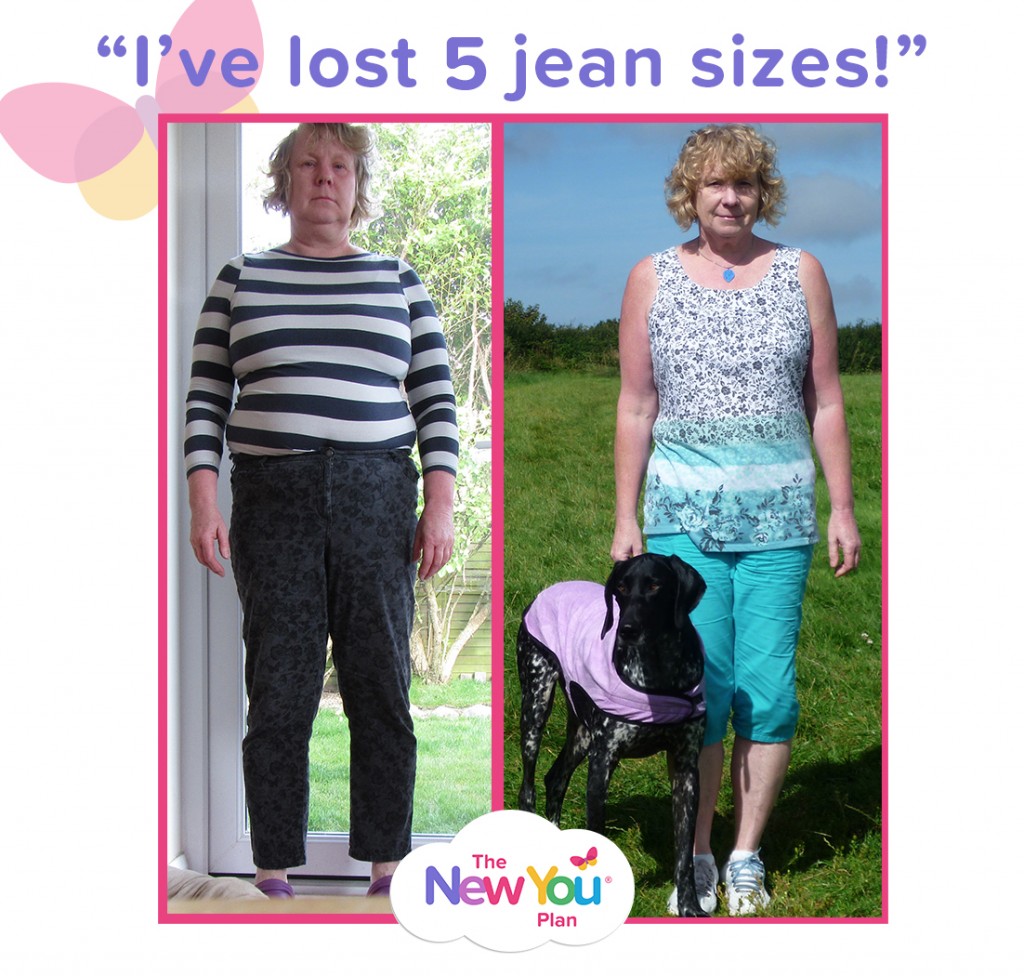 I have been size 10 before but each time I got there I would get hurtful remarks from people which would set me off overeating again and it would all pile back on until my next attempt, whilst each time gaining more weight. A complete stranger came up to me once and said, and I still remember her words to me: "It's all right for you, you're slim." I was so shocked. When I have been at size 10, I have been size 10 for less than a week each time.
Before starting The New You Plan, I had resorted to the fact that I would be a yo-yo dieter forever but I decided after moving to remain fat forever. That was, until an advert for the plan popped up on my Facebook timeline. At the time I was drinking poisons, while binging on lots of fattening and addictive things. Honestly, I was out of control. I took the plunge there and then. I called the number and spoke to Grant, who seemed very confident that the plan would work for me. And after four months, and a weight loss of 52lbs, I have to say he's right. I have a stone and a half to get to my final goal of 10 stone, but I'm confident I'll get there. And I know, for the first time, that I have finally broken that yo-yo dieting cycle. I know I'll keep the weight off this time.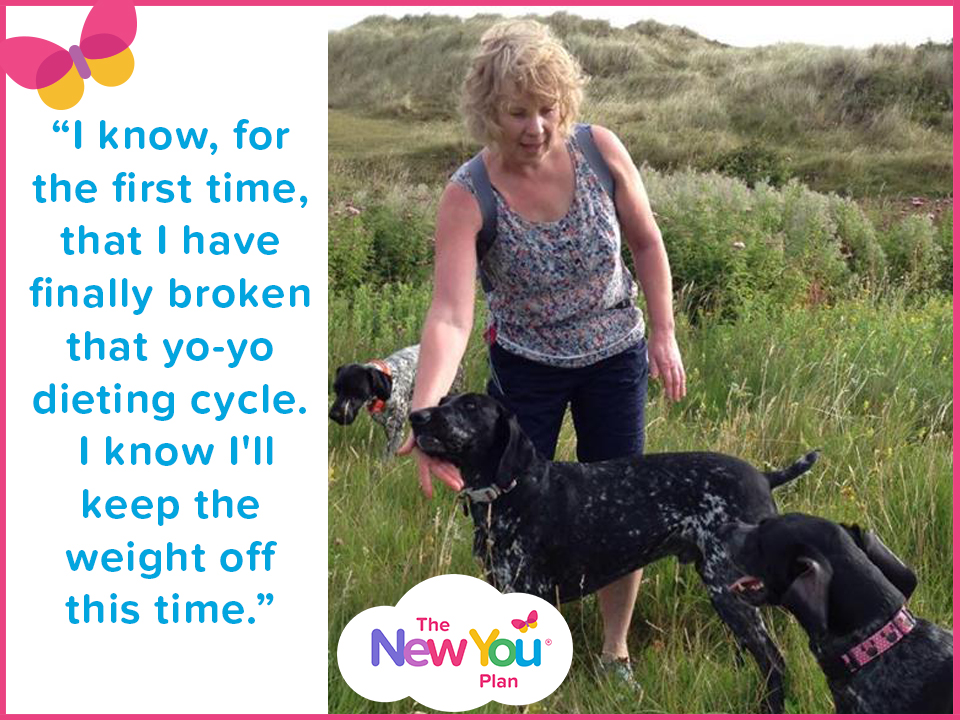 I'm already enjoying the benefits that come with losing weight. I don't get the same shock that I used to when looking at a photograph that's just been taken of me, and I have to admit, it feels amazing wearing size 12 crops/jeans. The compliments, of course, are always a welcomed surprise. If you're new to the plan, you'll have heard time and time again that what's so different about New You is the support, and it's true. I always get such positive comments in Secret Slimmers. And the compliments aren't just confined to the group either. My friend, a beautician, recently told me my skin is very hydrated – another benefit of being on the plan.
What I was mostly surprised about is that although I'm vegetarian, there's still so many options for me. I love the Spicy Noodle Nosh, Vegetable Chilli, Cottage Pie and the Burger. When it comes to the Shakes, I'm a fan of the Chocolate, Banana and Vanilla. My favourite Bar is definitely the Coconut one! The Porridges and Pancakes are perfectly for kicking off the day!
If you're sitting there wondering if this plan is for you, all I'll say is GO FOR IT! The support is what sets it apart from anything else. Don't just take my word for it… read other success stories and look at the transformation photos. These are real people and the company is run by real people. The New You Plan has helped me get back to me and I'm sure it will do the same for you."
Lynn x
---
START YOUR TRANSFORMATION TODAY
If you're just starting out on your journey, or coming back to the plan then we would recommend our 60 TFR bundle. This bundle will last you for 14 days. You'll be able to enjoy 4 meals per day and 2-3 snacks per week.
What's even BETTER is that with The New You Plan we're more than just a diet company. We are a total lifestyle change: meals, mindset, motivation and maintenance. With unrivalled customer service, a 100% money back guarantee and unlimited online support you'll be able to get in the zone and smash your goals in 14 days.
Benefits of this incredible bundle:
Over 35 Delicious Meals and Snacks to Chose From
All New Customers get Free Gifts Worth £190.95
All new customers can swap products and benefit from a 100% money back guarantee!
Access to our Exclusive Secret Slimmers Facebook Group
Free Shipping on orders over £50!