Before & Afters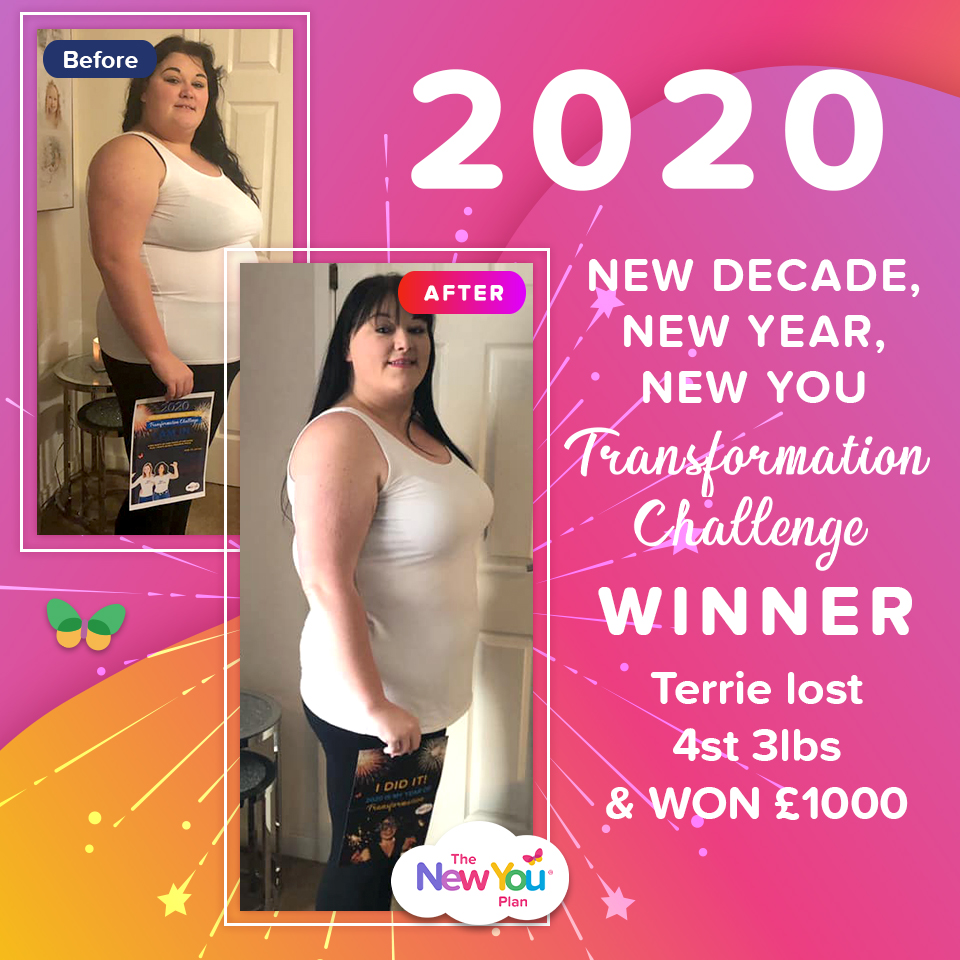 2020 New Decade, New Year, New You Transformation Challenge WINNER

Customer Terrie kick-started 2020 with a mission to lose weight once and for all & make the new decade unforgettable. Fast forward to April and she lost 4st 3lbs, dropped 3 dress sizes and WON £1000 cash!
Following her win, we caught up with Terrie, who shares her story, how her life has changed and her words of wisdom for anyone thinking about starting our plan.
Here is what she had to say…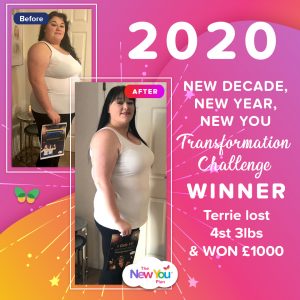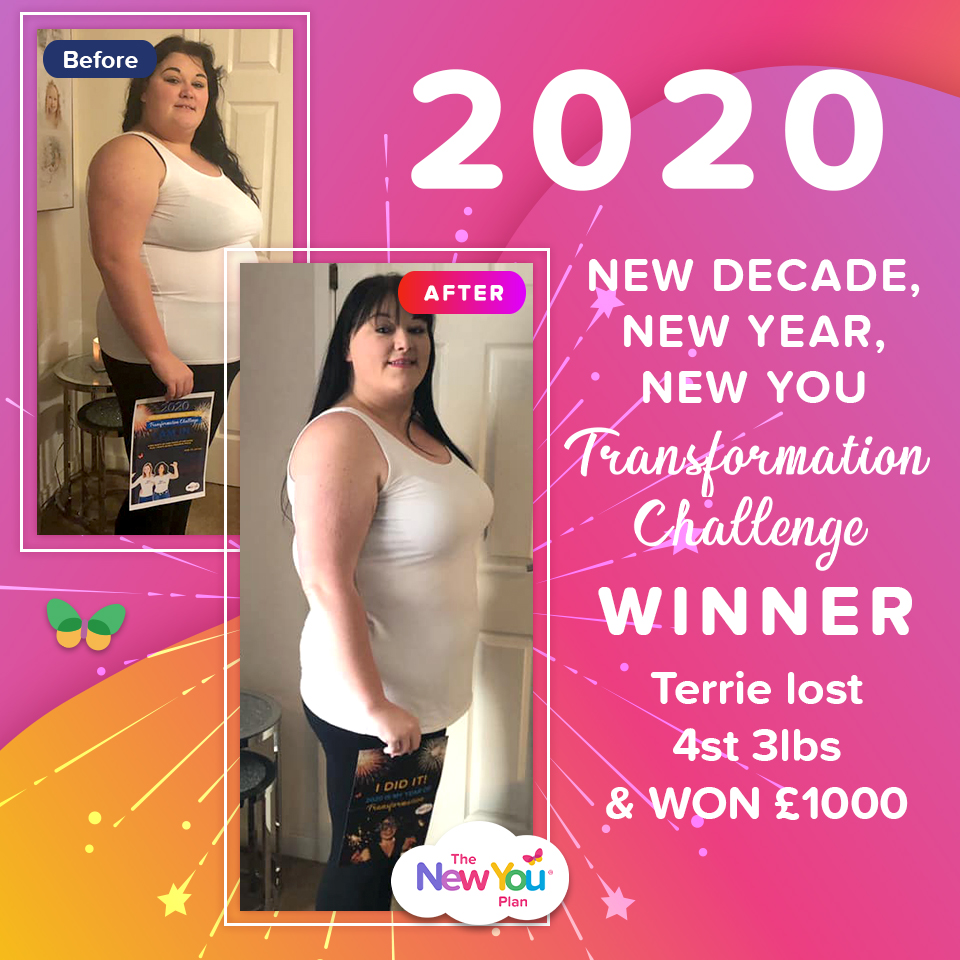 Terrie, when did you start The New You Plan?
I started the New You Plan in April 2016. I tried and tried for a few weeks, losing a few stone here and there but gaining it all back and more. New Year's day 2020 came and I decided it was now or never. Time to change, I HAD to change. So, 9th January 2020 I took the plunge…
What was your starting weight & what weight are you now?
I started at 19st 5lbs. I currently weigh 15st 2lbs, which is a total loss 4st 3lbs and 3 dress sizes. I plan to lose another 3 stone to get to my target weight but I am not too fussed on what the scales say, how I look will be the decider.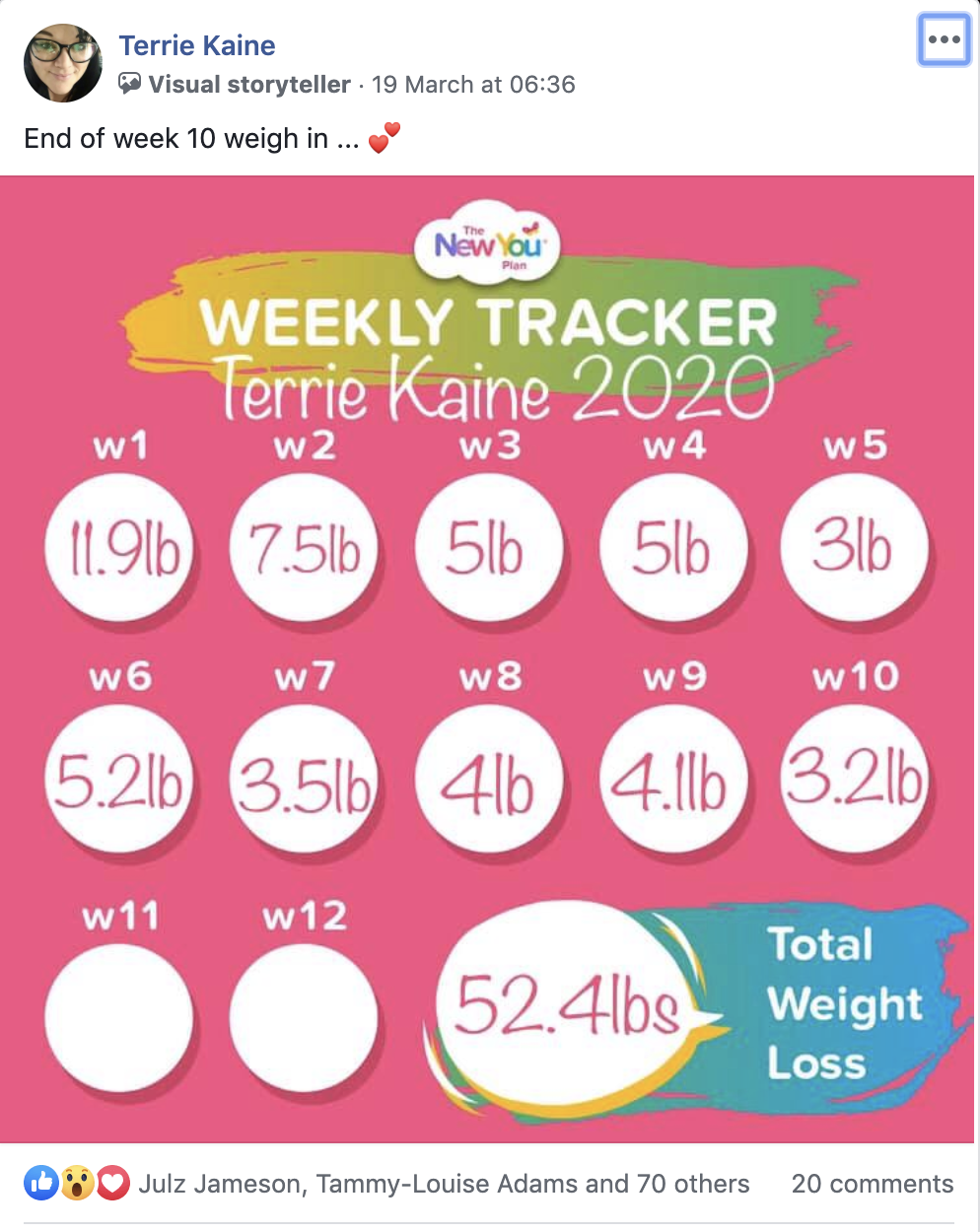 Why did you decide to take part in the Spring Transformation Challenge? Do you think it helped your success?
I have taken part in many challenges in Secret Slimmers but never seen it through to the end. The 2020 New Decade, New Year, New You Transformation Challenge landed in my inbox at exactly the right time. I knew this time I would submit my I DID IT poster and I am sooo glad I did. I can't say whether it helped with my success as with or without the competition I was determined to lose all the added baggage this year, but I felt a sense of pride, hitting that post button with my I DID IT poster!! 

What's the biggest lesson you've learned since taking part in the challenge?
The biggest thing I have learned since starting the challenge is that you only get out what you put in. I put so much effort in to every single day of the past 12 weeks, I have struggled and I have almost given up on so many occasions but I never did. I have had to have many a stern word with myself and thankfully my results speak for themselves. 
Describe how you felt before you started the plan?
Before starting the plan, I would avoid social events, I would find every reason I could possibly think of to not attend. I would hide under black, baggy clothes. I'd avoid the camera at every cost resulting in having no photographs of myself with my 3 young children. I got to the point where it was effecting my sleep, my marriage and my whole life focused around my size. I felt as though nobody ever saw me, they just saw that fat woman. My health was at risk – walking upstairs was a task in itself. I had no desire to do anything physical at all. I didn't live, I simply existed …
How did you discover The New You Plan?
I discovered New You by accident – I was actually researching a different diet when I came across an ad for The New You Plan. I clicked out of curiosity … Its colourful, welcoming website kept me interested. I looked and looked for a few weeks before popping an order in. I read all the success stories, admired the before and after photographs just longing for that to be me one day. So, I put my first order in, joined Secret Slimmers and never looked back. Even though I didn't succeed at first, I never lost hope. I knew one day I would do it. When I was truly ready. That time is now … 

How has the plan changed your life?
The plan has changed my life in so many ways. I finally feel content in my own skin. I look to the future with a smile on my face rather than an overwhelming feeling of dread. I have more patience and my attitude towards others has changed. I feel like a much better person all round. Although, the biggest change is my relationship with food. I don't need food to be happy. When on plan I feel in control, for the first time ever. I don't calorie count, I don't go without. I am currently maintaining my loss and I am still in control and still limiting portion size and carbs. It all seems to make more sense. My health is getting better, I am so much more active than I ever dreamed I'd be. No more getting out of breath so soon, I also look pretty decent in a swimsuit. Haha. 
What was your biggest motivator in staying on track?
The biggest motivator to staying on track was others around me. I decided to take this journey 1lb at a time rather than becoming obsessed with the end result.
For the first time, I decided to tell a few people what I was doing, mainly the small group in the office work in. Working full time I knew that I needed to explain why I was turning down all the tasty treats and different foods that circulate daily. I was so surprised by the reaction I got – they were all so supportive and they would ask me each week, on Thursday (weigh day) how much I'd lost this week. It really helped me. I have always kept my battle with my weight a secret, always being the hilarious fat friend, whilst dying on the inside. So, deciding to tell people was a massive step forward.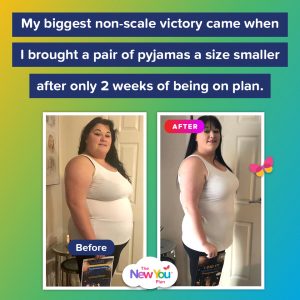 What's your biggest non-scale victory?
My biggest non-scale victory came when I brought a pair of pyjamas a size smaller after only 2 weeks of being on plan. I was doubtful that they would fit when I got home. I ran upstairs and to my delight they fitted perfectly. After only 2 weeks. Wow!!! 
Since losing weight, what is your happiest memory / proudest moment?
My happiest moment since losing weight is looking in the mirror and loving the person I see staring back at me. That person is me, beautiful me.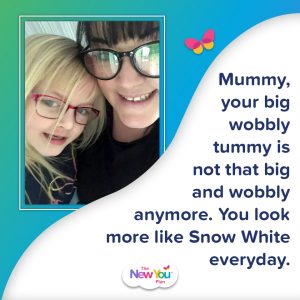 What is the nicest compliment you've received since losing weight?
The best compliment I have received is one that will stay with me forever. Having small children means there is no privacy, so whenever I am getting dressed, having a shower, visiting the loo or generally doing anything, there is a child stood observing. I was getting dry after a shower and my daughter who is 4 was lay on my bed and said to me "Mummy, your big wobbly tummy is not that big and wobbly anymore. You look more like Snow White everyday" (she is Cinderella and I am Snow White) – no truer word than that of a child. Said so innocently and so sincere. I cried. Not sure if they were tears of happiness or shame. Perhaps a mixture of both.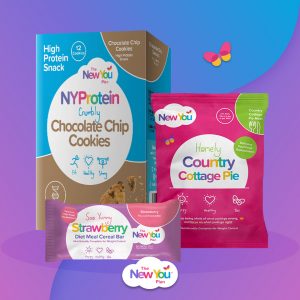 What are your favourite New You meals and snacks?
My favourite New You products are Cottage Pie and Strawberry Bar. I'm pretty sure I could survive on these products forever. I am also ever so slightly addicted to the Cookies but these are a snack and so I have to limit myself. Tough!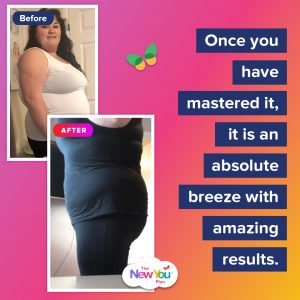 What advice would you offer anyone thinking of starting the plan?
My advice to anyone starting New You: This plan is easy but it is so hard to begin with. It is a head diet – once you are in the right mindset, the rest flows. The first week is so so tough, but it really does get better, so much better. Once you have mastered it, it is an absolute breeze with amazing results.
Also, join Secret Slimmers – it is the best online community ever. So much advice and encouraging words when you need it most. No judgment or nasty comments, just the ticket when losing weight. It is full of ladies and gents all on the same path. I wouldn't have got this far without those guys. Take the leap of faith… you won't regret it!
Terrie xx
---
Start Your TFR Journey Today!

Getting started is the first step in your journey to a brand New You! To help you understand fully how our plan works, our Get Started page was designed specifically for people new to the plan.
Head over to our site where you'll find tonnes of important information including how our plan works, the science behind it, loads of top tips, information on our meals, as well as real customer testimonials.
Click here to visit our Get Started page!