At The New You Plan, we are more than a diet meal plan… we are 100% dedicated to making your New You Plan experience as fun and enjoyable as possible.
Up until now, you've probably encountered countless boring weight loss plans, which do little to inspire and motivate you on your weight loss journey. Ultimately, you've probably lost momentum pretty quickly and given up, with no incentive to keep going.
But we like to think we're a little bit different. We pride ourselves in breaking free from the 'norm' and prove that losing weight CAN and IS fun!
This is why our Secret Slimmers community is a hub of constant activity. Our customers tell us that challenges, prizes and competitions are what keep them going. So with this is mind, we dedicate each and every day to offering you tonnes of prizes, which are the perfect incentive to stay on track.
Here's just a few ways that you can win prizes in our Secret Slimmers community:
Spot Prizes
At The New You Plan, we like to keep you on your toes, which is why we're always on hand with unexpected daily spot prizes. We constantly keep an eye out for posts that catch our eye. From inspirational to funny, quirky or achievements, you never know what sharing your post in Secret Slimmers could bring…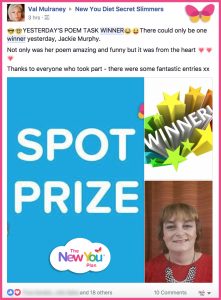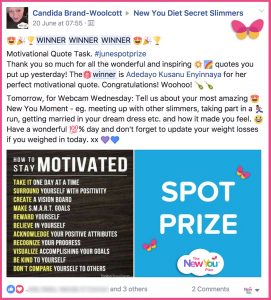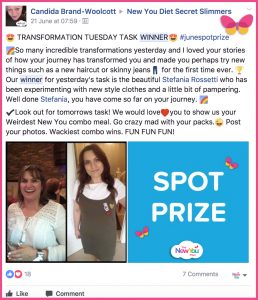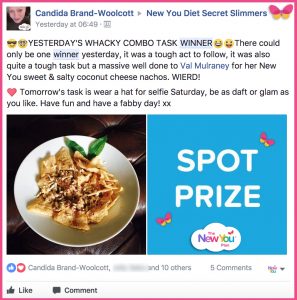 Monthly Weight Loss Challenges
So much can happen in a month and extraordinary weight loss amounts are achievable.* Most of our slimmers dedicate one month at a time to their journeys, which is why we kick start each month with a new weight loss challenge to set you up for success and keep you mentally and physically motivated.
This month, as well as daily spot prizes, we have a weekly prize draw where one lucky slimmer wins their choice of prize from our list of fantastic prizes. From Fitbits to Bundles, designer handbags and beauty products, our prizes are mega and our slimmers love them!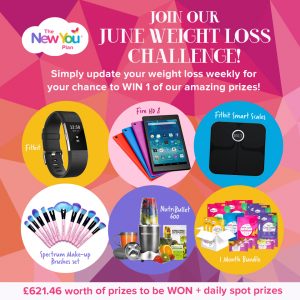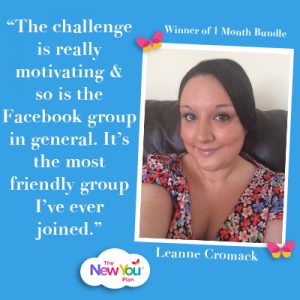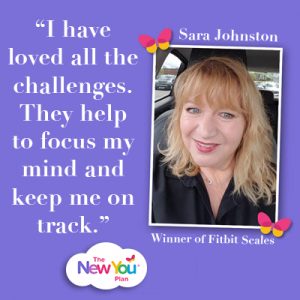 VIP Photoshoot
This autumn, we have the prize of all prizes… a VIP Photoshoot! What's so amazing about this prize is that it really includes the full works! We'll fly you over to meet our team in Belfast and put you up in a hotel. Plus, you'll receive a personal style session and a new outfit, as well as an amazing make-over before our VIP photo shoot kicks off!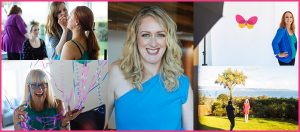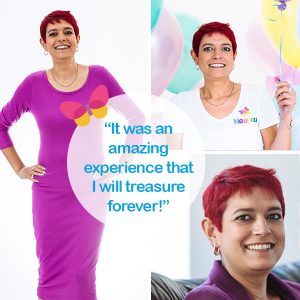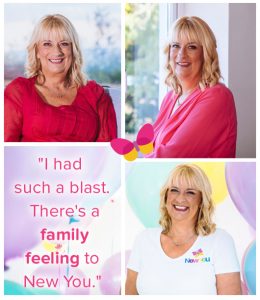 Are you ready to join the fun?
Our 1 week bundle is the perfect way to give the plan a go. After just one week, many of our customers have lost 10, 11 or even 12lbs or more!*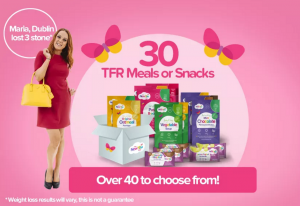 With this bundle, simply enjoy x4 meals per day, plus x2 snacks per week.
Make your selection from over 40 in our range, including shakes, bars, hot meals, soups, breakfasts, crisps, wafers and more.
Plus, when you make your order, you can become a member of our Secret Slimmers group for FREE. This means you can get in on the action and win some amazing prizes.
Remember, losing weight shouldn't be boring… it should be fun, fabulous and fantastic!
Click here to start your journey today!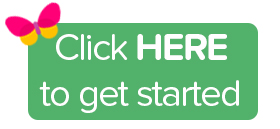 Tags:
New You Plan Challenges