Community Round-up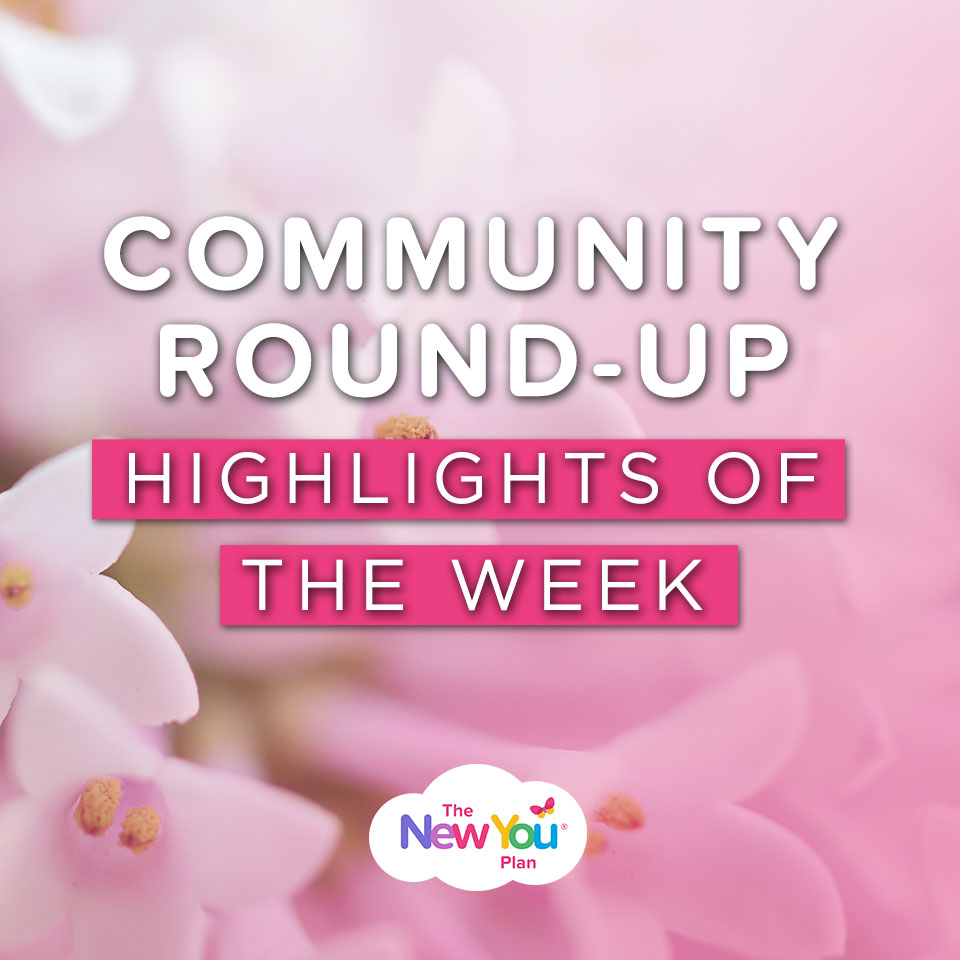 Community Round-Up of the Week
This week, our Customer Transformation Coach, Candida shares just some of this week's achievements from our exclusive Secret Slimmers Facebook group, in her Community Round-up of the Week!
Did I say something wrong? Did I mention the word 'heatwave'? Well that didn't last did it? Ah well… it has not changed the fabulous mood in Secret Slimmers in any way. We do have a lot of fun on Secret Slimmers, sharing our highs and lows but the camaraderie, love, laughter and support is overwhelming.
There are always weight losses and 100% days to be celebrated and boy there have been some woohoo moments this week. Watching slimmers on their journeys, completing milestones or reaching small goals is the best part of being a Transformation Coach.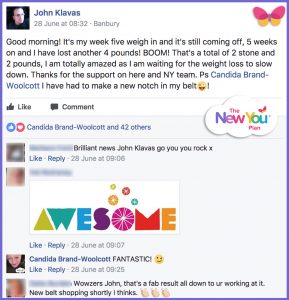 From the lovely Sara Johnston trying on her dream wedding dress and feeling like a right royal Princess to John Klavas who has now added a new notch in his belt having lost another 4Ibs this week bringing him to 2 stone 2Ib lost in just FIVE weeks.
He said: "I am totally amazed as I am waiting for the weight loss to slow down. Thanks for the support on here and the NY team." Happy Days!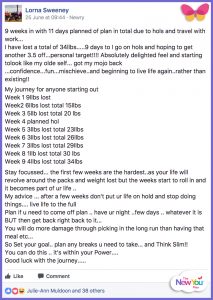 Sharing your journey and your helpful tips is so encouraging to fellow slimmers. I loved Lorna Sweeney's post, who has dropped a whopping 34Ibs in 9 weeks. She shared her strength and wise words of encouragement.
She said: "Set your goals.. plan any breaks you need to take… and Think Slim!! You can do this .. it's within your Power…" – Woohoo, love it!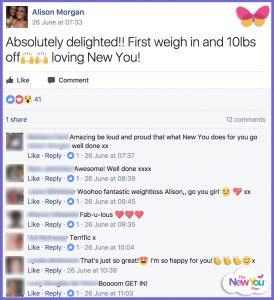 Alison Morgan is loving her first week results having lost 10Ibs! Another stunning week 1 loss was that of Carmel Flood who has shed 11Ibs.
She said: "I thought I'd only lose half stone so I'm more than happy with that result! Great start to a Monday morning." Mega fist pump moments for these two and many others.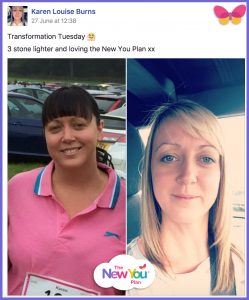 And not forgetting Karen Louise Burn's amazing before and after transformation. 3 stone gone forever, a change of hair colour and newfound confidence. I love it!
It seems we have a bit of a sensational summer wedding theme this week with Janan Alani getting married and looking utterly stunning and then the gorgeous Karen Louise Burns who has lost 3 stone since the 1st of April for her wedding in August. She is going to make one beautiful bride. Exciting times ahead ladies!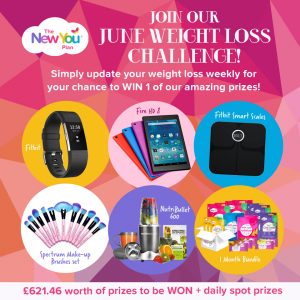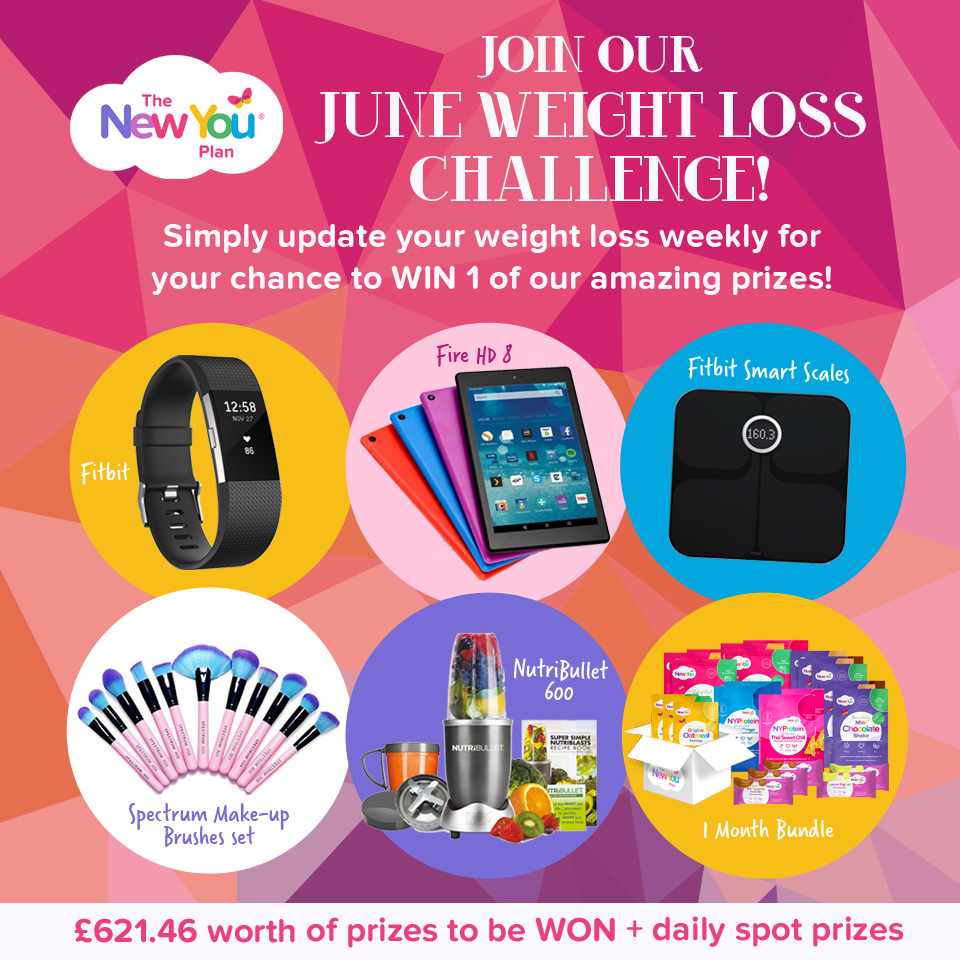 Huge congratulations to Emily Kate Holmes who won in this week's June Weight Loss Challenge prize draw. Emily chose the Fitbit so she could challenge her mum's steps. Go Emily! The Weight Loss Challenge comes to an end this Sunday with the final prize draw on Monday so don't forget to update on the blog by 7pm on Sunday. You could still win one of our amazing prizes! You would be mad not to!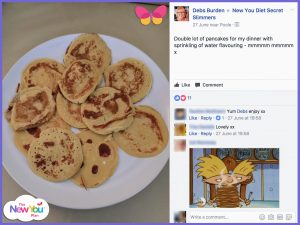 There seems to have been a bit of a pancake frenzy in Secret Slimmers this week with some, let's just say, interesting attempts. However, Debs Burden seems to have mastered the art and made a delicious pile of luscious looking mini pancakes. Yum!
Our new fabulous challenge and tasks for July will begin next Monday and you are going to LOVE it! Incredible prizes and a lot of fun, so do look out for my posts in the mornings.
Well, I wish you a fabulous week but that's all folks for now. Be strong, you are a diamond, nobody can break you!


_____________________________________________________________________________________
Start Your TFR Journey Today!

The first step in your journey to a brand new you is to get started! So that you can fully understand how our plan works, our Get Started page was designed specifically for people new to the plan.
Head over to our site where you'll find tonnes of important information including how our plan works. Plus learn the science behind it, get loads of top tips, information on our meals, and read real customer testimonials.
You can visit our Get Started page by clicking here.