Our 10 Million Steps Challenge has just reached 6 million steps! Get out the details on the challenge and join today.
This month, we kicked things off with a new challenge. In a bid to get our Secret Slimmers more active, we launched a 10 Million Steps Challenge. The aim of this was to encourage everyone to get out, get active and get those steps up so that collectively, as a group, we could reach a total of 10 million steps.
We live in such a beautiful country and many of us are guilty of not getting out to see it. With this in mind, our Secret Slimmers have been getting out and about and discovering some amazing beauty spots.
When we think about getting fit and healthy, many people might atomically jump into high intensity training programmes, which their bodies may not be used to. If you are new to exercise, or simply don't like high impact exercise, walking is the perfect first step to getting fit and active.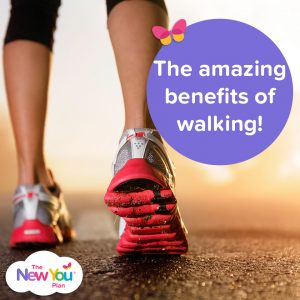 Plus, walking for just 30 minutes per day has so many amazing health benefits:
Strengthens our hearts
Lowers the risk of diabetes and cancer
Speeds up weight loss
Prevents dementia
Tones legs, bums & tums
Boosts vitamin D
Gives us energy
Improves our mood
30 minutes is such a short space of time in a day, and while we all lead busy lives, you can easily incorporate walking into your daily routine. You could walk instead of getting the bus, park your car half a mile away from your office, walk your kids home from school or join a walking group. Once you build up the habit of walking everyday, it will actually become harder not to do it!
Currently, we are sitting at 6 million steps so we are on-track to complete over 12 million steps this August!
Karen Swords is smashing it!
Customer, and Cheerleader in our Secret Slimmers group, Karen Swords, has so far completed the most steps. She is loving the challenge and thinks everyone should get involved!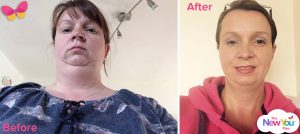 Here's what she had to say…
"I've been on plan for about 8 weeks. In 2015, I followed the plan for 4 months. The reason I started is because my health was greatly suffering due to my my weight. I had difficulty breathing, I could hardly look at myself in the mirror and I felt so low.

Once people saw I was losing weight I began to feel really happy. I felt good about myself and my confidence was beginning to build back up again.

The reason I think New You works is because it's simple. It's so easy to do. Just have 4 meals per day and the weight comes off! I 100% believe that the plan has saved my life. It has given me a new lease of life, which I now want to live to the full.

And that starts with the 10 Million Steps Challenge. Not only am I loving it, but I've also used the time to get out more with my daughter.

Since starting the challenge, walking has become a big part of my life. To go from having difficulty breathing to being able to walk every single day is something I could never imagine happening.

Although I live in Ireland and it's not known for the driest of weather I knew I had to do something and walking is free and easy. I knew I could do that so I started back a few weeks ago and loved it straight away. I now walk over 7km everyday and I also signed up for a 5km walk/run every Saturday morning.

I would encourage everyone to take part in the challenge. Do what you can as every little really will help you get nearer to your fitness goal!"
Join the challenge today!
If you have a Fitbit and you'd love to help us reach our 10 Million Steps Challenge, you can still join this August. To get started, log in or create your Fitbit account and join our New You Challenge group here.
Tags:
10 Million Steps Challenge
,
FitBit