Feeling fat, frumpy, miserable, unhappy, sad, unmotivated, unhealthy and with no zest for life, Paula knew she had to take control & do something about her weight. In just 6 months, she lost 6 stone 7 pounds, dropped 6 dress sizes and completely changed her life.
Here is her story…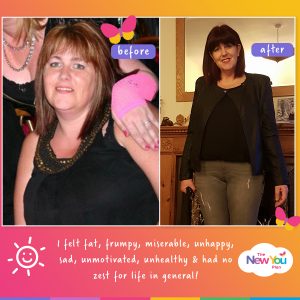 Paula, how did you feel before you started the plan?
I felt fat, frumpy, miserable, unhappy, sad, unmotivated, unhealthy and I had no zest for life in general. It was like the life had been sucked out of me.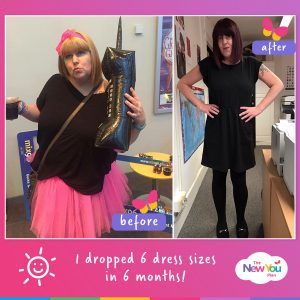 How did you hear about The New You Plan?
My sister had started the plan a couple of months previously and told me how tasty the meals were. I had tried a couple of other VLCD (Very Low Calorie Diets) previously, but they were too expensive for me to continue and the variety of foods wasn't terribly wide. I saw how well my sister was doing and in a last ditch attempt, I decided to give it a go. I'm so glad I did!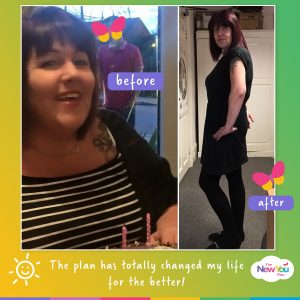 How has your life changed since starting the plan?
The plan has totally changed my life for the better. I find myself wanting to go out clothes shopping and socialising with friends again. For years, I hid myself away as I believed that no one would want to spend time with me. I now take up every invitation extended to me.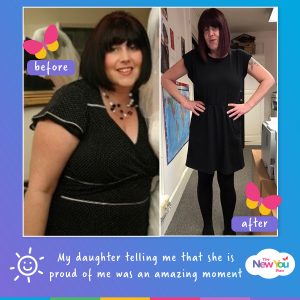 What was your biggest motivation for losing weight?
Seeing the scales going down every week wasn't something I was used to and definitely served as the perfect motivation. I wanted to keep the momentum going. My 13 year old daughter telling me how proud she was of me also stuck in my head and made me more determined than ever to reach my target weight.
What has your biggest non-scale victory been?
This is very bitter sweet as I lost a ring which was very dear to me and irreplaceable. My fingers had become so slim that it just slipped off me one day. I never did find it.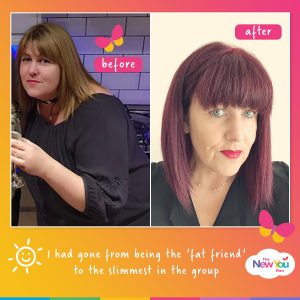 What is your happiest memory since losing weight?
My happiest memory so far since losing weight was meeting up with a group of friends who had not seen me in a few months. The looks on their faces when they saw me was priceless. I had gone from being the 'fat friend' to the slimmest of the group. I still get a buzz from that.
And your proudest moment?
Just people telling me how proud they are of me. Oh and a married male friend telling me that he wished he wasn't married was a nice compliment.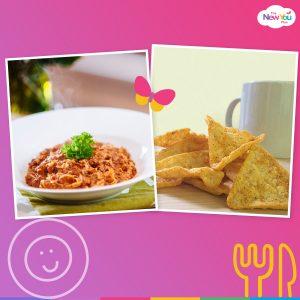 What are your favourite meals and snacks while on plan?
I love the variety of meals with New You, which is something that is lacking on other TFR (Total Food Replacement) plans. If I had to pick favourites, it would be the Spicy Noodle Nosh and Cheese Tortillas. I absolutely love them and they don't feel like 'diet food' at all.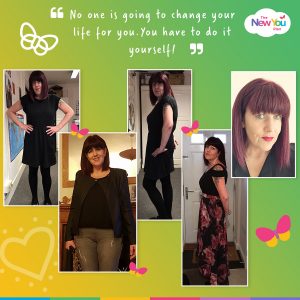 What is your advice for anyone thinking about starting the plan?
Stop thinking and start doing! No one is going to change your life for you – you have to do it yourself. By far, this is the easiest, tastiest and most effective plan I have done. The support from Secret Slimmers is unbelievable!
---
Get started on the BEST TFR Plan TODAY!

Getting started is the first step in your journey to a brand New You! To help you understand fully how our plan works, our Get Started page with designed specifically for people new to the plan.
Head over to our site where you'll find tonnes of important information including how our plan works, the science behind it, loads of top tips, information on our meals, as well as real customer testimonials.
Click here to visit our Get Started page!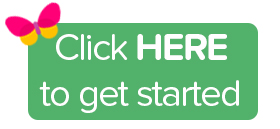 *Everyone is different, and we can't guarantee how much weight you will lose. Check out our success stories to see what our customers have lost. 
Tags:
before and after
,
customer interview
,
NEW YOU PLAN
,
New You Plan review
,
tfr diet
,
VLCD diet