After realising that she was missing out on creating memories with her son, Marcella knew she had to take control of her weight. Following discovering New You, she has lost an incredible 6 stone, dropped 6 dress sizes and walks with her head held high, thanks to her newfound confidence.
Here is her story…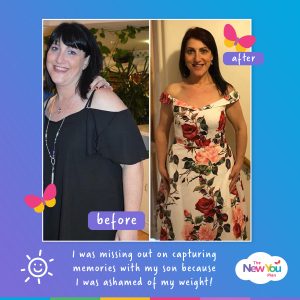 Describe how you felt before you started the plan?
I have always been big and have played at dieting. I think it is classed as yo-yo dieting. The difference with me is that I never got to the second yo. I only ever lost a stone here and there with no major weight loss.
I was in a challenging relationship for the last five years and I forgot who I was. The only thing that kept me going was my 12-year-old son.
My penny drop moment was when I was in Gran Canaria on holiday and a series of events folded. I panicked that I would need to ask for an extension on my seat belt on the plane. I refused to get into the pool unless we got a sun lounger that was really near to steps. The sad part is when I was in the water, Joshua and I had the best time and on those occasions when I had to say that I wasn't coming in his little face looked crushed. I felt like the ground shook when I walked (and I truly thought I could hear people laughing at me) and being in a swimming costume was just hell for me.
The biggest defining moment was when Joshua and I were at a karaoke bar and we sang a beautiful duet together. I turned my phone over to record the vocals without the visual as I was disgusted at myself. I am actually tearful even writing this, as I realised I missed the chance to have the most beautiful memory with him that I could have treasured forever.
How did you discover The New You Plan?
I came across New You online. I then went onto the website and after reading up about the plan and checking out the amazing transformations, I knew this was the diet for me. I thought go hard or go home and so I made a pledge to give it my all.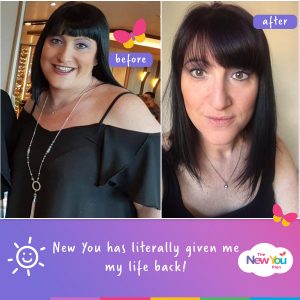 How has the plan changed your life?
Wow, well I got rid of psycho ex. New You has literally given me my life back. At a point in my life where I had lost control, it allowed me to take control of something and slowly I have regained control in all aspects of my life. It has not been easy but my God it has been worth it and it still is. From the meals themselves being tasty to the support it has been an amazing experience.  And wow – Secret Slimmers is just something I have never experienced before.
These beautiful people have no hidden agenda. It's like the best club to be a part of. We support each other through life's obstacles that are so much bigger than just what we are putting in our mouths. We cry and laugh with each other. The cheerleaders are just inspirational and the kindness of strangers is something that has blown me away.
What difference has being on the plan had on your year?
In August 2018 if you has said I was going to be a Secondary School Teacher I would have laughed out loud…..kids can be awful and I would have been made fun of for being overweight…..Now I stand in front of all year groups and the one thing I know is that they can't call me fat!!
It sounds ridiculous but New You has literally given me a new lease of life and I am finally fulfilling the career I always wanted, but because of my appearance I have always been too scared to pursue it.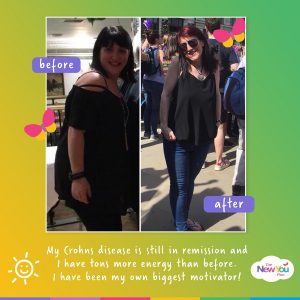 How has your health improved?
I have Crohns disease and I was concerned New You might be a struggle because of it. But I am thrilled to say I am still in remission. I feel like I have more energy now. Plus, whether it's down to the plan itself or because it has given me the incentive to take care of my appearance, my skin feels better. And apparently I look a lot younger now!
What was your biggest motivator for staying on track?
Me. I have been my biggest motivator. I guess that sounds strange but it is my drive, determination and desire to change and my dream of what my future could look like that has kept me on the right track. Through my birthday, Christmas, weddings and sadly, funerals, I have remained focussed the whole time. I do not want to let myself down.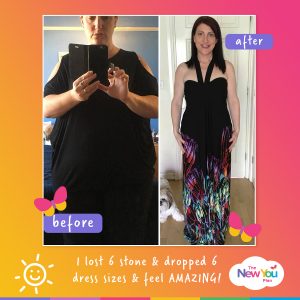 What's your biggest non-scale victory?
It sounds so simple but going away for work and forgetting some clothing and being able to just pop to the nearest supermarket to pick something up was something I have literally never been able to do before.
Since losing weight, what is your happiest memory / proudest moment?
In February of this year I got to sing again with my son, and five different people filmed it – from all angles!! I just had the best four and a half minutes of my life. I now have a treasured memory to keep forever.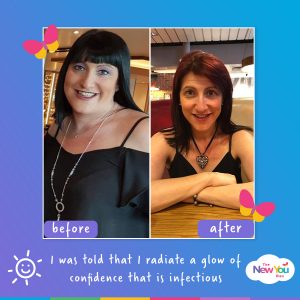 What is the nicest compliment you've received since losing weight.
That I radiate a glow of confidence that is infectious.
What are your favourite New You meals and snacks?
There's few that I don't like. I'm a big fan of the Spicy Noodle Nosh, Asparagus Soup, Chocolate Brownie and Salt and Vinegar Crisps. I love the variety of the plan and the fact that you can experiment with dishes to come up with new creations. I never get bored, which is something that easily happened when I tried to diet in the past.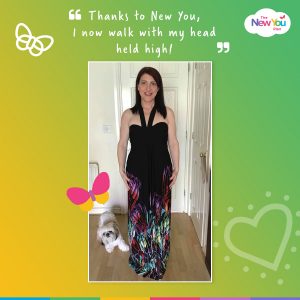 What advice would you offer anyone thinking of starting the plan?
Do it for yourself and do not listen to negative nellies. It has literally changed my whole life. The realisation that I have walked through life with my head down, and now – thanks to New You and the journey I have been and continue to go on – I now walk with my head held high is enough reason for giving it a go. You deserve to be the best you can be and with the help and support of New You, that dream can definitely be achieved.
---
Start the BEST Diet Meal Plan TODAY!

Getting started is the first step in your journey to a brand New You! To help you understand fully how our plan works, our Get Started page with designed specifically for people new to the plan.
Head over to our site where you'll find tonnes of important information including how our plan works, the science behind it, loads of top tips, information on our meals, as well as real customer testimonials.
Click here to visit our Get Started page!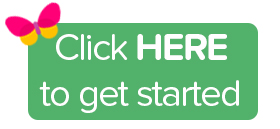 *Everyone is different, and we can't guarantee how much weight you will lose. Check out our success stories to see what our customers have lost. 
Tags:
before and after
,
customer interview
,
new you diet
,
NEW YOU PLAN
,
New You Plan review
,
tfr diet