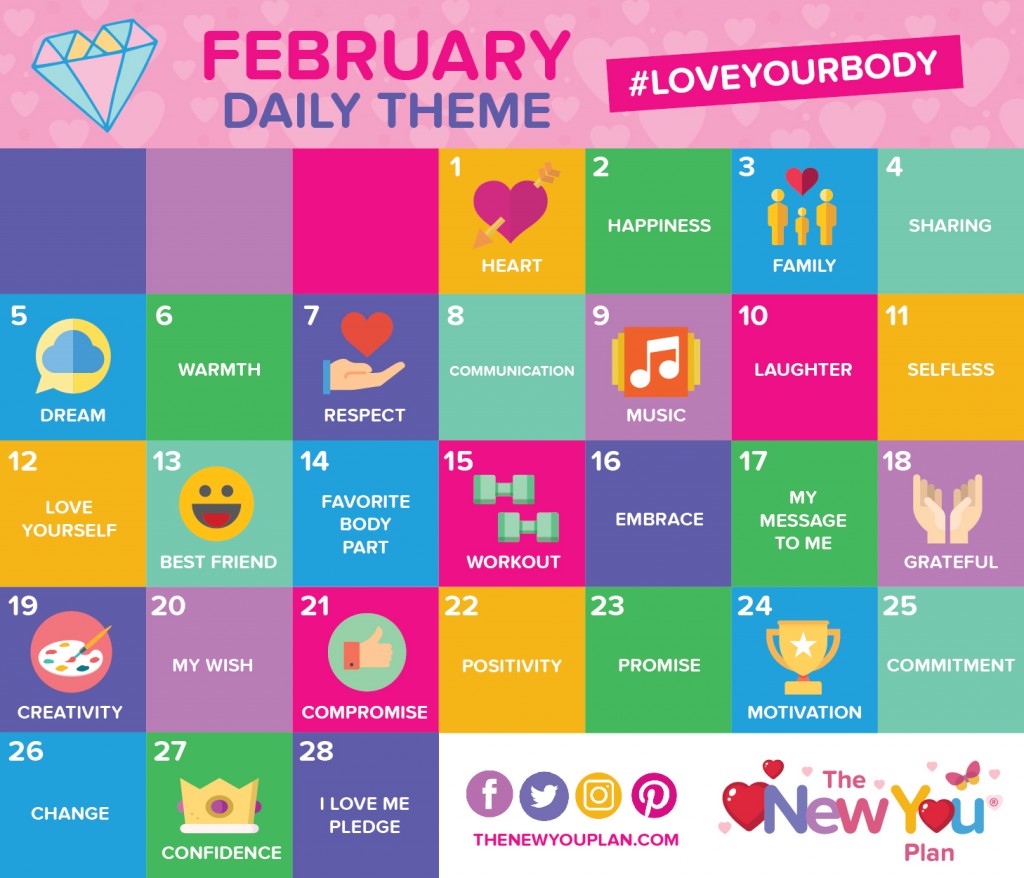 Can you believe January is already over? It will be Summer before we know it! As you know throughout December and January we launched photo challenge to keep us all focused and on track throughout the month and to bring a little fun to our community.
For February we have decided to expand on the idea a little and create a Daily Theme challenge instead of a Photo Challenge. The different with this one is we want you to get creative with your entries, it doesn't have to only be photo's..we want to see poems, videos, artwork etc. Whatever you can relate the theme too we want to see it.
The overall theme for this month is 'Love your body'. We want each and everyone of you to feel confident in your own skin and feel good inside and out. By loving your body now you are creating the right positive mindset to help you reach your weight loss goals. Don't get side tracked by how you think others see you, it is you that is judging yourself by having these thoughts. Celebrate who you are and what you achieve and your target will be that little bit easier to reach.
The daily themes for this month are all linked to loving your body, from confidence to favourite body part, we want you to start breaking down the mould to what makes you you. This challenge is not only for fun and to get involved with the community but for you all to see yourselves in the best light and feel positive with what you can achieve.
How do I get involved?
– Look out for the new theme posted each day on Secret Slimmers (or take a note of the themes above!!)
– Think of how you can show that theme (photo, quote, poem etc)
– Post your entry on Secret Slimmers or your own social media (Facebook, instagram, twitter)
– Use the hashtag #loveyourbody with all your posts
– Throughout the day see how others have responded to your entry and what they have posted themselves
– Continue with the themes for the rest of the month and then look back and see how far you have come on the path to loving your body.
Tags:
CHALLENGE
,
Dieting
,
february challenge
,
Feelings & Emotions
,
love your body
,
Mindset
,
Motivation & Inspiration
,
secret slimmers
,
The New You Diet
,
Total Food Replacement (TFR)