Before & Afters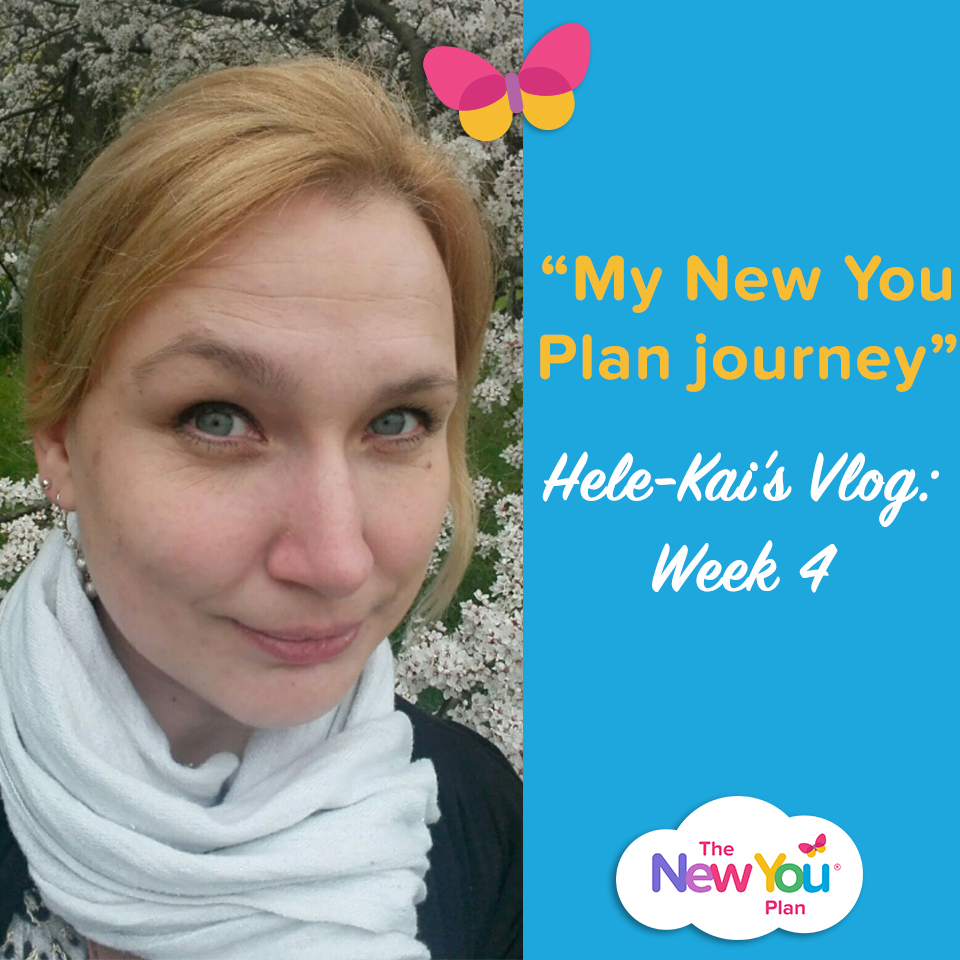 Week 4 vlog: New You Plan customer review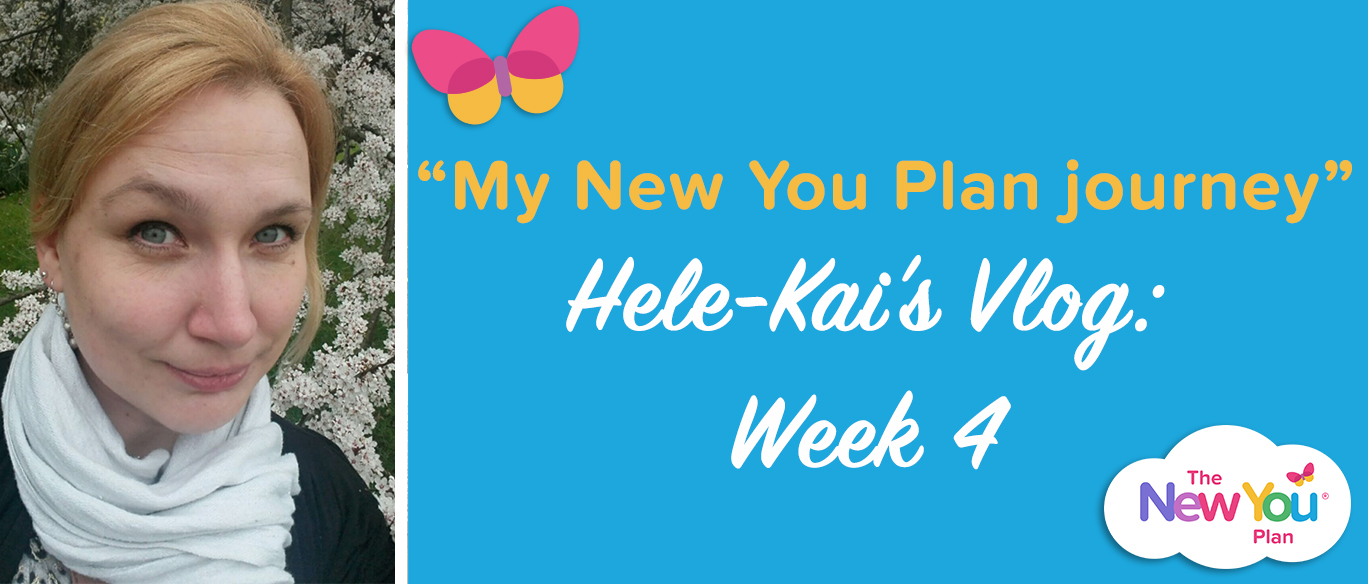 If you haven't been following Hele's New You Plan customer review, here's the scope…
Each week, the lovely Hele has been taking to the camera to tell us not only how much weight she has lost, but also how she's been finding the experience, in the hope that she can help, and inspire you on your journey to a new you.
Now one month on plan, this week she shares her total weight loss result, and also her inch losses, and we have to say, we're super impressed. This lady has the perfect mindset to succeed and she's totally in the zone!
Watch her video below to find out how she did and don't forget to show your support for Hele in the comments section below.
WOW! Well done Hele!! An amazing 21.6 lbs (1.5 stone), plus 10.8 inches gone in only 4 weeks! We think you look glowing and can definitely see a massive difference already!
We love that Hele is now finding her stride on the plan, and the fact that she doesn't want to start from scratch is the perfect motivation to keep going and not to blip.
The change in mindset that this plan brings needs to be experienced to be believed.
We can't wait to hear what next week brings for Hele!
____________________________________________________________________________________________________
Has Hele inspired you? Start your journey TODAY!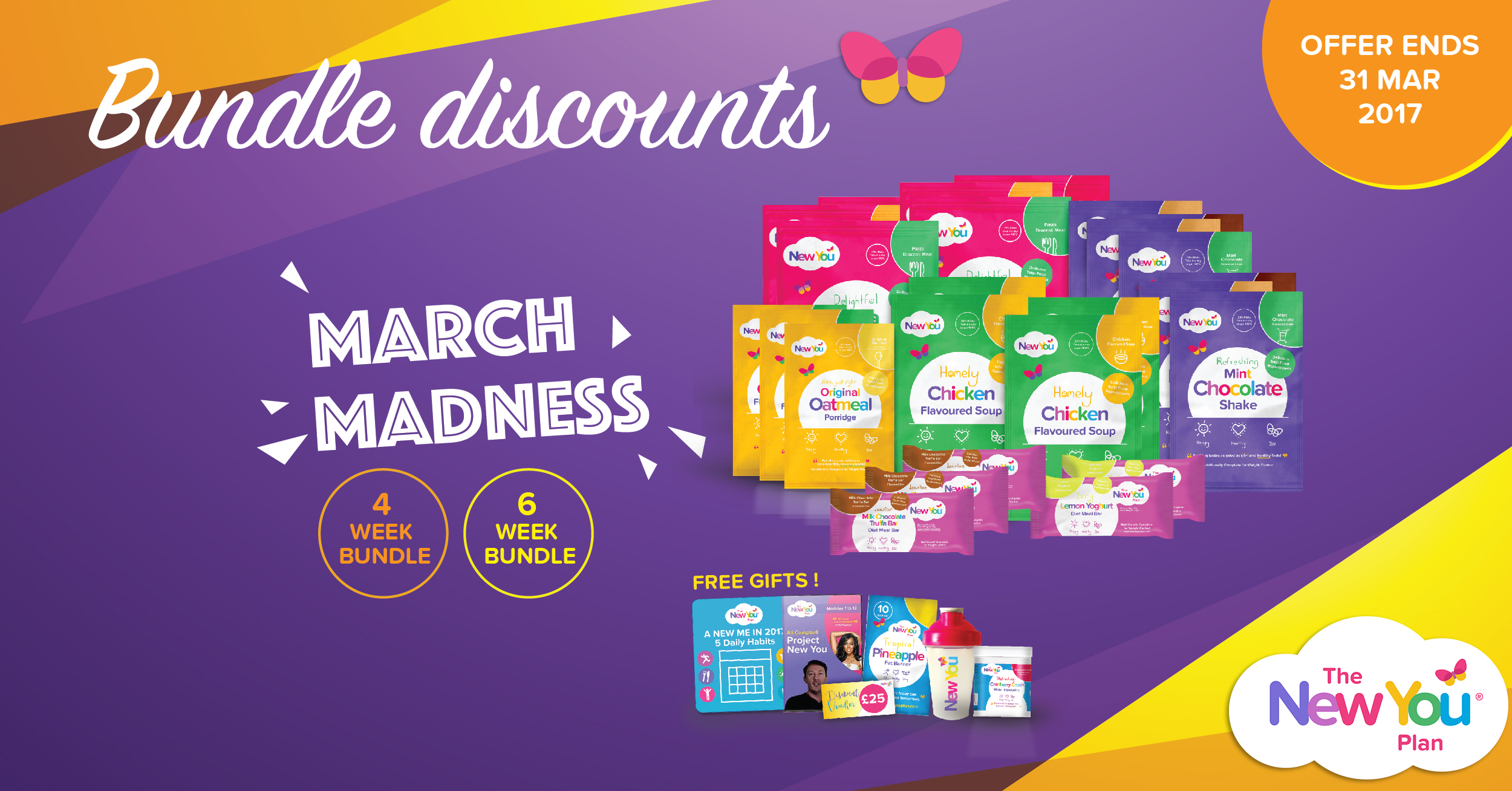 This spring, we want to help as many people as possible start their New You Plan journey, rediscovering who they are in the process! So, we sat down and thought about how we could do this and we've come up with two amazing bundles.
If you need a quick fix, and would like to lose a little weight, our 4 Week March Madness Bundle is perfect. Or, if you're fully committed and determined to give the next couple of months your all, our 6 Week March Madness Bundle is the one for you. Both of these fab offers end on March 31st.
As always, we've slashed the price to help you get more bang for your buck. PLUS… because we REALLY want to ENHANCE your weight loss journey, allowing you to get the most out of it, we've included some amazing FREEBIES!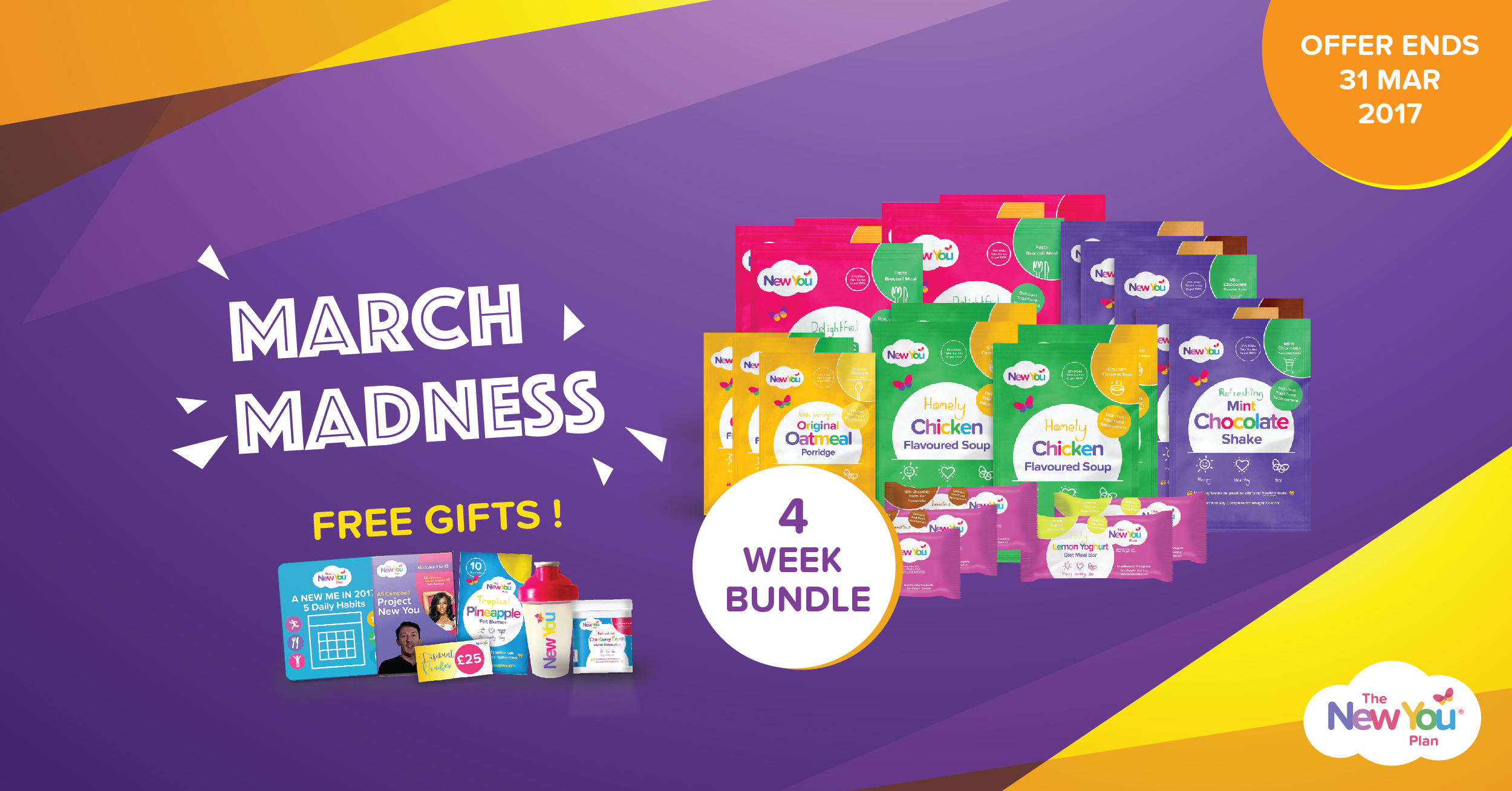 4 Week March Madness Bundle: ONLY £155.99 / €201.23
As well as your choice of 4 weeks of TFR Meals, you'll receive the following goodies worth a mega £149.97 / €193.46 FREE:
10 Pineapple Fat Burners worth £12.00

1 Cranberry Crush Water Flavouring worth £6.99

1 Blender Bottle Pink Lid worth £3.99

1 New You Wall Chart worth £4.99

Full Ali Campbell Project New You worth £97.00

£25 Off Voucher to be used in next order*
*£25 voucher is valid on order orders over £50 (does NOT include bundles) and is valid to 30/04/2017.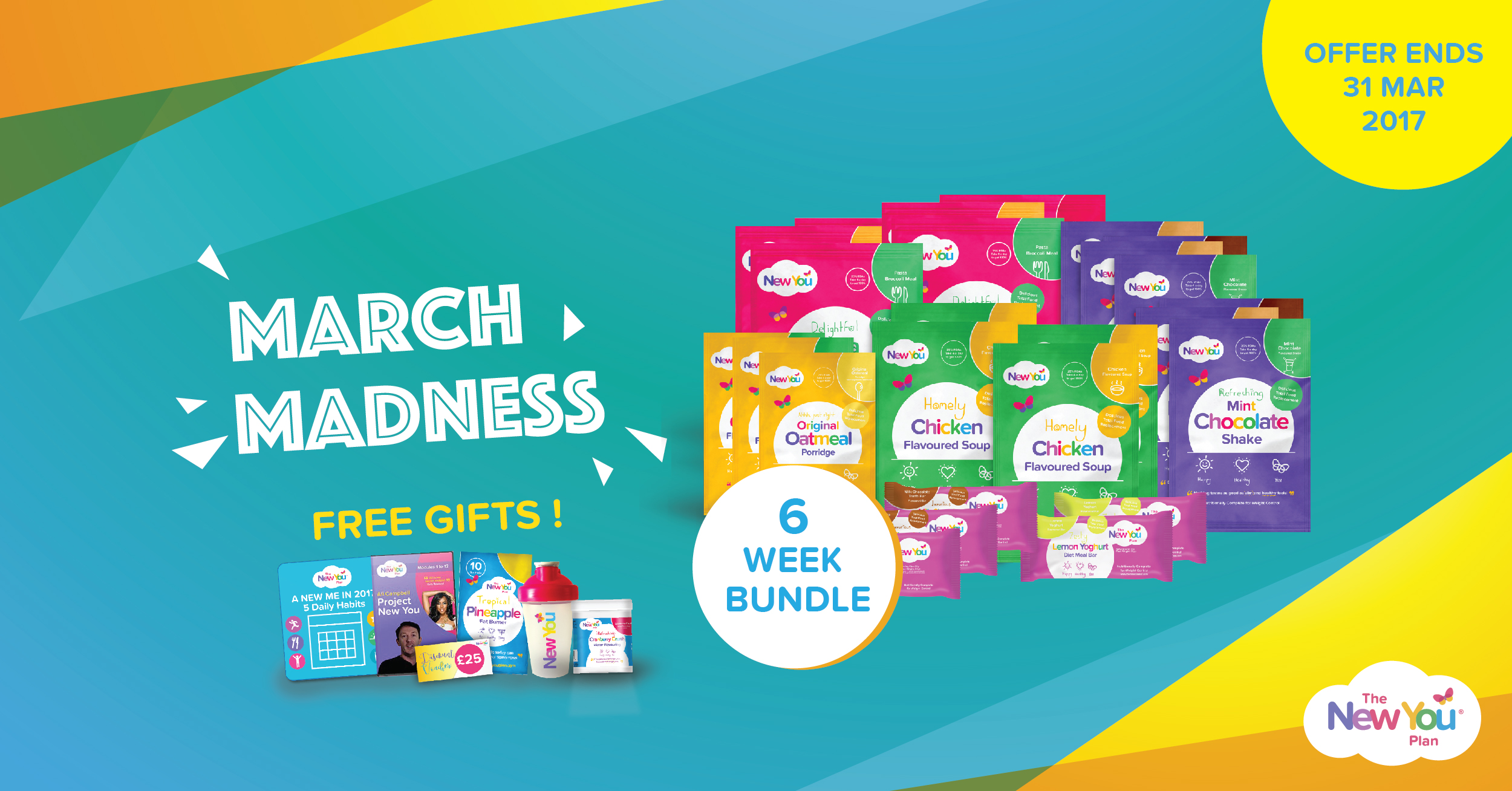 6 Week March Madness Bundle: ONLY £199.99 / €257.99
As well as your choice of 6 weeks of TFR Meals, you'll receive the following goodies worth an AMAZING £191.45 / €246.97 absolutely FREE:
20 Pineapple Fat Burners worth £24.00

1 Orange Water Flavouring worth £6.99

1 Blender Bottle Purple Lid worth £3.99

1 Drop a Jean Size Journal worth £14.99

1 Set of New You Earphones worth £4.50

1 New You Wall Chart worth £4.99

Full Ali Campbell Project New You worth £97.00

£25 Off Voucher to be used in next order*

1 Stretch for a New You DVD worth £9.99**
*£25 voucher is valid on order orders over £50 (does NOT include bundles) and is valid to 30/04/2017
**First 80 orders get a 'Stretch for a New You' yoga DVD