Challenges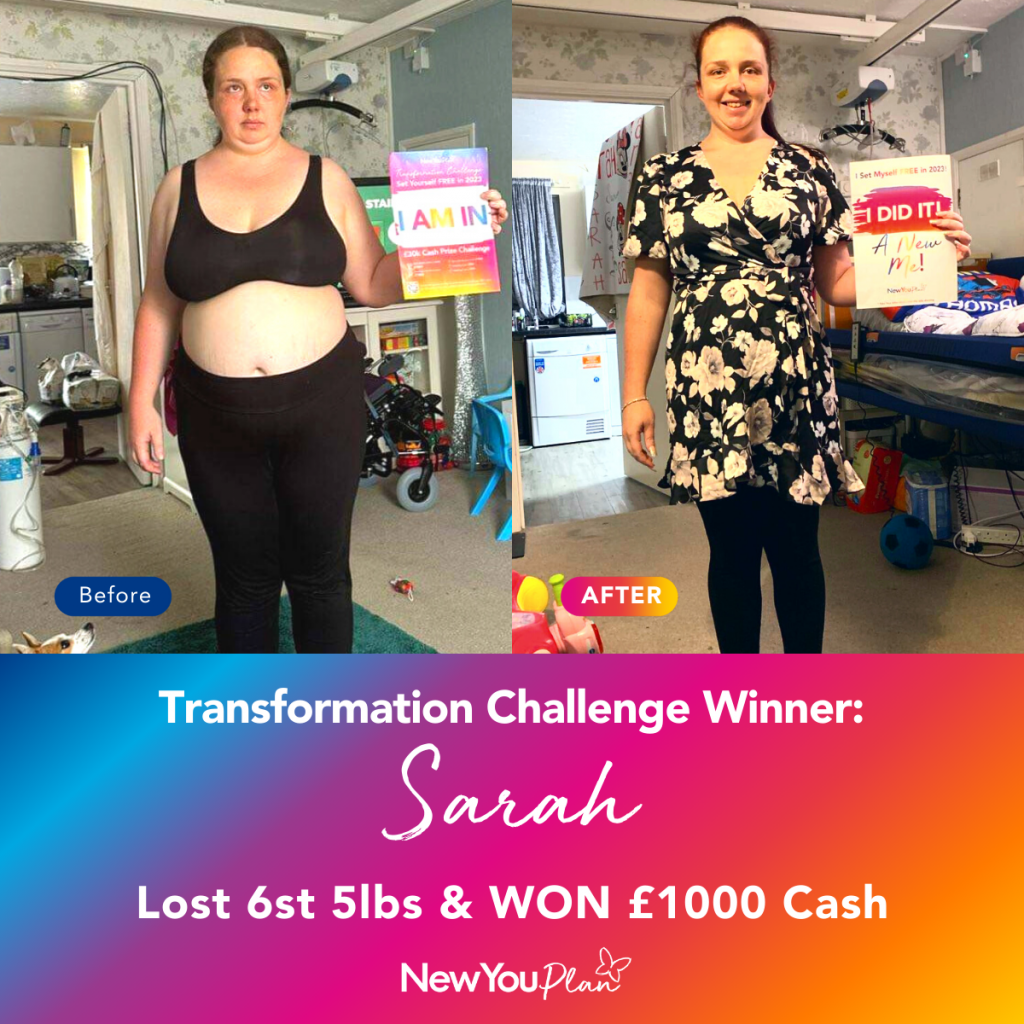 TRANSFORMATION CHALLENGE WINNER: Sarah Lost 6st 5lbs & WON £1000 Cash!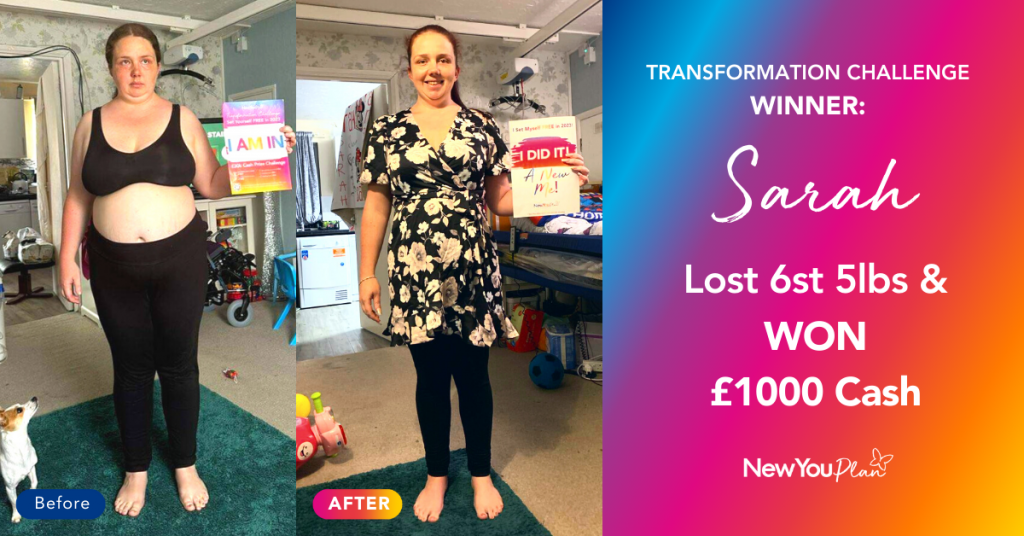 What an absolute inspiration Sarah is! Her 7-year-old daughter is terminally ill and this year, she decided that she needed to start looking after herself in order to be strong her for daughter. She also wanted to lose weight to be in photos and capture happy memories with her family. After finding The New You Plan – which conveniently fits around her unpredictable life – Sarah has lost a massive 6st 5lbs. We are in absolute awe of her and we've no doubt that you will agree that she is a deserved winner of our Fall Focus Sept/Oct Transformation Challenge.
Here she shares her amazing story.
New You: Why did you decide to join the challenge?
Sarah: I wasn't going to, but my husband talked me into it. He told me to do it for myself. But I found, especially on the Secret Slimmers page, that actually seeing everyone's before and after transformations and what can be achieved was really motivating. It's hard to notice any differences yourself, which is why I started taking my own photos. It was hard to find photos of myself when I was at my heaviest because I hated having my pictures taken. The few that I did find, comparing them and looking back was a really good way to remind myself of just how far I had come.
I didn't ever think I was going to win, to be honest. So I sent the pictures in just because I had taken them more than anything else. I'd shared them in Secret Slimmers too & the feedback I got was absolutely amazing. So I thought, I haven't got anything to lose. And at the end of the day, if you win, then that's amazing. But actually just knowing that people are looking at your pictures and thinking "Oh wow, that person has done really amazing!" is just so motivating. So that's now given me a huge boost to continue with my journey and carry on to get to where I want to be.
New You: Was there anything that helped you stay on-track while doing the challenge?
Sarah: As well as taking the photos, weighing myself weekly kept me on track. I always weighed myself on a Friday morning, and no matter whether it was a gain or I'd stayed the same, or a loss, or a really good loss, that was my way of being accountable to myself. If it hadn't been a good week, I knew what I needed to do to make the next one better.
New You: Throughout the challenge, were there any milestones that you hit?
Sarah: I kept my milestones and my goals quite low. I aimed for half a stone at a time because I just felt that that was more realistic and achievable than setting myself just one massive end goal. Breaking it down into smaller amounts was more helpful.
New You: So remind us, how much weight have you lost?
Sarah: I started the diet back on the 18th of May. To date, I have lost a total of 6st 5lbs.
Getting started…
New You: How did you discover the plan?
Sarah: I discovered the plan online. I had tried everything else so it was time for something different. When The New You Plan came up, I looked at the reviews because I feel that there's no better way to judge if a diet and the products work than reading what other people have said about it. It sounded right for me.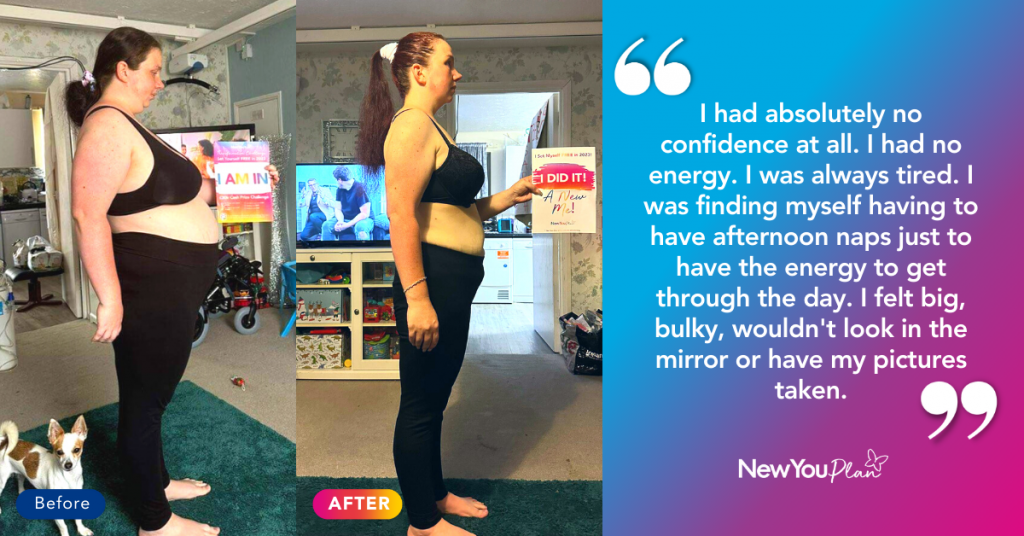 New You: What led to you starting the plan?
Sarah: I had absolutely no confidence at all. I had no energy. I was always tired. I was finding myself having to have afternoon naps just to have the energy to get through the day. I felt big, bulky, wouldn't look in the mirror or have my pictures taken. I just had no confidence in myself at all. I hated clothes shopping, everything I bought would be really baggy. I just felt really rubbish, to be honest.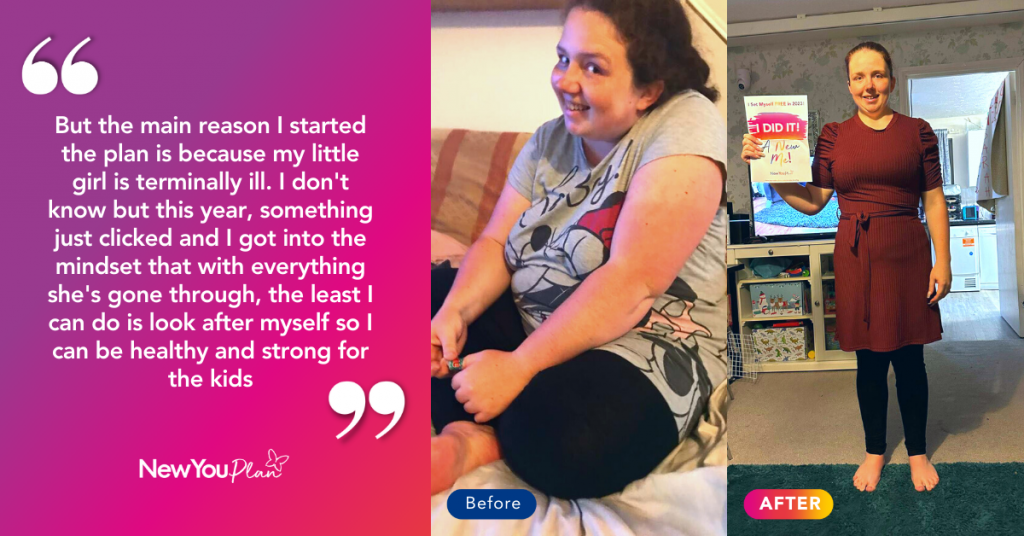 But the main reason I started the plan is because my little girl is terminally ill. I don't know but this year, something just clicked and I got into the mindset that with everything she's gone through, the least I can do is look after myself so I can be healthy and strong for the kids, especially her, because she spends so much time in hospital as she's quite poorly. Because of her illness, I was feeling rubbish all the time and anytime she was in hospital, it was so easy to just eat Subway and Costa all the time because they're just there and they're convenient. But it actually makes you feel worse. You still don't have any energy to get through. You're just eating for the sake of eating and obviously piling on the weight as you go along.
But my mindset changed this year and now that is the way I look at it. A lot of people have said to me that my weight should be the least of my worries and that I should be concentrating on my daughter. But when I wasn't eating well, I just felt rubbish all the time so that didn't actually help her. If anything, it was counterproductive.
As she spends months at a time in hospital, I needed a diet that I could just pick up and run with. So if I call an ambulance, I can just go to the drawer, grab all the products, put them straight in a bag, take them with me, and then I know no matter what happens, I've got my food. It's just very practical for me, it's very easy to stick to and I don't have to worry about preparing meals.
New You: And tell us about that first week…
Sarah: Before I started, I joined Secret Slimmers, read everyone's posts and did my research. I felt like I knew what to expect in the first week whilst your body adjusts to giving up all the rubbish. I thought I would have really bad headaches because I used to eat an awful lot of sugar – I was verging on being diabetic. I was expecting to have blurry eyesight, dizziness and headaches but I didn't.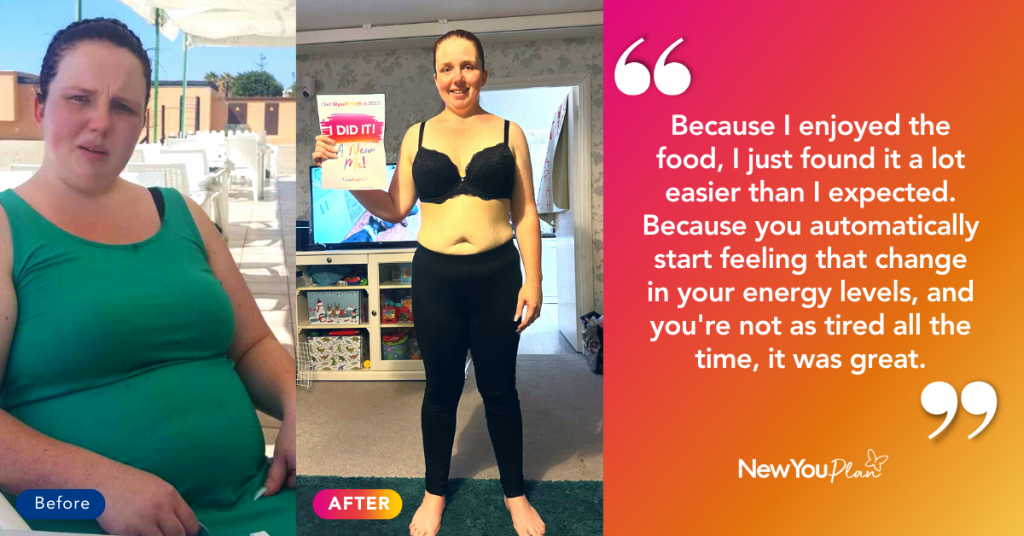 Actually, because I enjoyed the food, I just found it a lot easier than I expected. Because you automatically start feeling that change in your energy levels, and you're not as tired all the time, it was great. I think I was just in the right mindset. I knew the goals I wanted to achieve and I was quite happy to just get on with it.
New You: What are your go-to meals & snacks?
Sarah: I enjoy quite a lot of them, actually. But going back to what I was saying earlier, I have the most ridiculous sweet tooth. Before starting the plan, I would eat endless bars of chocolate. So naturally, my favourite meal that I always make sure I stock up on is the Chocolate Brownie. You feel like you're having something naughty, even though you're not. And it's the perfect guilt-free pick-me-up if you're having a rubbish day.
Life changing…
New You: How would you say the plan has changed your life?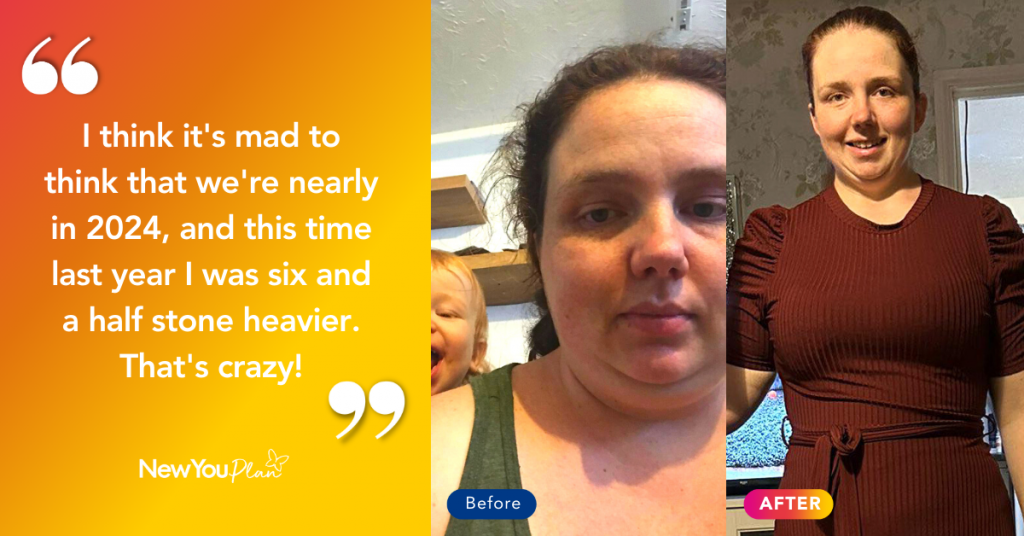 Sarah: Quite drastically, to be honest. I think it's mad to think that we're nearly in 2024, and this time last year I was six and a half stone heavier. That's crazy!
There was a lot I couldn't do this time last year. I couldn't join in with the kids at all. I'd get so tired even climbing up just one flight of stairs in the house – I'd get really out of breath and feel really uncomfortable. I had absolutely no energy.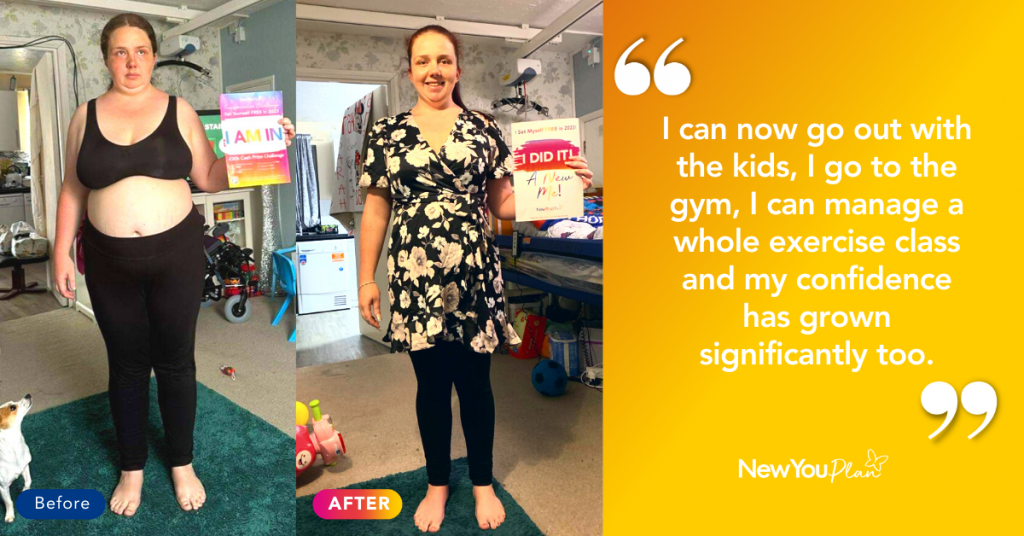 I can now go out with the kids and join in with them playing. I go to the gym; I couldn't do that before. I can manage a whole exercise class and feel absolutely amazing afterwards because I was able to keep up with it. I absolutely love clothes shopping now. One of the biggest things for me is being able to wear knee high boots. Because I've always been so overweight, boots have always had to be XXXX on width to get them up over my thigh. I ordered a new pair, thinking they wouldn't fit and they did!! Being able to buy clothes and normal boots from any supermarket or shop is amazing.
My confidence has grown significantly too. When I was looking back at my old before photos, I realised that we don't actually have that many pictures of us as a family because I've always avoided the camera because I didn't like how I looked. So, to now not care and to quite happily take selfies with the whole family makes a massive difference.
New You: What is the nicest compliment you have received since losing weight?
Sarah: I've had loads of compliments but I think the one that has really stuck with me was in Secret Slimmers when someone said that in my now photos, I could be my own daughter. Someone else said I could pass as a teenager. It's nice to know that weight loss has made such a significant difference to my appearance.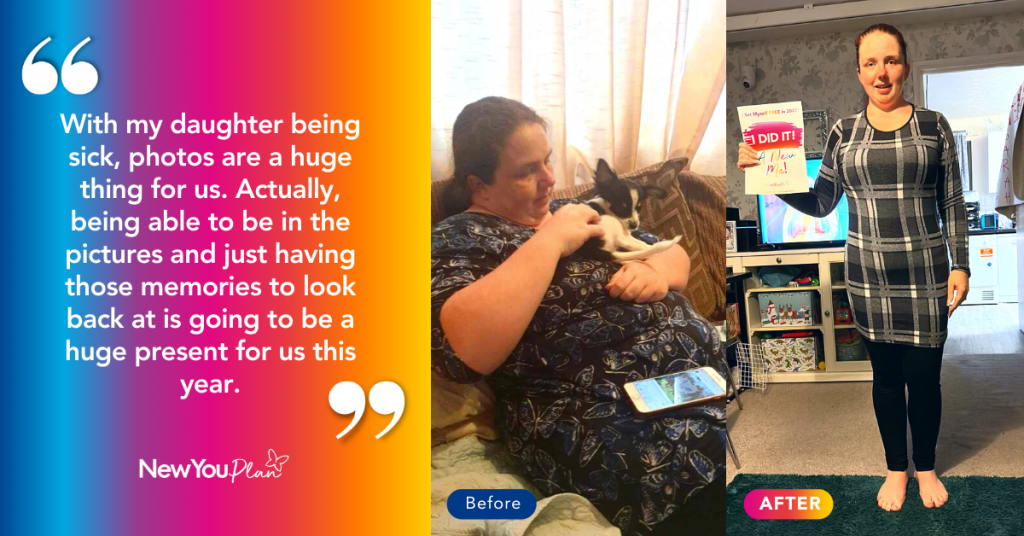 New You: How will your Christmas differ this year?
Sarah: We always put our decorations up early because we never know when my daughter is going to be in hospital so those are going up next week. When I look back at the last few Christmases, it's just pictures of the kids. Whereas this year I'm looking forward to it being pictures of us as a family and us all enjoying it. With my daughter being sick, photos are a huge thing for us. Actually being able to be in the pictures and just having those memories to look back at is going to be a huge present for us this year. I just love Christmas, so I can't wait.
New You: What would you say to someone thinking of starting the plan?
Sarah: Do do your research – it's a difficult plan to follow because you give up everything. But I think that if you're in the mindset that you really want results, then do your research to make sure you know what you're going in for.
When it comes to the meals, there is so much choice and I made the mistake of not ordering a variety of products when I placed my first order. Having a wide range will help you work out what you prefer. I found I liked a lot of the ones I wasn't expecting to.
It's an amazing plan once you're on it and you get out of it what you put into it.
New You: And then finally, what's next?
Sarah: I've set myself a goal – I want to lose another stone and a half before the New Year. So as much as I'm excited about Christmas and family time, I've accepted in my head that I might have a day off for Christmas and then I'll get back on it. But I want to go into the New Year being at my goal weight.
Fancy Losing Weight & WINNING Cash?! End 2023 STRONG!
Sarah is proof that you can lose weight and change your health for the better!
Whether you want to lose half a stone or 10 stone, have a slimmer figure, or are just looking to get maximum nutrition in minimum time, then New You can make the perfect partner to get you to where you want to be.
END 2023 STRONG! Join Our £30K Cash 2023 Transformation Challenge

Sarah won £1000 cash and you could win too!
Our final deadline of 2023 is:
That means you have from now until the New Year to create your transformation. If you entered earlier this year and didn't win, you can still enter again. already entered and haven't won, please keep submitting your photos. Just remember to take your "I AM IN" photo now so that you will have amazing before and after photos.
Get all the details in this dedicated blog post here.