Before & Afters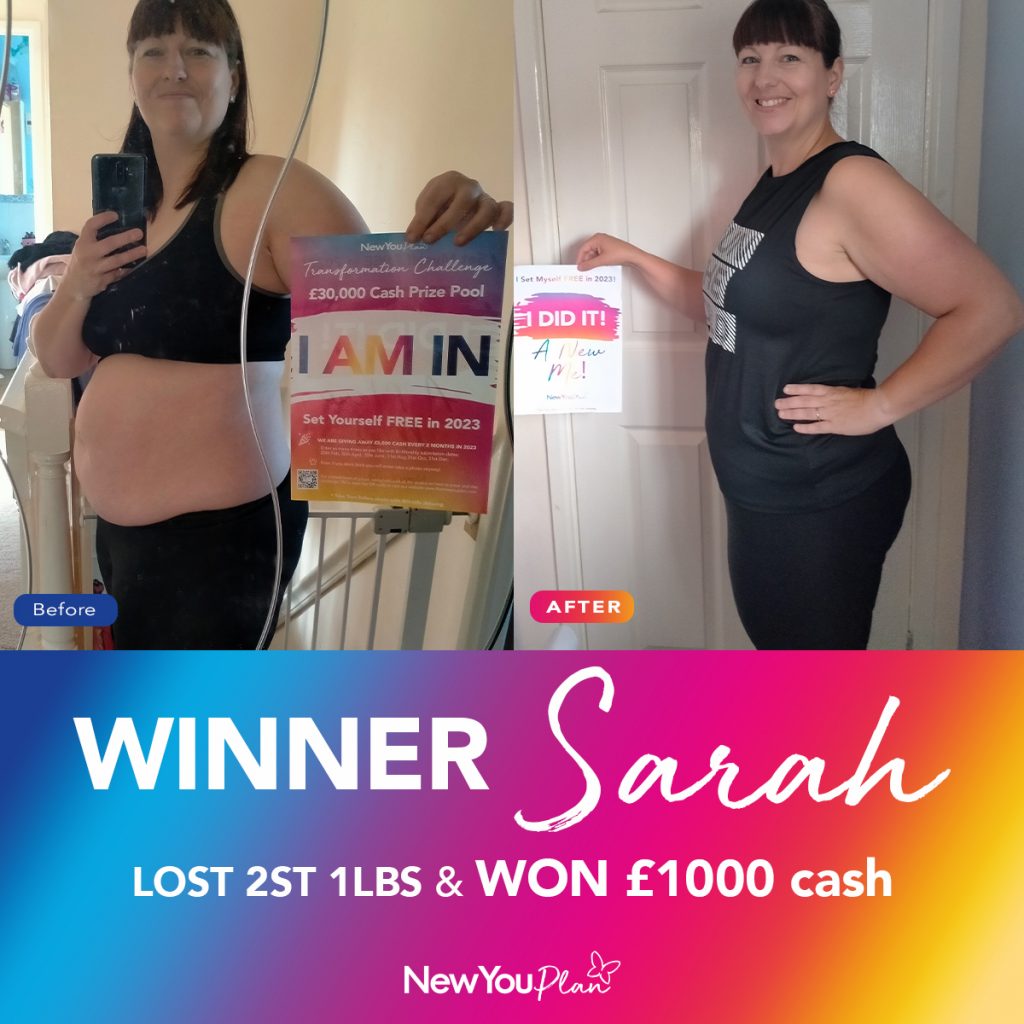 TRANSFORMATION CHALLENGE WINNER: Sarah Lost 2st 1lb & WON £1000 Cash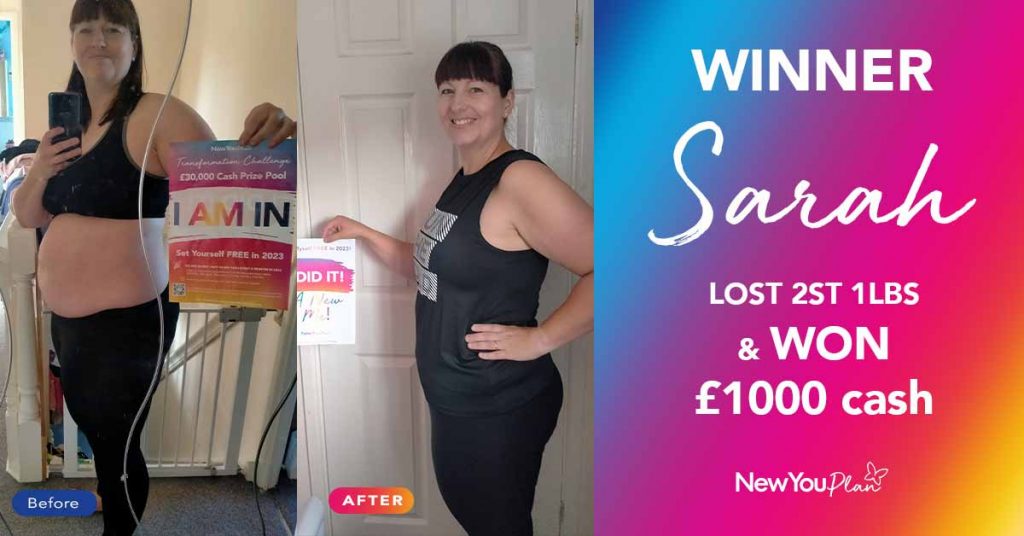 How AMAZING does Sarah look?! She has lost 30lbs in 14 weeks, dropped 2 dress sizes and won £1000 cash in our Transformation Challenge. But what's better than this is that she now feels happier, healthier and more confident. Well done Sarah!
New You: Sarah, what was your biggest motivator for joining the challenge?
Sarah: I joined the March/April challenge, even though I only started the plan in the March, but I just wanted to keep myself on track and accountable. I really didn't think I'd win it and obviously I didn't back then. And then I thought, well, I'm going to enter again in May/June. When I looked at my before and after photos I was amazed at the difference, especially in my face. I think it's good to take your before photos, because on a day-to-day basis, when you look at yourself, you don't really notice the change but when you put those two photos together, it's so clear!
New You: Was there anything that helped you stay on-track while doing the challenge?

I kept a food diary. I recored all my meals everyday. I would bag up seven days' worth of meals and date them Monday to Sunday. It makes it easier – it's like a grab-and-go kind of situation. If you lead a hectic life or you're a mum, or you have to go off to work or have chores to do, it's easy just to grab your bag and you don't have to really prepare anything, you just add water and you're done. I've also used the Transformation Challenge 12 Week Wall Chart, which I've got up in the kitchen. It's nice to see all those ticks when you're on track. That really helped.
New You: So tell us, how much weight have you lost?
Sarah: I think I lost about 20 pounds in the first four weeks and then it slowed down quite a bit, but I still lost a pound each week for the last ten weeks. So 30 pounds in 14 weeks. And I think even if it's just a pound loss one week, it's going down, it's not going up, so it's going in the right direction.
I set myself the challenge of losing the first 14 pounds. That was my first little milestone. I like to set myself little mini ones. I lost that in the first two weeks. Then I was 2 stone down by week 13. In terms of non-scale victories, which I think are most important, I dropped from a dress size 16/18 to a size 14 and being able to fit back into some clothes that I'd stored for over two years up in the loft, and just the satisfaction of putting them on, thinking, oh, my goodness, they fit. And also going back to the gym and not feeling ashamed of all the wobbly dips.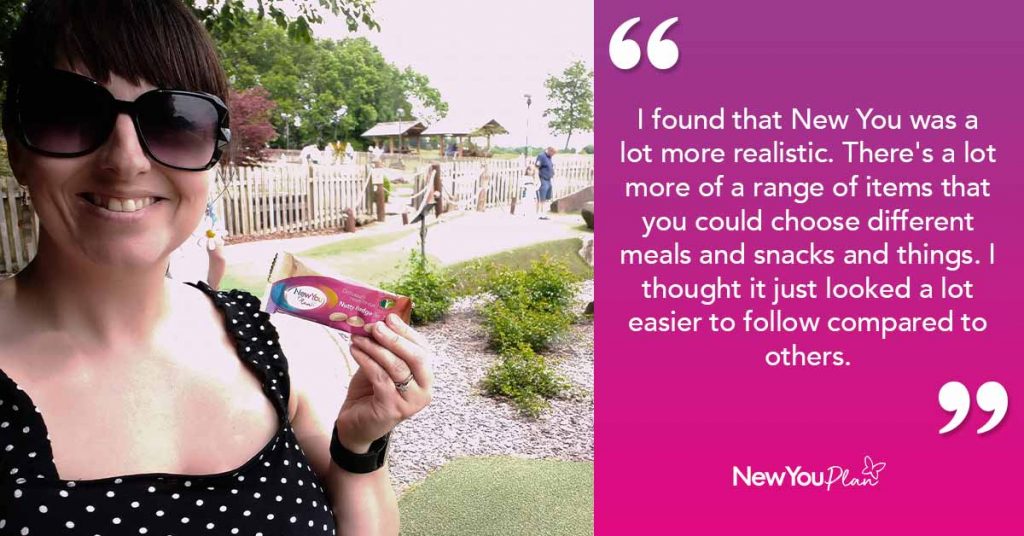 New You: We'd love to know how you heard about the plan!
Sarah: I was browsing through Facebook and a post came up about The New You Plan and what it entails. I thought it looked like a really good plan. So I looked into it, read some reviews, and then I think I pondered it for a couple of days and I thought, you know what, why not? So I placed an order within the first couple of days and yeah, the rest is history.
Over the last seven or eight years, I have tried a number of different plans, like dipped my toe in and tried it a few times, but nothing I could stick to. They were all quite unrealistic and really strict with their rules. And I found that New You was a lot more realistic. There's a lot more of a range of items that you could choose different meals and snacks and things. I thought it just looked a lot easier to follow compared to others.
Getting Started…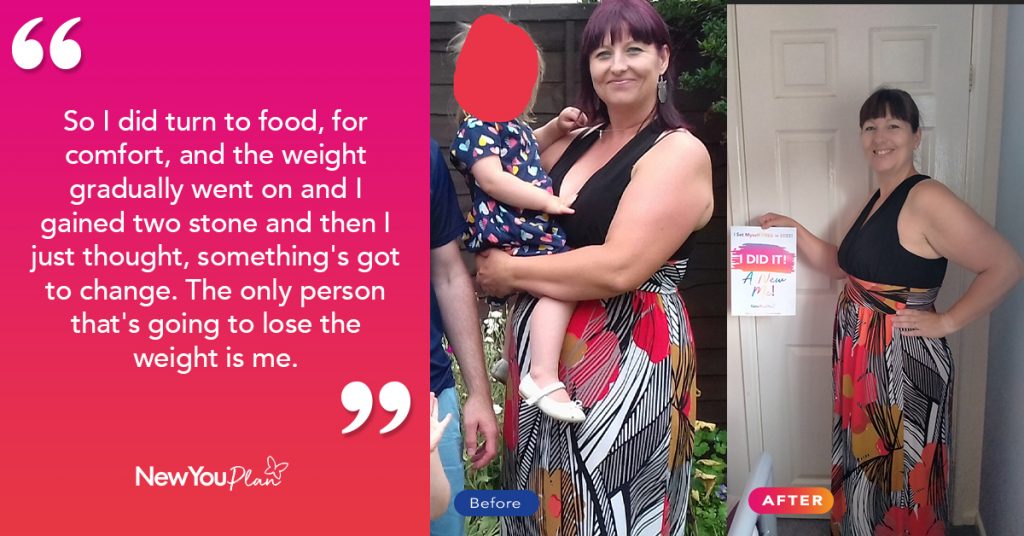 New You: What led to you starting the plan?
Sarah: Well, I'd gained quite a lot of weight over the last seven years. Having children have done that to me. But I think after the COVID restrictions opened back up again, I had a bit of social anxiety around getting back to realism and the way normal life is, whatever normal is. Yes, so getting back to being a school mom, going out and being around other people did cause a bit of an anxiety issue. So I did turn to food, for comfort, and the weight gradually went on and I gained over the two years. I think it was like two stone in the first year, and then I just thought, something's got to change. The only person that's going to lose the weight is me.
New You: And tell us about that first week…
Sarah: I think I found it pretty easy. I think the first three days were probably the hardest. I had a migraine for the first three or four days that I just couldn't really shift. I guess it's just toxins leaving the body and becoming healthier again. But I found sticking to my four litres of water really helped. The headaches disappeared on day four and I started to feel really good and full of energy after that and it got easier.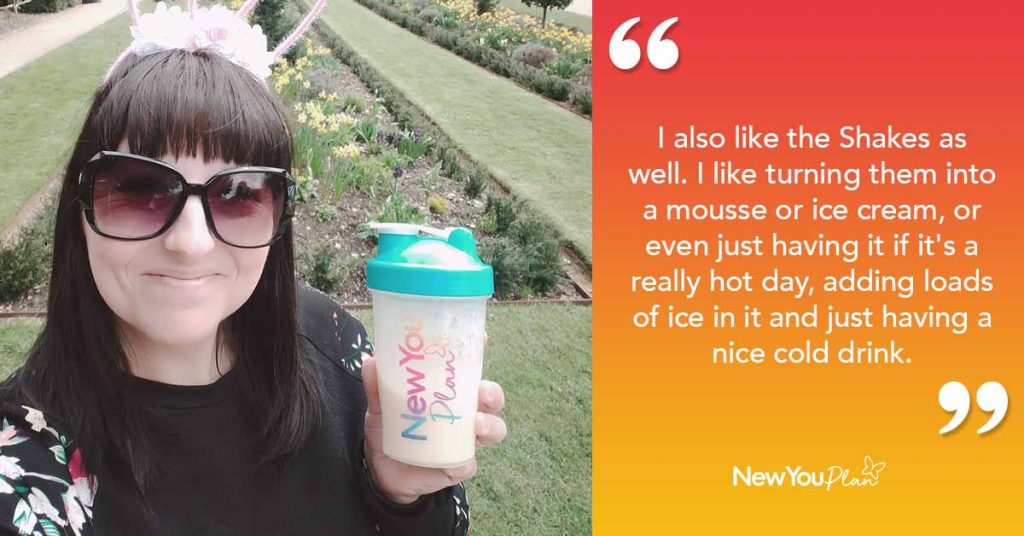 New You: What are your go-to meals & snacks?
Sarah: I don't know if I can choose. I would say my two favourite savoury meals are the Mexican Tacos and the Vegetable Chilli. I really like those accompanied by the bag of Tortilla Chips. It feels naughty, like it's something you shouldn't really be eating. And I think the amount that the meal holds as well is a nice amount. I also like the Shakes as well. I like turning them into a mousse or ice cream, or even just having it if it's a really hot day, adding loads of ice in it and just having a nice cold drink.
Life Changing…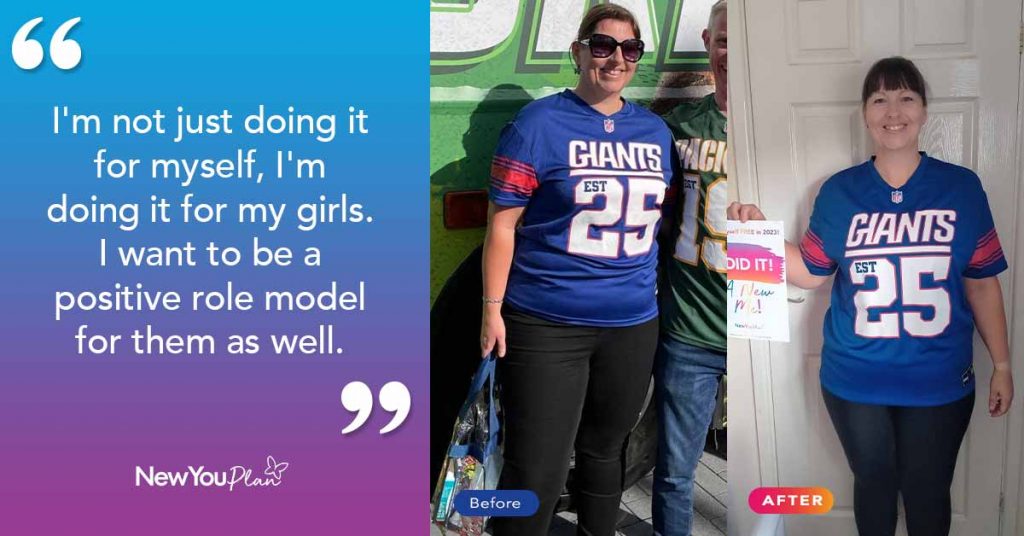 New You: What difference has the plan made to your life?
Sarah: I'm wearing more colourful clothes now rather than hiding behind dark, baggy clothes and hoodies. And also having photos taken as well on day trips and time out with the family. We recently bought our two girls a camera each, and in the past I said, "Oh, no, don't take a picture of Mummy", whereas we went out at the weekend and they were both taking pictures of me and saying, "Oh, you look really nice in that photo, Mummy". And it was just nice that I was helping them to feel happy. I'm not just doing it for myself, I'm doing it for them. I want to be a positive role model for them as well.

I've also got loads of energy now. In the past, I've had to come home from work and have a nap. I don't need to do that anymore. I feel more alert and generally just happier in my own skin. All that rubbish food was obviously making me feel really sluggish and down and out. Whereas eating something more wholesome and full of nutrients is a lot better for you and makes you feel so much better.
New You: What is the nicest compliment you have received since losing weight?
Sarah: I've had compliments from mums in the playground when they saw me after the first month of doing the plan. They were saying, "Oh, my goodness, I've been following you on Instagram. You've lost so much weight, you're looking so good." And that was really nice. And I don't really know how to take compliments – I usually just brush them off. But it's really nice to hear that look so much slimmer now. And I've recently had a new work photo taken as well for our board. In my first photo, I just looked so big in the face, whereas this photo that they've just taken looks so different. Even my husband commented on it and my daughter said it's nice to see me in colours now and that I look pretty.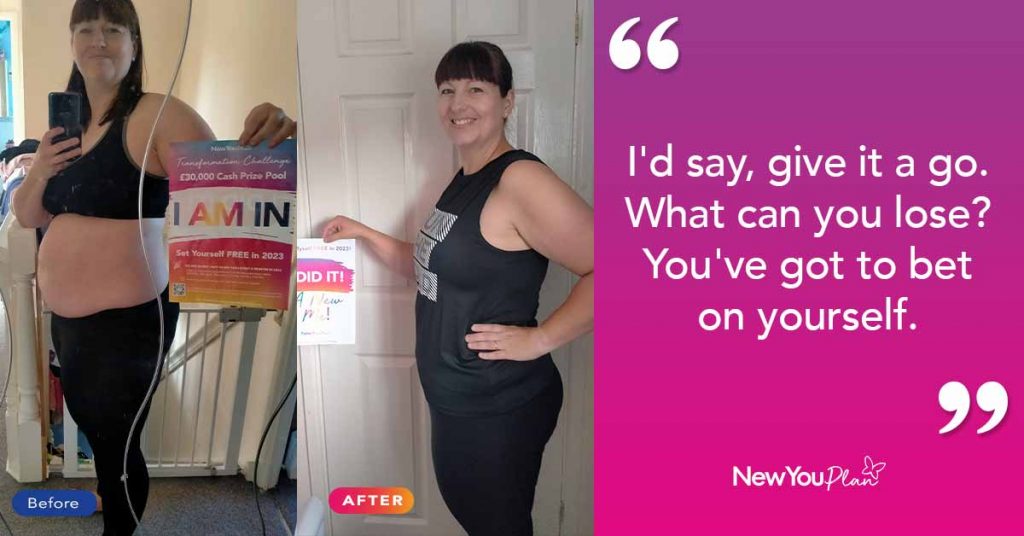 New You: What would you say to someone thinking of starting the plan?
Sarah: I'd say, give it a go. What can you lose? You've got to bet on yourself. When I started, I knew that no one was going to invest in me other than me, so that's how I saw it. So I would say, give it a go. Try it out for the first four weeks. When you see how much you lose, that will spur you on. Stick to it. Try a range of different meals, change it up. Experiment with different ones until you find your favourites. You don't have to like them all. And join Secret Slimmers as well. I find that has just been so helpful. Whenever you're having a bad day or you just want to have a natter with someone else who knows where you're coming from or what you're going through, it's really nice to have that support system.
New You: And then finally, what's next?
Sarah: Well, I was only going to do the plan until I go on holiday in a couple of weeks time but I've decided I want to keep going as I enjoy it so much. I think I've pushed my goal now to Christmas time. So I'm going to go away for this holiday, enjoy it and then I'm going to come back, get straight back on plan again and do it again all the way up to Christmas and aim for another two stone. I'm going to buy myself a dress which I don't fit into yet, and use that as my incentive. I know that when it fits I'll feel amazing.
Want to join Sarah?
Sarah is proof that you can lose weight and change your health for the better!
Whether you want to lose half a stone or 10 stone, have a slimmer figure, or are just looking to get maximum nutrition in minimum time, then New You can make the perfect partner to get you to where you want to be.
Not sure? Try our 7-day bundle and see what you can achieve in a week. You'll be pleasantly surprised…
Want to get involved in our 2023 Transformation Challenge?

Sarah won £1000 cash and you could win too! This year, we are on a mission to help as many men and women reach their goals for good. In 2023, you really could lose weight, win cash and diet for FREE, thanks to our MASSIVE £75K giveaway.
Get all the details in this dedicated blog post here.