Challenges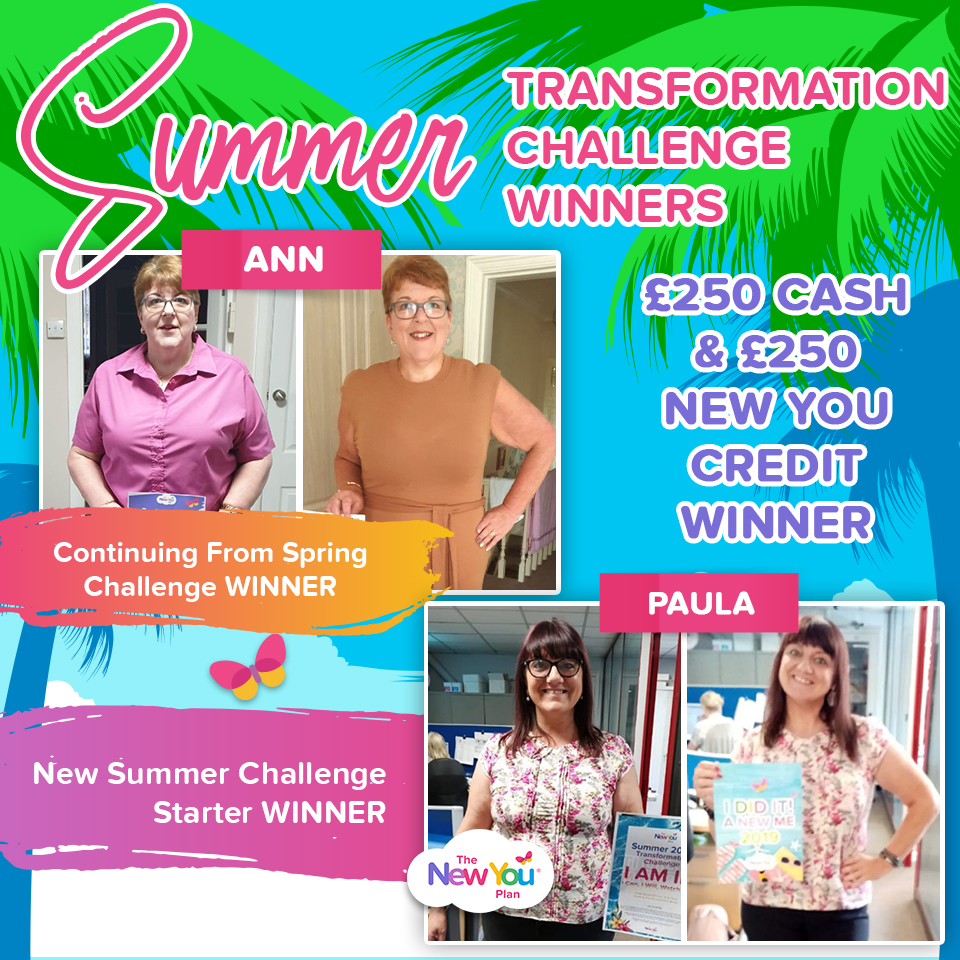 Summer Transformation Challenge Winners Revealed

Drum roll please… we are delighted to reveal the WINNERS of our Summer Transformation Challenge! Find out who has won £250 Cash + £250 New You Credit
We had such an amazing response to our Summer Transformation Challenge! We LOVED seeing how motivated you were to smash your goals this season.
The past 7 weeks have been a time of amazing transformation for our customers. Alongside the main challenge, each week we launched a new inspirational blog post and task, with spot prizes up for grabs. Our customers told us that they LOVED taking part and it definitely helped them stay on track, which is always our goal when we launch these challenges! At The New You Plan, we firmly believe in doing what we can to keep our customers motived at all times!
And now that the Summer Transformation Challenge has ended we are delighted to reveal the winners!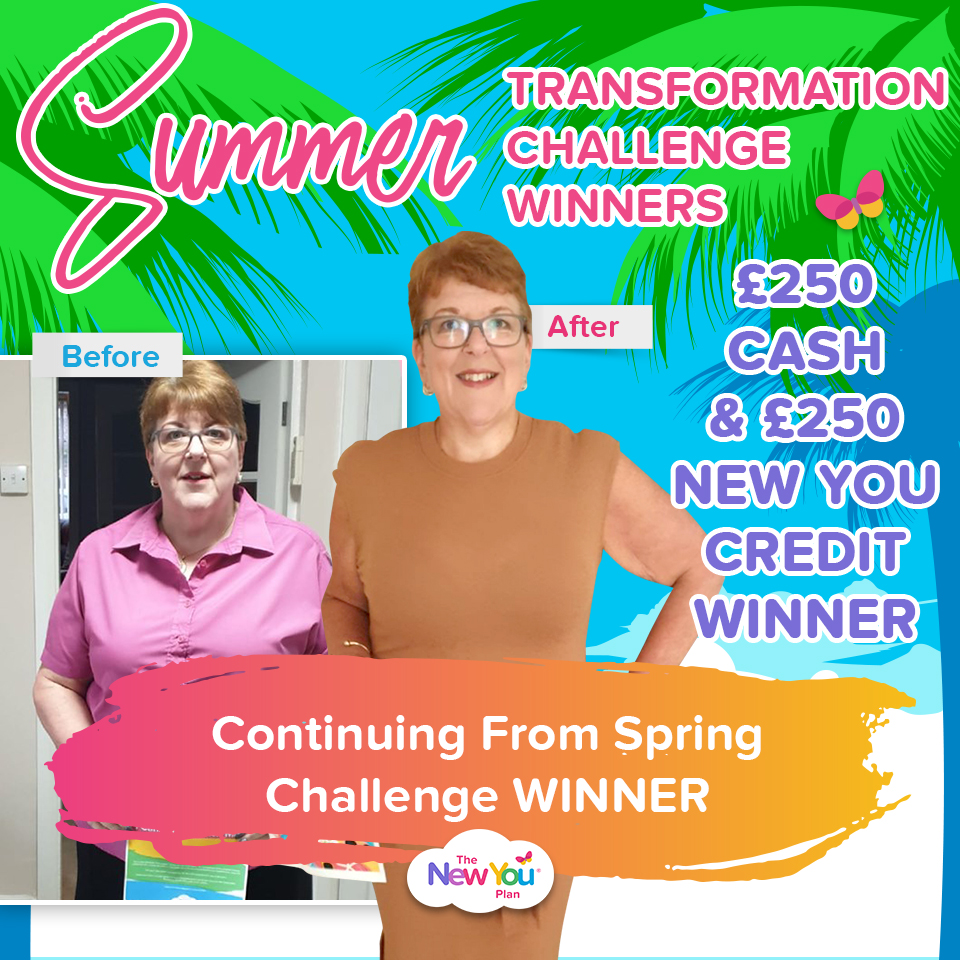 1st Place Winner (Continuing on from Spring Transformation Challenge): Anne Gough
Ann took place in our Spring Transformation Challenge and found it so motivating that she continued on with her journey, and joined us for our Summer Transformation Challenge.
Ann looks incredible and we are so proud of her dedication to get slim, fit and healthy for summer.
When she submitted her 'I DID IT' photo in Secret Slimmers, Ann posted the following:
"I cannot begin to explain how since starting this programme on 16th January my life has totally changed. When I found New You I was in the final desperations of weight loss hell and was seriously considering surgery. At 21st 7lbs my weight was now affecting my health so I had to do something. My husband had read about celebrities using Lighter Life and doing well so he suggested me trying it, so I was on to my trusty laptop. I started to look but I wasn't very eager as I am a 'foodie'. I like eating food! I know I couldn't do a diet with just shakes so I wasn't holding out much hope. I had heard of shakes diets and I didn't like them. Anyway what popped up from the search engine amongst others was The New You Plan and it said you could have FOOD! I clicked on it, read all about it and ordered.
I sent for my first two weeks and I don't mind admitting the first week was hard. I didn't like some of the meal choices, I was struggling with the water intake and outage! But after the 5th day I was hooked and I suppose the rest is history.
So now another 1st 5lb down (over 5st in total) I know I am a winner. I am healthier, happier and now no longer grossly obese in fact the next goal is to be overweight, sounds funny, I know but it's something which I haven't been for so many years I cannot put a number on it.
New You totally transformed me as a mum, as a mamma and as a wife. In six short months I have become so much more happier with ME than I have been for years, but I still can't believe I can wear a dress size 16, hehe!"
WOW! Well done Ann. You are definitely a worthy winner of £250 cash + £250 New You Plan points.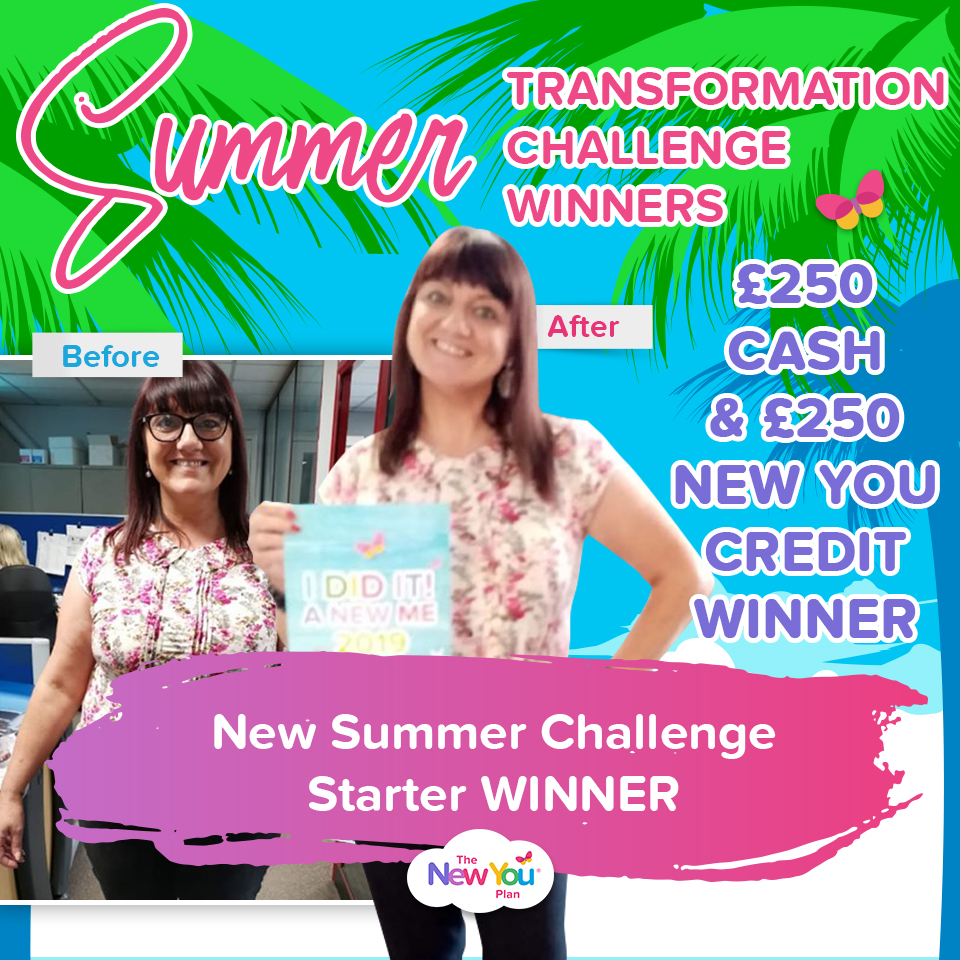 1st Place Winner (New Summer Challenge Starter): Paula Smyth
Paula joined us for our Summer Transformation Challenge and is well on her way to smashing her goal.
When she shared her "I DID IT" photo in Secret Slimmers, she said:
"Loving this plan ❤️❤️ BMI was 31.1 now 28.8 6″ off waist am half way through this and it has been a breeze.. Have got my daughter who is 21and never dieted before my friend and her sister signed up for the plan because they can see the results and fast! I didn't have any discomfort at the start as I drank so much water the energy and vitality u get is unbelievable and just an alover feeling of wellbeing and happiness.. I am so proud of this plan and will continue to sing its praises to everyone who needs it!! Onwards to the next stone will post final pic of my new and improved figure.. Keep going everyone it's so worth it.. NEW YOU ROCKS!!! 💞"
Well done to Paula who has also scooped up £250 cash + £250 worth of New You Plan Points!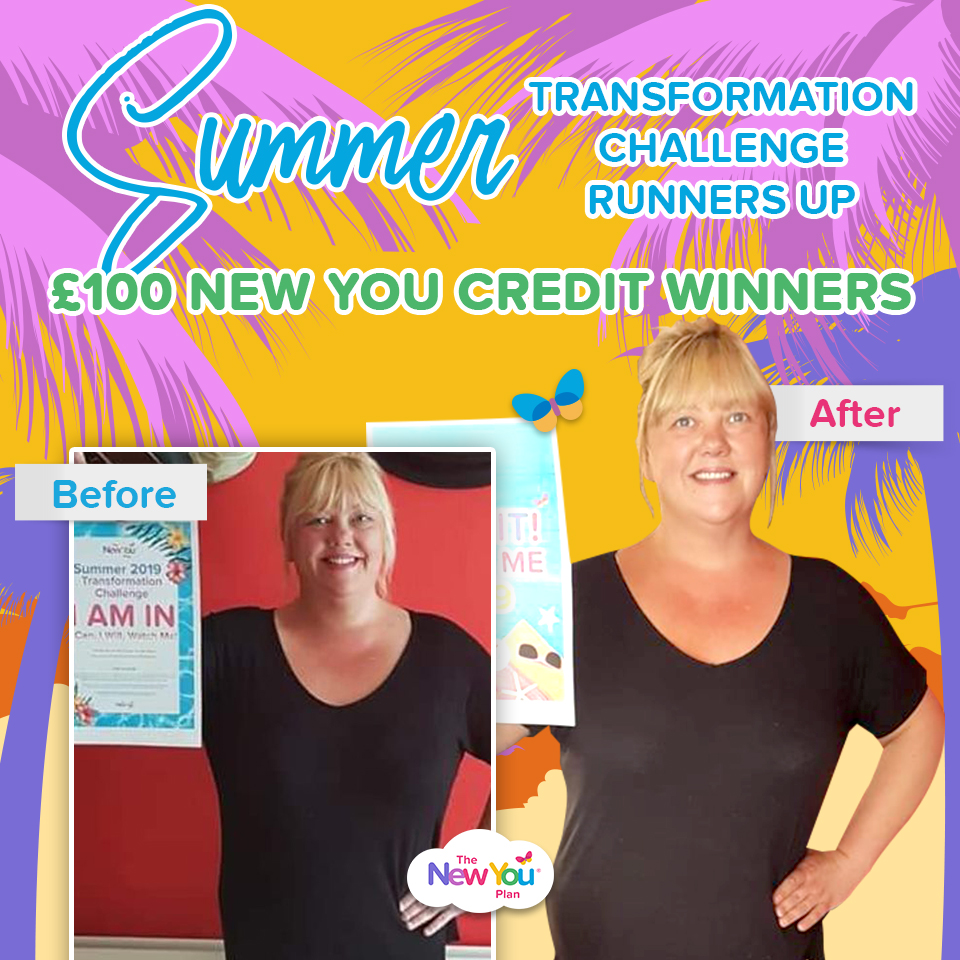 Runner Up: Victoria Knowles
Throughout the challenge, Victoria has been a source of inspiration for so many of our customers. She frequently shares her journey in Secret Slimmers and is super motivating and positive.
Victoria is definitely a very worth runner-up, winning £100 New You Plan points.
She said: " I am so thrilled with how far I have come I feel like my health has improved immensely my self esteem is through the roof. I have taught myself to make this a lifestyle change not a quick fix.. I did this for me nobody else I truly love who I'm becoming and love all my family on Secret Slimmers as we all make it worth while. Good days bad days we help each other. I love the food the little snacks and it's honestly changed my life 🦋🦋 As Whitney sings I WILL ALWAYS LOVE YOU."
Well done Victoria!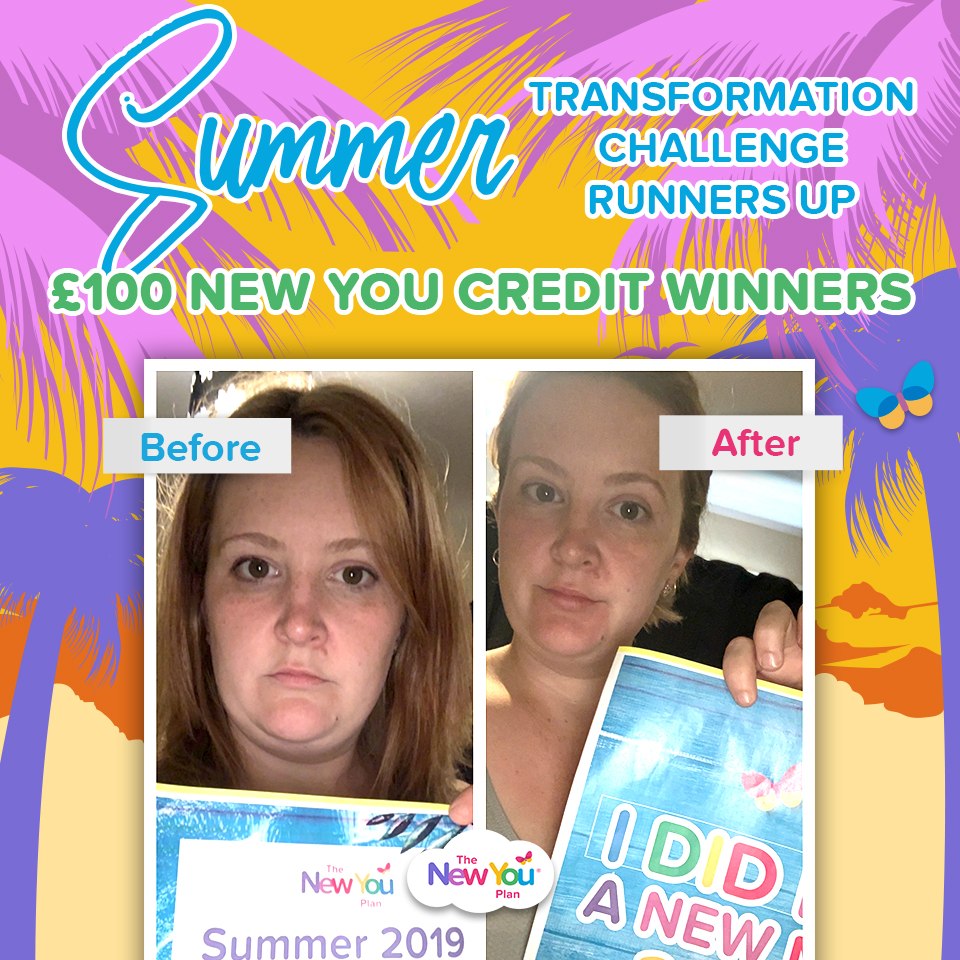 Runner Up: Chris-Jenny Wynn
We were so inspired by Chris-Jenny's before and after photo of her face and her 2st 1lb weight loss in just 7 weeks!
She said: "Summer challenge 2019…. But THIS IS ME… 2st 1lb, 2 dress sizes and about 5 chins DOWN ⬇️I am loving life, and most importantly loving myself! Well done to all you lovely lot, couldn't be doing this without all your inspiration and kind words! New You is amazing, the food, the staff and the community!!

My journey isn't over yet, I would like another 1 and half… so my journey continues… watch this space!!"
Thanks so much to each and everyone of you who entered. Remember, if you didn't win a prize, you are definitely still a winner. Be proud of every pound that you have lost, look at how far you have come and celebrate those non-scale victories along the way.
And of course, keep your eyes peeled in Secret Slimmers for more amazing challenges coming soon!