Before & Afters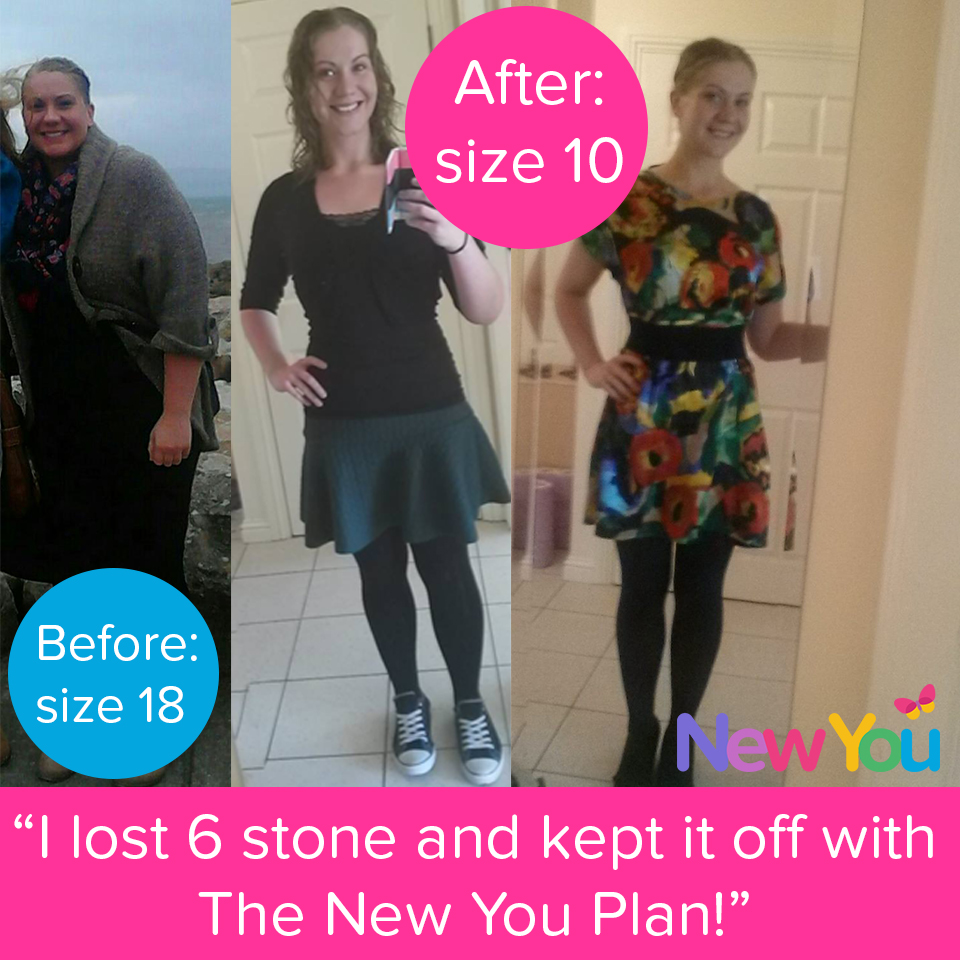 Success Story interview: "I lost 6 stone & kept it off with The New You Plan"*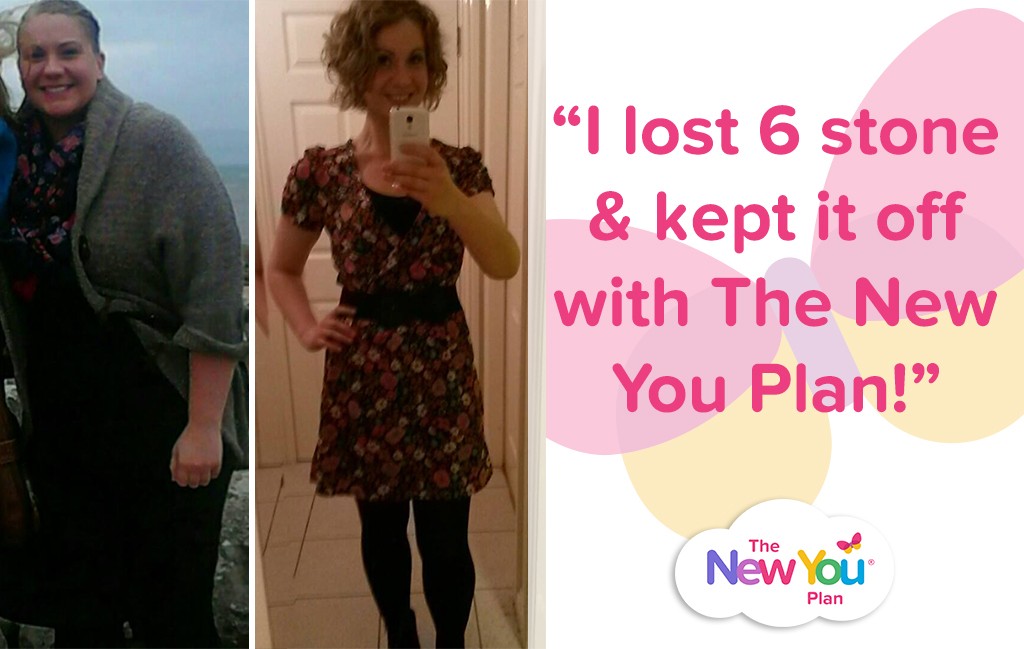 *Results may vary. This is not a guarantee
So Laura tell us, how much weight have you lost with The New You Plan?
Since starting the New You Plan on the 28th October 2014, I have lost 6 stone, 7lbs of which I lost through The New You Plan refeed guide and maintenance. I have reached my goal and now want to stay at my current weight.
*Results may vary. This is not a guarantee
How many dress sizes is that? 
When I started the plan I was a size 16-18. I am now fitting into size 10 clothes comfortably, which has never happened in my life, so that's a loss of 3-4 dress sizes! I loved seeing the scales moving down every week and feeling the difference in my clothes.
Is there a particular of piece of clothing that you've been longing to wear?
I initially started The New You Plan as I had this beautiful dress that had become far too small for me. I was gutted when I tried to get it to zip up with no luck. That for me was a turning point. I couldn't deny any longer that the weight was steadily creeping on and I knew I had to do something about it. My aim was to wear this dress to a Christmas party. And I got to my first goal and wore that dress. I felt incredible. The dress has since become far too big on me but I may get it altered. Other than this dress, there has been nothing in particular that I have been dying to wear. I've just been aiming to be comfortable in my clothes. And now with summer here I am looking forward to wearing t-shirts without being devastated about how my arms look.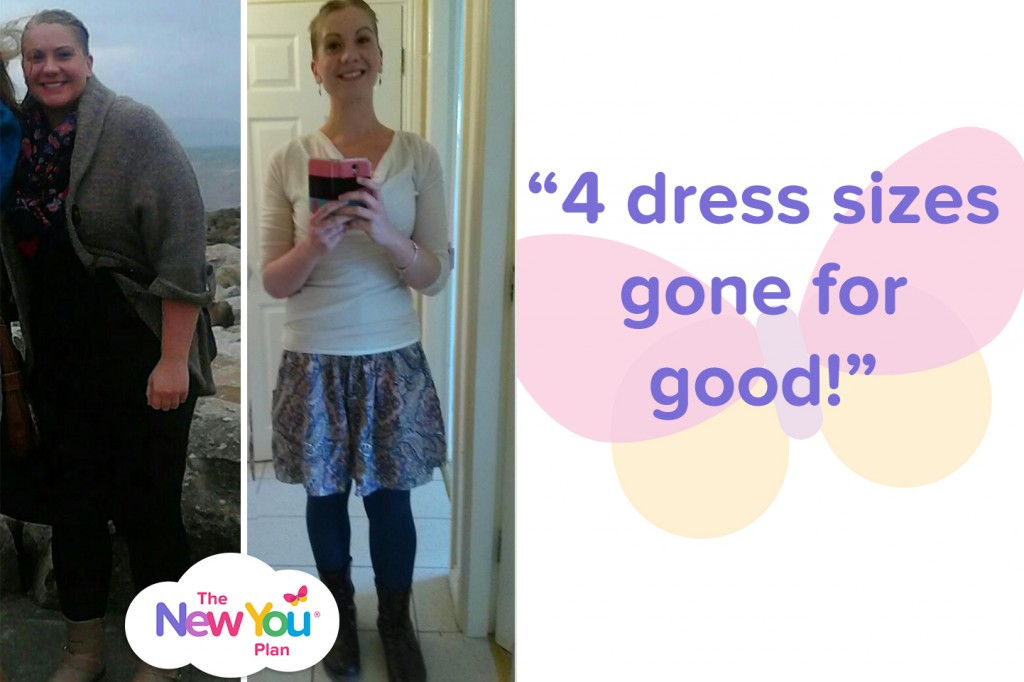 Tell us when you started the plan? What was it that finally led you to getting started?
I started the plan in October 2014. I was in a total rut with my weight and how it was affecting me. Five years ago I had lost a lot of weight so I knew the confidence and happiness that it brought to me. But I became less careful about what I ate and it all crept back on again. Not only was I feeling uncomfortable in my skin but I was also becoming concerned about my health. It was ultimately making me an unhappy person. I was in a vicious circle of not wanting to be around anyone and taking comfort in food. If I felt down about not being able to get nice clothes, I could get comfort in indulging in food and I knew that I couldn't continue like that. It was fast becoming a downward spiral.
A good friend of mine told me about The New You Plan and what it entailed. I had a look at the website and read the success stories which really spurred me to give it a go. I also liked the simplicity of the plan. I needed something structured as I had lost all motivation of losing the weight by myself. The website itself had such a personal touch and it offered such fantastic support, not only from The New You team but also the Secret Slimmers Facebook page. I liked the idea of having a safety net of people there if I needed it. So I placed a two week order thinking that I'd give it a try and I haven't looked back since.
What were you hoping to achieve from The New You Plan?
Having lost weight 5 years previously, I knew how good I could potentially feel. I used to be confident and I wanted that back. I also knew that I needed to lose weight for my health. My BMI was going up and it worried me. I wanted to not get so frustrated when clothes shopping and I knew that if I continued on my unhealthy path, the dress sizes were going to go up and up. I just wanted to be happy in myself, to finally move on from my weight issues and start enjoying my life as a confident and healthy person.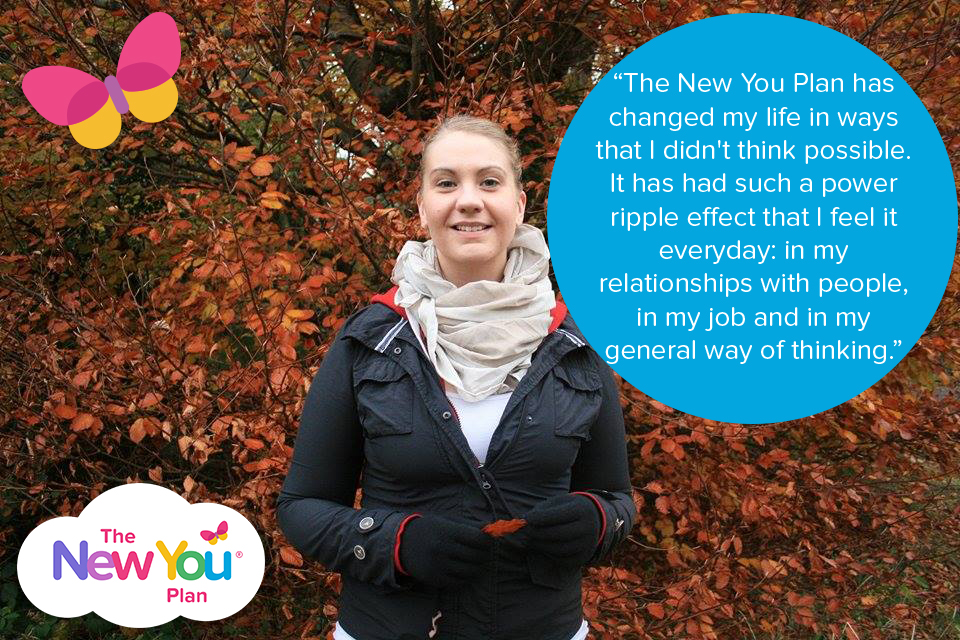 How has The New You Plan has changed your life?
The New You Plan has changed my life in ways that I didn't think possible. It has had such a power ripple effect that I feel it everyday: in my relationships with people, in my job and in my general way of thinking. I am a far more positive person and I can't stop smiling. I still feel like I am dreaming. Once the weight began to drop I was instantly becoming happier. I stand straighter and carry myself with confidence. I don't want to hide away anymore and I want to try everything, whereas before my weight was holding me back. I didn't imagine 8 months ago that I could be this person. I also have a brand new relationship with food. Being on The New You Plan has taught me so many things that are essential to not only losing weight, but to maintain the weight loss. I know that is the issue with most diets but this plan offered me the support and encouragement to lose the food demons and enjoy a healthy lifestyle. By having such a structured plan, I was forced to identify reasons why I wanted to eat when I wasn't hungry and why I ate the wrong foods. I began to naturally think differently about my food choices and I love the feeling of making good, healthy choices now.
Our customers love the support from Secret Slimmers. Have you got in on the action?
I haven't been overly active on the Secret Slimmers page but I always found support nonetheless. Everybody was going through what I was going through and this is a huge key to my success. There is a camaraderie there that is essential when facing such a daunting task like losing weight. I love logging into it everyday and the interaction is amazing. You really get to know people as they post videos and photos. I especially love to see people posting their before and after photos on the page. It gives such a great boost, especially if I was struggling. The Secret Slimmers page is the best place to be when you really need motivation.
I hope you've found great support in our customer service team?
Without a doubt!! Where would I be without the New You Team. The live chat service that they provide is amazing. There is always someone there to answer the maddest and most obscure questions about the plan and they are all so lovely and helpful. You never feel like you are talking to an anonymous person at the other end and I always felt better after my online chats with them. It really is unlike any service that I have used. They understand the negative things that you are going through and I always felt that I had just had a chat with a friend.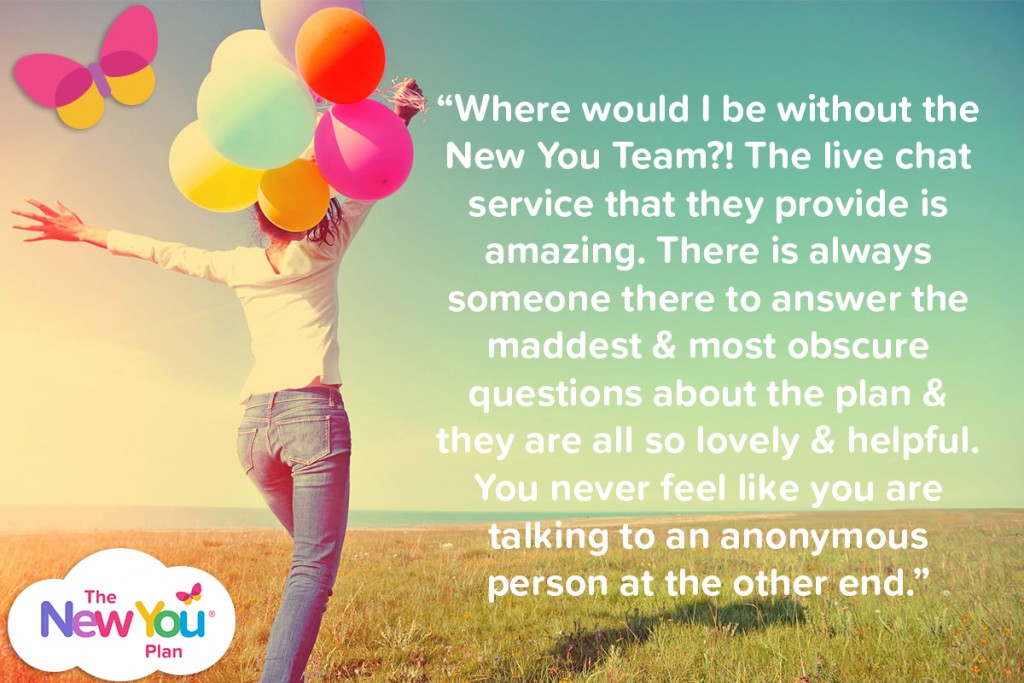 Tell us what New You Plan meals and snacks you can't live without?
I can't get enough of the Mint Chocolate Shake and the Dark Chocolate Truffa Bars. Oh, and the Pasta Carbonara and Spicy Noodle Nosh are so delicious, but mostly the shakes and the bars. I have such a sweet tooth and the bars are perfect for that. I actually still use the products occasionally as they are just simply delicious.
Have you tried any of our Water Flavourings? Which is your favourite?
I love the water flavourings. It makes drinking all that water so easy. My favourite is the Orange Lemon Zing. I have the flavourings with sparkling water and it's fantastic.
Do you have any tips for staying on track? How did you stop yourself blipping?
When I started I said to myself that I would test the plan out for two weeks and I saw such a difference after these two weeks that it made me want to continue. My advice is to keep a journal of your progression. I would take photos of myself and write down how much I had lost that week. When how well you're doing is right in front of you, you don't want to undo that and to visually see the difference every week kept me from blipping. And once I was in ketosis I felt amazing and wanted to stay in it forever. I was feeling better and better everyday so why would I want to ruin that my a moment of blipping!? I just stayed focused on my goal and knew I could get there if I just stuck with it. I would look at old photos of myself and remember how I wanted to feel again. And the Secret Slimmers page was major in keeping me on track. If I felt like blipping, then there were plenty on the page who felt the same. Everyone gives great advice on how to stay on track and it makes you more accountable for your actions.
We hear all the time about the amount of energy our customers have on the plan. Has this had an impact on your exercise?
Definitely. I have so much energy now and I love it. I walk everywhere and it's no longer a struggle. I am a far more active person, always jumping around the place and having a bit of a dance when I feel like it.
 Tell us about your re-feed journey. How are you keeping that weight off?
For me the refeed journey has been really exciting and enjoyable. I  am always thinking of new ways to bring healthy variety into my diet. I spend time cooking and love my recipe apps. There is also Momentum Maintainers page for New You members to join when they want to maintain. We share recipes and photos of our meals to give each other ideas. I love the support on that page and that really has kept me on track. I also worked hard to lose the weight and I never want to put it back on. I look at my before and after photos to remind myself how far I have come and that I am never going back to my unhealthy ways again. I see how healthy and happy and good I look and I want to continue that.
I'm sure there are loads of people reading this who just haven't taken that leap of faith yet. What advice would you give anyone considering starting their New You journey?
Just do it!! It was the best thing that I ever did for myself and I am a very happy person for it. You will get unbelievable support from so many people who are on the journey with you. It's a great plan and it works!! It just works!!!
START YOUR OWN TRANSFORMATION TODAY
If you're just starting out on your journey, or coming back to the plan then we would recommend our 60 TFR bundle. This bundle will last you for 14 days. You'll be able to enjoy 4 meals per day and 2-3 snacks per week.
What's even BETTER is that with The New You Plan we're more than just a diet company. We are a total lifestyle change: meals, mindset, motivation and maintenance. With unrivalled customer service, a 100% money back guarantee and unlimited online support you'll be able to get in the zone and smash your goals in 14 days.
Benefits of this incredible bundle:

Over 35 Delicious Meals and Snacks to Chose From
All New Customers get Free Gifts Worth £190.95

All new customers can swap products and benefit from a 100% money back guarantee!
Access to our Exclusive Secret Slimmers Facebook Group
Free Shipping on orders over £50!