New You Plan recipes
Patisserie Noah: Ice-Cream & Dessert Recipes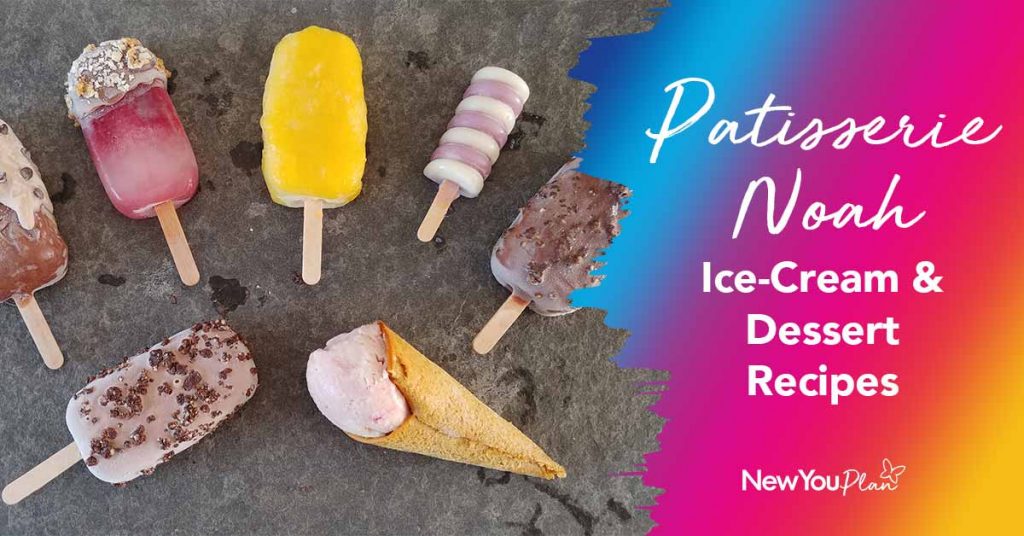 To celebrate National Ice-Cream Day, customer Noah shares his latest batch of mouthwatering ice-cream and dessert recipes!
No, your eyes don't deceive you! These are actual ice-cream and desserts made using New You Plan products. To say we are blown away by customer Noah's creations would be an understatement! Move over Heston, there's a new creative genius in town!
When we saw on our calendar that today (16th July) is National Ice-cream Day, following the success of his first batch of ice-creams, we decided to ask Noah if he would kindly create some more for us. And well… the results speak for themselves.
If you want to get involved this National Ice-Cream Day, you can enjoy it fully without sabotaging your diet. Here's everything you need to know to create these mouthwatering delights at home for yourself.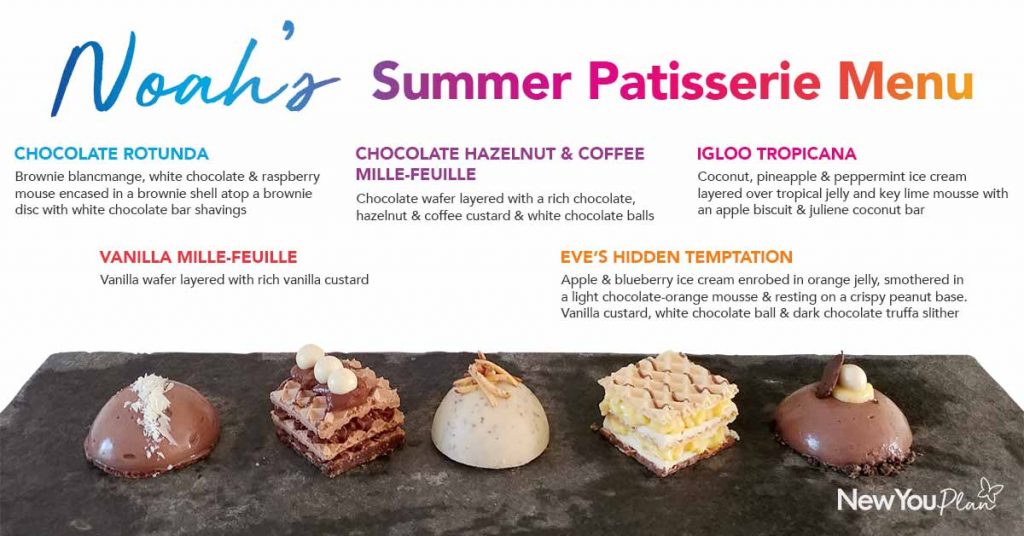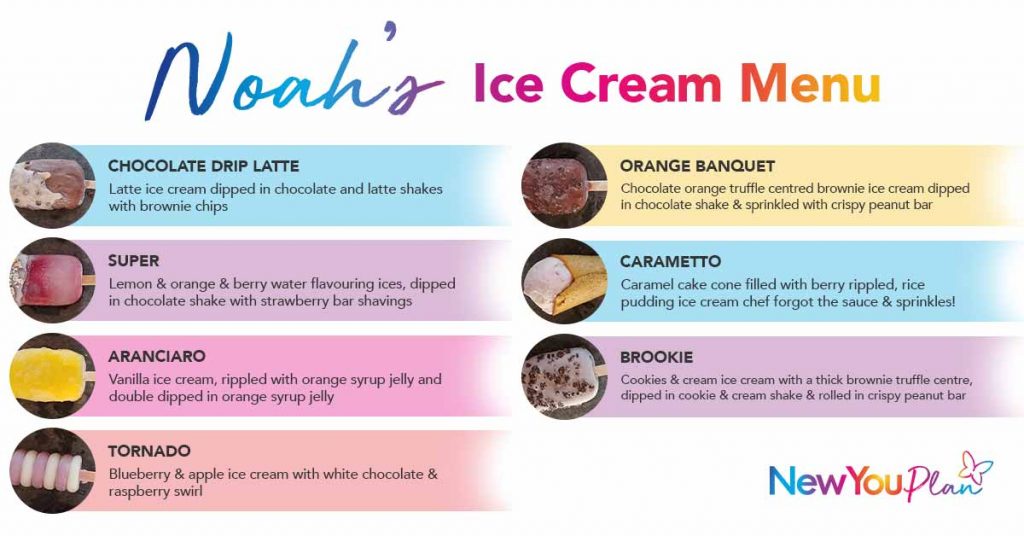 Mousse, Blancmange or Ice Cream
For mousse or ice-cream with a centre – mix ½ tsp gelatine into your chosen pack. Pour 125ml milk or water into a blender, add pack powder and blend until smooth. Pour into receptacle and refrigerate or freeze until desired consistency. For blancmange – It's the same recipe except ¾ or 1 tsp gelatine instead of half. For ice-cream without a centre – it's the same recipe except 150ml milk or water and ¾ tsp gelatine.
Berry Ripple Rice Pudding Ice Cream
Sift the rice from the rice pudding pack. Boil/microwave the rice in water until cooked, drain and set aside. Mix the dry pudding powder with 1/8 tsp gelatine and whisk in 70ml hot water. In a blender, add 50ml cold water or milk, the pudding mixture and the cooked rice, blend until smooth. Pour into a tub, swirl in Berry water flavouring and freeze.
Orange Banquet Centre
Use a rolling pin to flatten half an Orange Truffa Bar to about 5mm thick and insert stick.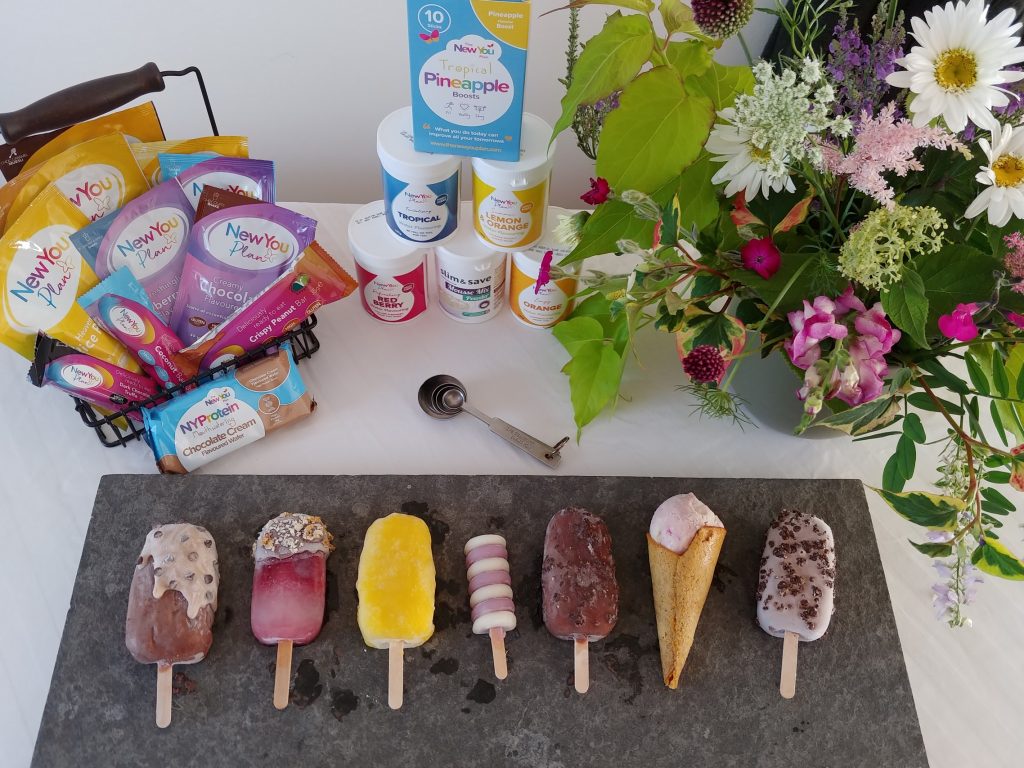 Brookie Centre
Mix half a 55g Brownie pack with 15ml water (12ml for half a 41.5g pack). Spoon mixture onto a silicone sheet and shape, add lolly stick and freeze.
Ice Cream Cones or Baskets:
Make up Brownie or Caramel Cake as directed on the packet and pour onto a silicone baking sheet, spreading it thinly. A rectangle will make 2 large cones or you can pour 2-3 circles/squares for ice cream baskets. Bake in the oven for 5-7minutes at 190*c (170*c Fan). It's cooked when the edges have just started to colour slightly.

For cones: While the cooked brownie/cake sheet is still hot, cut into 2 triangle-ish shapes and wrap into a cone. Gently press the seam together and leave to cool down. I like to use a cone made from metal or thick card to form these around. Freeze until using.
For baskets: While the cooked circles or squares are still hot place them over muffin tin holes or ramekins and gently press into the tin/ramekin to shape the basket. You can make small cuts or folds into the sides if it makes it easier to form. Freeze until using.
Thick Custard Recipe:
Stir 1/8 tsp gelatine (optional) into shake powder. Tip shake powder into a bowl and whisk in 70ml boiling water. Allow to cool a little then blend and refrigerate. Stir vigorously with a spoon every 5-10 minutes until desired thickness.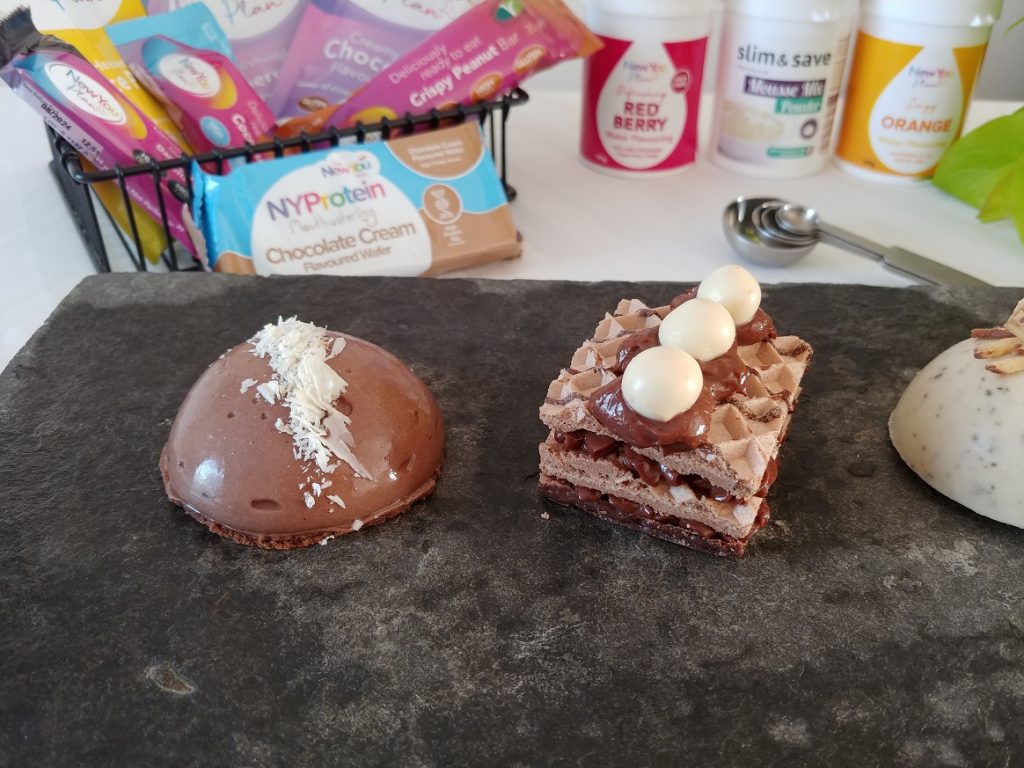 Syrup Jelly Aranciaro Ripple & Coating:
Add 2 tsp of gelatine, 1.5tsp water flavouring and 100ml boiling water into a shaker cup and stir until dissolved. Stir in 60ml cold water and refrigerate. Keep a close eye on the cooling mixture, stirring every 3-5 minutes. Once at thick syrup consistency, keep it out of the fridge with a lid on.
The syrup for rippling in the centre is the same mixture as above with quantities divided by eight (¼ tsp G, ¼ tsp WF, 15ml BW….8ml CW) and made in a small dish.
Tropical Igloo Ice Cream:
Add a Pineapple Boost and fresh or dried peppermint to the Coconut Shake powder. Follow the instructions for ice cream above. Other herbs like basil or rosemary also work well in ice cream. If making ice cream without an ice cream machine you can fork-whisk the mixture during freezing for extra smoothness
Bar Shavings and Shake Dip:
Dip the frozen ice cream into a shake and sprinkle/roll in the shavings, then pop back into the freezer until eating. A very small amount of the bar and shake goes a long way. I keep the rest of the bar in the fridge for later and dip with a shake I'm about to drink. A water-ice lolly made with water flavouring may become lipophobic and repel its coating if you dip it. If this happens you can hold it horizontally over the shake and carefully spoon some on.
If you recreate any of these, make sure you tag us for your chance to WIN 5 days' worth of New You Plan products. We can't wait to see what you come up with!