Diet Mindset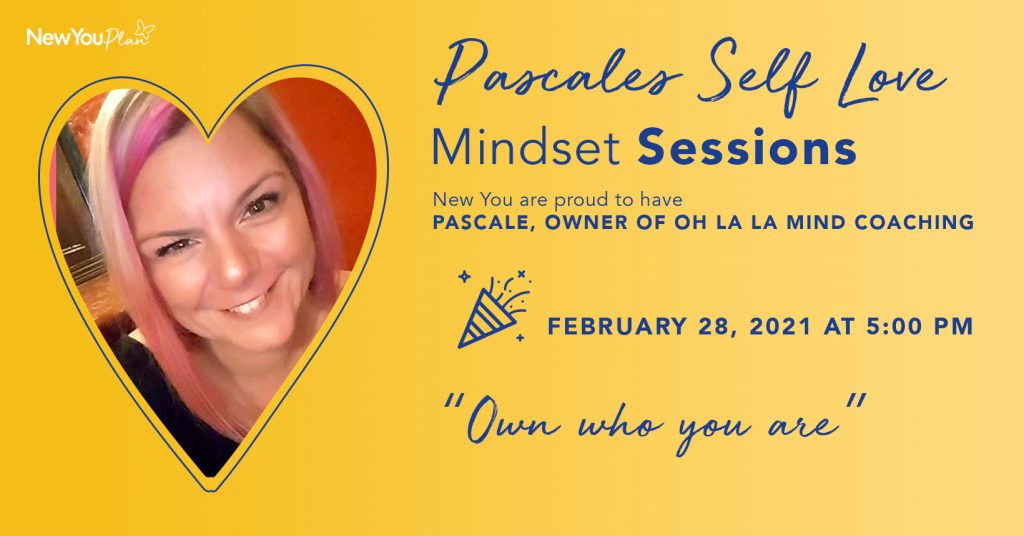 'Own Who You Are' This week's Self Love Mindset Session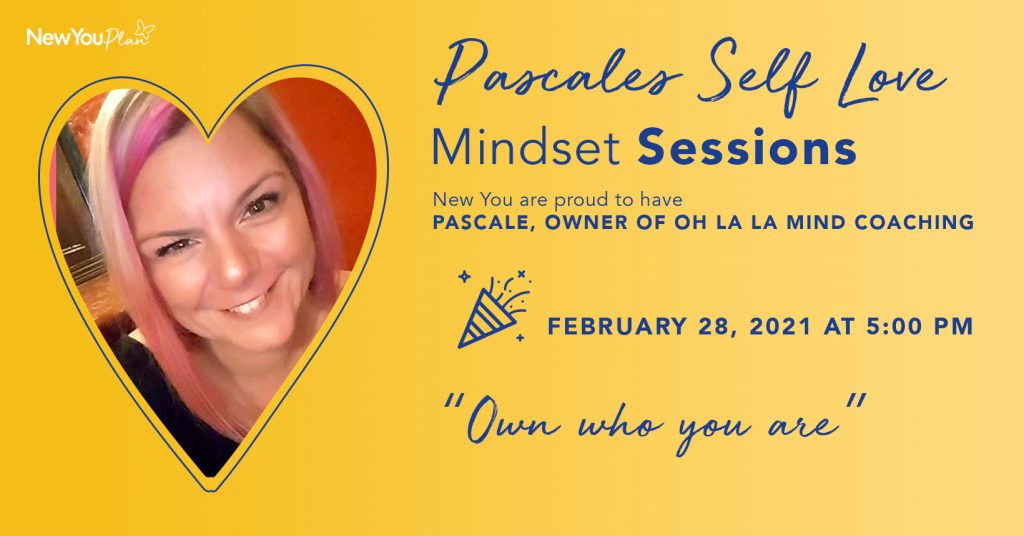 What is Self Love?
Have you heard the really great news?
Pascale our beautiful in-house mind coach is going to give us an exciting session
This Sunday 28th February at 5pm.
How do I know it will be great?
Easy! A brilliant therapist will be educating us about a fantastic subject which is often overlooked and something that we will never know too much about.
Self Love.
I can feel some of you cringing already. Well, I have news for you, you are not alone and those of us who cringe the most may very well be the ones who will learn the most from this session.
Veteran slimmers, did any of you lack Self Love when you started the New You Plan? Have any of you started to love yourselves yet? I can see the evidence on our Secret Slimmers page that some have. So, what has changed? Newbies you may be experiencing a deep sense of self-loathing right now? Could this lack of Self Love have anything to do with why you needed to start the New You Plan in the first place? All these answers will be revealed in Pascales' session.
Do we still hate ourselves when we look in the mirror? Do you even look in the mirror? When I started the New You Plan I hated my big fat belly, big thighs, big arms and big everything. I looked at myself in scorn and I said awful things to my reflection. I will not repeat those things here because I do not want to give anyone a licence to think that it is ok to say these things to oneself because it is not. I would not say these awful things to any overweight friend of mine so why on earth was I being so unkind to myself. It was a lack of awareness. I should have had compassion for the vulnerable person in the reflection who was trying to change and overcome a big problem in my life. I should have been kinder to myself. Pascale will help us to change our awareness about the level of Self Love that we have and how to change it for the better. I can't wait to hear her recommendations for making peace with that person in the mirror.
I used to look in the mirror and focus on all my negative bits. As human beings we have an innate tendency to do this. I saw one ear lower than the other, a far from perfect nose, one eye narrower than the other, a forehead too tall, my chin jutting out and a lopsided neck just to mention some of my defects. I'm not perfect. But guess what? No one is. Everyone dislikes something about themselves. Are we conditioned by photoshopped models on magazine covers to believe that we are not good enough or does it run a lot deeper than this? Perhaps we were abused and lost our self confidence along the way. Pascale can help us to understand this better. How can we learn to accept our flaws, love our uniqueness and embrace our beautiful selves? How can we reach the point where we might even call ourselves beautiful? Tune into Pascale on Sunday 28th Feb at 5pm to find out how and to understand why we think the way we do?
When we learn to accept our flaws and imperfections and learn to refocus on our beautiful qualities, yes we do have them, we start to put one foot slowly in front of the other towards a New Me. We will learn how to grow in confidence and that confidence will then project outwards, naturally. When we do this the magic starts to happen. People will enjoy being in our company and being apart of what we do. As our confidence grows, we will come outside of our comfort zone and embrace new opportunities. And new opportunities will knock on your door as certain as you wake each day. Can this all really happen? Simply – Yes it can. How can this really happen? Tune into Pascale at 5pm on Sunday 28th February and let her guide you on a journey to Self Love. Your self-development to a positive New You is at your fingertips.