Before & Afters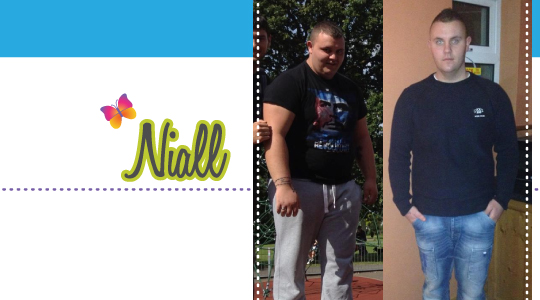 [NIALL'S UPDATE] 8 Stone Lost and Looking Dapper!*
Inspiring, Strong, Determined, Motivated, Driven, Handsome & Dapper.  Just a small selection of words that I would use to describe Niall.
*Results may vary, this is not a guarantee.
Niall has lost an impressive 8 stone with the new you plan.  Niall is active member in our secret slimmers community and has inspire and helped so many of our customers to also achieve their weight loss goals.
Niall set himself 3 goals, to stop smoking, lose weight and get fit, and to pass his driving test, he achieved all three.  Niall has been focusing on exercising and building muscle, and he recently posted this photo on facebook, he is looking very dapper!
A massive congratulations to Niall for embracing his new you journey, and for continuing with his goals to improve his fitness and building muscle.  Niall did light exercise while on the plan and has upped his exercise recently, if you want to find out more about his journey then listen to his interview with Julie-Ann (this was recorded when Niall had lost 6 stone, he has lost more weight since this was recorded.)  If you join the new you plan you will get to meet Niall in our secret slimmers group.  He is such a great guy and always willing to help, inspire and encourage people to make the right decisions to get themselves to a slimmer healthier body.
[button link="http://www.thenewyouplan.com/" color="purple"]READY TO GET STARED ON YOUR NEW YOU JOURNEY?? START TODAY![/button]