Before & Afters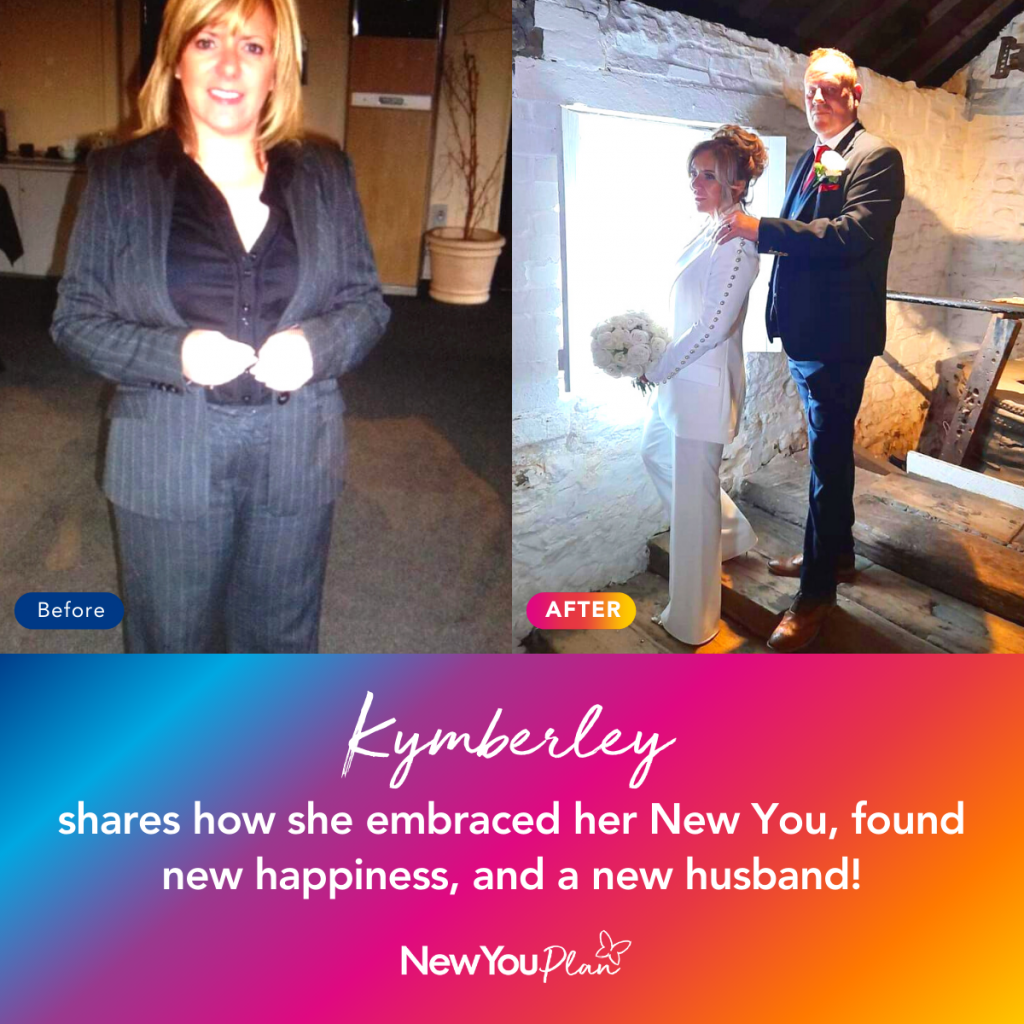 Kymberley shares how she embraced her New You, found new happiness, and a new husband!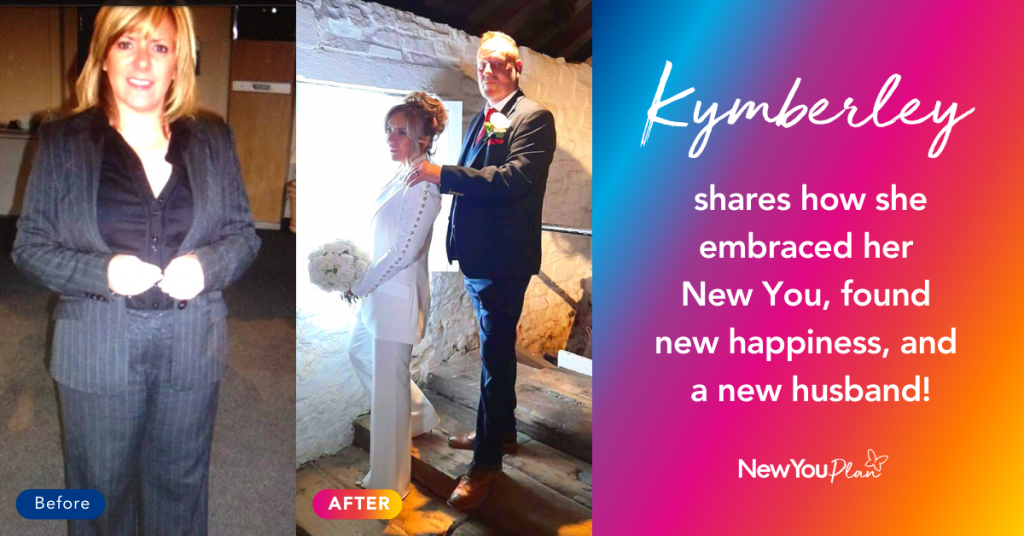 From an early age, customer Kymberley struggled with her weight, which led to the decision to have a gastric band fitted. After the band failed, a series of medical conditions followed, resulting in its removal. Here, Kimberley shares how she has finally been able to lose weight with New You and the positive impact that this has had on all aspects of her life, including how she felt incredible on her wedding day.
From as far back as I can remember, I've struggled with body image issues. I vividly recall cutting the size labels out of my uniform when I was just 15, terrified that my classmates would see that dreaded "size 16" label. Over the years, I've tried every diet fad under the sun. I would lose a little weight, only to fall off the program and gain it all back, plus some extra pounds. It felt like an endless cycle of disappointment.
Eventually, I realised that my yo-yo dieting had taken a toll on my metabolic rate. After two decades of this rollercoaster, my resting metabolic rate had plummeted to 1200 calories. This meant that in order to lose any weight, I had to consume less than 1200 calories a day. I had done this to myself.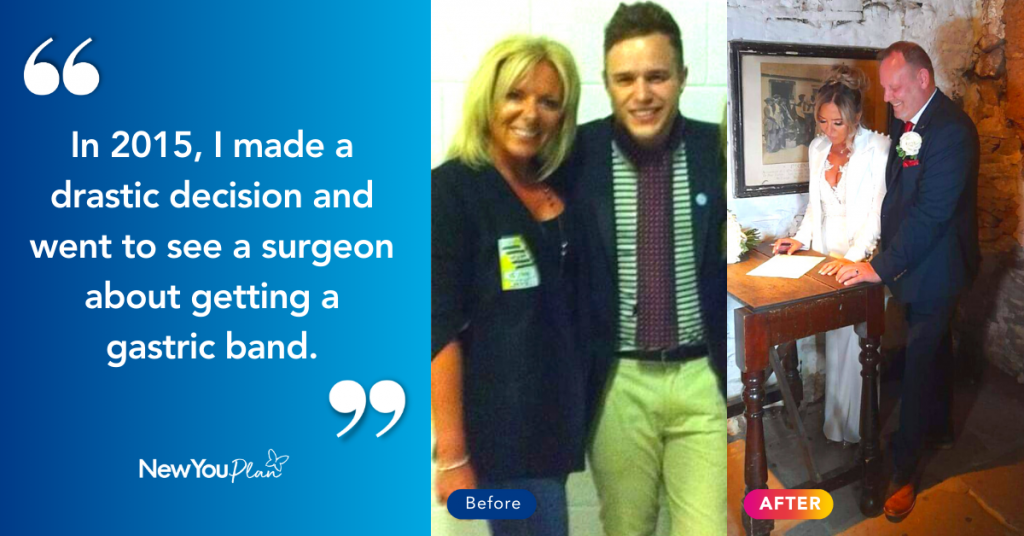 At first, Bandy was my savior. I started seeing changes, and my confidence began to return. Of course, there were some hiccups along the way, like those dreaded "stuck episodes," but we learned to live with them. Overall, I was pleased with the weight loss and how I looked.
Then, two years ago, something went wrong. I was having trouble eating anything, even soup. I had the fluid taken out of the band to see if it would help, but things only got worse. I reached a point where I couldn't even swallow my own saliva, and the pain became excruciating. Thankfully, Stoke hospital saved my life. I underwent surgery to remove the faulty band and repair my internals. After a couple of weeks, I could eat again, although in smaller portions. The pain was gone.
Exactly one year later, I collapsed in agony. Convinced it was a heart attack , I was rushed back to the operating room, and my gall bladder was removed. Then last November I was told I had a condition called Sphincter of Oddi dysfunction. I have little operations every 8 weeks to keep things going and to stop the pain temporary- there is no cure sadly something I have to live with now.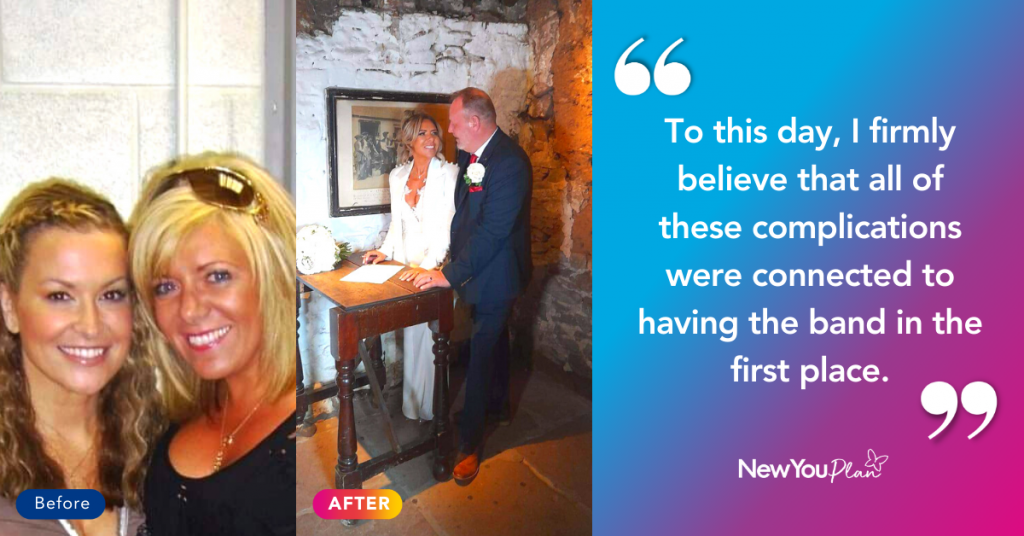 To this day, I firmly believe that all of these complications were connected to having the band in the first place.
My weight slowly started creeping back up, and I was feeling discouraged. That's when I stumbled upon New You. I placed my first order, and when it arrived, I was blown away. The food, the snacks, the shakes, and even the crisps were all amazing. It almost felt too good to be true. Trust me, I've tried every diet plan out there, including slimming tablets and drastic measures I regret. But this plan didn't feel like a diet to me. The meals were delicious, nothing like the cardboard ones I had endured in the past. The smells alone were heavenly. And the weight started coming off again.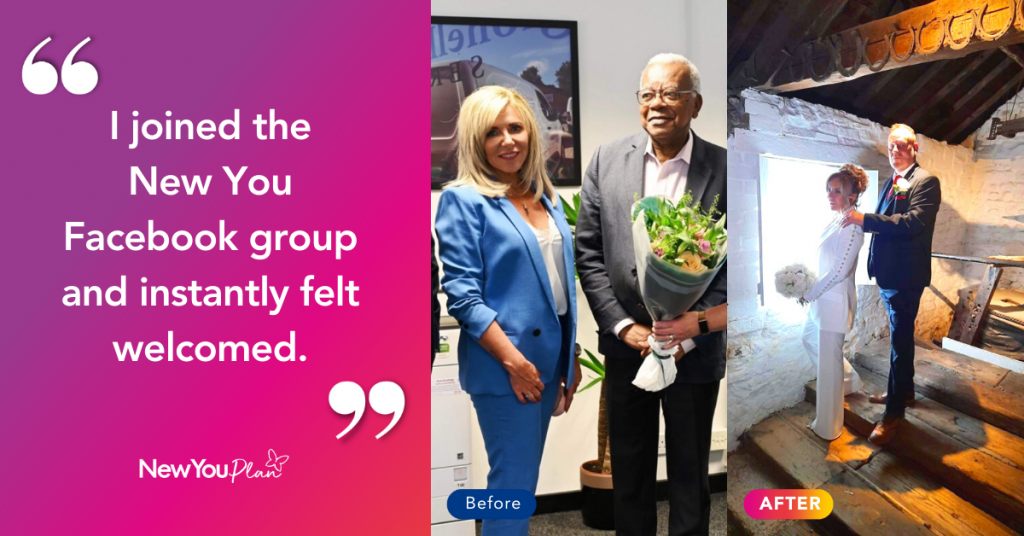 I joined the New You Facebook group and instantly felt welcomed. So many people reached out to chat and answered my questions. It's the best support forum I've ever been a part of. I joined New You to help manage my condition and lead as normal a life as possible. And, of course, to shed those stubborn 14 kilos.
At 54, I know it's not easy to lose weight as we get older. But with the New You Plan, I was actually enjoying the journey. I looked forward to each meal, excited to try new flavours. The weight loss was evident, and it was time for my wedding fitting. Oops! I had lost weight and my outfit hung off me. It was a mad panic to get it all redone and back in time for the big day. And, oh yeah, I was told not to lose any more weight!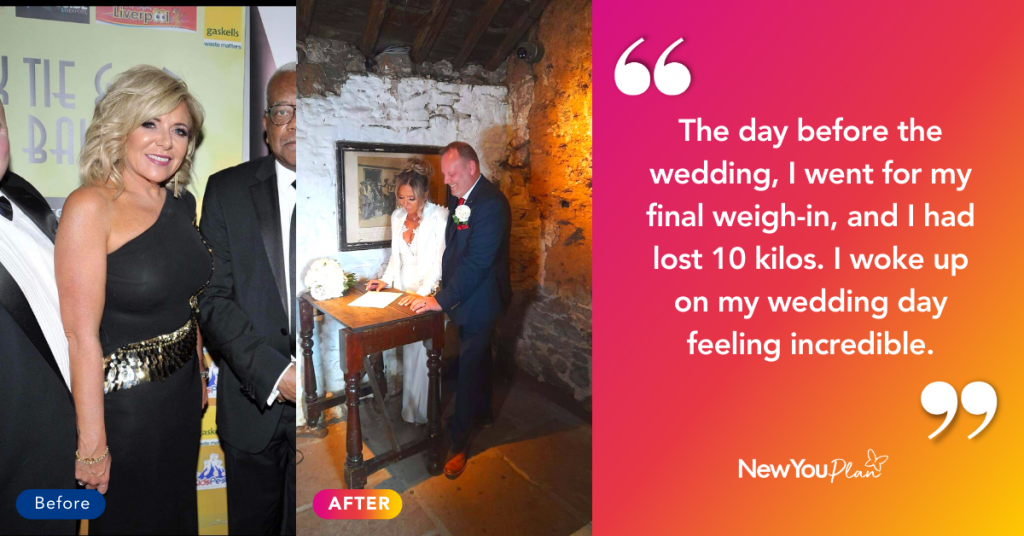 The day before the wedding, I went for my final weigh-in, and I had lost 10 kilos. I woke up on my wedding day feeling incredible. We drove up to Gretna Green, and despite the nerves, I couldn't help but smile at the man who was about to become my husband. He was not only my soulmate and best friend but also the one who had given me a stone from the beach four years ago, my forever penguin, proving he was a keeper for life.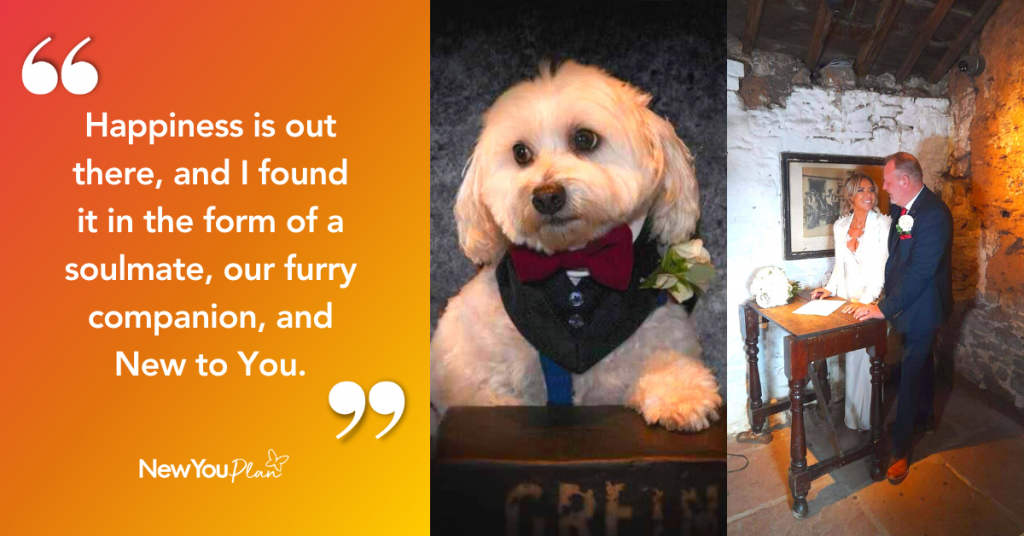 Our wedding was beautiful and intimate. We wrote our own vows and shed tears of joy. Dexter, our little ring pup, stole the show, of course.
Happiness is out there, and I found it in the form of a soulmate, our furry companion, and New to You. Since starting this journey, I haven't had a single attack, much to the amazement of my consultant. I even asked to delay my next operation until after the wedding because I felt I don't feel I need a procedure right now, so we've decided to leave it until after the minimoon – I usually have to have them every 8 weeks.
I'm writing a blog for the Sphincter Oddi forum to share my experience with this plan. I'm sure many new members will join the community. Although I've taken a slight break from the plan for our mini-moon in the Scottish Highlands, I no longer feel guilty. I'm in control, and I know what I need to do. I'm even bringing my bars along for the journey, enjoying protein-based meals and loving every minute of it.

So, I'm signing off for a few days, but before I go, I want to thank New You and each and every one of you. You are an incredible community, supportive and friendly. I wish you all the best on your own journeys.

As they say in Scotland, "May the blessed sunlight shine on you like a great peat fire, so that stranger and friend may come and warm himself at it."
Fancy losing weight & winning cash?

There are still 4 months left of the year and thanks to our fast acting weight loss plan, that's plenty of time to end 2023 strong!
Our 2023 £30K Cash Transformation Challenge Giveaway has been helping thousands of customers smash their weight loss goals for good. This year, we are giving away a total of £30,000 to the customer who have created the biggest WOW transformations. We have given away £20K so far so there is £10K still to be WON!
There are still 2 more opportunities to enter our Transformation Challenge:
31st October
31st December
The sooner you start, the best chance you will give yourself to win a share of that £30K cash prize and end 2023 feeling proud about what you have achieved.
We've put together a blog post on EVERYTHING you need to know, including how to get started and tips to help you succeed. Check it out here.