Diet Mindset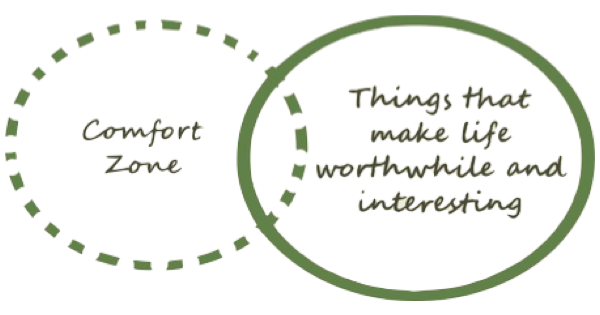 Get Comfortable Being Uncomfortable
"Be willing to be uncomfortable. Be comfortable being uncomfortable. It may get tough, but it's a small price to pay for living a dream." ~ Peter McWilliams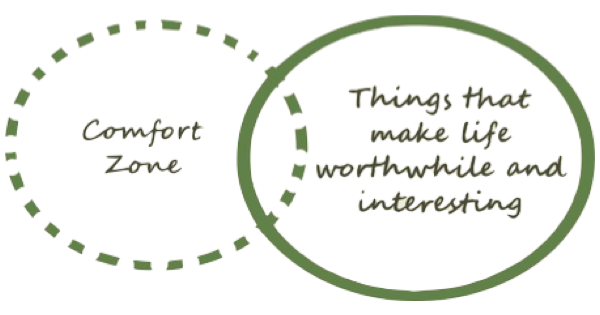 When I feel overweight I feel uncomfortable.  Most people I talk to agree, and say they feel uncomfortable when they are overweight, especially when clothes are too tight, and especially when you have to go somewhere special and meet people you haven't seen in AGES… that is uncomfortable.
The weird thing is, sometimes we allow ourselves to put up with this type of uncomfortable, because sometimes the sofa is just TOO COMFY.  When we are at home, lying up watching TV in our joggers, it is hard NOT to feel comfortable, and our weight doesn't really have to bother us when we are sitting in front of the telly.  The thought of getting up, going for a walk or going to the gym – now that can be a tad uncomfortable.
So the bottom line is you are going to have be UNCOMFORTABLE one way or the other there is no escaping discomfort.
But you do have a choice as to what type of discomfort you want to experience.  You can choose discomfort that leads to…
a.)  A life of ill health and disease and low self esteem with your overweight body image….  OR
b.) A life that is you living your dream in a slim healthy body and leading an active lifestyle
There is no way to avoid discomfort, so if you have to feel it, then we should all really choose the discomfort that helps us to live a dream.
When we think about going on a diet, and start an exercise routine, that can feel like a lot of discomfort, but you will see it all the time, that once someone settles into their new diet or exercise routine that they feel great, they don't even consider it to be that much of a discomfort.
Here is an exercise for you to do, answer these questions….
a.)  What discomforts do you associate with starting a diet and exercise routine?
b.)  What discomforts do you experience regularly due to being overweight and unfit?
c.)  If you don't go on diet and continue the way you are now, how do you think you will feel this time next year?
d.)  If you do start your diet now, and build up your exercise routine slowly and start to live an active healthy lifestyle how do you think you will feel this time next year?
When you answer these questions, hopefully this will make you analyse the type of discomfort you are putting up with in your life, and is the price worth paying for the end result?? 
Life is what you make it, DARE to make it magnificent.  
If you want to make it magnificent you are going to have to do something different, you have to get out of your COMFORT ZONE AND MOVE INTO YOUR EXPANSION ZONE.  Get comfortable being uncomfortable, and push yourself to create the healthy active slim lifestyle of your dreams.
[button link="http://www.thenewyouplan.com" size="xl" color="orange" text="dark"]Click Here to Step Into Your Expansion Zone & Get Slim & Healthy with The New You Plan[/button]