Challenges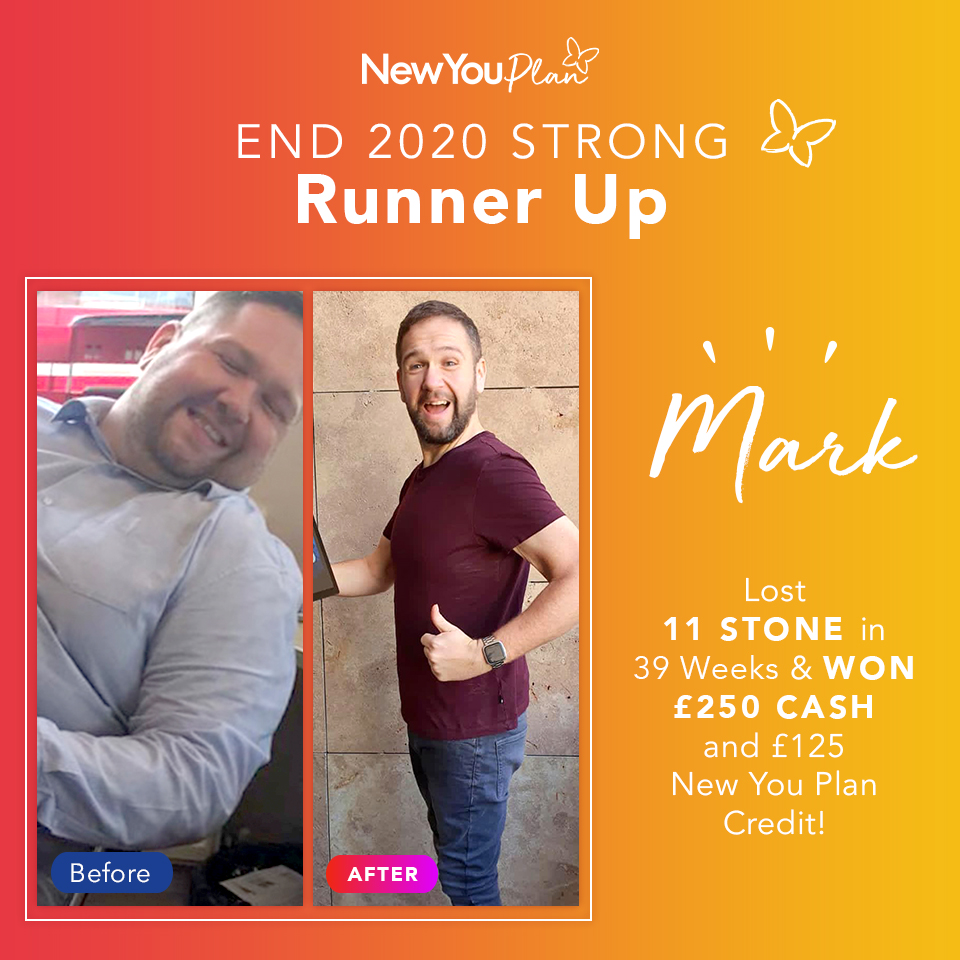 'End 2020 Strong' Challenge Runner-up, Mark, shares how he lost 11+ stone since starting the New You Plan
Approaching his 40th birthday, Mark set himself a weight loss goal, started the New You Plan on 4th March and has since lost more than half his body weight with an amazing 11 stone and 2lb gone. 

Mark has gone from a men's 52-inch waist to a size 28 in just over nine months. He was crowned runner-up in the End 2020 Strong Challenge and won £250 in cash and £125 New You credit. 

Here's what he had to say about his amazing success so far…


How do you think the plan has changed your life? Has your health improved?
Massively. It was a struggle to get out of bed and get up the stairs and walking. I didn't do anything. I was literally just eating and not moving. My mum has got a heart condition so that was a little bit of a wakeup call as well. My nan also had a heart condition and I thought 'you're heading in the same sort of way here. You're just getting bigger, bigger and bigger.'

I no longer get chest pain and my health seems to have improved massively. I was probably also on the edge of diabetes so yes, it's changed loads. It's completely changed my life and I have completely become a 'new me'. It's very exciting and it's hard to put into words how excited and overjoyed I am and I've now ended 2020 Strong as well.


How did you hear about the New You Plan?
Originally I was actually doing a competitive plan and I just wasn't getting on with it at all. The products were pretty poor. At the time I thought the products were standard in all honesty. So, I was sort of coming away from it and then unbelievably when I was googling to find more products, the New You Plan came up next to it and I thought I would have a look what they are. I thought the products sounded a lot better and I already had it planted in my mind that a low-calorie diet just won't work for me but I thought I will give it a little try and I ordered a seven day starter kit and the rest is history.

It was the products that swayed me to stick with it. They blew the competitors' products out of the water. I'm very glad I found the plan on a Google search because I know for a fact that if I'd stayed with the other plan I would have failed because it's a support thing as well. Secret Slimmers is so important for me. I can't even begin to tell you how much that sits in my journey. 


Was Secret Slimmers the motivation for you to stick with the plan?
Yes definitely, 100%. I don't even know these people and that's the best thing about it. It's a whole different sort of life. You find people in the real world who say 'oh my god, you've lost weight' but when you share that experience with people who are on the same journey as you, whether they lose a pound, they gain or stay the same, no matter what actually happens, everybody is just so supportive over every little thing. Everything is celebrated and that keeps me going. I know that I don't post very often but when I do, I'm like wow! 


Could you tell us how much you have lost in total?
I have actually lost 11 stone and 2lb. That is over 50% of my total body weight. It is absolutely unbelievable. I am literally half the man I once was. 


When did you start?
At the beginning of lockdown on 4th March. It was my 40th birthday as well. I'd been uming and ahing about weight loss probably for about a year. I was literally just growing and growing, getting bigger and bigger and that's when I decided I needed to do something about it, so I set myself a couple of little life goals by the time I got to 41. One was buying a house and one was losing weight. I achieved the house bit and waited and waited about the weight loss and thought I've got to do something, so I started on the 4th March until now.


How were you feeling just before you started the plan? What were your emotions like?
All over the place. I was a bit of a stress eater. So the minute I had a awkward challenge or anything like that, I always turned to food. I've always been that confident, big, bubbly person that tends to get branded straight away, all life and soul of the party but inside I was really sad. And I didn't realise that until now. I was comfort eating without even knowing. Just little things like getting into bed with a massive bar of chocolate. Not even thinking about it. Just grazing my way through it. Before you realise it's gone and you're reaching for the next thing. I think that was my biggest problem, that I wasn't eating to survive, and I was eating non-stop. And it wasn't until I found the New You Plan and I listened to the advice from Secret Slimmers that I realised 'oh my god stop reaching for things, you don't need it, just have some water, have some bullion, just something else to take your mind off it'. Through time I just stopped doing it. 


What have you found most enjoyable about the New You Plan?
The Secret Slimmers Group is the most enjoyable part mentally and I actually really enjoy the products. I just love them. I like to mix different things and try new combinations. Making things on the hob as well instead of the microwave is a massive game changer. The porridge in the microwave is alright but the porridge on the hob is amazing! And it actually makes you think that you are cooking and a bit normal rather than just sticking stuff in the microwave.


Have you struggled with anything on plan and if so, how have you overcome these struggles?
So the biggest struggle was when we first went into lockdown. It was my 40th birthday so I was trying to get past that and not cheat. I know people say you shouldn't necessarily stop yourself from doing things and enjoy what you want to do then come back to it but my mindset was already in it by then but I did have one little blip around my friends.

My biggest struggle actually was other people's thoughts – 'what are you doing on this diet, it's really dangerous' etc. One of my biggest, biggest struggles was unbelievably being thin-shamed. I don't know why but it hit me like a brick wall. I've been fat-shamed most of my life. The moment I got to the point where people were telling me I was too skinny, it was like I don't get this. It was a really strange feeling. 


How did you overcome what they said to you?
I just thought of Secret Slimmers for motivation if I'm completely honest. The hundreds of comments on Secret Slimmers were a boost for me compared to the one person telling me that I looked ill and I need to stop and gain some weight back. I don't need to, I'm a healthy weight for the NHS, I feel great, I can move now, I'm not losing anymore. I wanted to get to that target and lose 50% of my body weight and I'm there and quite happy maintaining that.  


What are your favourite products?
It's hard to say when I like them all so much. I'm a big fan of bars mainly because they're so easy and I can take them wherever and breakfast too. I'm double packing breakfast so I love the muesli and I love the chocolate porridge. What I did yesterday was one of my new favourites. I'd seen it on Secret Slimmers. I had double original porridge, and somebody had put cranberry drink flavouring in it. I didn't have cranberry, but I had the orange instead. It was amazing! 


How many sizes have you dropped since you started the plan?
So I started at a men's 52-inch waist which is really big. Now I fit into a 28, which is the smallest men's size you can get in jeans. I've gone from XXXXL to a small or extra small. I do fit into extra small, but they are very tight. 


Have you reached your target or are you happy where you are now?
I'm happy where I am now. I don't think I could possibly lose any more. I'm going to start going back to the gym in January. 


Why did you decide to take part in the 'End 2020 Strong' challenge?
I'd done the Summer Transformation and it was to keep me focussed more than anything and to get me through that last little bit to my target. I think I probably lost about a stone through the End 2020 Strong challenge. 


Do you think entering End 2020 Strong has helped your success?
100% along with the little awards ceremony which I loved. It's heart-warming and just nice. The prizes don't even need to be big and I think that's the important thing. The little trophies and everything are just so cute.


What is the biggest lesson you've learnt taking part in the challenge?
I would say it's similar to the Summer Transformation Challenge. Little things like if you do fall off the wagon then to jump straight back on. I couldn't think of anything worse than prolonging it and getting your mind back in the game. It's massively mind-over-matter and that's what this plan has taught me so much. It's definitely all about your mindset. Whenever I've felt like I need to, I have a word with myself 'do I actually need to do this?'. I have a drink, 500ml of water and get through 15 minutes and then I know I don't actually need to do this now. Then I try 30 minutes and then two hours and if by two hours I know I definitely don't need this.


What advice would you give to someone starting to New You Plan?
Do it. Don't think about it, just do it. Have a look at the success stories on Secret Slimmers, they are real unlike some of the other plans which was my biggest shock. My advice would be look at these stories, believe in these stories, believe in yourself. If I can do it, anybody can do it. It's changed my life so much, and it can change anybody else's lives. They just need to make sure that their head is in the game, they are in the zone and they are concentrated on transforming themselves with the help of the New You Plan.   
---

Join our us for a 'New Year, New You' challenge and win £3000 CASH!