Before & Afters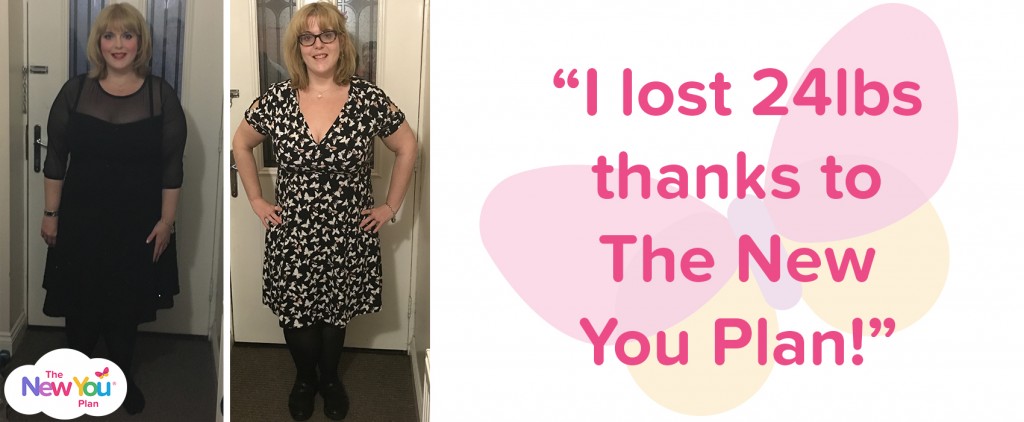 [Customer interview]: Delyth lost 24lbs* with New You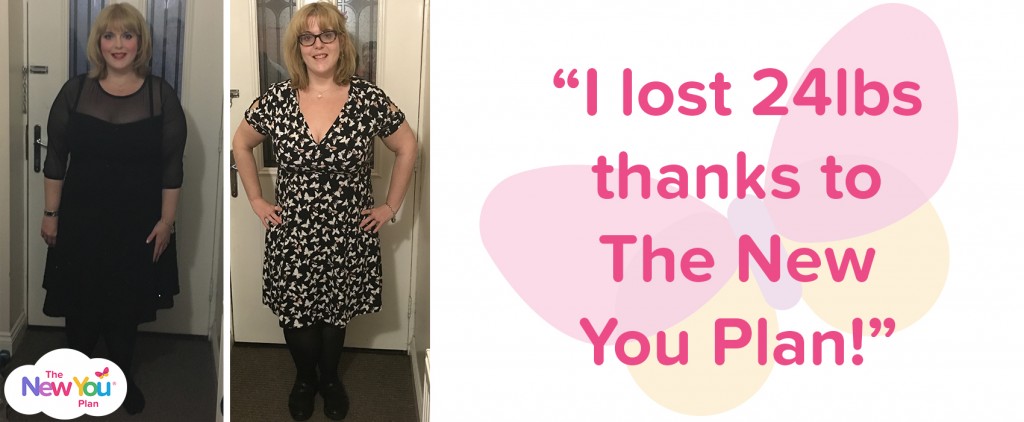 *Weight loss results may vary and are different for each individual.
Facing a potential knee replacement operation if she didn't lose weight, Delyth, or 'Delly' as she's more commonly known, knew she had to take control and do something about it! As a school teacher by day and performer by night, Delly is very much a social butterfly and seeing the weight creep on, she noticed it was taking a toll on her confidence. Having tried various other diets, including weight loss with a gastric bypass, having two children and being diagnosed with lupus, led to her putting much of the weight she had lost, back on.
Thankfully, fate brought her to The New You Plan and she has already lost 24lbs with New You, plus 2 dress sizes! Here, Delly shares the very real reasons she got started and how she is determined to get to her target weight to avoid going under the knife.
These are her words…
"I lost 24lbs* thanks to The New You Plan!"
"I've had weight issues for as long as I can remember and over the years I've tried every diet you can name. While I was successful for a bit, the weight always just came back on. It was a vicious cycle. Seeing no other option, I opted for a gastric bypass, which saw me going from 21 stone to 11 and a half stone, which I successfully kept off for about 6 years.
But then life happens! I was put on ciclosporin for my lupus, plus 2 pregnancies saw my weight creep back up. Because it was so slow I never really clocked it going on until I realised I was nearly 17 stone! I felt so exasperated, fat and most of all, disappointed in myself.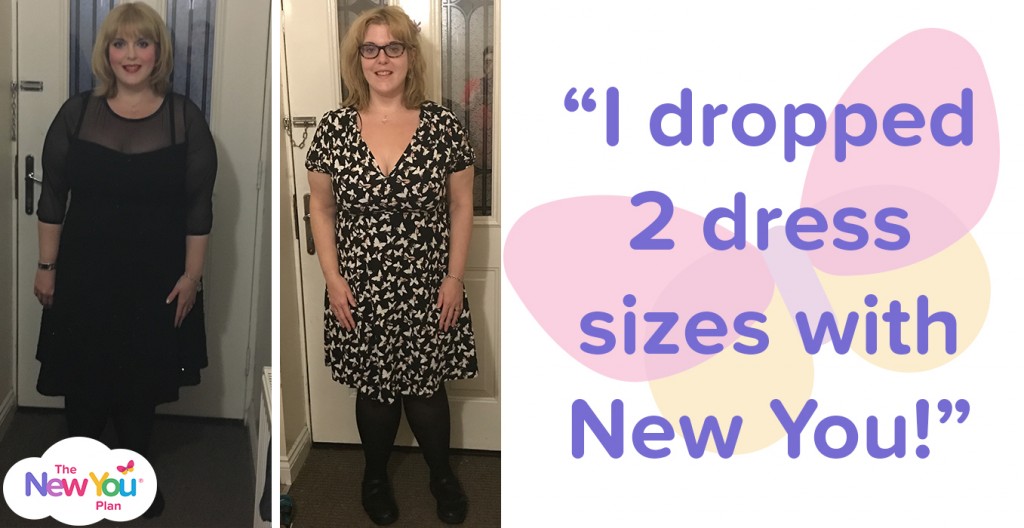 The moment of realisation hit me. As a secondary school music teacher by day and a singer/violinist by night known as Delly Bright, I was recording the promo video for my act and watching myself on camera when I saw just how big I had become. I was starting to creep up to near my old weight, which I had initially worked so hard to lose. I couldn't believe it. Something needed to be done!  I had also been threatened by my rheumatologist and knee specialist that if I didn't lose weight I'd be facing a knee replacement in the next few years.  I really like my knees as they are freaky and bend the wrong way so I want to keep them!
As fate would have it, an advert for New You kept popping up on my Facebook page. Having completed a common really harsh detox I figured if I could do that then I'd walk the New You programme. And how right I was!
I was drawn to New You for how tasty the meals looked and the strictness of the programme. Removing places where I could cheat has been really good for me and who can't follow the 4 x 4 principal? 4 meals per day + 4 litres of water = success! Plus, you cant use the excuse that you're too tired to cook when the meals literally take 3 minutes.
In terms of meals, I love the spicy ones so the Chicken Noodle Curry and Spicy Noodle Nosh, although as part of the #NewYouCookOff I made a meat like cottage pie by mixing Burger with Vegetable Chilli and Cottage Pie and that was LUSH!!!
On a typical day, I start off with a Pineapple Fat Burner, followed by Soup for lunch (Asparagus is my fave) and then a Bar at the end of school (I love the Strawberry one) and finally, I then will either have a double meal or a Meal followed by a Chocolate Brownie.
So far, I have mostly followed Fast Focus, with a couple of weeks on Fresh Focus, following a holiday, in order to break me in gently. I wanted fast results and I liked the strictness of the plan to get my head down and do it, with no excuses. So far, I have completed two weeks before my holiday and I'm just going into my third week of Fast Focus after returning.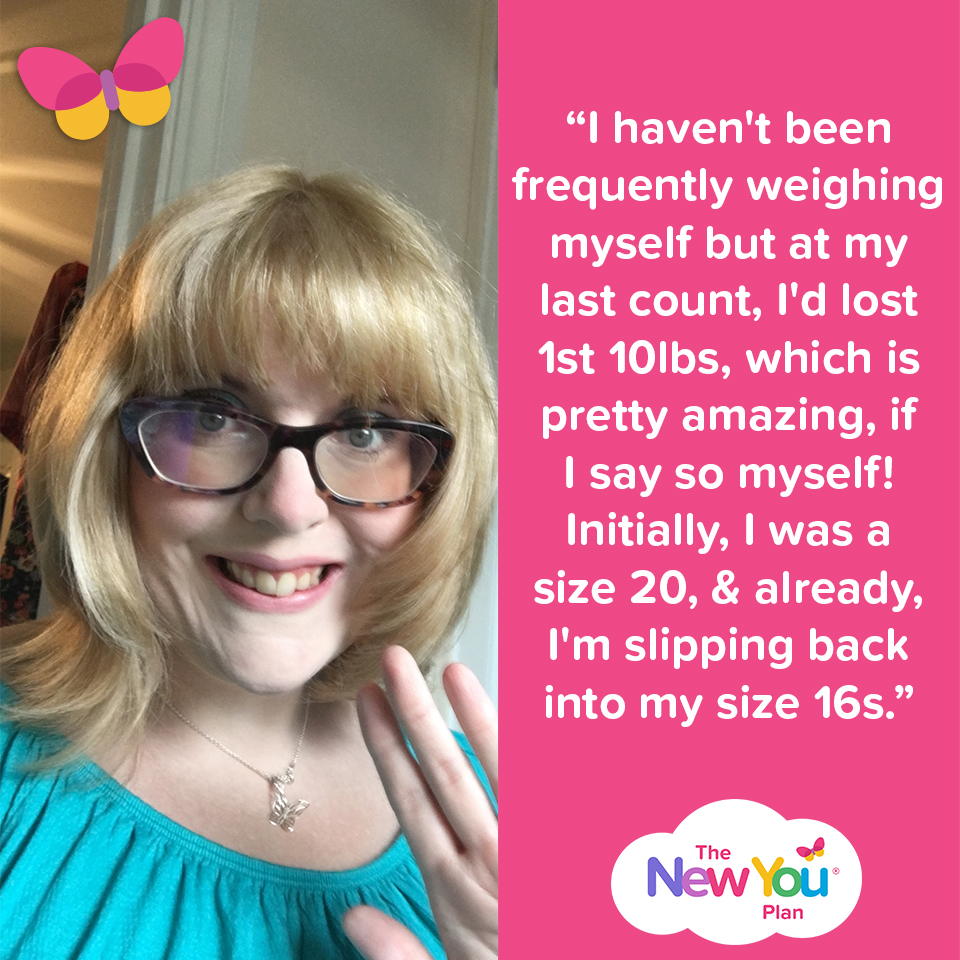 I haven't been frequently weighing myself but at my last count, I'd lost 1st 10lbs, which is pretty amazing, if I say so myself! Initially, I was a size 20, and already, I'm slipping back into my size 16s.
What I love about New You is the support of the team. They are awesome when you ask a question or need some help. The chat function on the website is great and it's lovely that the team pops into Secret Slimmers frequently to see how everyone is getting on.
Secret Slimmers is a hive of activity! I love the cheerleading team of lovely ladies who are always egging me on! The group also gives me total faith and reassurance that not only does the plan work to lose weight, but it stays off! There are so many people on Secret Slimmers who have lost the amount of weight or more than I need to and they have kept it off. They also have lots of ideas to stay on the straight and narrow, sharing hints and tips and cheering me on. What more support could you need?!
At the minute, I already feel more confident and my knee feels much better for losing some weight! I'd like to lose another 4 ½ stone to start with and then I'll see where I am. I might try and lose and extra stone. It's amazing being able to think about how much weight you're going to lose because this plan works!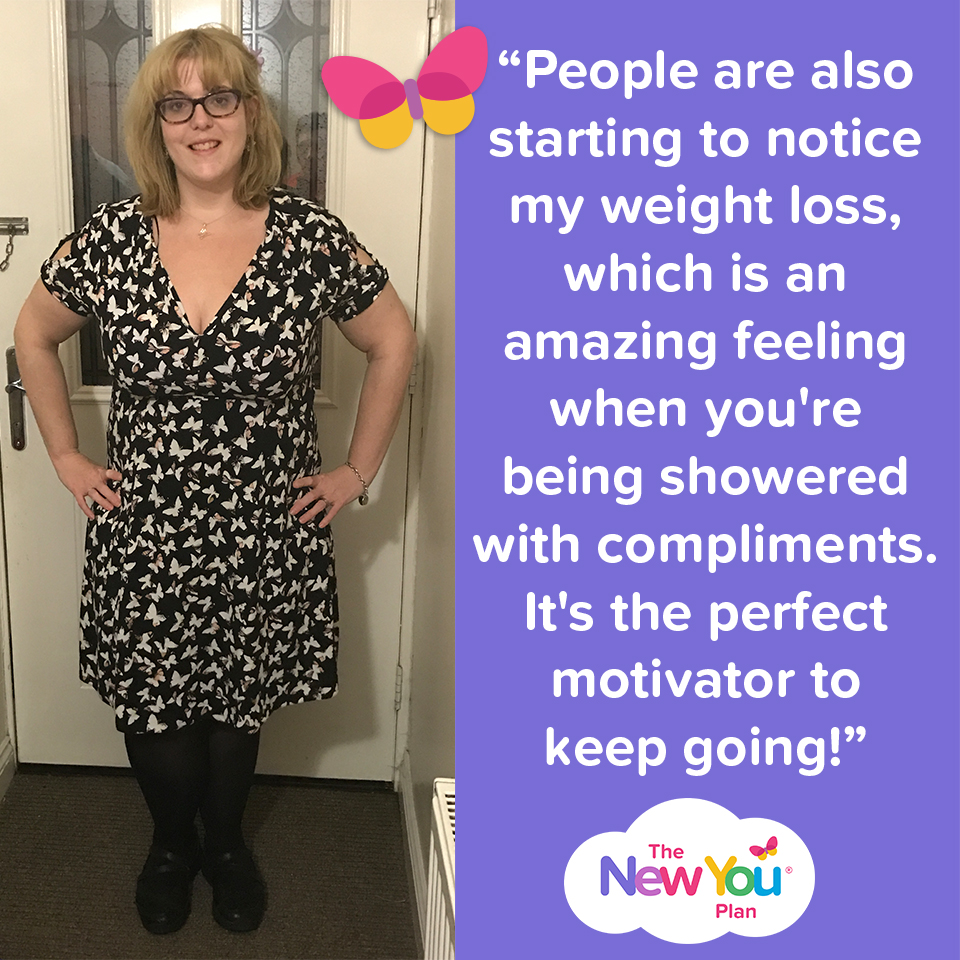 People are also starting to notice my weight loss, which is an amazing feeling when you're being showered with compliments. It's the perfect motivator to keep going! I also love my newfound appreciation for food, with the realisation that I don't need to eat loads of it and binge. On my two week all inclusive holiday I only put on 5lbs, which was amazing considering what I could have consumed. Surprisingly I really stayed away from treats as I didn't feel the need for them.
The mantra that keeps me going is "Never give up on a dream because of the time it will take! The time will pass anyway!" I think this is great advice for anyone reading this and thinking about giving the plan a go. I'd also say that you need to be in the right head space and make sure you are doing it to please yourself not anyone else!
DO IT… you won't regret it!! It's easier than you think and once you see the weight fall off you'll be hooked!!!"
Love, Delly x
START YOUR OWN TRANSFORMATION TODAY
If you're just starting out on your journey, or coming back to the plan then we would recommend our 60 TFR bundle. This bundle will last you for 14 days. You'll be able to enjoy 4 meals per day and 2-3 snacks per week.
What's even BETTER is that with The New You Plan we're more than just a diet company. We are a total lifestyle change: meals, mindset, motivation and maintenance. With unrivalled customer service, a 100% money back guarantee and unlimited online support you'll be able to get in the zone and smash your goals in 14 days.
Benefits of this incredible bundle:

Over 35 Delicious Meals and Snacks to Chose From
All New Customers get Free Gifts Worth £190.95

All new customers can swap products and benefit from a 100% money back guarantee!
Access to our Exclusive Secret Slimmers Facebook Group
Free Shipping on orders over £50!




*Weight loss results may vary and are different for each individual.