New You Plan Blog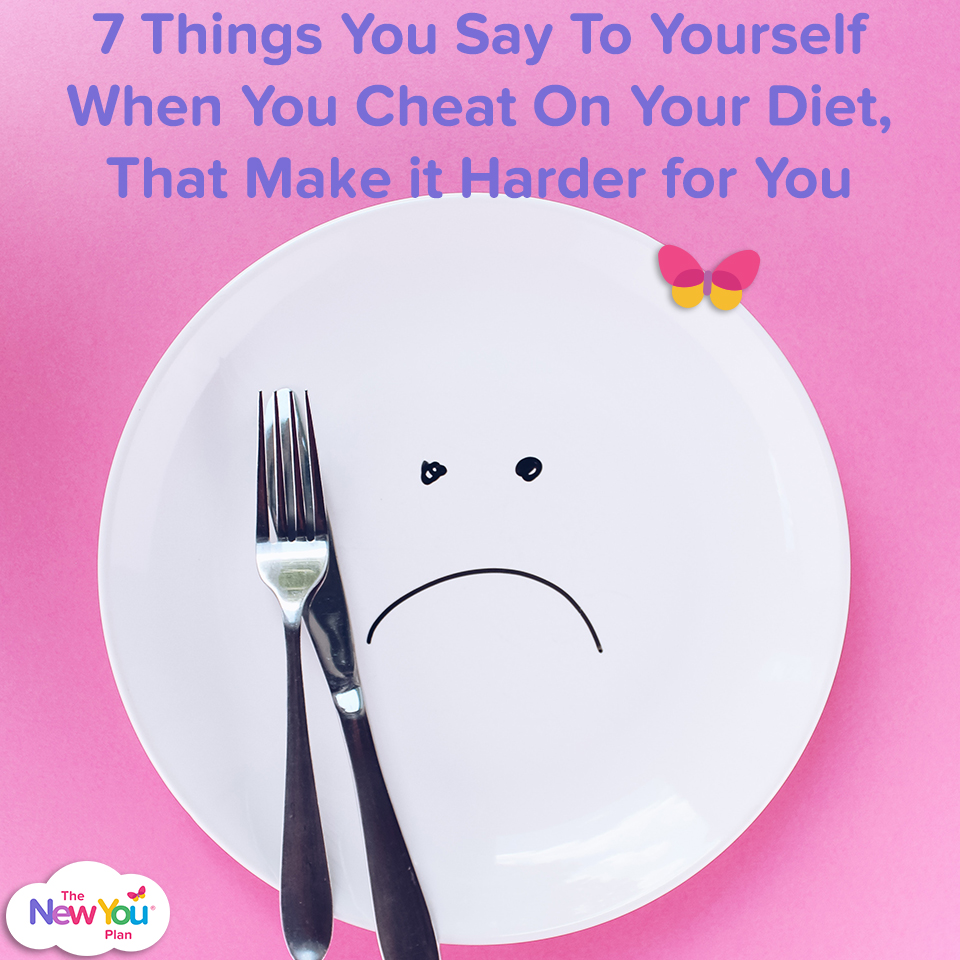 7 Things You Say To Yourself When You Cheat On Your Diet, That Make it Harder for You

We all start off with great ambitions to stay 100% on our diet, and then something happens that knocks us off track and you cheat on your diet. What you say to yourself when this happens can have a massive impact on your success.
If you have been struggling with your diet, then maybe you need to change how you think. In our SECRET SLIMMERS group on Facebook, we support our customers who are following TOTAL FOOD REPLACEMENT. This means you are replacing ALL your conventional food with New You Plan meal replacements. Secret Slimmers is like a sanctuary – it is a food free zone, a judgement free zone, and a place where you can go at any time and feel recharged for your New You journey!
In an ideal world, everyone would be 100% on plan until they get to their target weight, but alas we are mere mortals and some of us do eat off plan for one reason or the other. In the group, we encourage everyone to just call it a BLIP and not go into the details and share photos 🙂
So a "blip" is when you eat off plan. There are good blips and bad blips!
A lot of people who are struggling with the plan, will blip. The ones are are on full flight and are dropping pounds every week, and out shopping for new clothes every month are 100% on the plan and do not "blip!".
In today's blog post we want to share with you 10 things that you are saying to yourself when you BLIP, in the hope that maybe you will dig deep the next time you feel like blipping and stay focused on what really matters.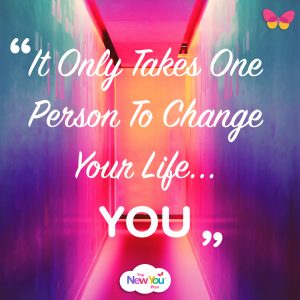 1) NOW IS NOT MY TIME
If you really want to end 2018 feeling proud, healthy, happy and excited about setting new year's resolutions that do not evolve around weight loss, then you need to TAKE ACTION NOW.  If you want to make sure you do not start 2019 with the same weight loss goals as you started 2018 with, then you need to do something different to what you have been doing the last 9 months. Every time you BLIP you are saying to yourself: "Now is NOT my TIME!"
It is time to change that. From today realise that every time you say NO to a blip you are saying YES to YOU! THIS IS YOUR TIME, you can do this, day at a time, 100% is the goal.
2) I AM WEAK
Willpower is like a muscle.  The more you use it the stringer you will get.  You are not going to go to the gym once and come out with a 6 pack abs.  Just like your willpower, you need to exercise it every day.  The more you exercise your willpower the stronger you will become,. the easier the plan will be.  Everytime you BLIP you reaffirm to yourself that you are weak and have no willpower.  You can change that, day at a time.  100% today will make you stronger tomorrow. You can do one day 100%.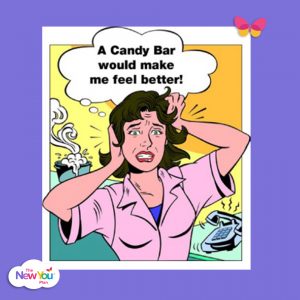 3) I NEED FOOD AS AN EMOTIONAL CRUTCH
Every time you reach for food as a way to relieve stress you are saying that you need food as an emotional crutch.  Being committed to total food replacement makes you start to look inside yourself for ways to deal with stress. You start to form healthy habits, like walking, exercising, long baths, listening to music that lifts your soul, journalling or taking up a new hobby. Stop relying on food to see you through difficult situations, and start relying on YOU, and taking positive action to deal with stress and feel good without food.  Your time on total food replacement will give you the opportunity to change your mindset and form new healthy habits to help you achieve this.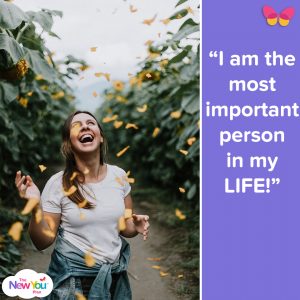 4)  I AM NOT IMPORTANT
There is nothing more important than our health and happiness. We need to be healthy and happy for ourselves and also for those we love. If we know that every time we "blip" we set ourselves back, make us feel weaker, risks knocking ourselves out of ketosis, then we place more value on that "blip" than we do on our long term health and happiness.
Yes we might get a few moments of happiness when we actually eat that food, but by saying NO to the "blip" we are affirming to our self that "We are important", that our long term health and happiness is worth this small sacrifice and we are willing to pay the price to get to a place that we are healthy and happy with our body.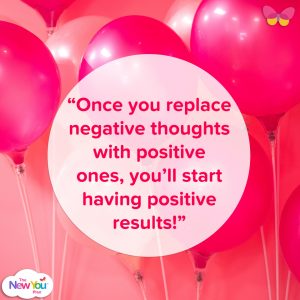 5) I AM GOING TO KEEP ON TORTURING MYSELF
When your weight is getting you down, and you know the only way you are realistically going to shift it is by doing a few months on total food replacement, but when you keep breaking the plan, you are actually emotionally torturing yourself. It really is a form of torture, when you keep self sabotaging yourself. You really take away all your power and make yourself feel helpless and hopeless! It can be an overwhelming feeling and you NEED TO STOP IT. It is not good for you.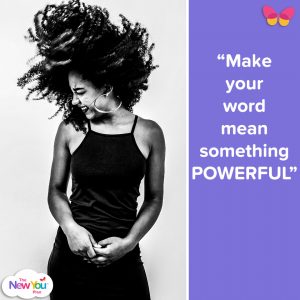 6) MY WORD MEANS NOTHING
When you keep saying "This is it, this is my time, I am going to do total food replacement 100% for the next 12 weeks" and then within a few days you are ordering off the food menu when you meet your friend for a coffee, and your new you bar stays hidden away in your handbag. Every time you say you are going to do it, and you don't, you are taking away your power. Because not only do other people not believe you when you say you are going to do anything, but you start to not believe yourself either. This will start off with your diet plans, but will spread to other things. Decide today that your word will mean something, and when you say you are going to do something, that people will take notice and not roll their eyes.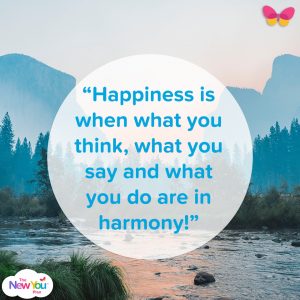 7) I AM NOT HAPPY AND I AM AT WAR WITH MYSELF
"Happiness is when what you think, what you say and what you do are in harmony." If you are thinking "I am going to do the plan 100%" and the next thing you are eating off plan, then you have inner conflict. You are not happy, and you are not in harmony within yourself. This is one of the biggest things you can do to change your life. BE CONGRUENT. Make sure that your thoughts, words and actions are all working towards the same goal. Do not have a fight with yourself.  There are enough battles to fight in life without fighting one with yourself. When you can change this, you will feel so happy, so at peace with yourself, and you will feel unstoppable.
We are all on this journey together, and day at a time we can do it. Dig deep and find that emotion inside you to drive you to make sure that you end 2018 feeling proud and empowered because you took action to make your dreams of being slim, healthy and happy come true!
YOU CAN DO THIS. Day at a time, and being mindful of your thoughts, words and actions. Bring yourself back in line with what you really want… To be slim, healthy and happy.
If you want help to get back on track, contact our team in the office who will be only so glad to help you decide what bundle is for you and to give you some friendly motivation to keep you focused on your new you journey.
____________________________________________________________________________________________________
Get started TODAY!

Are you ready to finish this year feeling slim, healthy and proud and totally and utterly in love with your body?  Are you ready to change the self talk to words that love and nourish you, and make you feel positive and empowered?  Are you ready to commit to eating in a way that makes you healthy and helps your body to support you easily? Are you ready to be your own best friend?
It is time to be a friend to your body and to end this year feeling EMPOWERED, STRONG AND HEALTHY!
If you want to talk to a member of our friendly team about how to get started, please call us on…
UK 028383330720
IRELAND 04838330720
INTERNATIONAL 00442838330720
We are here to help you create your new you 🙂