Diet Mindset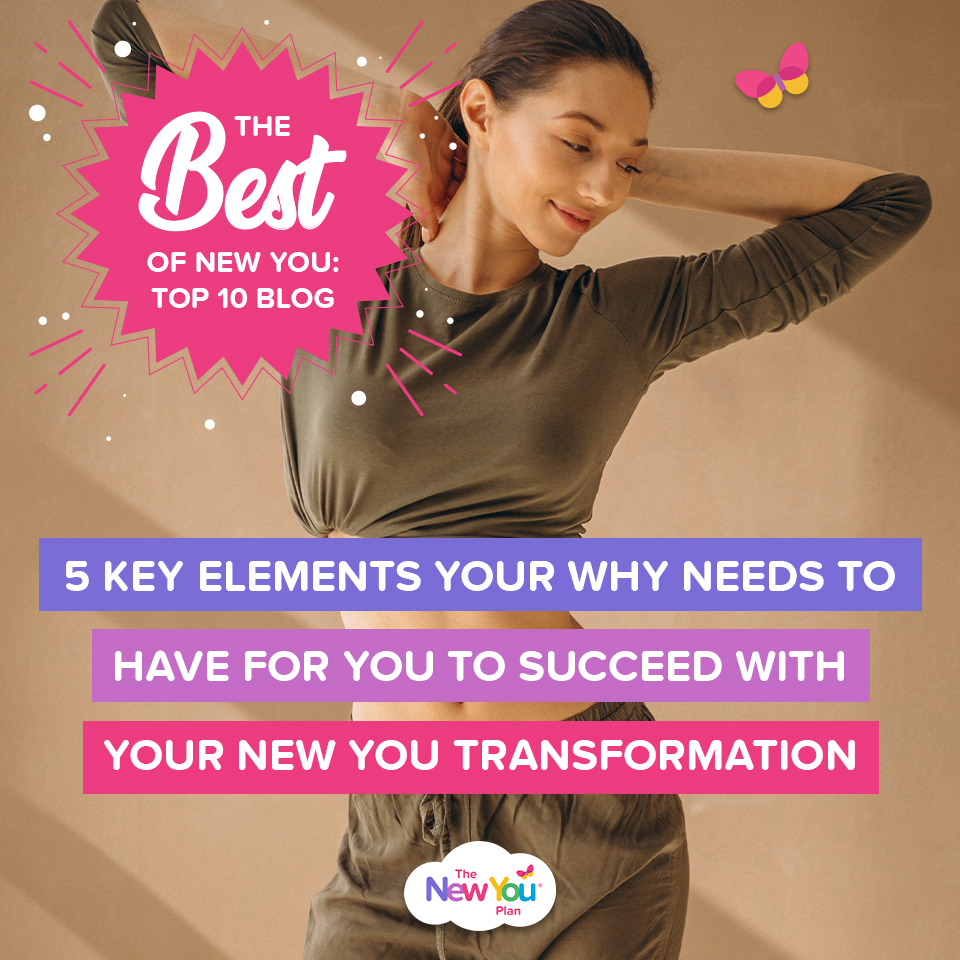 5 Key Elements YOUR WHY needs to have for you to succeed with your New You Transformation

What is your WHY? If you want to succeed on total food replacement you need to have a good reason to stay on plan, make sacrifices and be disciplined.
In this article we dig deep into What Your WHY needs to have to be good enough to keep you on track.
It is amazing when you are on your New You total food replacement journey how everyday a new "non scale victory" gives that little buzz of excitement as we can see how our world changes as the pounds melt away.
It is all these little reasons that stoke our fire daily and keep us going.
BUT – the question we get everyday, is "How Can I Get Motivated To Start Total Food Replacement and Create My Rapid Transformation?"
The best way to get the motivation to get started on your new you journey and to be able to stay super focused on your New You Journey is to connect with a YOUR BIG WHY.
Your big WHY will be personal to you… Maybe your WHY is that you want…
to be a healthy role model to your kids.
to get back out on the dating scene.
to shine bright in your career.
to stop sitting on the sidelines.
to enjoy an active retirement.
to start a family and be healthy for pregnancy.
For your WHY to be effective it needs to have 5 KEY ELEMENTS…
1. EMOTION – you need to have some emotional connection to your WHY. When you think about your WHY, you want to feel a positive and inspiring emotion that makes you WANT to take positive inspired action towards your NEW YOU. The more emotion you can connect to your why, the better chance you have of achieving your goal of being slim and healthy.
2. VISUAL – if you can imagine yourself at goal, living life as YOUR WHY, doing what you want to do, feeling how you want to feel, being how you want to be, and looking how you want to LOOK. Then the chances of making your dreams your reality are multiplied by 10x.
3. URGENCY – if you have a sense of urgency that makes you feel that every day counts, and you want to take consistent daily action towards your WHY. Having a deadline, a date, an event to look forward to, really helps you to create that positive sense of urgency that keeps that fire in your belly.
4. GRIT – nothing great is accomplished without some grit! It is easy to make big diet commitments when you are tucking into your "last supper", but the real commitment to your WHY will be apparent when you feel tired, stressed, hungry or tempted for a night out on the town. If you always take the easy option and stay inside your comfort zone, you are not going to create a jaw dropping transformation.
5. PAIN – the pain of regret is worse than the pain of discipline. What is the consequence of you not achieving YOUR WHY? Who is going to suffer? What opportunities and experiences will slip away? What richness in life will you miss out on? Get clear on the consequences of not achieving YOUR WHY, connect with that pain, and remind yourself of it every single day.
Connect with YOUR BIG WHY, make sure you have ALL 5 of the key elements and take action towards your dreams!
The great thing about your New You journey is that once you get started everyday will start to reveal more and more reasons why you are doing the right thing for your life, health and happiness; each day a million more reasons will keep showing up and spurring you on!Y
If you are ready to CONNECT WITH YOUR BIG WHY, we are here to help you get started. Feel free to call us in working hours on UK 02838330720 or order your starter bundle from our website.
Once you order, you can join our exclusive secret slimmers group for daily posts of fun, inspiration and accountability!
We believe in you! Honestly, it is so amazing what you can achieve in a short space of time.
All it takes your connection to YOUR WHY and your commitment to our total food replacement diet plan.
You got this!
LOVE,
Julz xox
Owner & Founder of The New You Plan
---
Are you ready to get started on a really, really, really easy diet plan?

Getting started is the first step in your journey to a brand New You! To help you understand fully how our plan works, our Get Started page with designed specifically for people new to the plan.
Head over to our site where you'll find tonnes of important information including how our plan works, the science behind it, loads of top tips, information on our meals, as well as real customer testimonials.
Click here to visit our Get Started page!