*Weight loss results may vary and are different for each individual.
"My New You Plan 42lb weight loss story!"
Watch Nanda's video and read her story below!
Hi all,
My name is Nanda O'Connor and I am originally from Mauritius but I've been living in Ireland for almost 10 years. I am a family person and I work full time. My children are all grown up and they don't live with me, so  it's only me and my husband but I have to say I love dressing up and going out occasionally to meet up with friends.
Being social, I was so unhappy with my weight and I was struggling, feeling sad, down and I had no confidence in myself.
The New You Plan popped up on my Facebook newsfeed one day. All I had to do was to click on the link and I have to say to this day I am so happy that I did click on that link, which brought me to where I could see real people's transformations and before and after pictures. I really couldn't believe my eyes! I was amazed when I saw the photos and read all the reviews and that day I made up my mind and I said to myself I want to give it a go and that was it! The next day I placed a 7 day kick start bundle which arrived within days.
So here my weight loss journey started with The New You Plan. I have to say it is an amazing diet which works! I have been following Fast Focus (TFR) and then when I am happy for a little change I will move on to Fresh Focus. I opted for Fast Focus because I wanted to see fast results, which keeps me motivated as to be honest if I don't see the result then I might give up so Fast Focus is for me.

I started The New You Plan in August 2012 and weighed in at 13 stone. In just 5 weeks I lost 25 lbs* and dropped 2 jeans sizes.
Since I started the plan I have become much more active! I love my evening walks, jogging and swimming.
I have to say, what I love about The New You Plan is the customer care team. This is the most amazing group I have known. They are always there 24 /7 to help/ They're very prompt in replying to emails, phone calls get answered straight away and call backs are within minutes. It's such an amazing group! Well done guys 🙂
When it comes to the meals, I love the shakes as all I have to do is pop a packet in the blender bottle, add 250ml of water and I am good to go! How easy is that?!
My menu on daily basis is:
Porridge in the morning for breakfast. It's so sweet, tasty and so filling. It keeps me full for up to 4 hours.
Lunch is always shake. I love all the flavours.
Then at dinner time I love a savoury meal and then at least another shake
Occasionally I have a snack which is a wafer or chocolate mousse.
I would strongly recommend this diet plan to anyone! It is so simple and easy to follow and there's so many meals to choose from!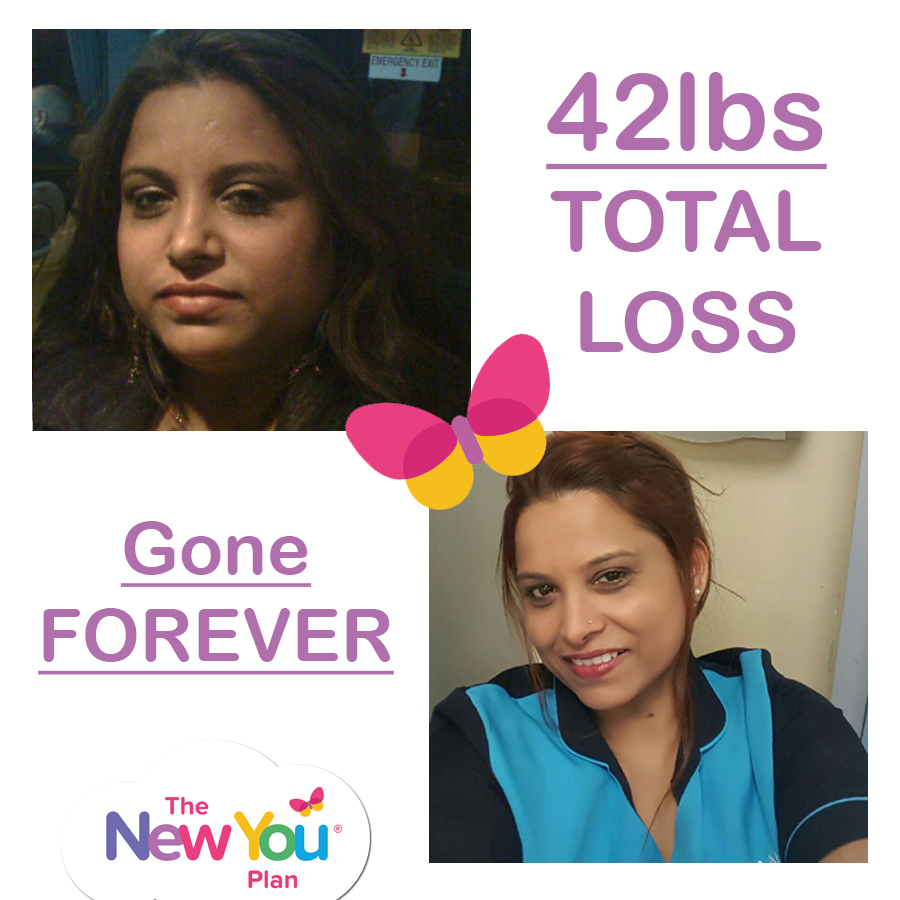 It works if you work it. It's as simple as that!
I'd also recommend using the Secret Slimmers Facebook group, which really helps you keep focused. The support is amazing, motivational and so inspiring.
Each month there are weight loss challenges and I do enter the weight loss leader board as it keeps me on track and focused and there are also amazing prizes to be won!
Since losing weight, I feel happy, more confident in myself and I've no problem fitting in clothes. I feel pretty, I socialize more, I am enjoying my weight loss and the new me.
Now at 9 stone I am happy and I will continue to be as long as I am able to maintain my weight loss. I still mix up my meals with a Fresh Focus meal to keep my weight down and be at a healthy BMI.
The best thing that has happened me since I lost the weight is that someone actually told me I look like a" 25 year old," and I'm "Such a pretty lady"!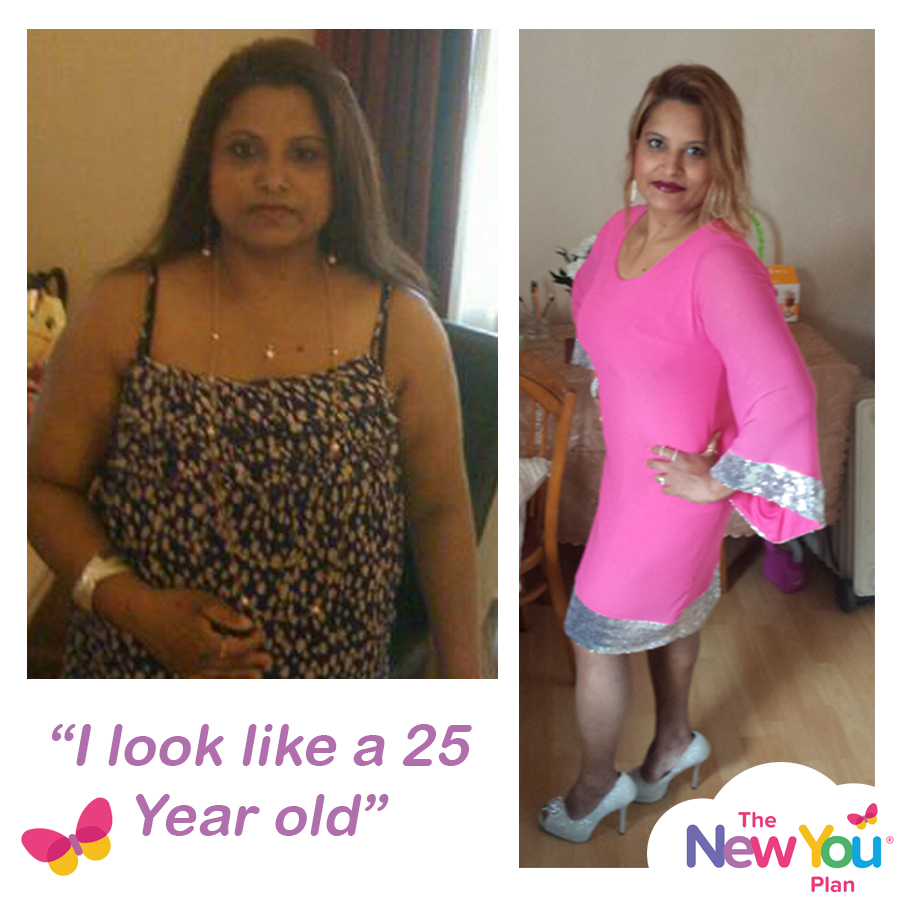 Now I look at food very differently and I am always making healthy choices.
My tips to anyone out there who hasn't made up their mind yet is not to worry about whether it will work for you. The answer is Yes!! It works if you work at it. Keep it simple with 4 packs and 4 litres of water per day. Take it one day at a time!
To all you ladies and gentleman who are struggling with their weight, THE NEW YOU PLAN DIET is for you!!
Love Nanda
---
START YOUR TRANSFORMATION TODAY
If you're just starting out on your journey, or coming back to the plan then we would recommend our 60 TFR bundle. This bundle will last you for 14 days. You'll be able to enjoy 4 meals per day and 2-3 snacks per week.
What's even BETTER is that with The New You Plan we're more than just a diet company. We are a total lifestyle change: meals, mindset, motivation and maintenance. With unrivaled customer service, a 100% money back guarantee and unlimited online support you'll be able to get in the zone and smash your goals in 14 days.
Benefits of this incredible bundle:
Over 35 Delicious Meals and Snacks to Chose From
All New Customers get Free Gifts Worth £190.95
All new customers can swap products and benefit from a 100% money back guarantee!
Access to our Exclusive Secret Slimmers Facebook Group
Free Shipping on orders over £50!


Tags:
before and after
,
Feelings & Emotions
,
Motivation & Inspiration
,
The New You Diet
,
Weight Loss