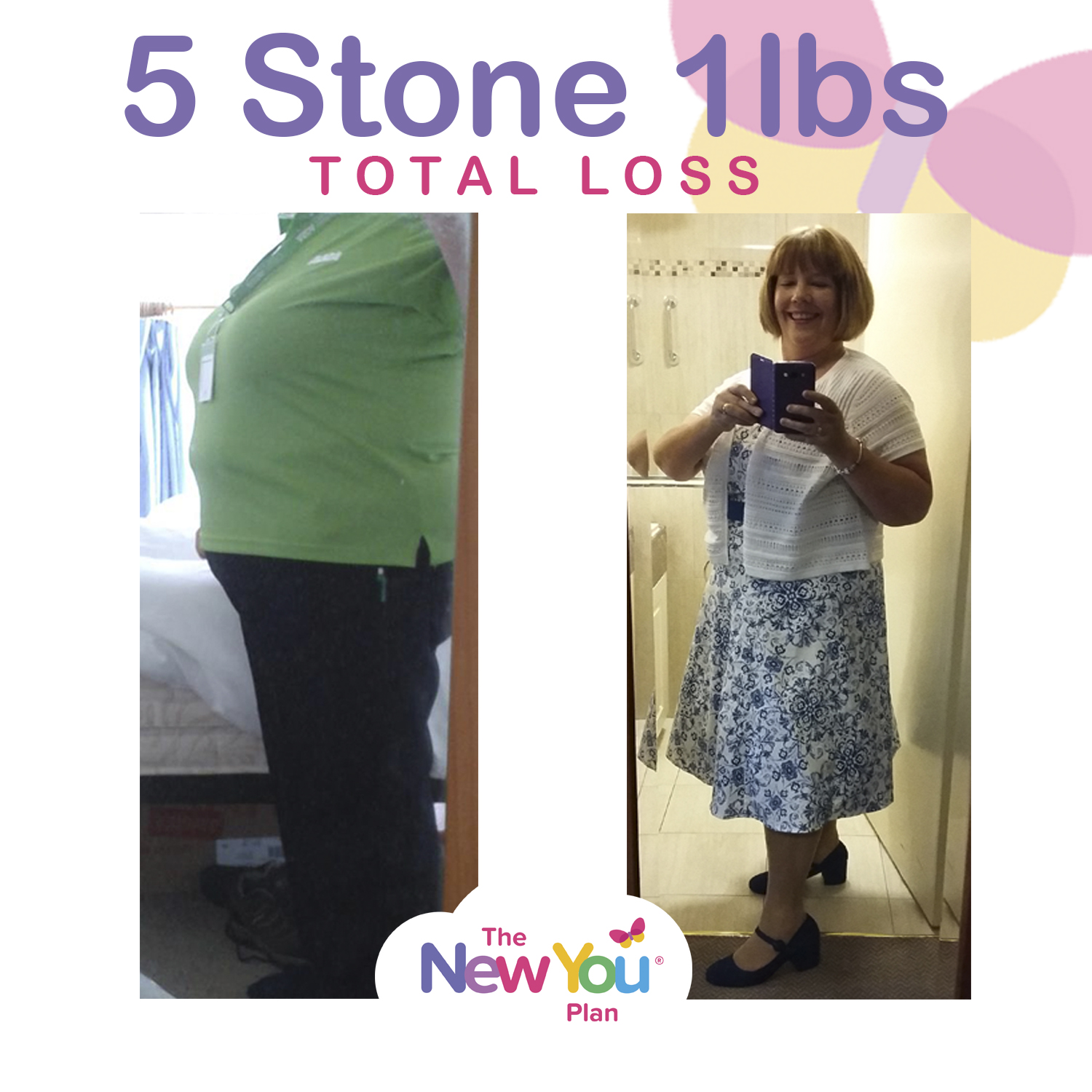 *Weight loss results may vary and are different for each individual.
Hi Everyone 😀 I am Mel Duffy and I am originally from London now I live in a little village in Cornwall called Mousehole, I Married to Eamonn who is also a secret slimmer and has recently completed an interview for The New You plan also, I have been married to Eamonn for 10 years, we dont have any children, but we have a lovely little Westie called Cassie. I Love to go out for dinner (well, food in general and always 'bad' food! But I am able to make better choices now)
Tell us about your weight and lifestyle before you started the plan 
What was your starting weight?
I started The New You Plan weighing in at 18st
What was your dress size?
I was wearing an uncomfortable 22/24
Have you tried other diets?
Over the course of many years. I have tried other TFR diets and a few conventional food diets – all with very little success. 
Why do you feel you put your weight on and what have you struggled with before starting the plan that stopped you from losing weight?
I always enjoyed the wrong foods in excess and didn't know when to stop. I used food as a comfort and as a treat
How did you feel before you started the plan?
Fat, frumpy and over Forty! Sluggish, unattractive, depressed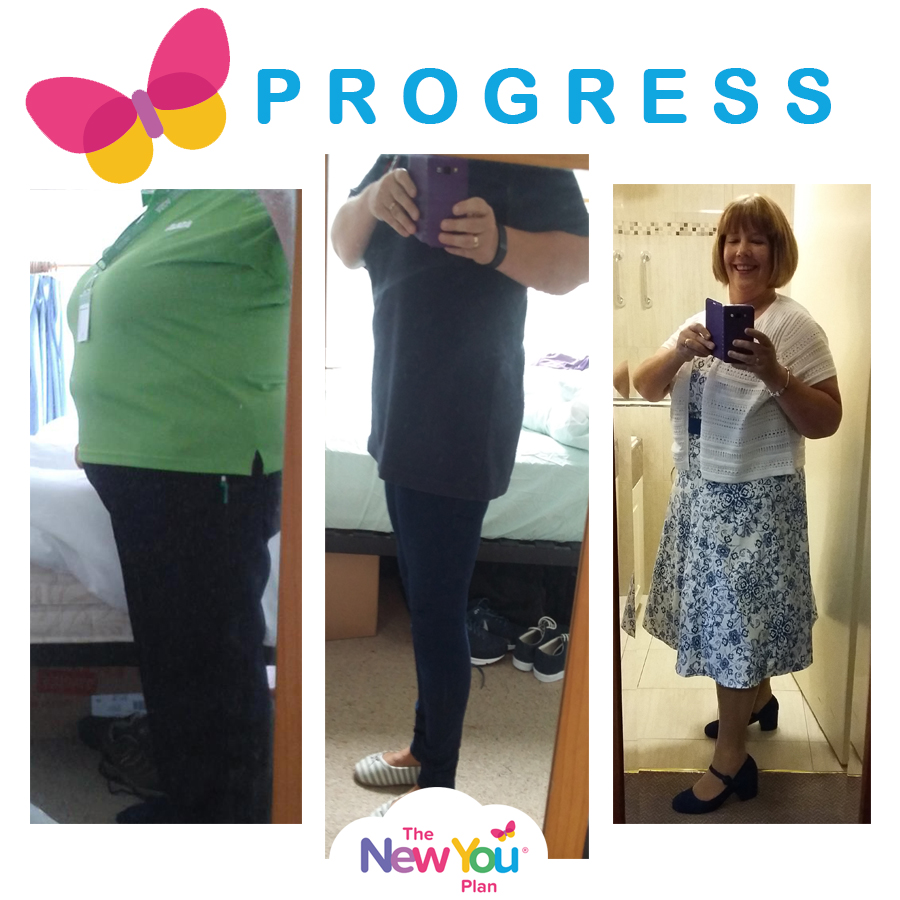 Tell us about when you started the plan
What moment or event started your weight loss journey?
I was very unhappy in myself and it was the start of 2016 and my friend was already doing the diet and encouraged to order some food from you
What made you decide to join The New You Plan?
Friend recommendation and looking through the website
What plan have you been following through The New You Plan, Fast Focus, Fresh Focus or Family Focus?
I have been following the Fast Focus plan
Why did you choose the plan option ie Fast focus?
Because I wanted to lose a lot of weight and wanted to see results reasonably quickly
How long have you been on the plan?
7.5 months
How much weight have you lost- please provide in Stone and Pounds?
5st, 1lb* or just in lbs 71lbs* (so far!)
How many jean sizes have you lost?
4 🙂 🙂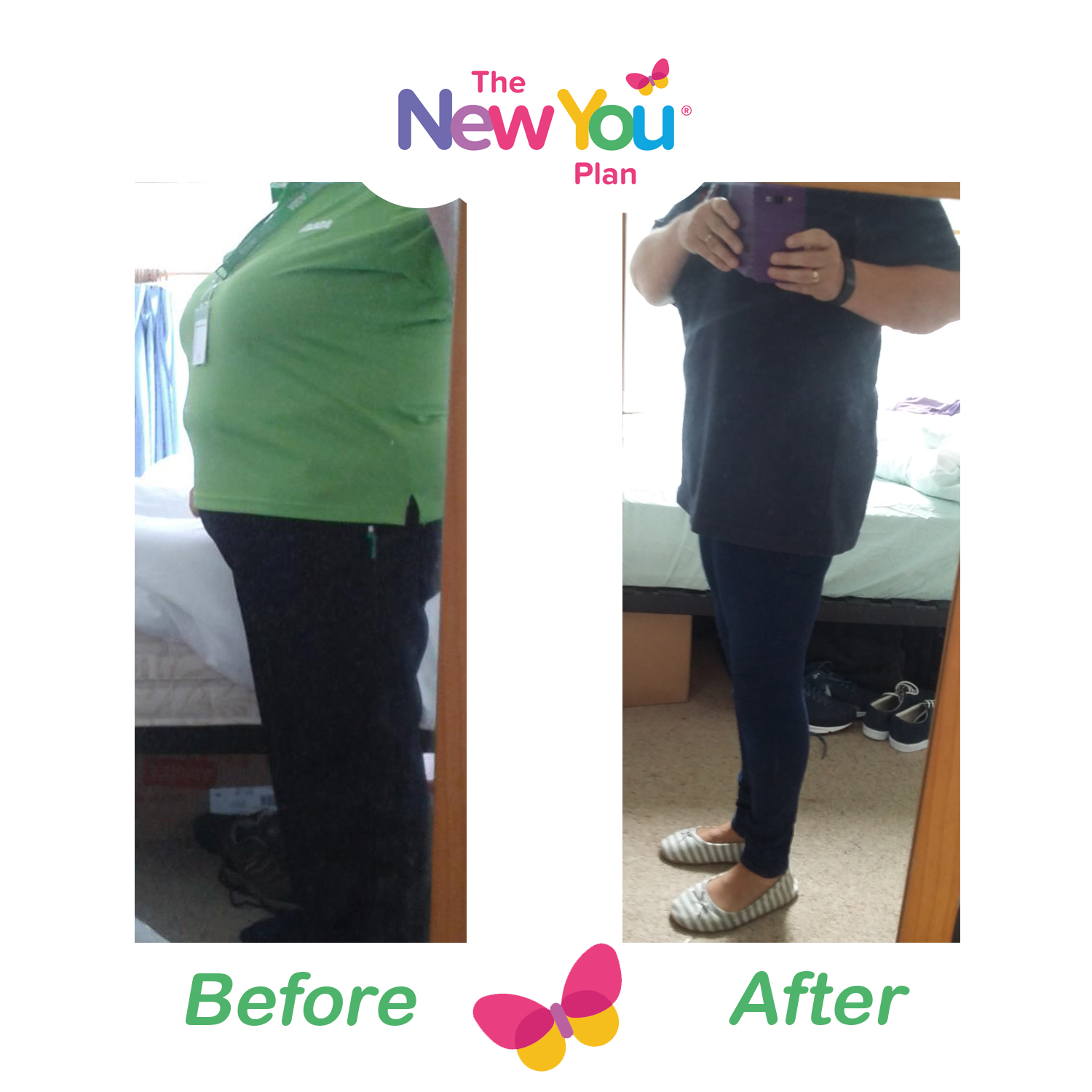 Tell us about what you enjoyed while doing the plan
How has the support of the New You team helped you?
Made things easy to understand and always ready to help
Tell us what meals you enjoyed and why?
The hot meals are my favourite, Vegetable Chilli & Chicken Curry in particular. The pineapple fat burners are lovely and keep me drinking enough water for my daily quota.
What was your daily menu- please provide breakfast lunch dinner tea and favourite snack?
Shake for breakfast, another for lunch or a bar and two hot meals together for dinner (i.e: 2 x veg chilli)
Would you recommend customers to join secret slimmers?
Definitely!
If yes explain why how has secret slimmers helped inspire you?
It made me realise that I could do it and have the success that other people did. Reading other stories motivated me to stay on track (with the occasional fall off the wagon!)
Did you enter the weight loss challenges ie leader board? If yes explain how this helped you stay focused?
I did the Leader board weight loss challenge for the 1st couple of months to get me on track.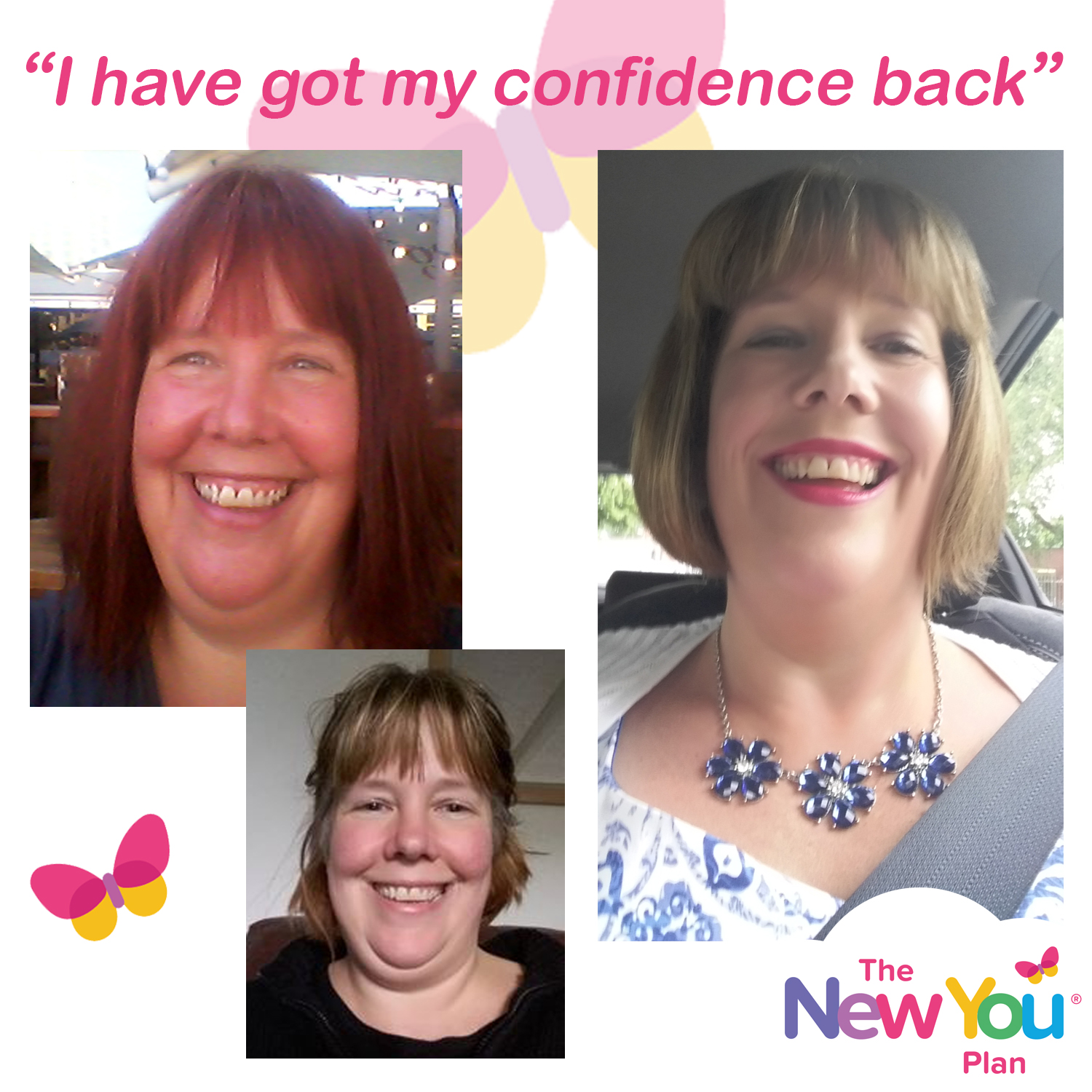 Tell us about how you feel now?
How do you feel now after losing your weight?
Much more energy, found a love for clothes again not just the baggy t-shirts I used to wear
What weight are you now?
12st 13lbs
What dress size are you now?
16
Have you reached your goal?
Not yet.
If you have not reached your goal what is your goal and how much more do you want to lose?
I have set an interim goal of 12st and see how I feel from there
How has your weight loss impacted positively on your every day life?
More energy, more alert mentally, less self-conscious in social situations
What was the nicest compliment you received since reaching your weight loss goal or current weight loss?
'You look amazing!'
Do you feel your mind-set has changed with following the plan for example do you feel you have a better understanding of food and this will help you not to go back to old habits?
I have always known what I should do but never had the willpower to take control of my diet. Now I know even though I may go out and have a good time I can reign myself back in so I don't go back to my old ways.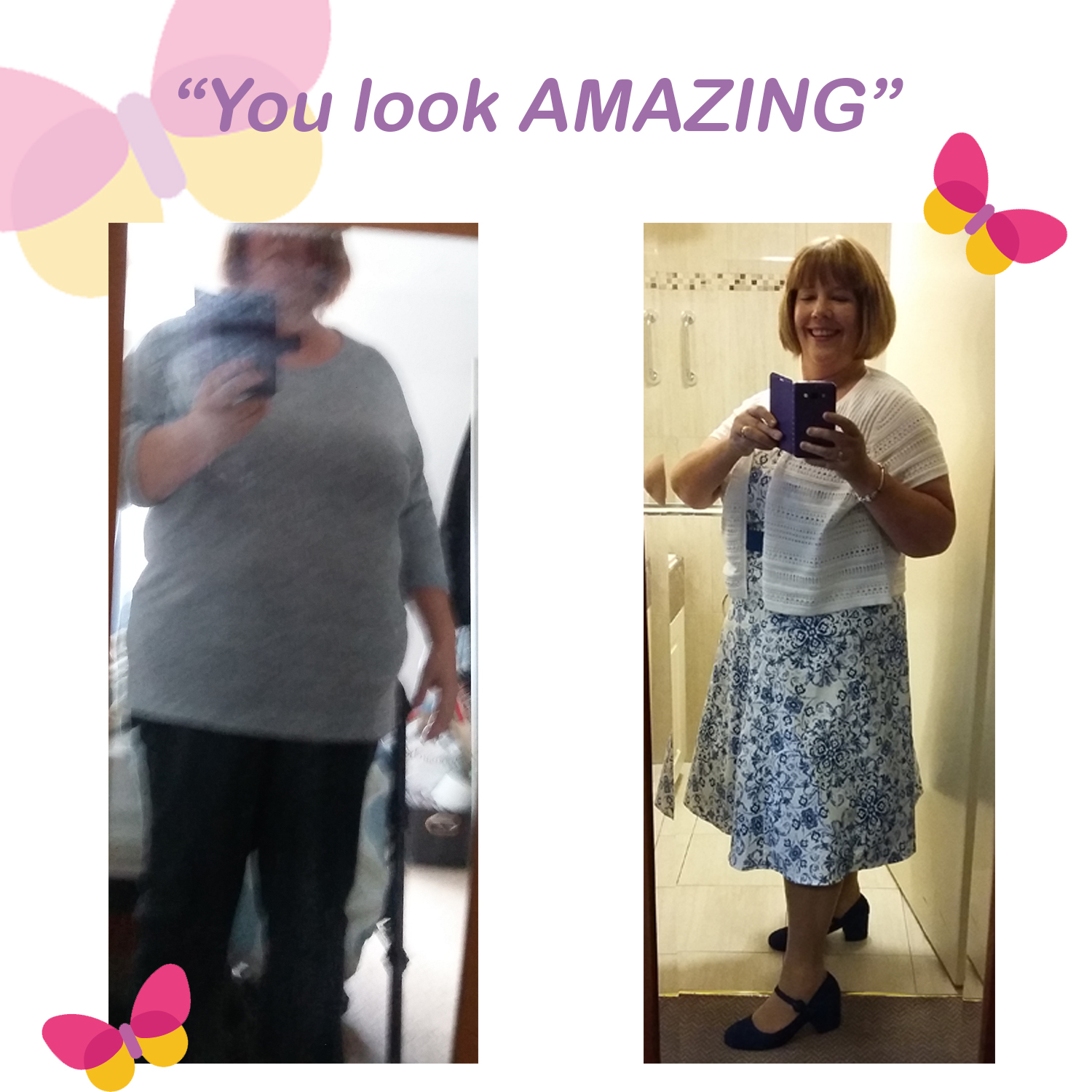 Tell us more
Do you have any favourite sayings, quotes, or anything that inspires you?
A friend of mine who has also done the plan told me 'you drink, you shrink' that has always motivated me to make sure I drink enough water for each day.
If you were to give advice to anyone considering starting a weight loss journey, what would you say?
You have to be ready otherwise you are setting yourself up to fail before you've even started.
What tips would you offer someone who is thinking about starting their weight loss journey but has not yet made the decision to join the new you plan?
It's not just shakes like other diets, the food is yummy, there is a wide variety of foods and the support from the facebook secret slimmers is amazing.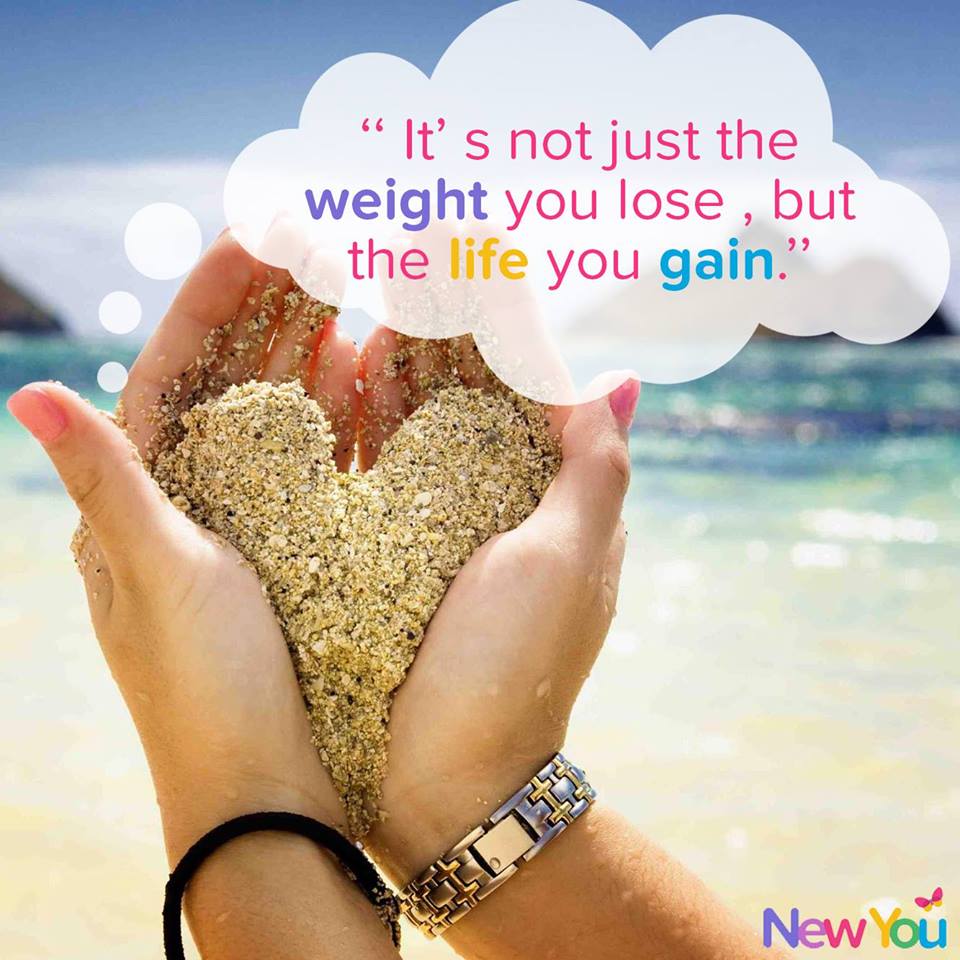 Love Mel <3 
---
START YOUR TRANSFORMATION TODAY
If you're just starting out on your journey, or coming back to the plan then we would recommend our 60 TFR bundle. This bundle will last you for 14 days. You'll be able to enjoy 4 meals per day and 2-3 snacks per week.
What's even BETTER is that with The New You Plan we're more than just a diet company. We are a total lifestyle change: meals, mindset, motivation and maintenance. With unrivaled customer service, a 100% money back guarantee and unlimited online support you'll be able to get in the zone and smash your goals in 14 days.
Benefits of this incredible bundle:
Over 35 Delicious Meals and Snacks to Chose From
All New Customers get Free Gifts Worth £190.95
All new customers can swap products and benefit from a 100% money back guarantee!
Access to our Exclusive Secret Slimmers Facebook Group
Free Shipping on orders over £50!


Tags:
before and after
,
customer interview
,
Dieting
,
Motivation & Inspiration
,
The New You Diet
,
Weight Loss