Before & Afters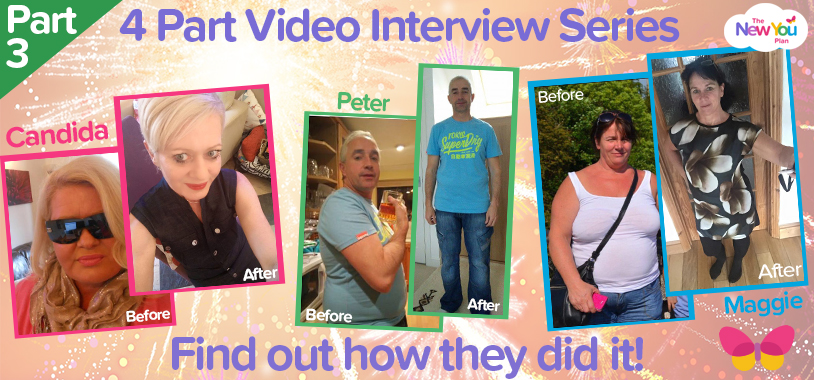 Success stories video interview series: Part 3
[Part 3: Smashing Goals & Inspiring Others!]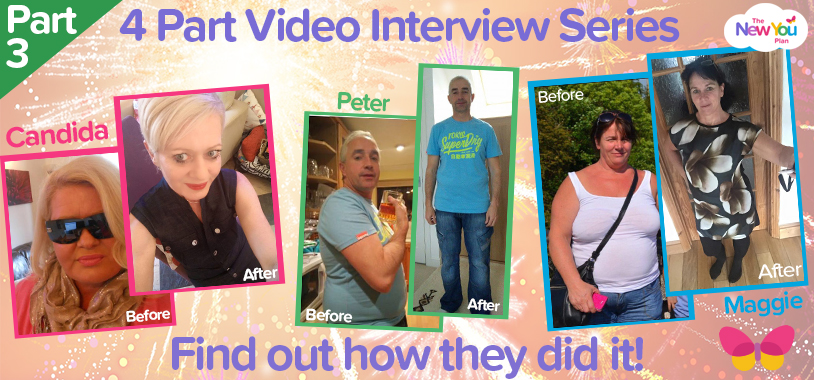 *Weight loss goals may vary. This is not a guarantee.
In the third part of our success stories video interview series, the extremely brave Candida, Peter and Maggie bare all with some truly heartfelt answers! In our most revealing questions yet, our success stories share their biggest inspiration for losing weight and their responses brought a tear to our eyes. We also asked them what three words they would use the describe themselves before they started the plan and we can definitely resonate with all their answers. Get ready to feel inspired by today's video and if you missed part 1 and part 2, click here and here to catch up now!
If you understand exactly how Peter, Candida & Maggie were feeling, don't panic. You too can create your very own transformation and make 2016 your year!
In 2016 we are committed to helping 20,000 people to be healthy & happy, inside & out! Step into 2016 with a New You Diet Plan Bundle that suits you!
♥ 
Shop 30 Meals or Snacks for ONLY £5.99/€7.72 per day + FREE Wall Chart worth £9.99/€12.88 HERE
♥
Shop 60 Meals or Snacks for ONLY £5.71/€7.36 per day + FREE Wall Chart & Water Flavouring worth £15.98/€20.61 HERE
♥ 

Shop 120 Meals or Snacks for ONLY £5.57/€7.18 
per day + FREE Wall Chart, Water Flavouring, Mini Blender Bottle, 21 Day Journal, 10 Pineapple Fat Burners, New You Online Masterclass worth £91.95/€118.61 HERE
♥ Shop 240 Meals or Snacks for ONLY £5.35/€6.90 per day + FREE Wall Chart, Water Flavouring, Mini Blender Bottle, 21 Day Journal, 10 Pineapple Fat Burners, New You Online Masterclass & Project New You worth £288.95/€377.24 HERE
For more information on these bundles, click
HERE