Challenges

Share Your Selfies Or Product Photos & You Could Diet For FREE

Whether you're a selfie queen or product photo pro, we want to know! This year you could diet for FREE, simply for sharing your New You photos. Here's everything you need to know…
This year, we have allocated a MASSIVE £5000 worth of New You products to our selfie and product photo winners. All you have to do is take a selfie with any New You Plan product, with our branding clearly visible, and post it to your public Facebook, Tiktok or Instagram profiles, with the hashtag #newyouselfie for your chance to win. You can also post these in our Secret Slimmers Facebook group.
If we love your photo and use it, you can diet for FREE. Up to 10 photos a month will be chosen, with the winners each receiving 5 days' worth of New You products.
There is no limit on entries so share as many as you like for a bigger chance to WIN! Whether you're a selfie queen or novice, no doubt you'll be keen to perfect your photos to give yourself the best chance at winning. So with this in mind, here are our top tips for nailing it!

Find your lighting
Natural lighting can work wonders in creating a social media worthy photo. If you're indoors, make sure you stand beside a window to maximise that natural light. If you're outside, stand with the light coming from the front. When taking photos of our products, make sure the lighting isn't so strong that it covers up our branding.
Consider your background
While we're primarily focused on your face or product, don't forget that we will be able to see what's behind you too. The best photos take advantage of a lovely, scenic background or are clear of clutter. We want the attention to be on your face or product.

Try portrait mode
Speaking of backgrounds, portrait mode on phone cameras is a powerful tool. This handy setting will blur out the background so that your face or product is the main focus. Plus, it looks super professional too.
Smile with your eyes
When taking your selfie, bring your attention to your eyes to make them naturally smile.

Take a lot
Practice definitely makes perfect so take plenty of photos. Scroll through them to find your favourite before sharing.
Try not to be self-conscious
Take a selfie like nobody's watching! Seriously, the best way to look natural and relaxed is to pretend that you don't give a damn if anyone else is looking at you.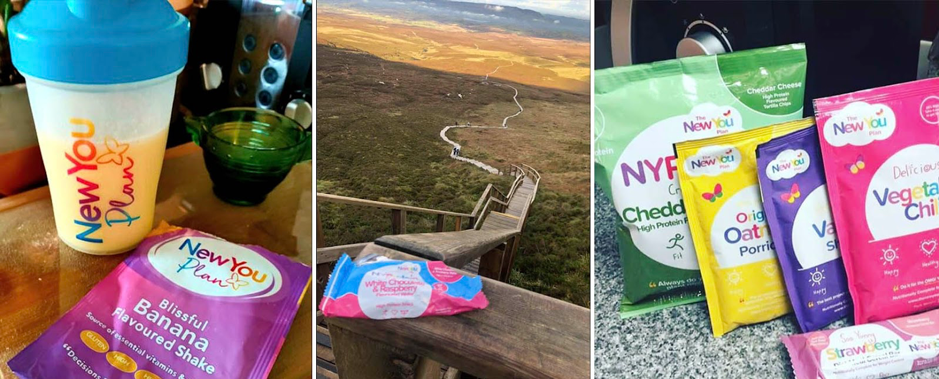 Try filters
We don't mean the ones which will completely alter your image, but those which offer a subtle finish and take your photo to the next level.
When you're happy with your photo, make sure you share it on Facebook, Instagram, TikTok or in Secret Slimmers, along with #newyouselfie for your chance to WIN 5 days' worth of New You products.
Good luck! X