Candida's Blog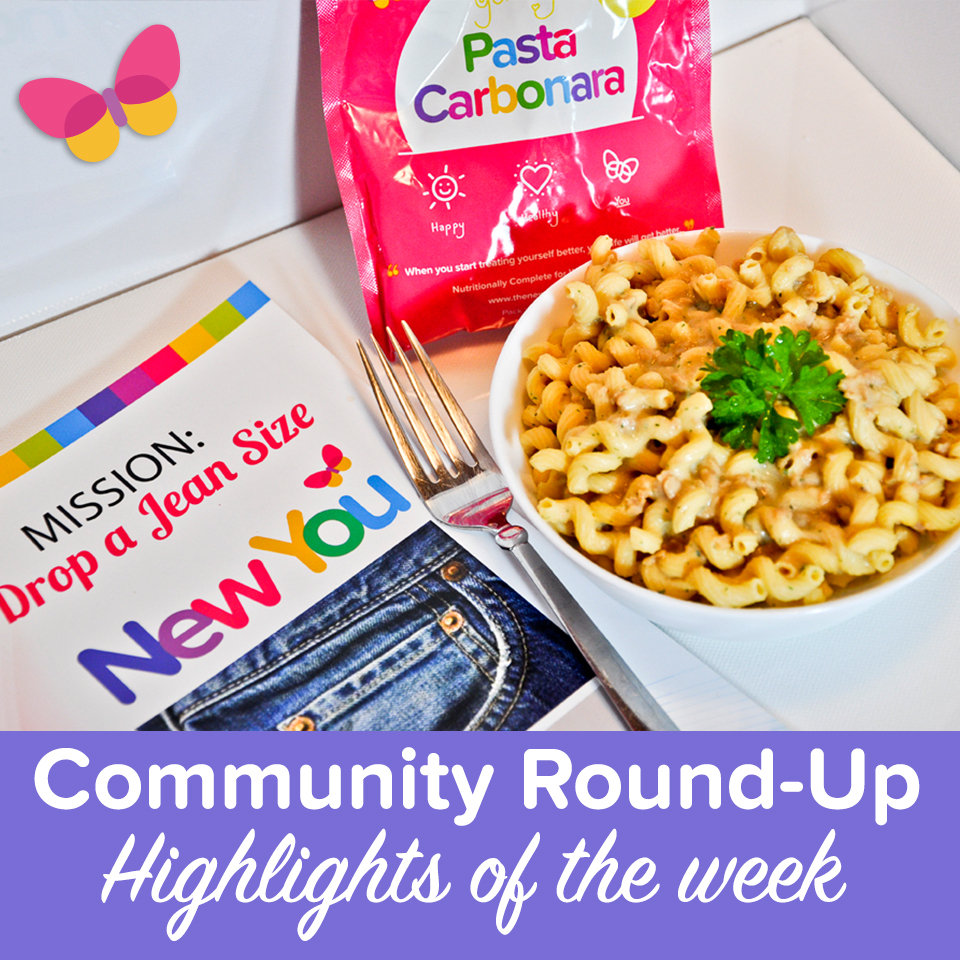 New You Plan Community Round-up: This week's highlights

Customer Transformation Coach Candida shares this week's New You Plan community highlights…
As another week at Secret Slimmers and Momentum Maintainers unfolds, the New You Plan community is filled with both sadness and happiness. One of the incredible things about our secret groups is that you can express how you are feeling and know you will receive such incredible love and support.
Our beloved Anne McClure sadly lost her sister this week. Our heart, as an amazing community, breaks for her, as this has been an exceedingly tragic six months for Anne and her family. Please send your healing thoughts to Anne and her two nieces who have so tragically lost their mum.
I have loved seeing how everybody has pulled together this week; you really are all wonderful people. So kind, caring and thoughtful. It's so very encouraging that people who do not know one another can express such empathy and encouragement.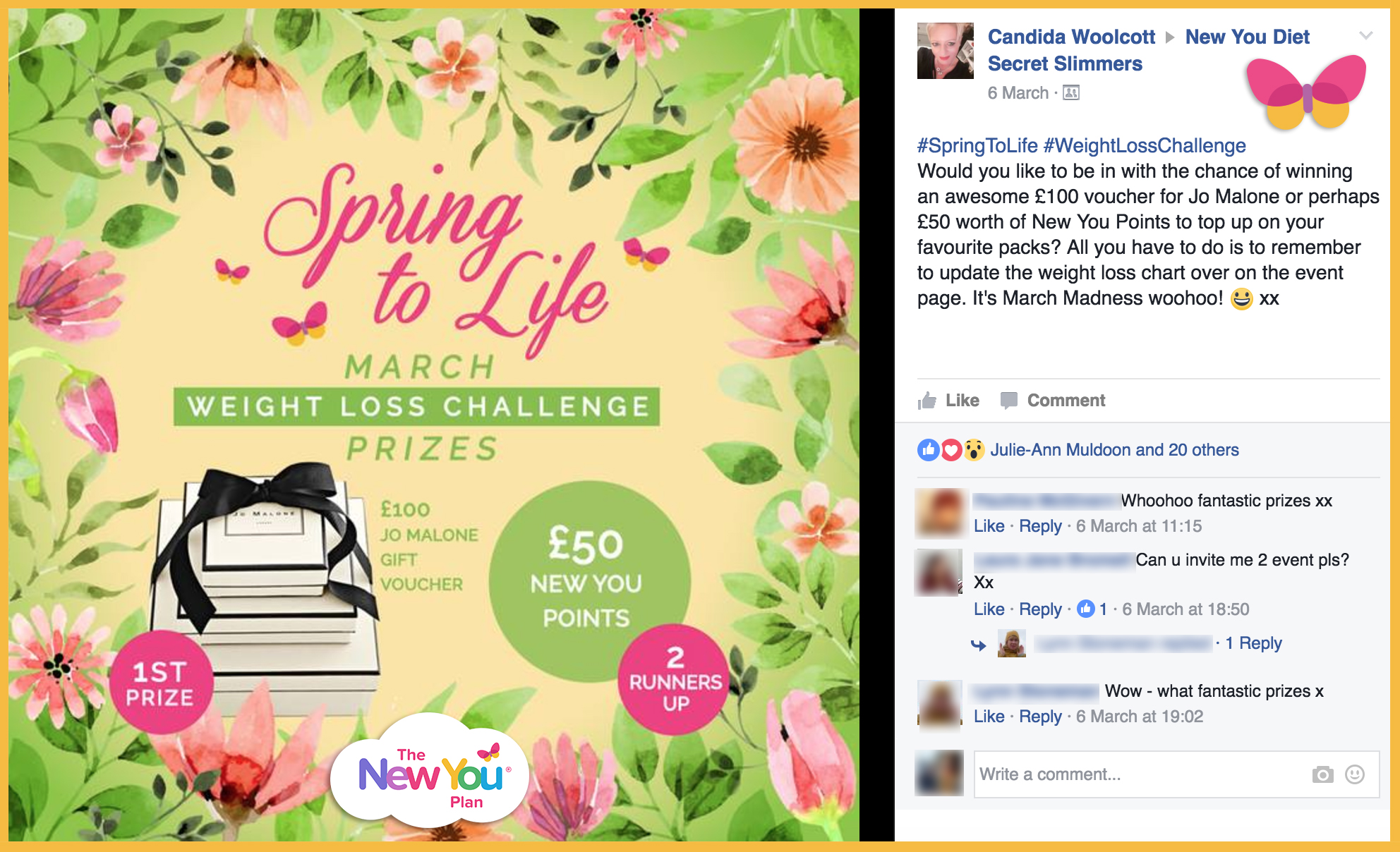 The Spring to Life Weight Loss Challenge is going really well with so many of you joining in the daily spot prize giveaway of £10 New You Plan points. On Tuesday you were asked what New You meant to you in four words; there were so many heartfelt answers but there always has to be a winner. Yvonne Neely O'Sullivan came up with 'Happy, Healthy, Confident Me' which I am sure you will agree is how New You makes us feel. Well done Yvonne, perfect answer.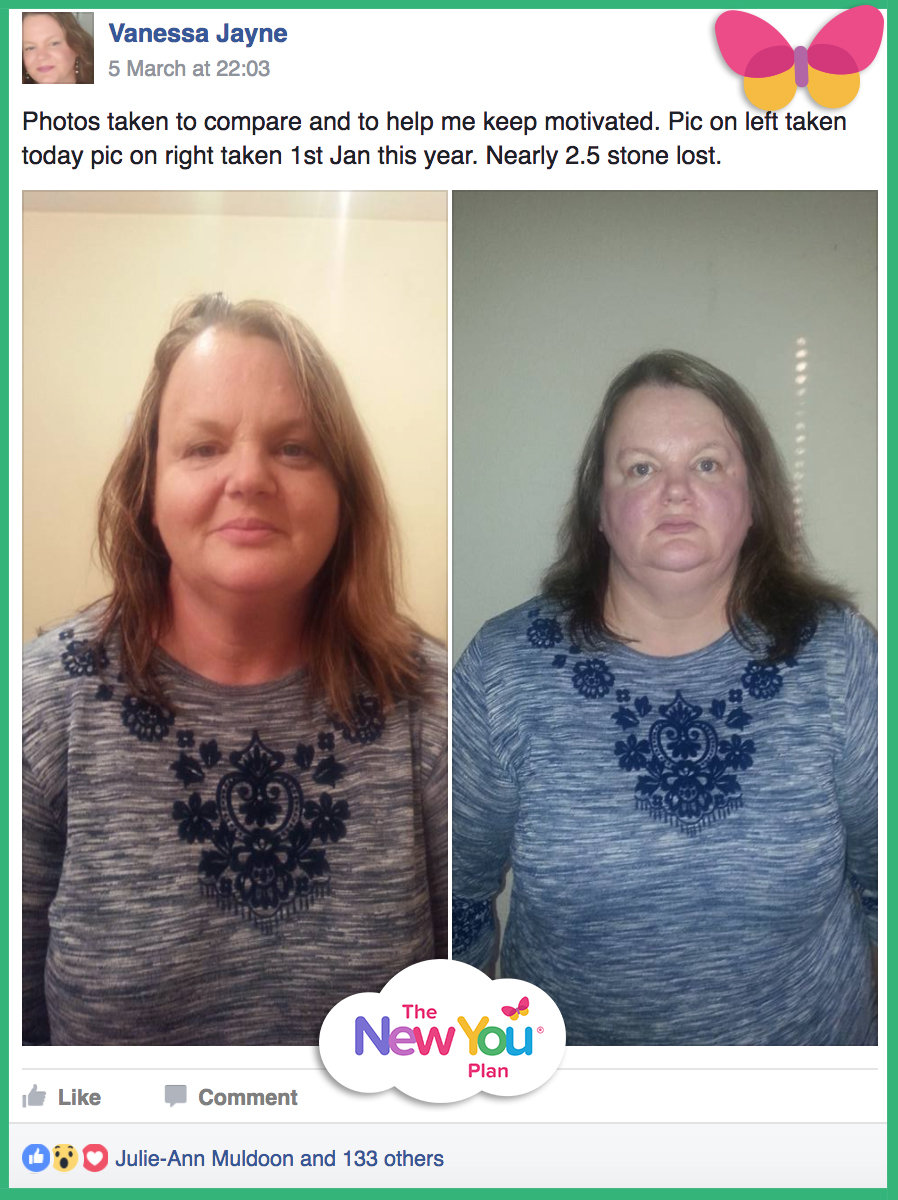 There have been some awesome weight losses this week too; Sharon Edwards is on week 7 and is down another 4Ibs with only another 1Ib to go until she reaches the two and a half stone mark. Totally fantastic! The gorgeous Vanessa Jayne has lost two and a half stone having only started at the beginning of January. When us oldies tell you that the weight loss is rapid, we mean it. Some of you have more to lose than others and one incredible lady who began New You journey last April has lost 10 stone in weight and that is Diane Allen, who is over the moon as you would expect. Barbara Hopwood has just finished her second week and has now lost over a stone! Phenomenal results! No matter how small or how big your loss, stick with the plan and watch your inner butterfly emerge.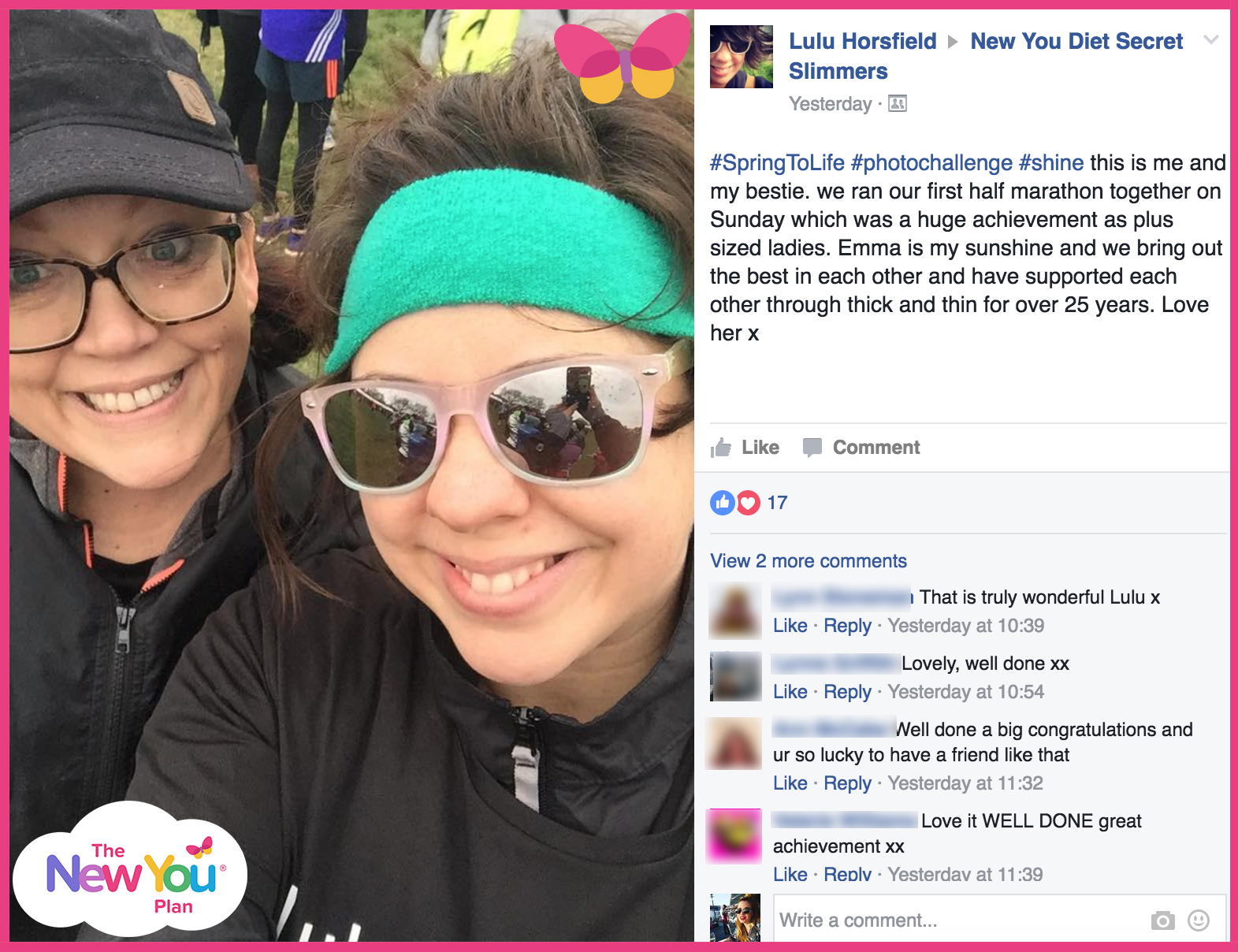 Lulu Horsfield has been an inspiration to me this week having taken part in her very first half marathon. She may not be at her goal weight yet but she and her lovely friend gave it all they had. Pushing yourself to go that little bit further is all part of your New You journey.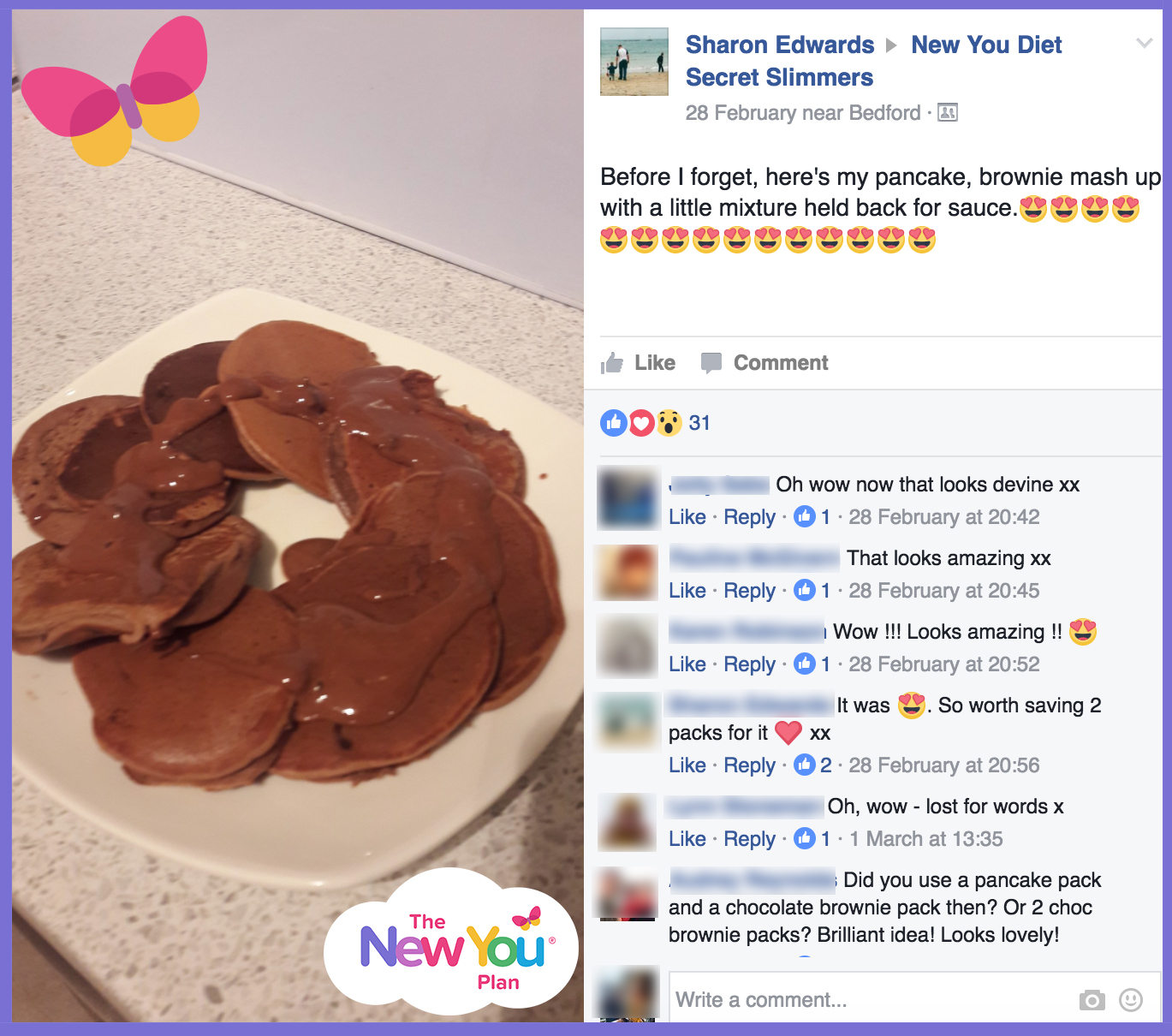 There have been some creative ideas coming out of Chef Pauline's kitchen plus Sharon Edwards' brownie mash-up with brownie sauce looked to die for. Play around with the packs Secret Slimmers and see what you can concoct.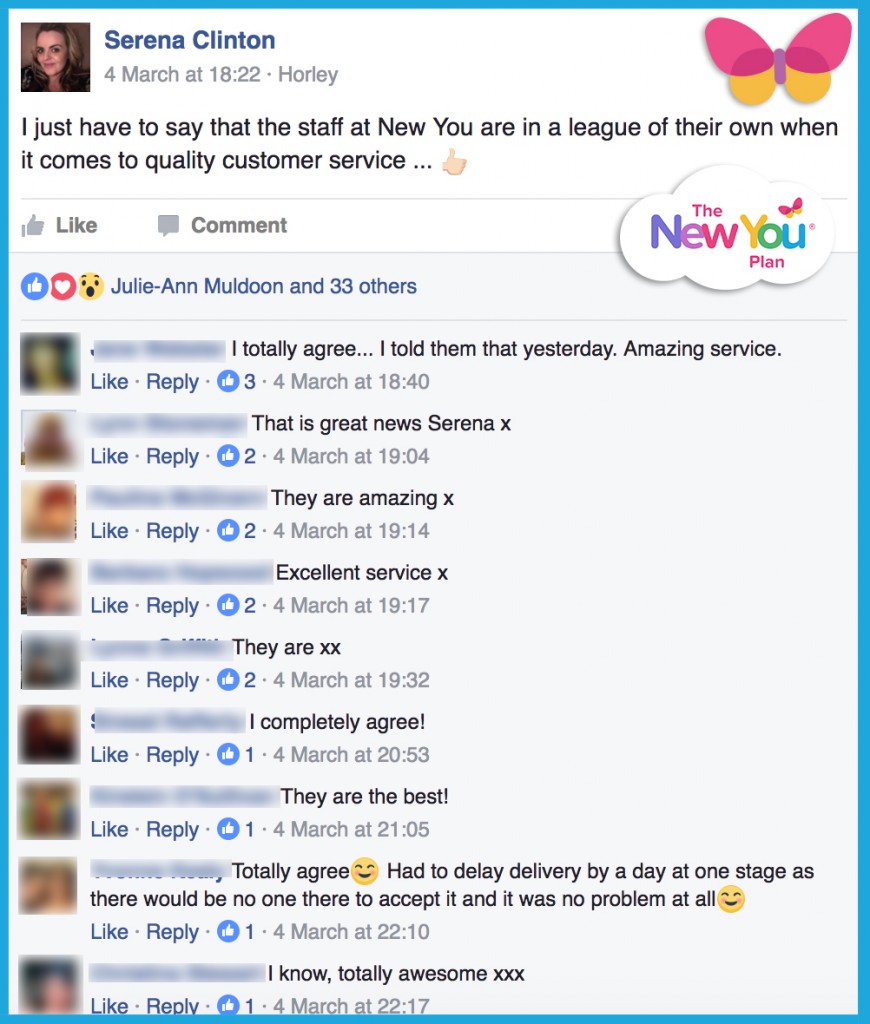 As you all know the customer service here at New You is second to none as Serena Clinton pointed out. Friendly, helpful and quick to solve any issues. New You HQ is a very busy place but YOU will always come first.
Momentum Maintainers welcomed more newbies this week who have made use of my Food Clinic, which I hold most weeks. It's a great opportunity to ask about anything foodie wise that you are unsure about or to simply find inspiration or low carb alternatives. Lynne Griffiths needs a quick mention for her tasty looking cauliflower topped shepherd's pie. Absolutely delicious looking!
Every week I am introducing you to one of your fabulous Cheerleaders. This week I have asked Kim Davies to tell us all about herself. She said:
"My name is Kim Davies and I am a new Cheerleader here in the Secret Slimmers group! I live in Belfast with my hubby, my two year old daughter, Orla, and my cat, Sheldon. I work part time for a charity helping victims of crime, part time for myself as a nail product consultant and look after my crazy daughter the rest of the time! I am originally from Australia but have called Belfast home for 9 years now. I love anything pink, enjoy spending time with my amazing friends and love jet setting back home every year to see my family.

I was introduced to New You by my gorgeous friend Annie, who has had great success on the plan. I was really struggling to keep control of my weight after having my daughter. I am under 5ft tall so any weight I gain is noticeable! I was feeling frumpy and miserable!

I lost over 3 stone a few years back and felt that starting to creep back on so decided to give New You a try! I found it so much easier than other weight loss methods as it's all worked out for you and all the products are so quick and easy to prepare. I love that I can turn to New You whenever I need to reign things back in and have integrated the products into my ongoing low carb lifestyle.

Candida's Momentum Maintainers group has been a great source of ongoing support and info! I am enjoying being a cheerleader already and am looking forward to seeing all of your wonderful transformations!"
Have a wonderful week and remember whether you are on plan or maintaining both perseverance and passion will see you through.

____________________________________________________________________________________________________
Feeling inspired? Start your journey TODAY!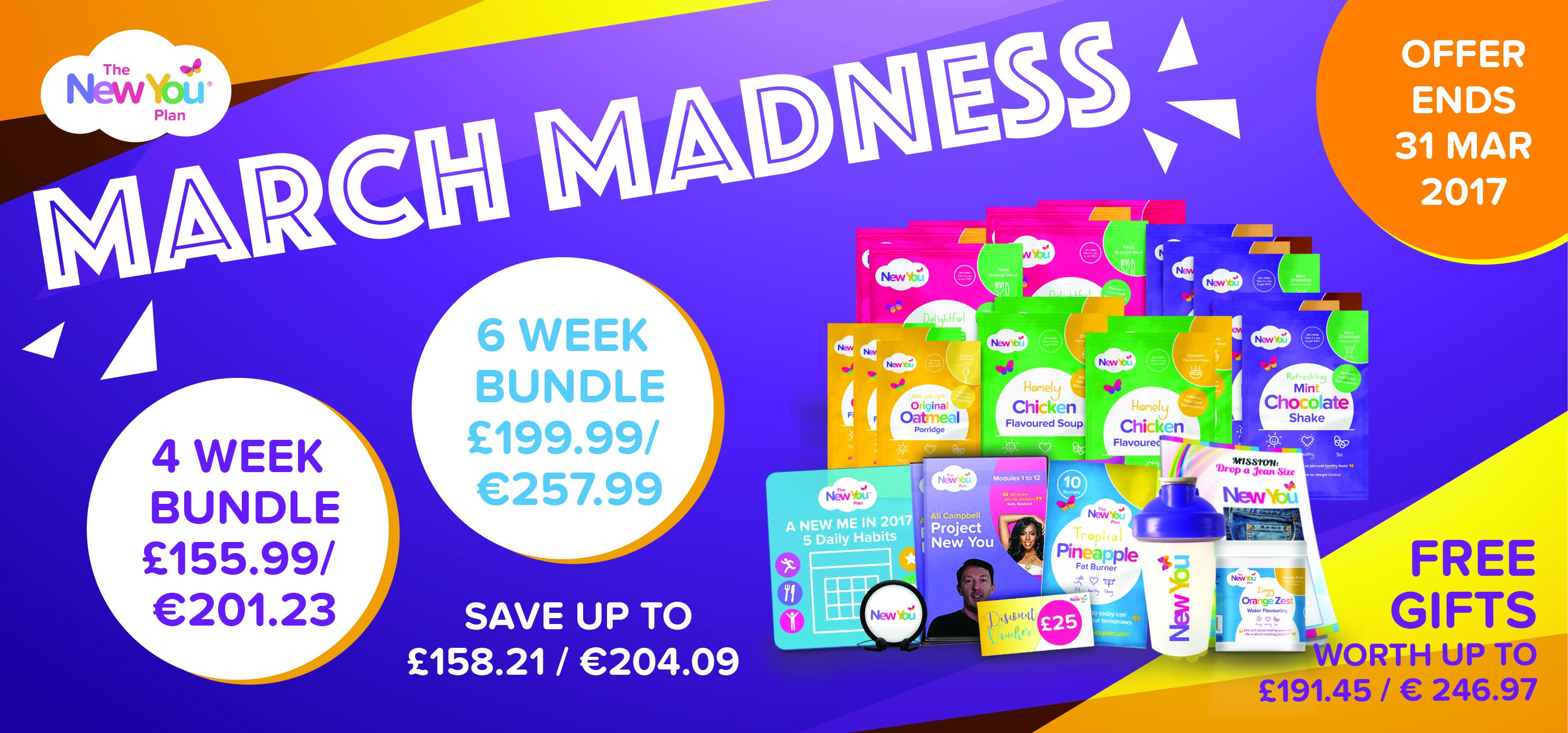 This spring, we want to help as many people as possible start their New You Plan journey, rediscovering who they are in the process! So, we sat down and thought about how we could do this and we've come up with two amazing bundles.
If you need a quick fix, and would like to lose a little weight, our 4 Week March Madness Bundle is perfect. Or, if you're fully committed and determined to give the next couple of months your all, our 6 Week March Madness Bundle is the one for you. Both of these fab offers end on March 31st.
As always, we've slashed the price to help you get more bang for your buck. PLUS… because we REALLY want to ENHANCE your weight loss journey, allowing you to get the most out of it, we've included some amazing FREEBIES!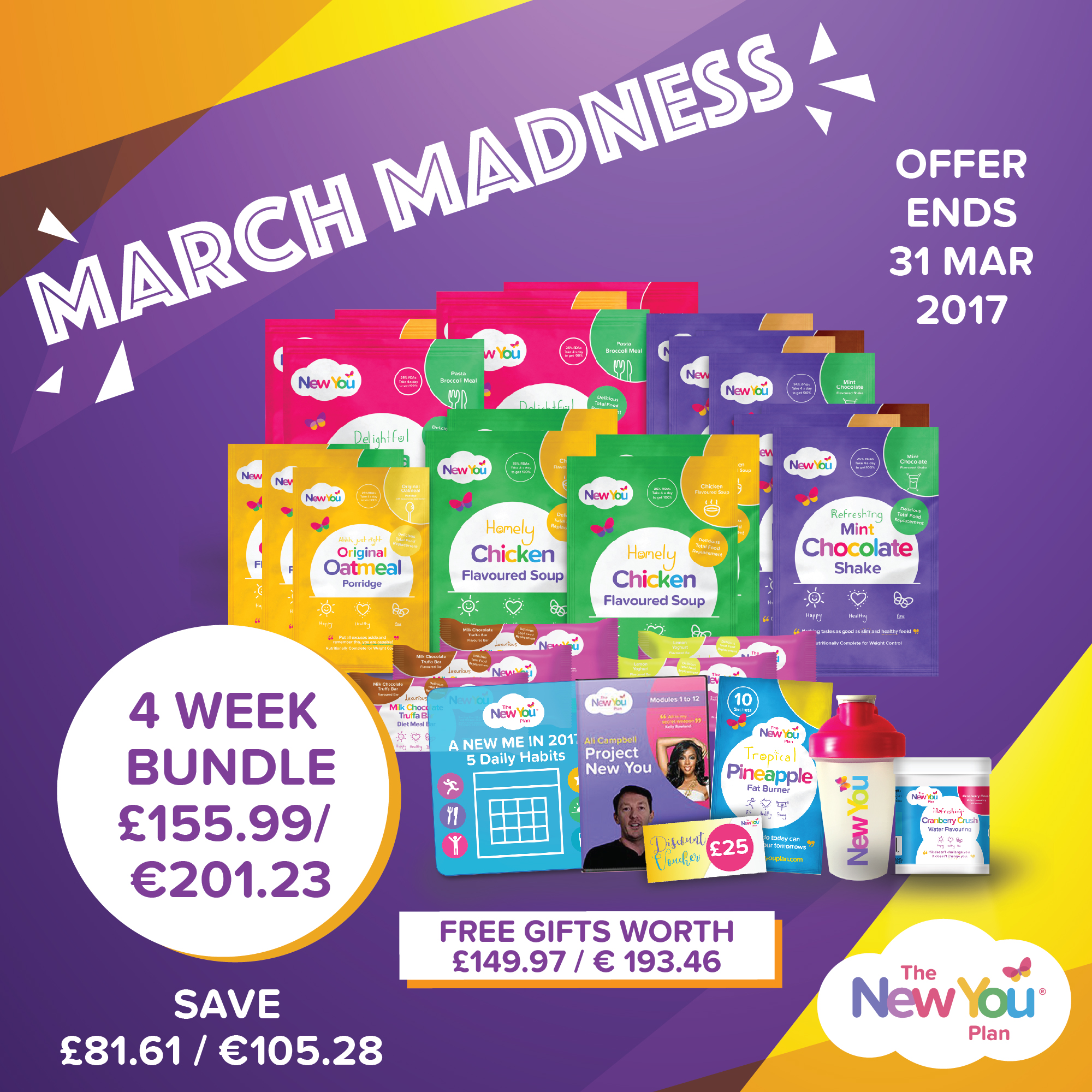 4 Week March Madness Bundle: ONLY £155.99 / €201.23
As well as your choice of 4 weeks of TFR Meals, you'll receive the following goodies worth a mega £149.97 / €193.46 FREE:
10 Pineapple Fat Burners worth £12.00

1 Cranberry Crush Water Flavouring worth £6.99

1 Blender Bottle Pink Lid worth £3.99

1 New You Wall Chart worth £4.99

Full Ali Campbell Project New You worth £97.00

£25 Off Voucher to be used in next order*
*£25 voucher is valid on order orders over £50 (does NOT include bundles) and is valid to 30/04/2017.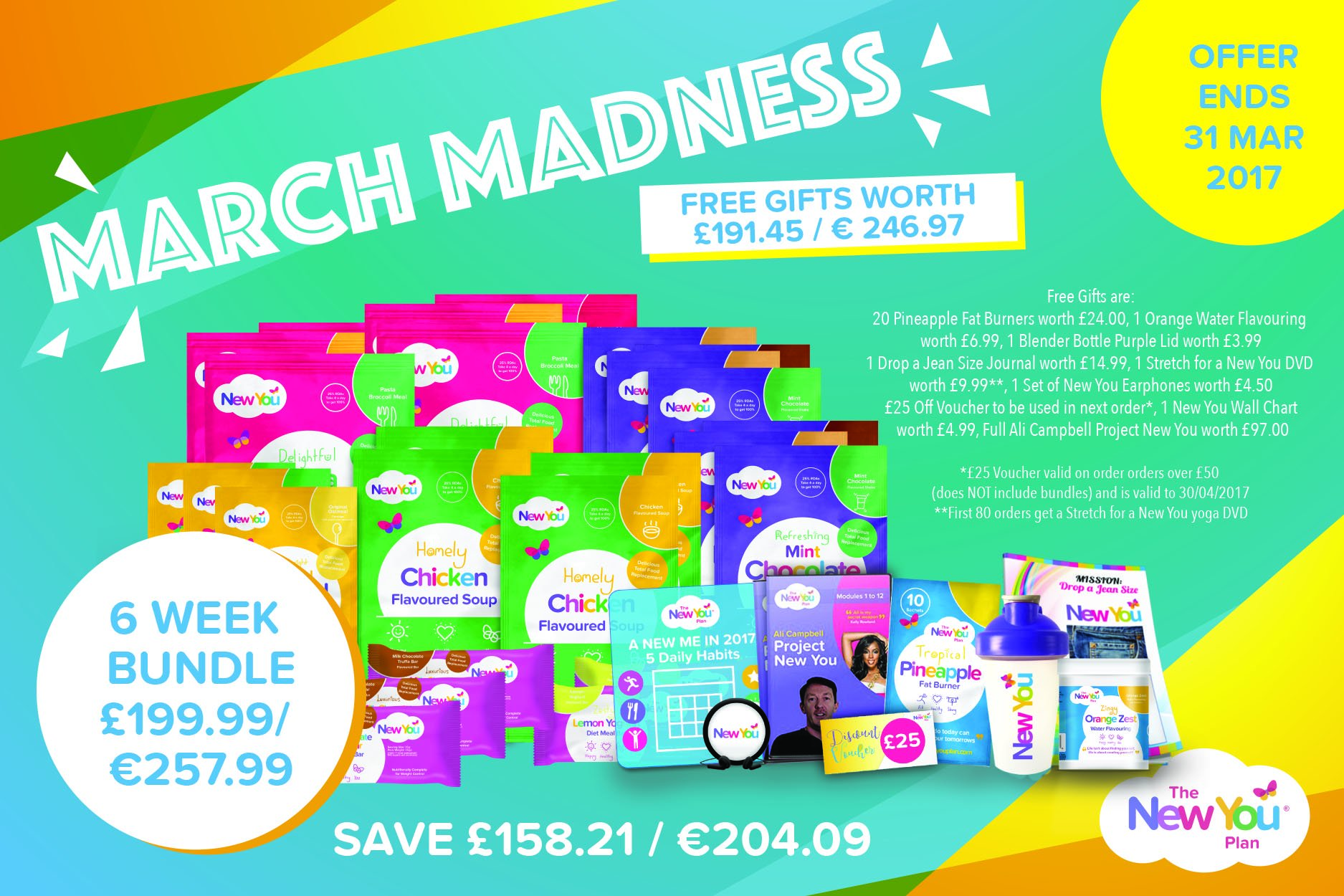 6 Week March Madness Bundle: ONLY £199.99 / €257.99
As well as your choice of 6 weeks of TFR Meals, you'll receive the following goodies worth an AMAZING £191.45 / €246.97 absolutely FREE:
20 Pineapple Fat Burners worth £24.00

1 Orange Water Flavouring worth £6.99

1 Blender Bottle Purple Lid worth £3.99

1 Drop a Jean Size Journal worth £14.99

1 Set of New You Earphones worth £4.50

1 New You Wall Chart worth £4.99

Full Ali Campbell Project New You worth £97.00

£25 Off Voucher to be used in next order*

1 Stretch for a New You DVD worth £9.99**
*£25 voucher is valid on order orders over £50 (does NOT include bundles) and is valid to 30/04/2017
**First 80 orders get a 'Stretch for a New You' yoga DVD