Competitions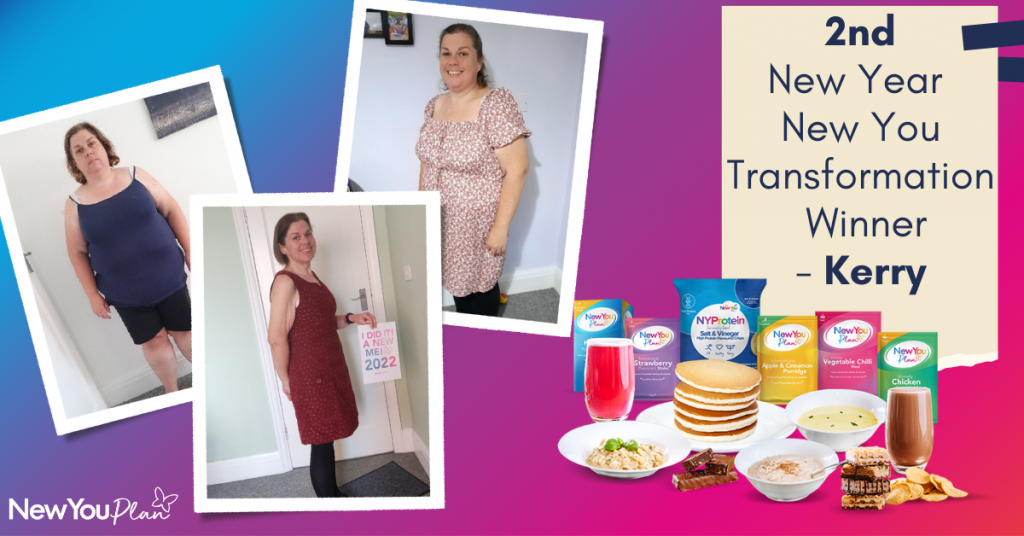 New Year New You Transformation Challenge Winner – Kerry lost 8st 12lb and Won £2000 Cash!
Congratulations to Kerry for winning second place in our New Year Transformation Challenge! She takes home £2000, After losing nearly 9 stone!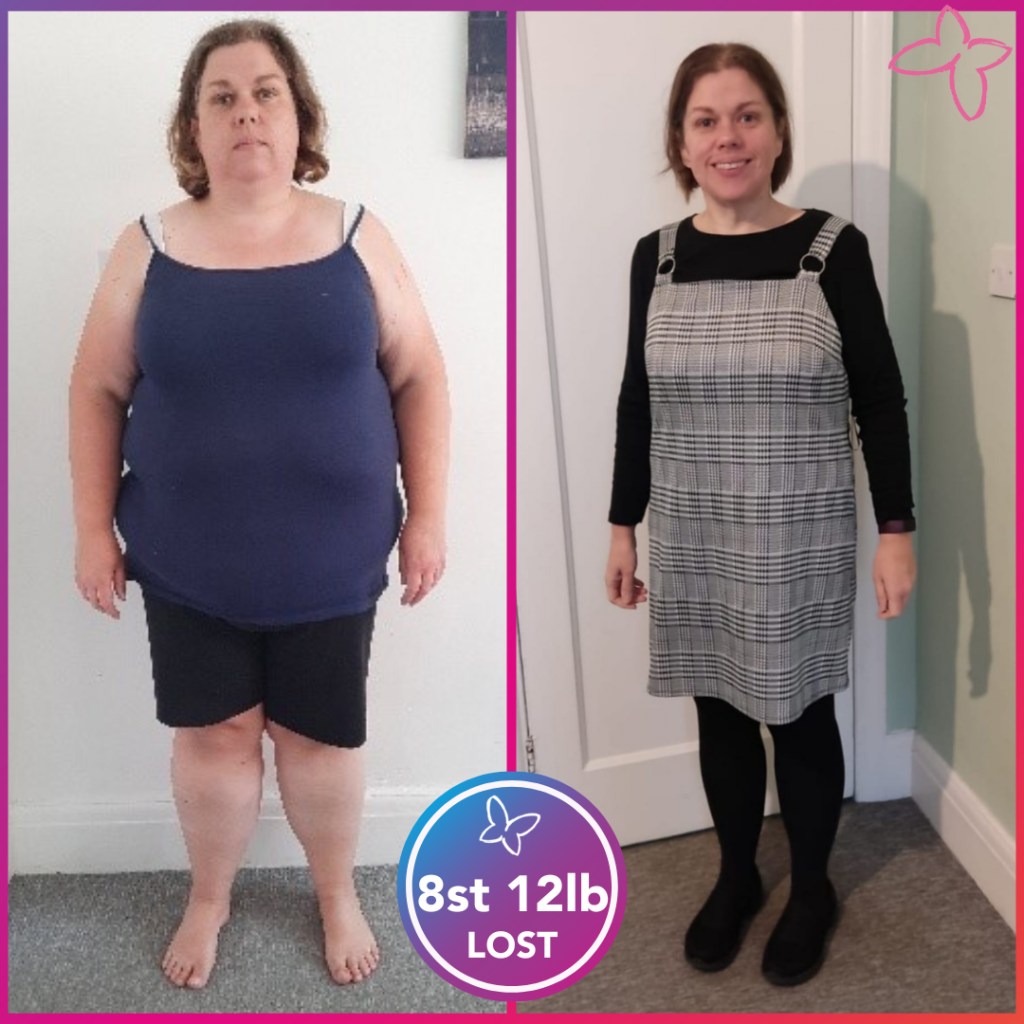 Kerry was facing bariatric surgery due to her weight, but knew there must be an alternative out there. So she took to Google and found the New You Plan. Read on to discover Kerrys journey into losing nearly 9 stone and kicking diabetes to the curb – oh and winning £2000 of course!
NY: How did you discover the New You Plan? 
KERRY: I was searching online because my doctor has referred me to bariatric surgery. I went to a consultation and they accepted me, but I remember sitting there thinking I really don't want this drastic, huge surgery. So I went home and I found the New You Plan online. I had seen the transformation pictures, and I was amazed by them, so many people have lost so much weight in such a short time. I started with the 2 week Kick Start bundle. 

NY: Describe how you felt before starting the Plan.

KERRY: I was very nervous because I have tried so many things before. I was worried I wouldn't have the willpower to do it, worried I wouldn't like the food. Obviously, everything I have tried before hadn't worked so I was concerned that this wouldn't work either. I also felt quite determined, it felt right, and I kept telling myself that I can do this. As soon as the packs arrived I started the plan. I didn't want to wait until the next Monday as I usually do.
Making a start

NY: What was your first week like? What hurdles did you overcome? What was your first week's weight loss, and how was life adjusting to the Plan?

KERRY: I have lost 10. stone and 10.5 lbs. I didn't find the plan difficult at all, I think I might have had a headache on day 4 but that's it. The whole time I was on total meal replacement I didn't cheat at all, not even on a holiday or my birthday. I just kept to the packs and planned all my days. Even on my refeed week, I just upped my packs, so I didn't have any conventional food at all from June to December. 
I have lost 8 stone 12 pounds so far. 11 stone was my goal, as that put me into a healthy BMI, but I actually lost more.
NY: Oh wow that's amazing! So what's your plan now? Are you going to maintain it by following Switch? 
KERRY: I am going to keep following Switch. I'm happy with the weight I am at, but I would like to lose a little bit more to give me more wriggle room. I am not looking to lose a lot more weight, just a few more pounds.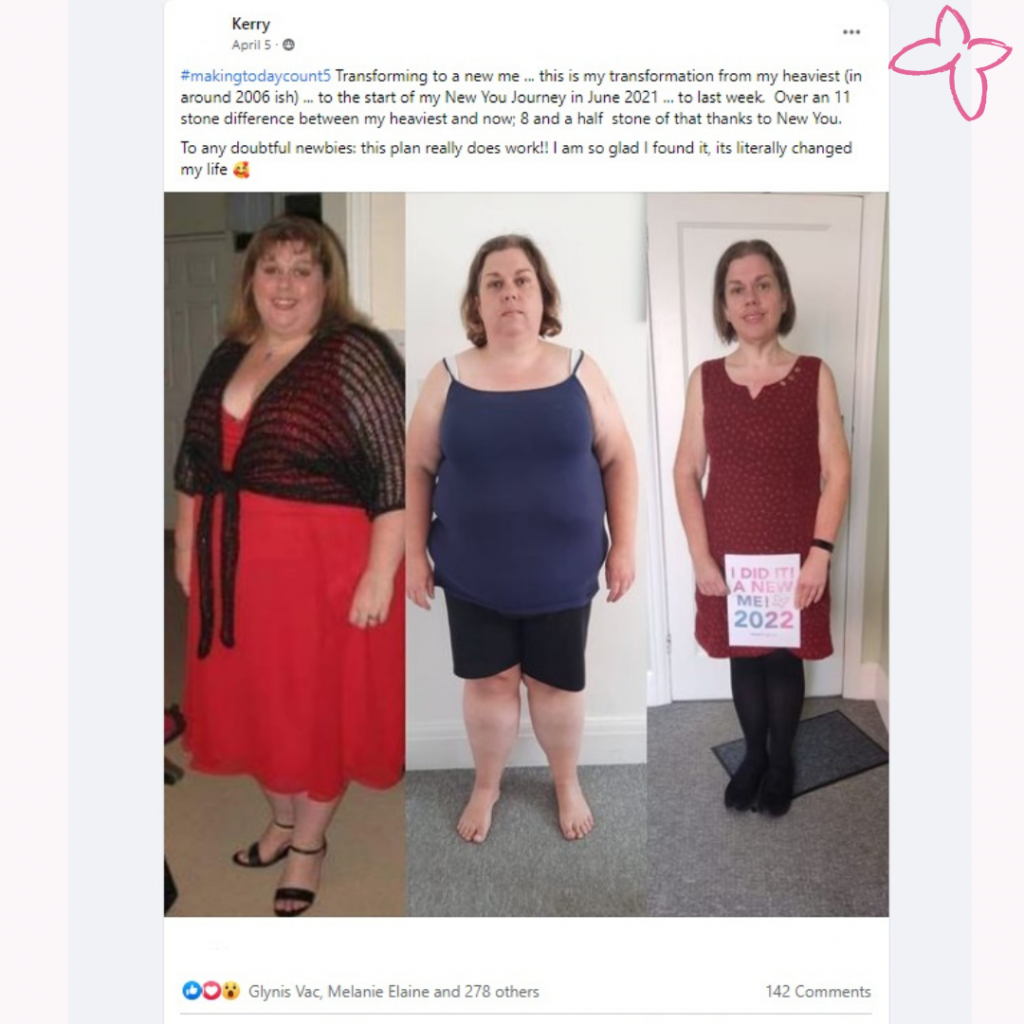 Life adjustments?
NY: How did you find adjusting your life to the Plan? 
KERRY: It was easy because I was planning my days. When I got my delivery I put my packs into a bag every day so I just had to grab a bag for a day, so that's how I planned. I was still cooking for my husband and my son, but it didn't bother me because I had a goal.
NY: What are your favourite meals and snacks Can you tell us a menu of products you would have daily, and what way you have them?
KERRY: The New Strawberry Crisp bar which I only recently discovered, but before that, anything chocolate, mainly the shakes, that was my favourite. If I have days when I am not on a plan, I miss the shakes on those days, I love them so much. 
I tend to have my first meal late morning or early afternoon. I just find it easier to space out my meals like that. This is because I'm one of those people who enjoy eating more in the evening. I don't have a snack every day, I treat it more as a treat. But I do love the Salt and Vinegar crisps with the Vegetable Chili meal.  
Being victorious

NY: What was your biggest non-scale victory?

KERRY: I Went to a diabetic check-up in the hospital and the doctor commented that he thought that he has the wrong person's file because my dietetic level has gone into the normal range. 

NY: What was your biggest motivator for staying on Plan?

KERRY: Seeing the weight come off and seeing the people's reactions. I find it quite funny. It also confirmed to me how much I have changed and how far I've come. I think this is also because sometimes in my head I still feel the way I felt before and I have to remind myself that I am now a slimmer Kerry.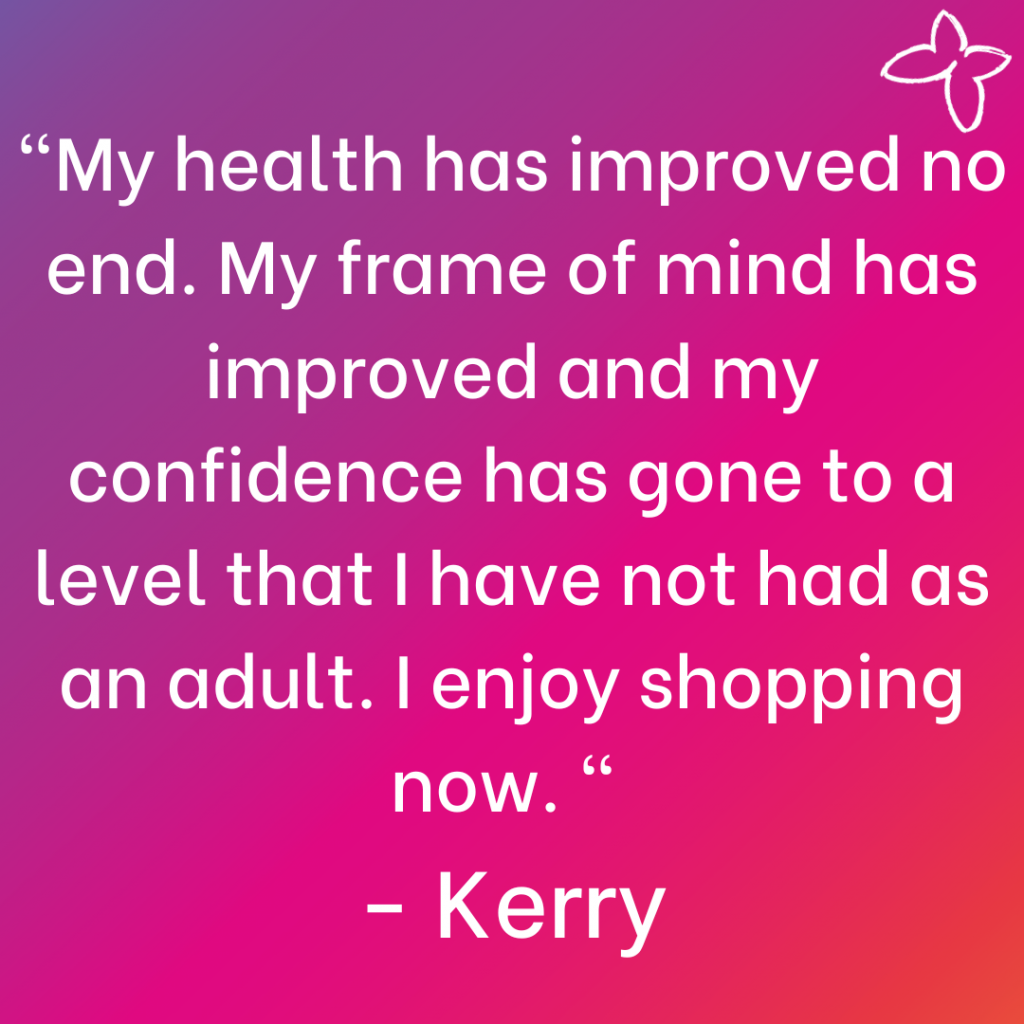 Life-changing results

NY: How has the plan changed your life and has your health improved?

KERRY: My health has improved no end. My frame of mind has improved and my confidence has gone to a level that I have not had as an adult. I enjoy shopping now.

NY: Since losing weight, what is your happiest memory?

KERRY: I think my son giving me a hug and telling me he is proud of me. He is 12 years old so this made me very proud and happy.

NY: What is the nicest compliment you have received since losing weight?

KERRY: I had so many compliments, maybe when people are not recognizing me.
Sharing the wisdom

NY: What advice would you offer anyone thinking of starting the Plan

KERRY:  Just try it, you have nothing to lose. The starter bundles are such a fantastic value, that you have nothing to lose.
Congratulations again to Kerry, she won £2000 and her story is inspirational. It just goes to show that major surgery for excess weight isn't always necessary and you can lose weight and gain back your health if you really put your mind to it.
When you enlist the help of the New You Plan, you will have all the tools and support that you need to succeed in your transformation goals. And as Kerry says, the starter bundles are a steal, so you really have nothing to lose by giving New You a try for yourself.
Don't forget to read the stories of our other winners and head on over to our website and app if you fancy taking on the New You Plan yourself, that's if you already haven't!