New You Plan Blog

Journal Your Way to a Slimmer You on Our Secret Slimmer's Facebook Page!
Here at the New You Plan headquarters, we love to know how our slimmer's are getting on with their weight loss journeys. The high's, the low's, the funny, the sad and the supportive pets-we want to know about it all! 
We know you are all super busy and don't always have time to keep us updated via email so our go-to way of seeing how our members are doing is to have a little peek into our Secret Slimmer's Facebook community page. 
Our favourite part of the Secret Slimmer's is the before and after pictures, we can't get enough of those! It makes us feel warm and fuzzy inside to see the transformation of our member's lives. And although of course we are flattered to read how thankful you all are to the New You Plan products, these are just the tools we've provided you with to help you lose weight. It's you who is putting in all the hard work to achieve success in your weight loss journey-so give yourself a pat on the back.
One thing that never ceases to amaze us is how our slimmer's use the community platform in so many different ways. It is completely versatile in that you can use it to suit your specific support needs.
We've found that some Plan'ers use our community page it as a journal to post their progress every few days. Doing this is both beneficial for the journaler and the rest of the community.
In posting their progress the journaler receives:
Confirmation and recognition that they are doing well.

Praise on how fantastic they're doing, even on the bad days.

Accountability – putting it 'out there.' 

Compliments. Who doesn't love being told how awesome they look?
All of these things give the journaler confidence and a boost of motivation.
In reading the post, the community receive:
Inspiration, especially for those at the start of their journey.

Motivation, to keep going, even though the difficult times in life.

Hope, that they can and will reach their weight loss goals.

Belief in the New You Plan, it works and the visual results are proof!
Just one journaler can deliver all of this- that's amazing!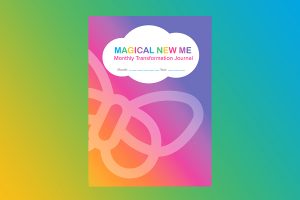 Shop Our Magical Month Journal Here!
If you spend over £100 this month you will get a free Magical Month Journal Also!
This week we noticed one specific member who has been journaling from day one of her journey. Whilst scrolling (when we should have been working) we found her on day forty-six of her first eighty-four days. Her before and after pictures at her halfway point are incredible, and that isn't us just being biased! The community had a lot to say about her progress too:
"Wow what fantastic transformation…you look amazing x"
"Absolutely amazing, well done x"
"Wow that is inspiration girl"
What members particularly noticed was that the weight she had lost from her midsection. For women, especially those who have had a baby, it can be hard to shift the tummy bulge. It's great to see ladies who use the New You Plan losing their weight from this problem area.
We particularly liked this comment on the subject:
"You look amazing! This diet plan is the only one that has really 'finally' got rid of my stubborn belly fat and I can see the same for you! You look incredible"
(OP) "It's a miracle isn't it"
Our journaler also received various questions as to whether she achieved her transformation using exercise as well the New You Plan meals. She confessed that the only exercise she got was taking her dog for a walk.
We later caught up with our journaler again on day fifty and we gave her a virtual round of applause because she had reached a three-stone loss. She enthused:
"Mind blowing weight loss with this plan isn't it?"
If you are already on your journey with the New You Plan and haven't joined our Secret Slimmer's Facebook community, then we recommend that you get yourself over there! It's an amazing group and a supportive tool. It's up to you if you just want to be a lurker, a consistent commenter or a permanent poster. It's whatever makes you comfortable and whatever suits your needs. Either way, you will certainly get a warm welcome and always get a positive vibe-which everyone could use in their lives-weight loss or not!
If you've not yet decided on whether the New You Plan is for you, then hopefully you can see the Secret Slimmer's Facebook community page is just one part of the fantastic support that we offer you throughout your weight loss journey and beyond.
Come and give both our meals and community a try!