Before & Afters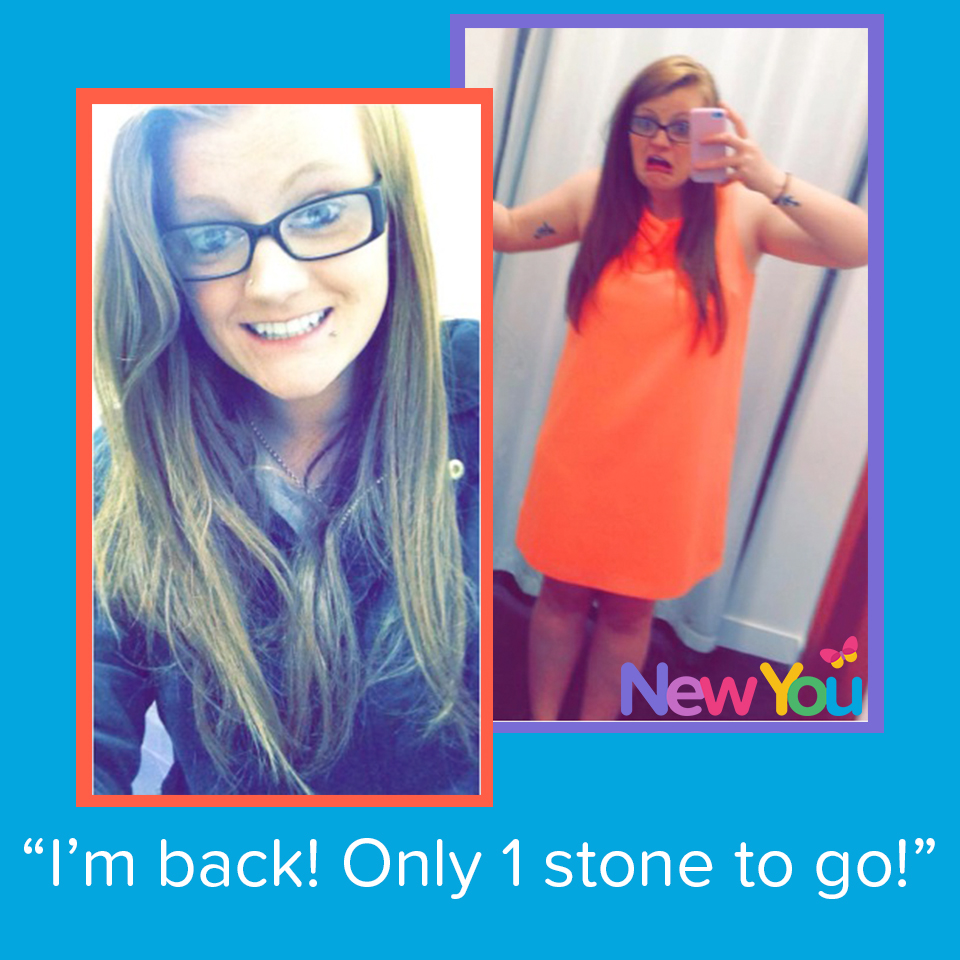 New You Plan Customer Review, Tasha: "Only 1st* to go!"
*Results may vary. This is not a guarantee
Woohooooo, after a few rocky weeks… I'm back!!!!
So I have been off plan for a couple of weeks due to the fact that I had really hurt my back and with the meds the doctor had given me, I had to eat conventional food. I was so upset that I had to come off plan as I was doing so so well! Anyway, when I came off plan I followed the refeed guide and thankfully I had only gained 3lb which I was thrilled about. This gives me total reassurance that when I reach my target weight and go into refeed, I won't undo all my hard work and maintaining my weight loss will be easy! With a total of 36.5lb lost so far, I am getting closer and closer to my goal!
I had started back on the plan when I went back to work but then I was given the opportunity to go to the AMAZING Ali Campbell training course in Glasgow, and with all the travelling and walking I had limited resources to make my products up. However, when I arrived home, I got back on track with a bang! I haven't weighed myself yet (I'm saving that for next week) and I'm even more determined than ever to stay on track and shift those final few pounds.
I went shopping on Friday night to look for dresses for the wedding I am going to at the end of the month. The lady in the shop was helping me choose what to wear. I was telling her all about my weight loss and The New You plan! She seemed so happy for me until she brought me a dress that was like a tent …. I was raging!!! I didn't lose all this weight to be dressed like a pumpkin, lol!!!
Safe to say … I didn't get that dress!
Thankfully, I did manage to fine a really nice dress and they only had a size 14 or an 8. I was convinced the 14 would fit me until I tried it on and it was waaaaay too big! AAAAHHHHHHHH the excitement I had! I was jumping around the changing rooms with a big smile on my face! I have ordered it in a size 12 and I'm collecting it on Friday when I'm in Belfast. Woohoo! I'm soooooo excited 🙂
I only have 1 more stone to lose and then I will be at my healthy BMI!
Until next week,
Tasha
P.S. Want to make June count? Make sure you check out our amazing #JunePhotoChallenge in Secret Slimmers! It's a great way to get involved and you could even win an fantastic 100 Pineapple Fat Burners, not to mention spot prizes! Get all the details HERE.