Before & Afters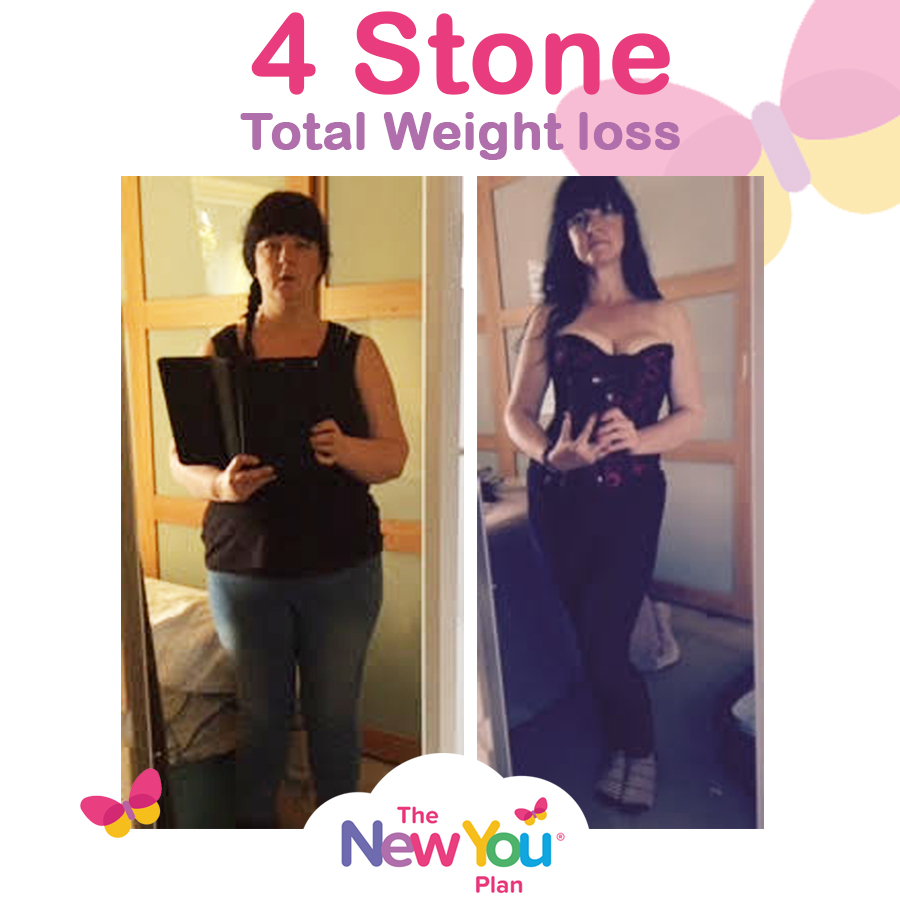 {Customer Interview} Keri Loses 56lbs* With The New You Plan

*Weight loss results may vary and are different for each individual.
For stay at home mum Keri Berry, she found that as a family, they ate out a lot together, which consequently led to her weight gain. Following working in housing for 15 years, she took a redundancy, which saw her put on 2 stone. She started to think about life and so began her New You journey, not just to lose weight, but also to rediscover who she is. With great focus and determination, she has lost a phenomenal 4 stone and looks amazing.
Here, Keri shares her journey, in the hope that she will inspire others to take that first step in joining New You and finding out just what exactly they are capable of. 
"What really spurred me on to lose weight was leaving my job after 15 years, especially with no job to go to. It had been an incredibly stressful 6 months and during this time, I put on about 2 stone. I really wanted to start a new chapter in my life and losing weight seemed like the next logical step. So I made the commitment and I was determined to do it!
I had used New You before, about 5 years ago, but only for a very short period. The plan was very different then and knowing how easy it was, I knew I could stick at it and get to my target weight if I gave it my all. I knew the speed that a VLCD worked at so the decision was easy.
Generally, I've found the diet to be easy but if I'm really honest I haven't been 100% throughout. I've maybe been on plan 90% of the time. I follow family focus at the weekend as this suits my lifestyle. Even with a few planned blips, I've lost 4 stone, which I'm super proud of. I've gone from a size 18 to a size 12. So that's 3 dress sizes gone for good!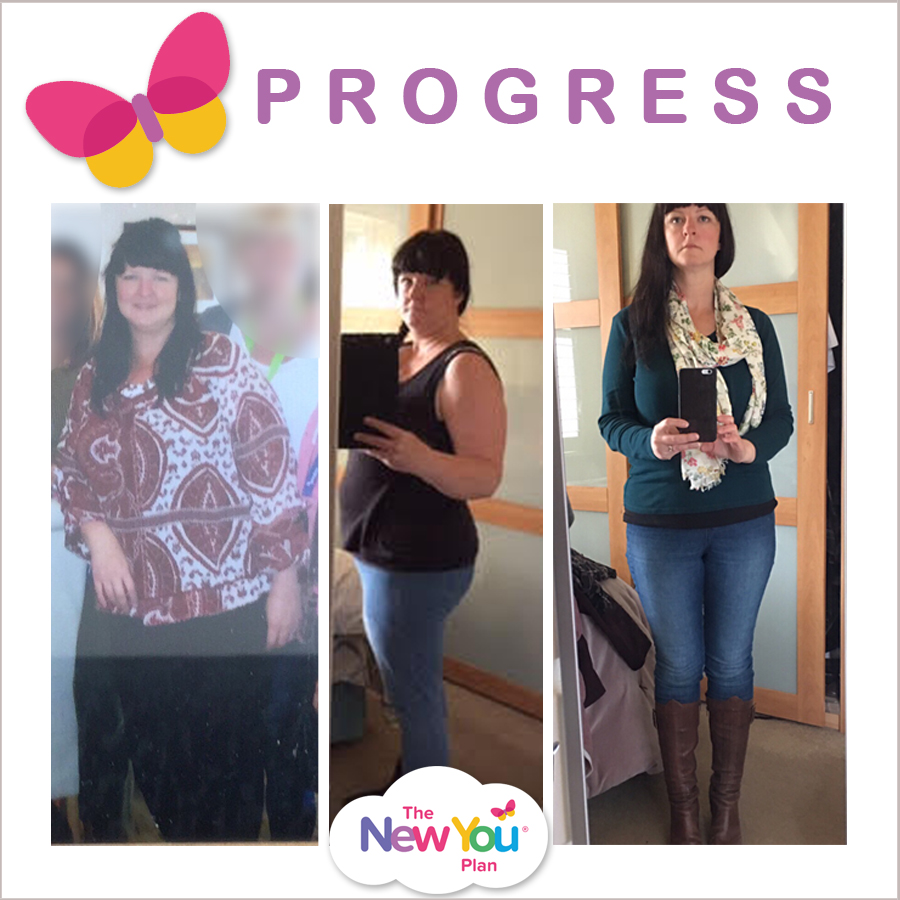 What I love about New You is the support. There is always someone on-hand to answer any questions you have, as well as help with ordering. It's amazing to see the plan's founder, Julie-Ann being so involved too. She's always on Secret Slimmers and replies directly to posts, which is a real boost!
When it comes to meals, I have to say I like them all. Initially, there were a couple that I didn't like but your tastes changes while on plan. I especially like the Chicken Noodle Curry combined with Omelette. It might sound odd, but it works! I always have some jelly made with the Water Flavourings in the fridge incase I feel I need to nibble.
When it comes to motivation you really need to join Secret Slimmers. I don't always participate but I do spend time daily catching up on everyone's posts and progress. Everyone is so supportive of each other and sharing information to help each other throughout their journeys. I love seeing the Slimstory Sunday posts and the success stories. Seeing other people's transformation and learning how they maintain their weight loss is very inspirational.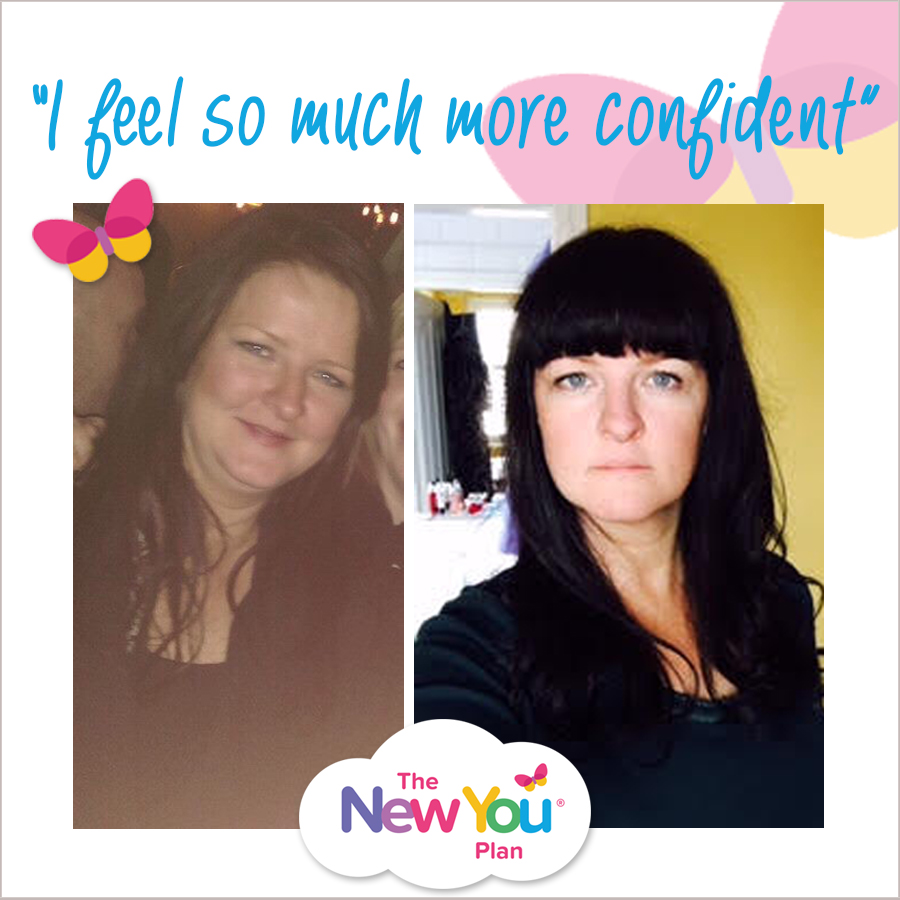 After losing 4 stone, I have to say, my confidence has skyrocketed. I feel so much sexier and happier.
I love being out with friends or having fun in the park with the kids. Before I lost weight I used to have sore heels and feet a lot. Now I can run about and be silly with the kids, without feeling self conscious. I'm back wearing my small clothes again and I feel confident and sexy instead of trying to cover up all the time. A friend said she hardly recognised me the other day and my little boy was very pleased when he realised he could get his arms all the way around my waist. I'd like to lose just over another stone but I know I'll get there.
I definitely feel my mindset has shifted this time. I lost a similar amount of weight in 2009 but I put it all back on over time. I know now the choices I need to make and that I can ease myself back into healthy eating using New You packs and maintain my weight loss. I'm much better at dealing with triggers and telling myself "no" when I'm stood looking in the fridge!
My favourite quotes and mottos which have kept me going are definitely:
"Slow and steady wins the race" and "You haven't failed if you don't give up."
To anyone thinking about starting New You, I say, give it a go! Other people's stories are an inspiration but remember your story will be different as you are not the same as them. Take each day as it comes and keep going. You'll get to your goal if you give it your all!
If you need to gain control over your eating habits and to take a rest from trying to calculate what you can and can't eat, then this plan is for you. It takes all the stress away from you surrounding food and after a few days you'll feel like a new person."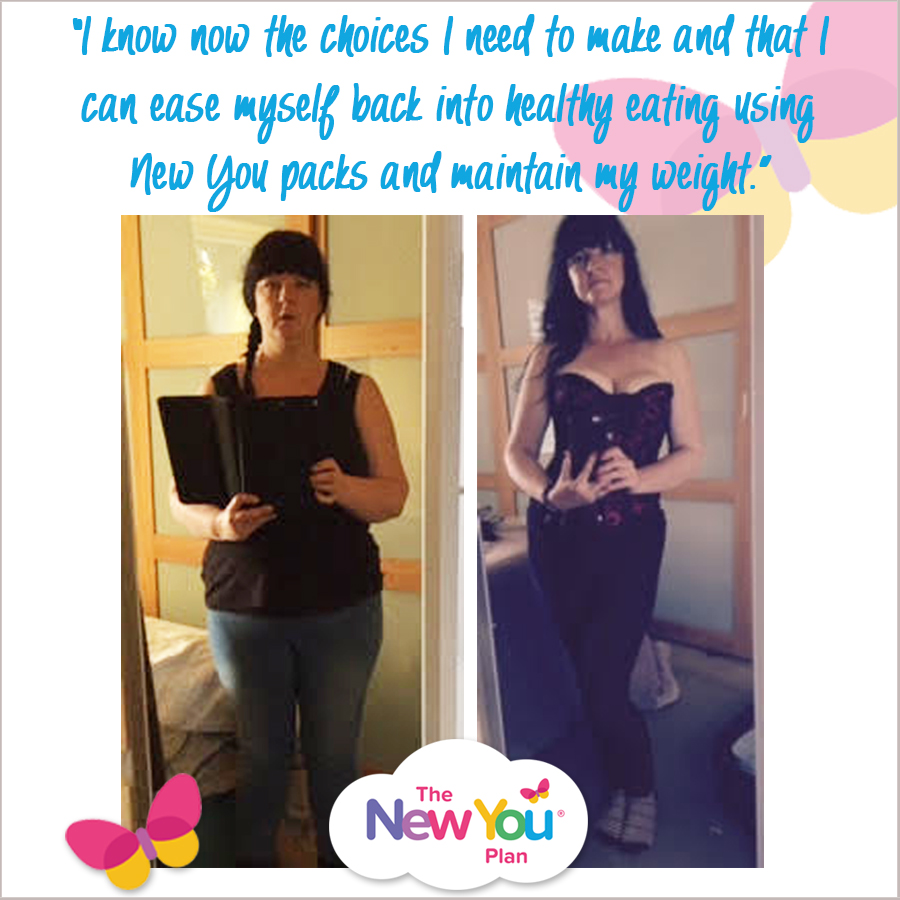 Good luck on your New You Journey!

---
START YOUR TRANSFORMATION TODAY
If you're just starting out on your journey, or coming back to the plan then we would recommend our 60 TFR bundle. This bundle will last you for 14 days. You'll be able to enjoy 4 meals per day and 2-3 snacks per week.
What's even BETTER is that with The New You Plan we're more than just a diet company. We are a total lifestyle change: meals, mindset, motivation and maintenance. With unrivalled customer service, a 100% money back guarantee and unlimited online support you'll be able to get in the zone and smash your goals in 14 days.
Benefits of this incredible bundle:
Over 35 Delicious Meals and Snacks to Chose From
All New Customers get Free Gifts Worth £190.95
All new customers can swap products and benefit from a 100% money back guarantee!
Access to our Exclusive Secret Slimmers Facebook Group
Free Shipping on orders over £50!