Before & Afters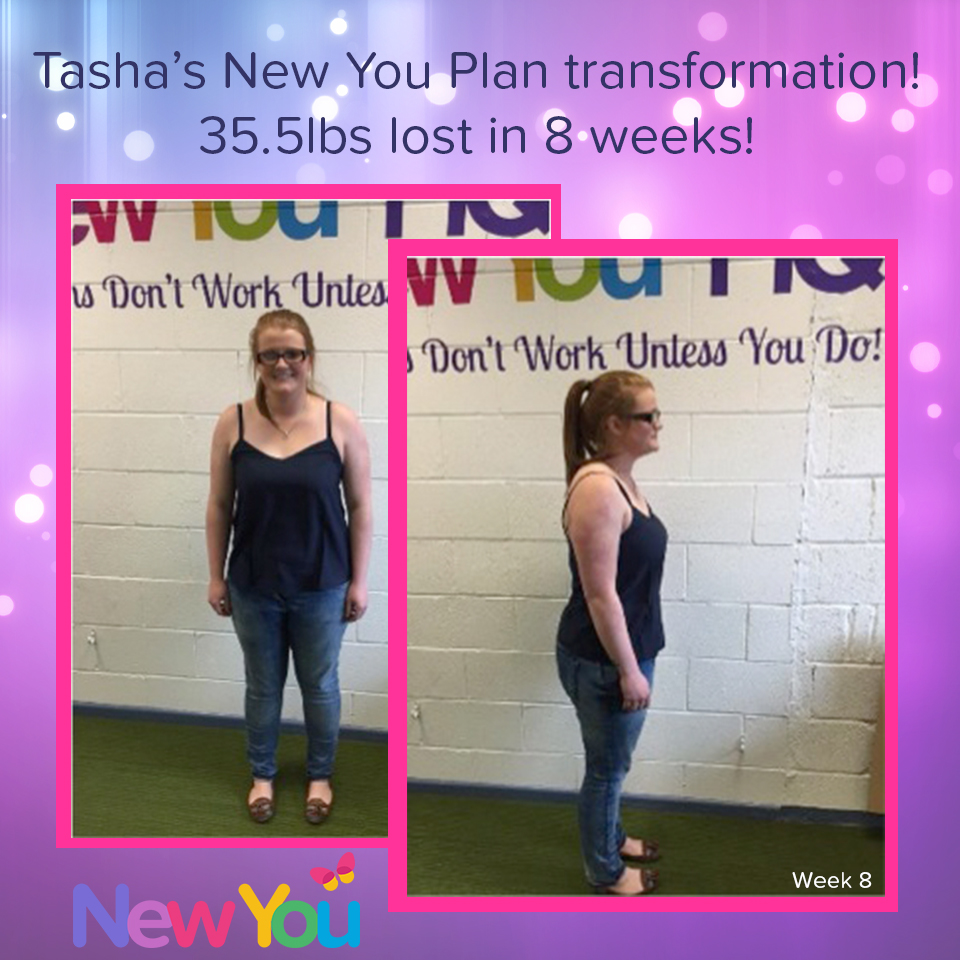 35.5lbs lost in just 8 weeks* with The New You Plan

*Results may vary. This is not a guarantee
Wooooohoooooo!!! It's me again and I'm 35.5lbs lighter!
I'm really enjoying sharing my journey on our blog. I loved reading everyone else's success stories at the start of my journey and they really helped me, but now I am writing my own blog and it gives me the little tingly feeling inside that I could be helping you with yours.
I'm going to tell you what products have kept me going throughout my 8 weeks on plan.
My absolute fav meal at the moment is the Cottage Pie made into balls as well as the Vegetable Chili. I went to the supermarket recently and bought lots and lots of herbs and spices. So I add all my herbs and spices to my meal, which is mostly the chili flakes because I love hot hot food! I normally have a double meal every other night as the evenings are usually the time I think about food. I would never give in because I have done so well and come so far, but I still do feel slightly peckish in the evenings so this solution works a treat for me!
My second little mix up of products are the nom noms! I love these soooo much and they feel like a naughty little treat without the guilt. These are made with the Original Oatmeal Porridge and I add some Creamy Chocolate Shake to the mixture before baking in the oven. They come out looking and tasting like a chocolate bun… AMAZING! Also, when I am feeling really adventurous I would cut up half a Luxurious Chocolate Truffa Bar and add it to the mixture. Then when the nom noms come out of the oven the chocolate has all melted so it tastes like a chocolate brownie. To-die-for!
Some people think that it must get boring eating the same thing all the time, but there is so much variation and so many recipes that can be tried. My next little task is to try and make the icing made from the Shakes and put it over my nom noms. I CAN'T WAIT!
Have you started the May Challenge?
So guys it's MAY already! How fast is time going? I am taking part in the May challenge, which is going to be AMAZE! I have already completed 5 out of the 10 tasks. It helps me stay on track and keeps me motivated!
I am just so excited and I feel so alive and I love love love that I am getting skinny and enjoying it!
I have set myself a goal that I am going to fit into this dress by the start of June. I have a wedding to go to and I'd love to be able to wear this tight fitted dress.
WOOOHOOOOOOO until next week,
Tasha <3