Spring Transformation Challenge Winners Revealed
Drum roll please… we are delighted to reveal the WINNERS of our Spring Transformation Challenge! Find out who has won that £1000 cash prize!
We had such an amazing response to our Spring Transformation Challenge! We LOVED seeing how motivated you were to smash your goals this spring.
The past 12 weeks have been a time of amazing transformation for our customers. Alongside the main challenge, each week we launched a new inspirational blog post and task, with spot prizes up for grabs. Our customers told us that they LOVED taking part and it definitely helped them stay on track, which is always our goal when we launch these challenges! At The New You Plan, we firmly believe in doing what we can to keep our customers motived at all times.
And now that the Spring Transformation Challenge has ended we are delighted to reveal the winners!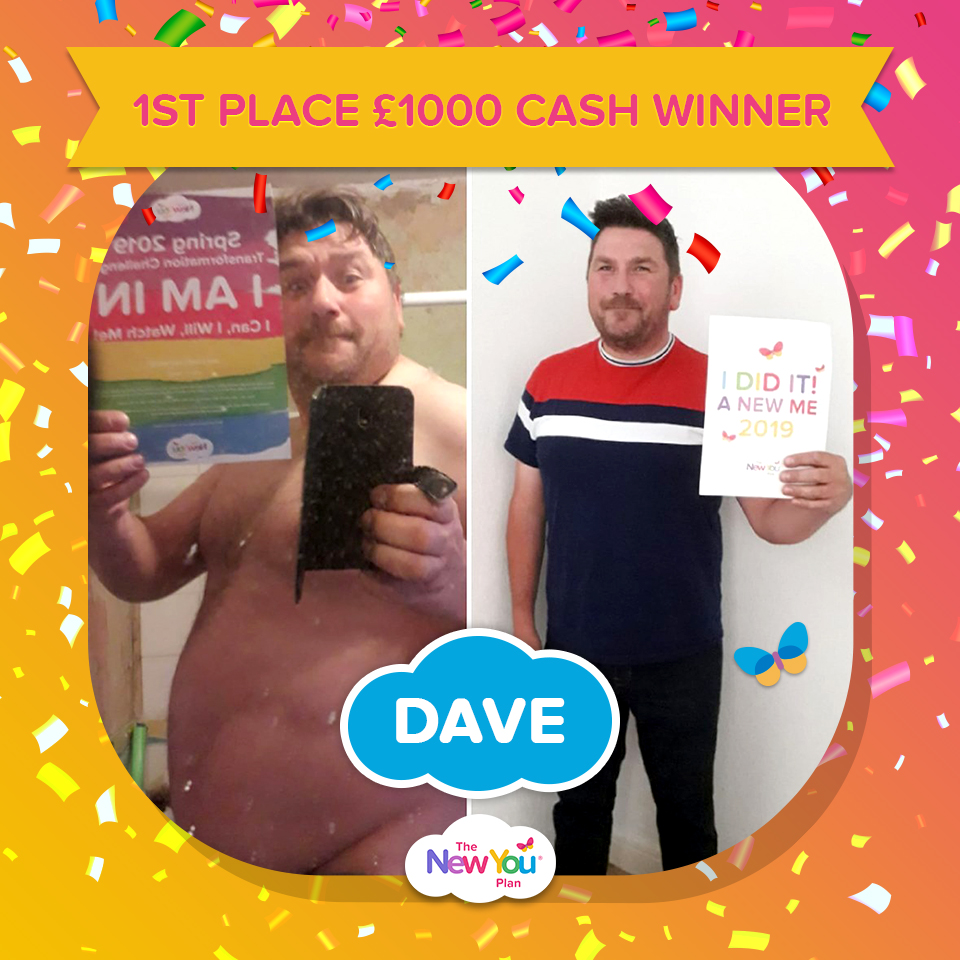 1st Place WINNER: Dave
What an amazing transformation Dave has undergone! His before and after photos truly showcase what is possible in just 10 weeks on plan. In fact, he lost an incredible 4 stone!!
When he submitted his "I did it" / after photo, Dave wrote the following in Secret Slimmers…
"I'm not a great writer so bear with me. Ten weeks ago I didn't think I was that fat, my girlfriend started the plan so I went on it too to keep her company. Turns out I was very fat, the pains in my ankles and knees weren't just middle age I was fat. Ten weeks later I'm over 4st lighter, I'm in no pain I look 100% better I've been told I've lost ten years too, I've got back into cycling and exercise and I watch my diet now because I'm not going back to fat Dave. Still a couple more stone to lose but I'll lose them. Happier now than for many years. We're all capable of so much so keep at it!"
A MASSIVE well done to Dave, the WINNER of £1000 cash!! Wooooohooooo! We have no doubt that these photos will inspire so many others that they can smash their goals.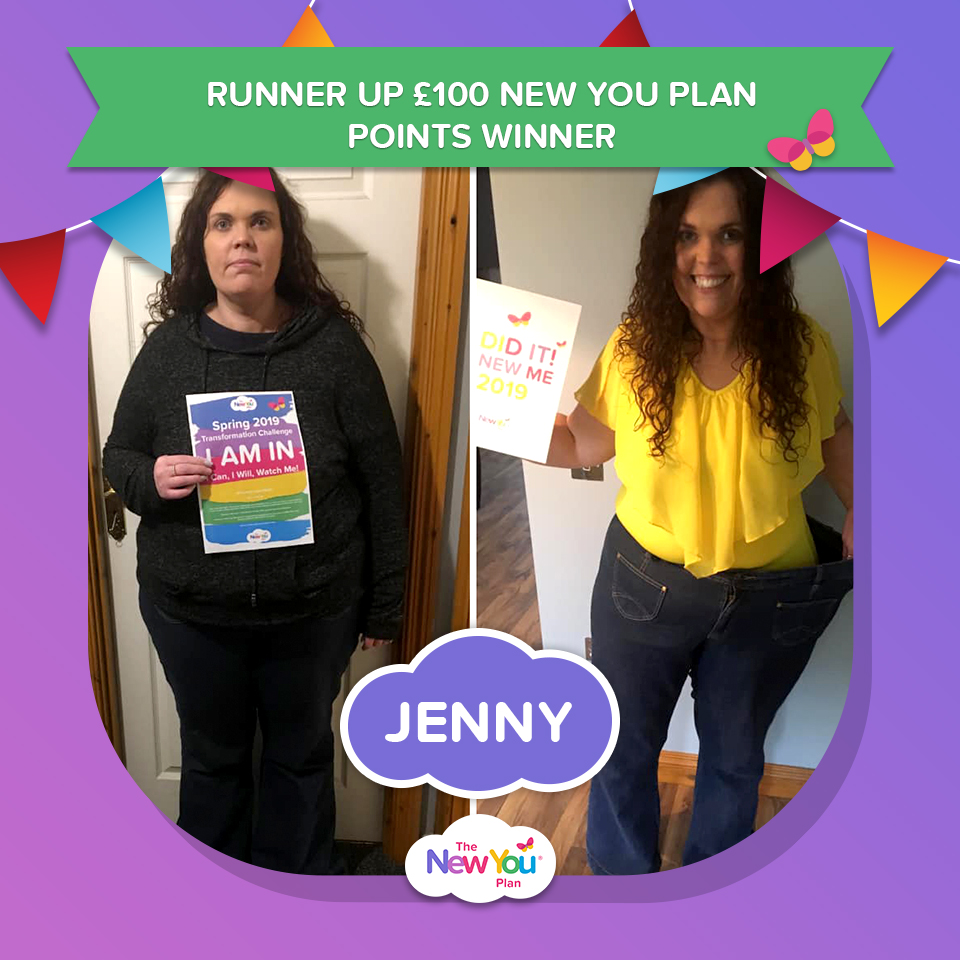 1st RUNNER UP: Jenny Rodgers
Jenny has also undergone an incredible transformation. Check out just how much room there is in those now saggy, baggy jeans…
When she posted her "I did it" / after photo in Secret Slimmers, Jenny wrote the following:
"I post this, not with the hope of winning (because let's face it OMG your transformations so far guys 😍) but because I want to share these pics with you all and tell you about the person holding the "I am in" poster and the person after!
On 12th March, when that pic was taken, I was over two stone heavier and just about to hear the news that I had to undergo surgery to remove a growth and half my thyroid to determine if I had cancer. I didn't know what I might face in the run up to my wedding this August. Even with all of that aside, I felt fat, like a failure and hugely sorry for myself!!!

I can't even tell you how proud I am that I stand here today, through it all with a benign result and over 2 stone lighter!!! Yes I could have done more but I'm cutting myself some slack that I achieved what I've been unable to achieve for a long time in some pretty tough circumstances!
However, my transformation has been so much more than just the weight off because I've learned that I'm stronger than I gave myself credit for, I'm worthy of looking after myself and I want to have a long and healthy life and never again forget how lucky I really am. This really is down to New You and this group.
To be told after 6 months you don't have cancer is like getting your life back and the girl in the "I did it" pic is truly living it now!!! So I have just over two months to my wedding and I can't wait to see what I can do between now and then.
In my after pic I'm in my new outfit for heading away on my hen do in 3 weeks, I went for yellow cause I'm walking on sunshine ☀️😂 Oh and I just tried on the jeans on from the before pic as well for the craic!!
Anyway if you're still reading you deserve a medal 😂😂 but good luck everyone and lots of love to you all ❤️"
What an amazing, courage, heartfelt story! Congratulations to our first runner up Jenny, who has won £100 New You Plan points.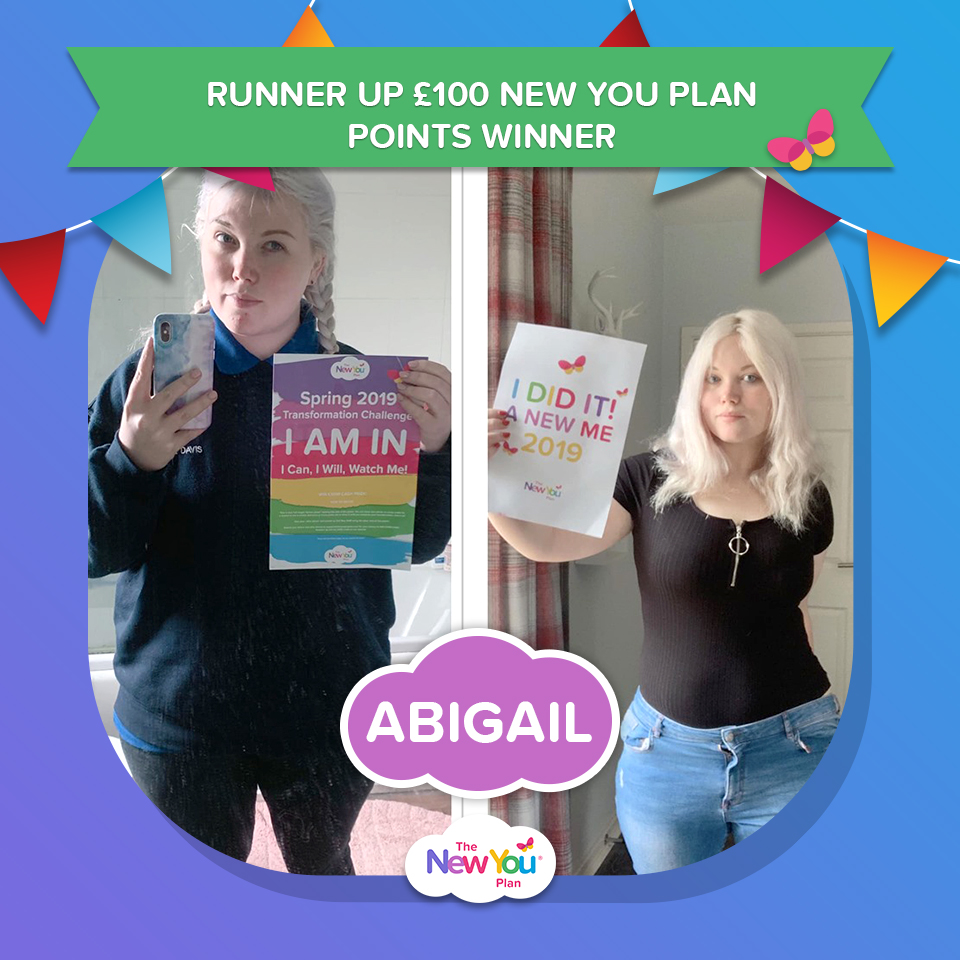 2nd RUNNER UP: Abigail
Last, but by no means least, the second runner up is the gorgeous Abigail, who has also scoped up £100 New You Plan points.
Abigail shared the following in Secret Slimmers, along with her "I did it" / after photo…
"So, the beginning of April I was the largest I've ever been. I was so unhappy with my own weight and kicking myself into how I go there in the first place. But I opted into the Spring Transformation challenge and these are my results. 38lbs lighter in 9 weeks, I've found a waistline and a new confidence (although, it turns out I still need to find a new pair of jeans!) ❤️
People who know me have noticed and the compliments are flowing. I know I still have a long way to go, but I'm no longer hiding underneath baggy clothes – the New You Plan makes losing the weight so easy, I adore you NYP and community 🙌🏻
I wasn't going to share my progress pictures as I was so ashamed when I took them; but it now motivates me and reminds me where I've come from and I hope it does the same for other people – If I can do it, you certainly can 😊
Thanks so much to each and everyone of you who entered. Remember, if you didn't win a prize, you are definitely still a winner. Be proud of each and every pound that you have lost, look at how far you have come and celebrate those non-scale victories along the way.
And of course, keep your eyes peeled in Secret Slimmers for more amazing challenges coming soon!