Anna Lost 3 Stone & 3 Dress Sizes In ONLY 3 Months

The number 3 is considered one of the luckiest numbers in the world and it was definitely lucky for customer Anna.

While you might think 3 stone and 3 dress sizes dropped in only 3 months is lucky, Anna made her own luck. Her amazing transformation wasn't down to luck, but rather finding the perfect meal plan, which delivers great results.
Worried about her health and what this could mean for her children, Anna decided she had to do something about her weight once and for all.
And just by chance, she found The New You Plan. Here, Anna shares how she lost 3 stone and dropped 3 dress sizes in only 3 month.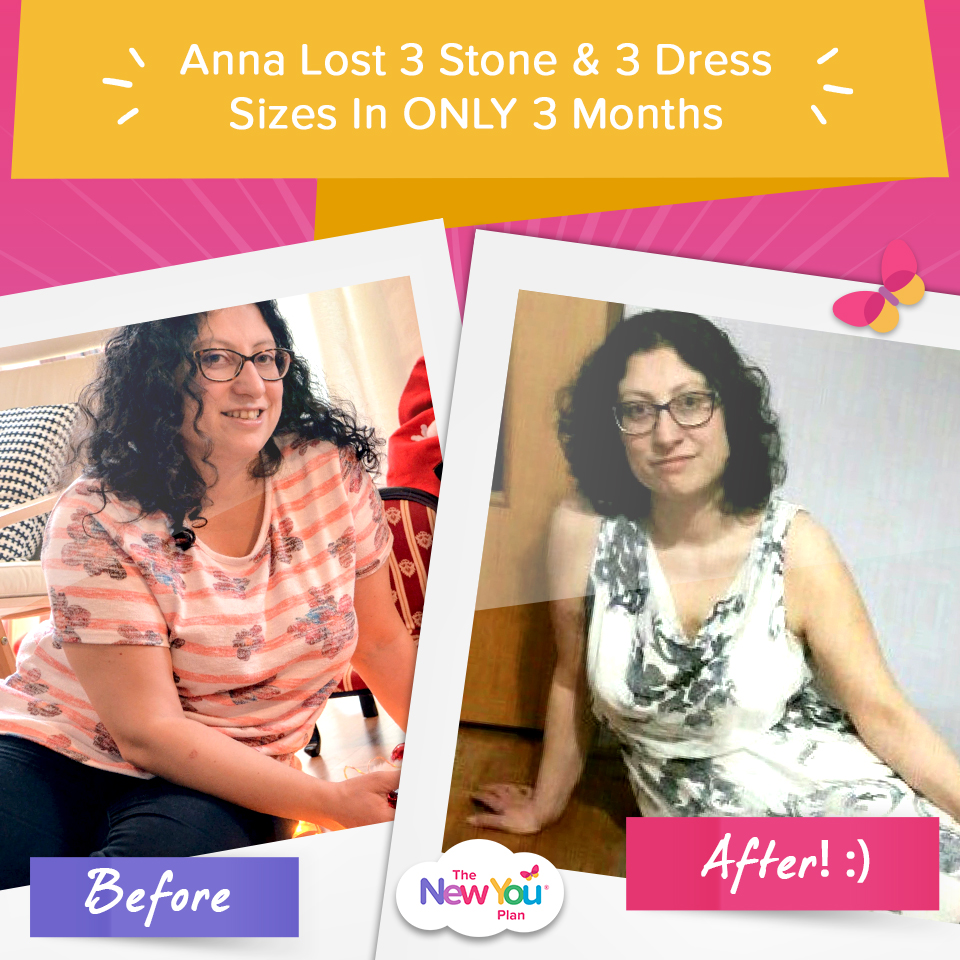 Here is her story…
Describe how you felt before you started the plan?
I was stressed about letting my family down, setting a bad example for my children and about the possible obesity related health problems. I didn't like what I saw in the mirror either. So I kept comfort eating to deal with the stress!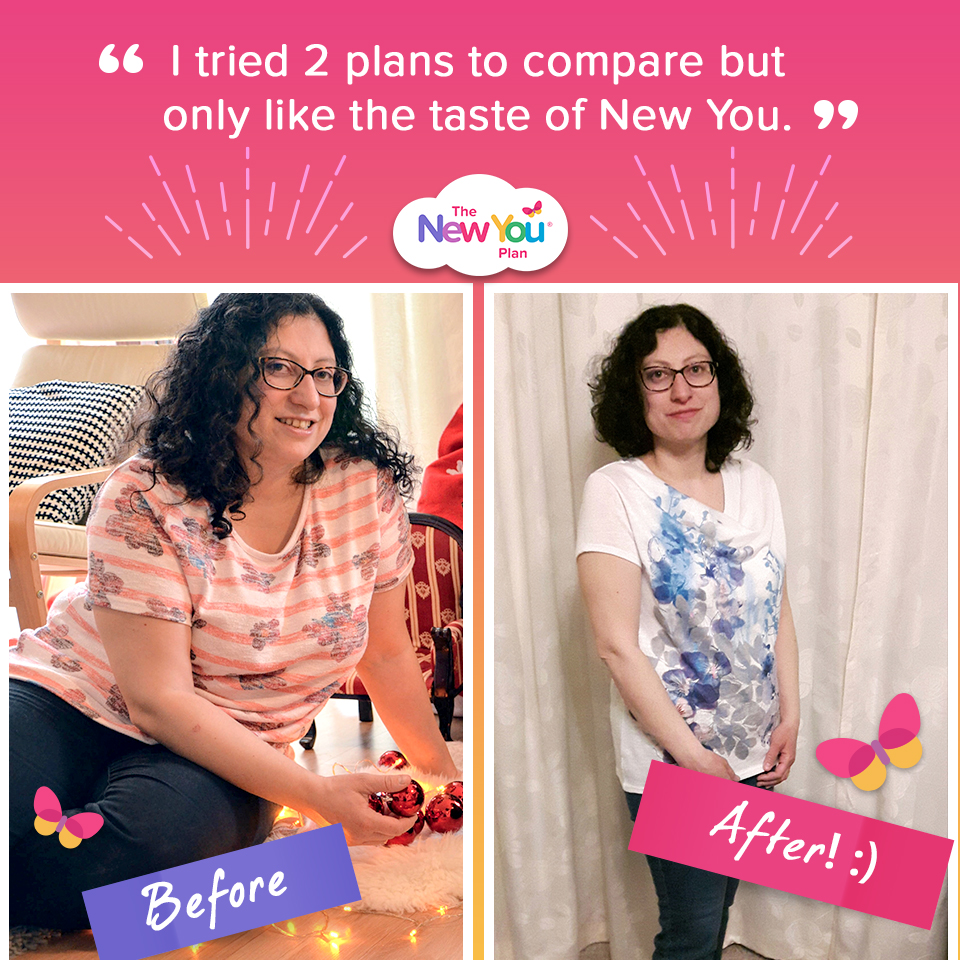 How did you discover The New You Plan?
I searched for food replacement online and ordered 2 different ones to try but only liked the taste of the New You products, so ended up buying a 12-week bundle at Christmas.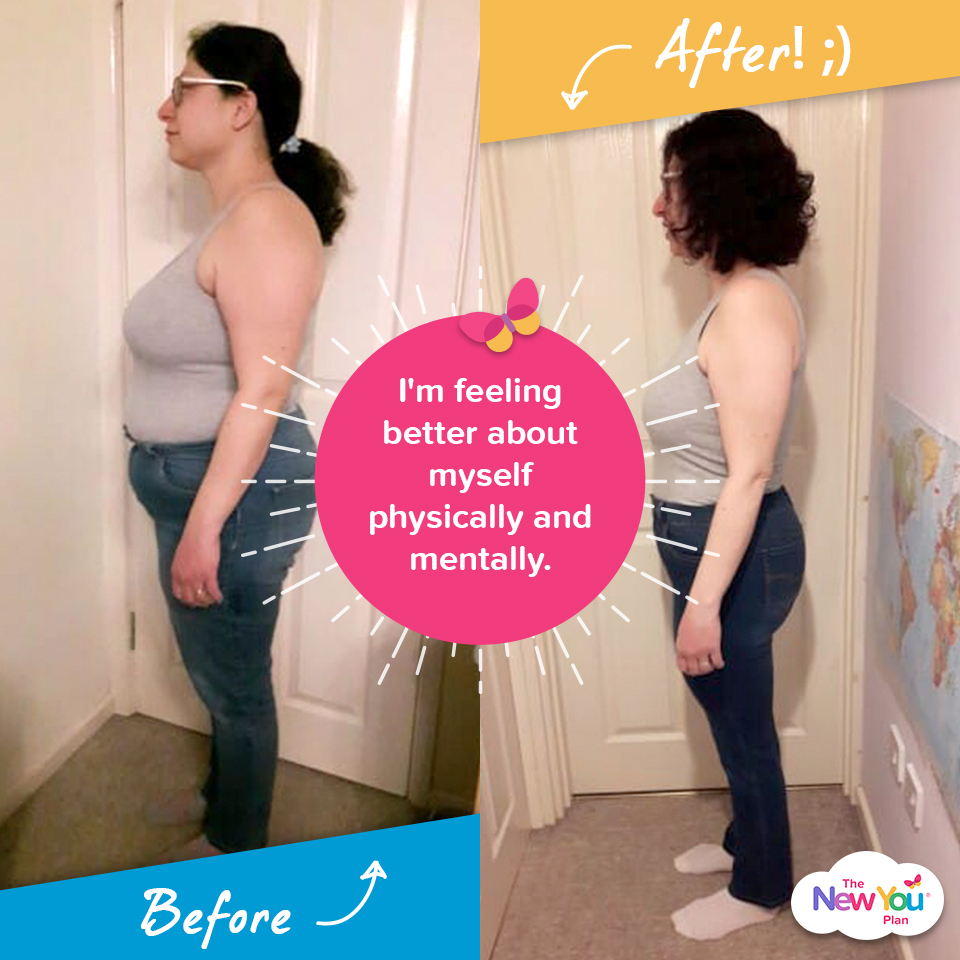 How has the plan changed your life?
I have a different mindset. I'm feeling better about myself physically and mentally. I have been able to break the dependency on food for comfort, reward, burst of energy, celebrating. The Secret Slimmers group has helped me with all this by boosting my self-esteem and discussing alternatives to food.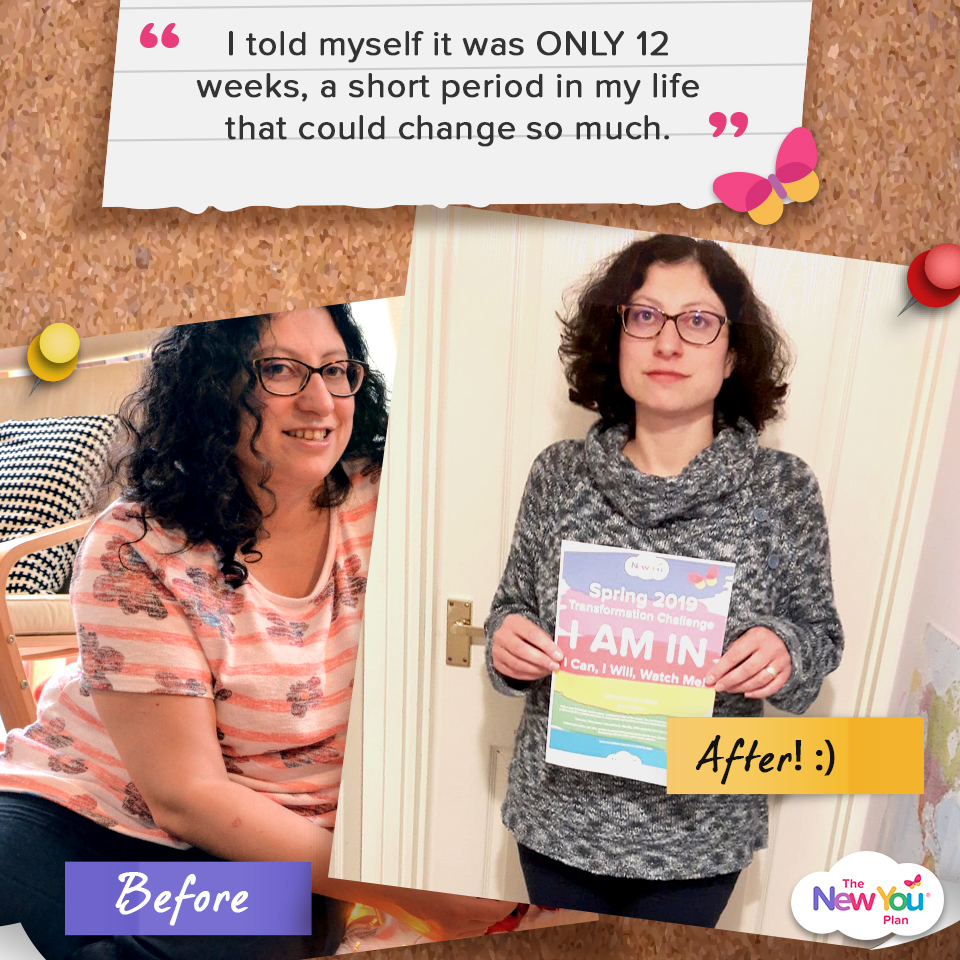 What was your biggest motivator in staying on track?
When I got my 10-day plan and read the information booklet about a break required after 12 weeks on plan I thought "who would do total food replacement for 12 weeks?!" but then I tried it, discovered how tasty the meals were and that I wasn't hungry and so believed it could be done. I gave myself a challenge of doing this 100% for 12 weeks and seeing where it gets me. I told myself it was ONLY 12 weeks, a short period in my life that could change so much. Once I've committed to this I had to see it through.
What's your biggest non-scale victory?
Getting into size 10 jeans!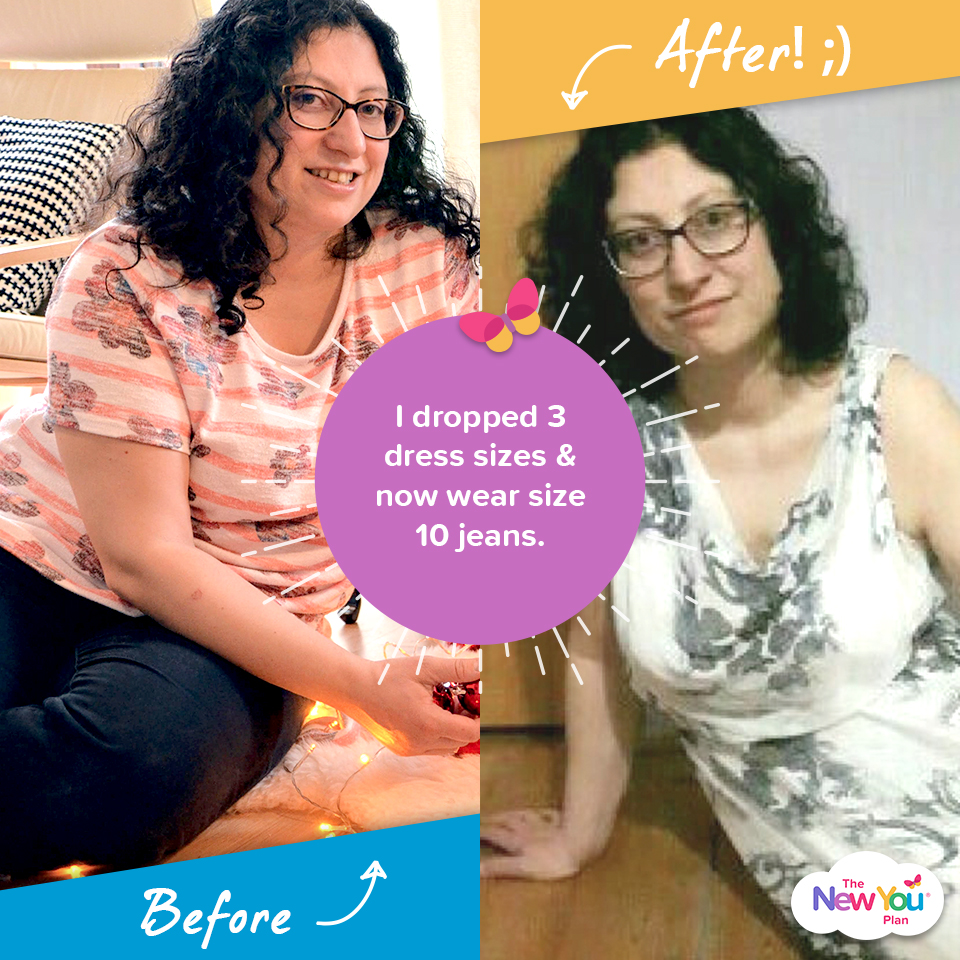 Since losing weight, what is your happiest memory / proudest moment?
Going swimming with my family without feeling self-conscious of how I looked in the swimsuit.
What is the nicest compliment you've received since losing weight.
There hasn't been one compliment that stood out but I've been overwhelmed by the number of nice comments I've been receiving.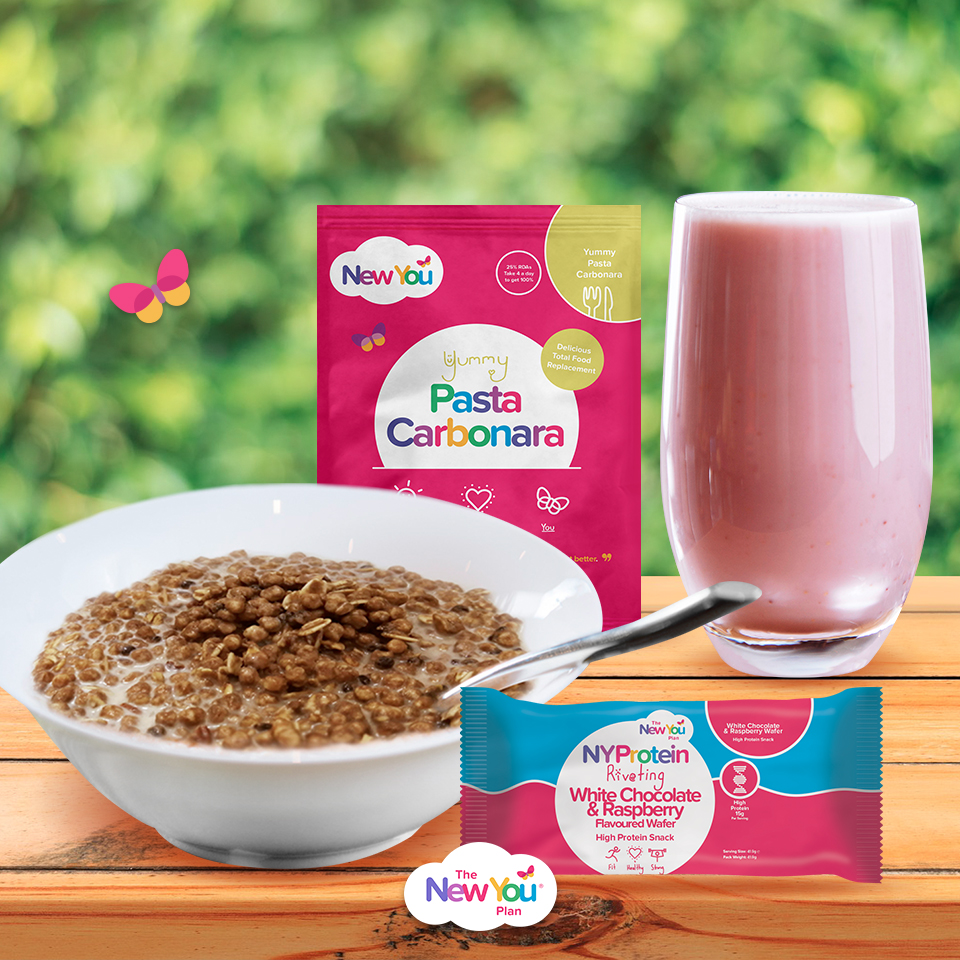 What are your favourite New You meals and snacks?
Meals: Strawberry Shake, Chocolate Caramel Muesli, Vegetable Chilli, Vegetable Risotto, Pasta Carbonara, Pasta Broccoli, Asparagus Soup, Triple Chocolate Cream Cookie Bar, Muesli Bar
Snacks: Raspberry Wafer, Peanut Crunch Snack Bar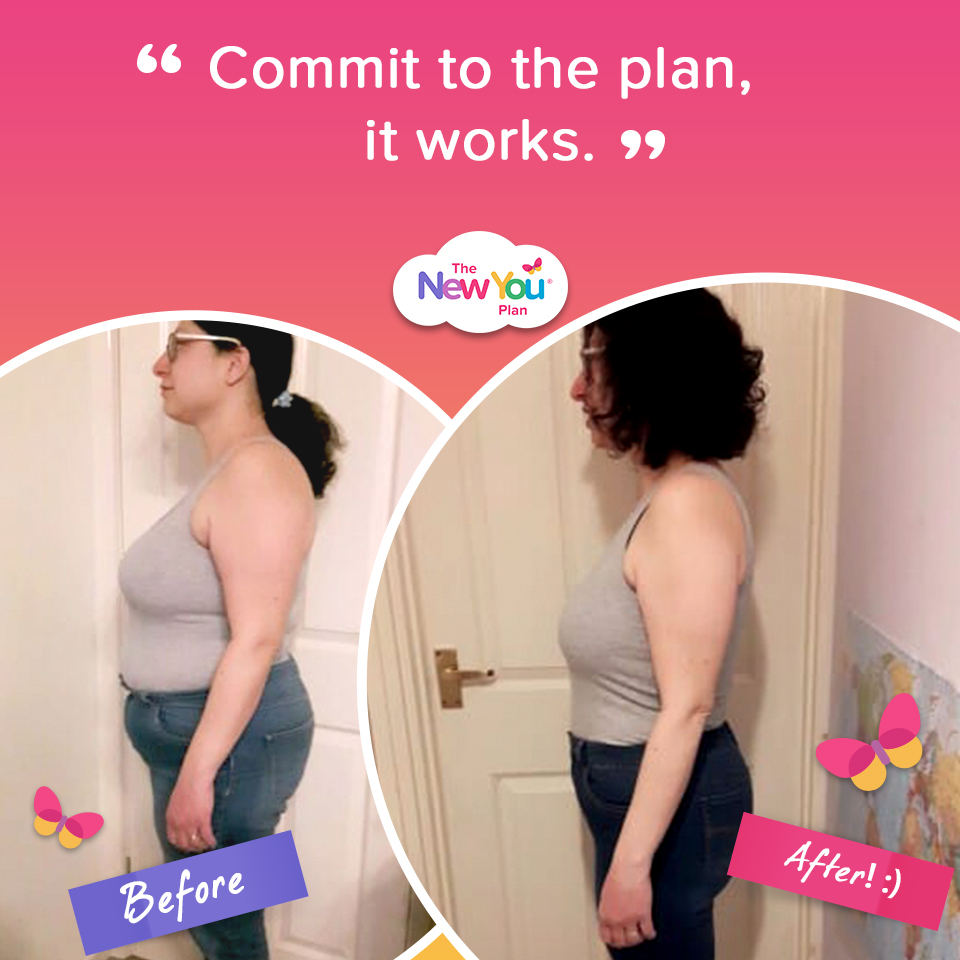 What advice would you offer anyone thinking of starting the plan?
Commit to the plan, it works. The first week is challenging due to hunger and your body adjusting, however in my experience once you're in ketosis it becomes much easier than a standard low calorie diet because you don't feel as hungry and have more energy, so it is worth persevering through the first week.
Join Secret Slimmers group too. The support there is invaluable, I'd go as far as saying therapeutic.
Are you ready to get started on a really, really, really easy diet plan?


Getting started is the first step in your journey to a brand New You! To help you understand fully how our plan works, our Get Started page with designed specifically for people new to the plan.
Head over to our site where you'll find tonnes of important information including how our plan works, the science behind it, loads of top tips, information on our meals, as well as real customer testimonials.
Click here to visit our Get Started page!