Before & Afters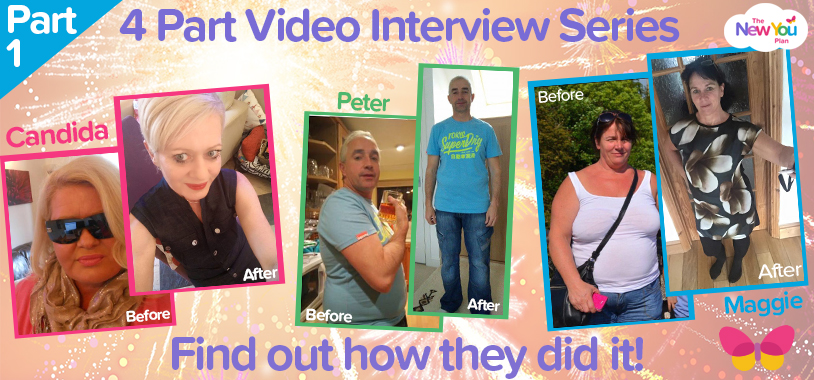 Success stories video interview series: Part 1
[Part 1: Inspiring people: Changing lives]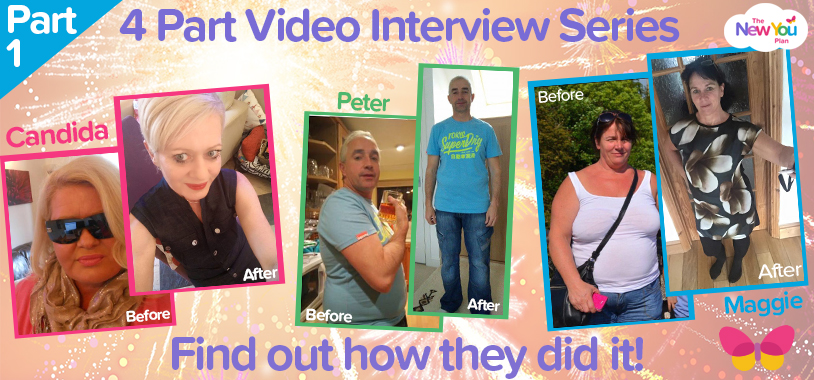 Here at The New You Plan, our main aim is quite simply to change as many lives as possible. We LOVE seeing how the plan has had a massive impact on so many people's lives by boosting their confidence, making them go out & see the world and find their happy, healthy New You! We admire our customers' determination to break boundaries and smash goals and we are so so proud of each of every one of you. Nothing makes us happier than seeing your transformations unfold before us in Secret Slimmers, which is why we encourage EVERYONE to share their journeys. These photos, stories and quotes are a massive reminder of just how far you have all come and just what is achievable on the plan! So as another great year draws to a close, we've been feeling particularly reflective and we are determined to make next year even bigger and better!
To help inspire you and show you that you can make 2016 YOUR year, we have put together something special for you! Over the next few days, we are bringing you a series of Success Stories Video Interview from three of our customers who have amazing stories to tell. Peter Baines, Candida Woolcott and Maggie Thompson have bravely stood in front of a camera and bared their souls!
Today, in part one we have gotten to the nitty gritty of why Peter, Candida and Maggie started the plan and how it has changed their lives!
Click the video below to watch as they share their stories.
Check your inbox tomorrow for part 2 of our amazing inspirational video series!
If like Candida, Peter, & Maggie you want to make to make 2016 YOUR year, you CAN! Check out our New Year, New You, New Easy Bundles!
In 2016 we are committed to helping 20,000 people to be healthy & happy, inside & out! Step into 2016 with a New You Diet Plan Bundle that suits you!
♥ 
Shop 30 Meals or Snacks for ONLY £5.99/€7.72 per day + FREE Wall Chart worth £9.99/€12.88 HERE
♥
Shop 60 Meals or Snacks for ONLY £5.71/€7.36 per day + FREE Wall Chart & Water Flavouring worth £15.98/€20.61 HERE
♥ 

Shop 120 Meals or Snacks for ONLY £5.57/€7.18 
per day + FREE Wall Chart, Water Flavouring, Mini Blender Bottle, 21 Day Journal, 10 Pineapple Fat Burners, New You Online Masterclass worth £91.95/€118.61 HERE
♥ Shop 240 Meals or Snacks for ONLY £5.35/€6.90 per day + FREE Wall Chart, Water Flavouring, Mini Blender Bottle, 21 Day Journal, 10 Pineapple Fat Burners, New You Online Masterclass & Project New You worth £288.95/€377.24 HERE