Diet Mindset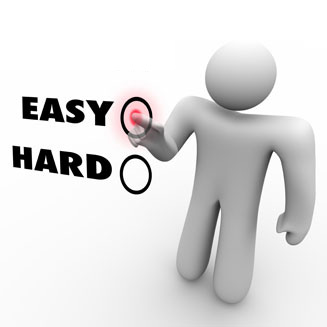 Is dieting really really really hard for you?*
*Weight loss results may vary. This is not a guarantee
[highlight]"Do you know what's really, really, really easy? Whatever you say is really, really, really easy. Same goes for the hard stuff…"[/highlight]
Is this what you say when you think about going on a diet…
TFR Dieting is really really really HARD… 🙁 
All that sacrifice…. going without any food 🙁  I just cant do it, it is so hard.
Going without all my favourite foods, like takeaways, chocolate, crisps, coke, wine, alchopops, sweets, chips, toast with butter…  it's just too hard for me.
Having shakes, and meals from packs, that is just too hard for me.
Feeling hungry…  going through carb withdrawals….
Being bored every night not being able to snack when watching the telly….
Oh I just can't do it.  It is really really really HARD.
TFR Dieting is just TOO HARD FOR ME.
Or is this what you say when you are on a diet…
TFR Dieting is really really really EASY! 🙂 
Once ketosis kicks in, it is just SO EASY.
I have so much energy, and such a spring in my step!  I am so excited about where I am going, and so confident I will be in size 10/12 this summer!
I feel so healthy, I can't even be bothered to watch the TV anymore, I have started walking and doing exercises, and I never would have wanted to do that before.
Being on a TFR Diet makes it SO EASY.   I haven't felt this good in years, this has given me the kick start to a new healthy lifestyle that I have needed for so long.
I have tried and failed to lose weight so many times before but this is the easiest way as I know every week I will lose weight, it is just SO EASY!
I don't have to worry about counting points, calories or anything like that, I just stick to my 3 products each day and it is really really really easy!
Every night I sit down with my family and enjoy a lovely TFR Hot Meal – my favourite is Spicy Spaghetti Noodle Nosh, and I feel so good that I am losing weight and enjoying my tasty meal.
Every morning I just love to have my cold TFR Shake, it sets me up for the day, and starts me off thinking about being healthy and slim.
I love the new me, I love my new routine and healthy outlook on life.  Roll on Summer time, I am going to look and feel amazing!
I love TFR dieting, it is really really really EASY.  Losing weight rapidly without hunger, and lots of energy, sure how much easier can it get?
Same diet, just two completely different ways to look at it.
What way are you looking at it?
The choice is yours… as is your dress size. 
xx
Ready to get started on a really really really easy diet plan?
Try the 30 Bundle – 10 days to kick start a brand new you!