Candida's Blog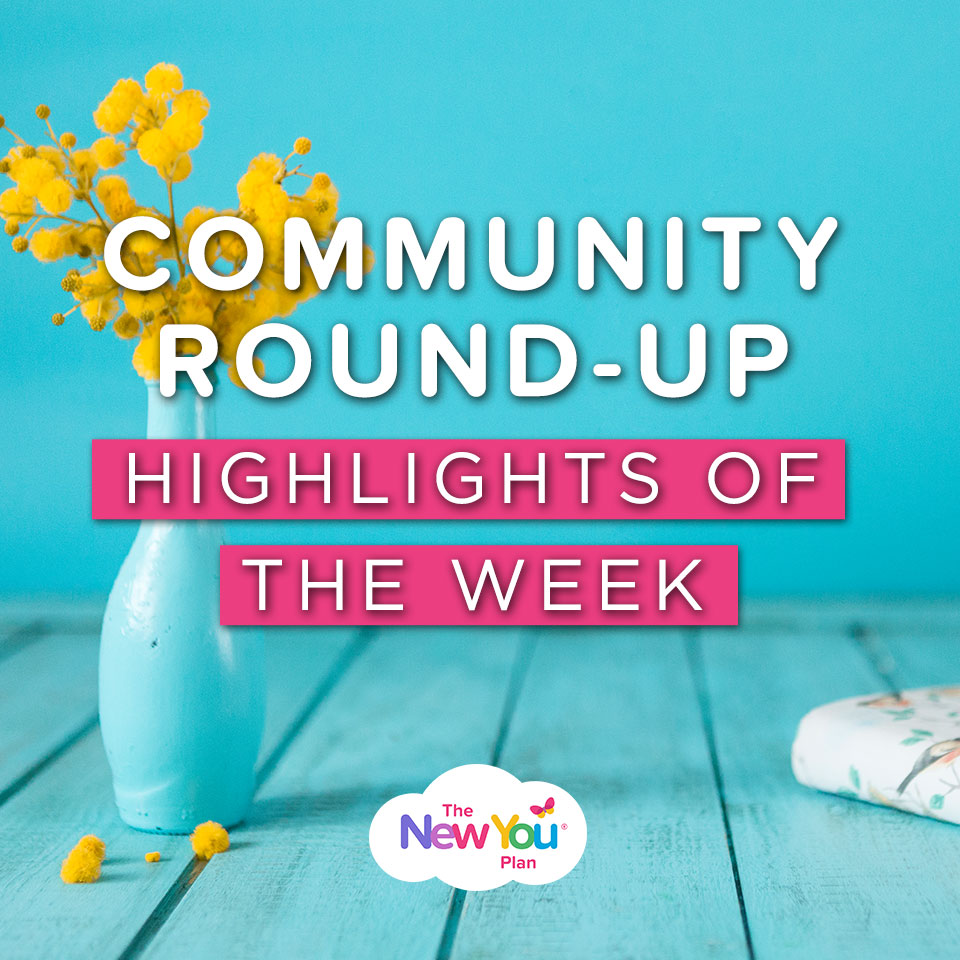 The New You Plan Community Highlights

Another amazing week has passed in our Secret Slimmers & Momentum Maintainers groups, so we couldn't let it pass without reflecting on it. Today, our Community Manager Candida rounds up our Community Highlights of the Week!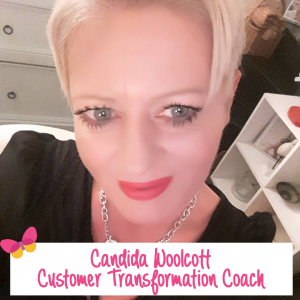 This has been one fabulous week to unite, laugh, be happy, smile and shed those pesky pounds! So many of you have accomplished this, climbed mountains, overcome mental obstacles and together we have united our incredible community.
Each sunrise is a fresh start, a brand-new day, a new pencil on an empty page; your weight loss journey is as rewarding and fulfilling as you make it. It may be a journey of many miles but it all starts with a single step.
Pushing ourselves to achieve things we never thought possible gives us strength and empowerment.
Vicki Sharples has done just this by completing the Moon Walk. She had this to tell us:
"Feeling really proud today. I did the Moon Walk…all 26.2 miles and all by myself non-stop. Had a fab time with no blisters…bonus! Over 60000 steps and mega calories burned. I would have never thought in a million years I would walk round in my bra…but I did and it felt amazing. Keeping up with the walking. It does you the power of good."
We are so proud of you Vicki! What an inspirational woman you are!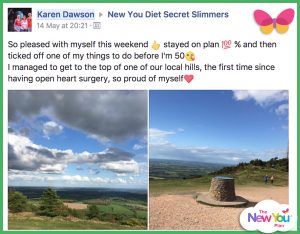 Karen Dawson astounded me and herself by ticking off one of her bucket list of things to do before she is 50. Karen has had open heart surgery in the past, so this accomplishment is even more fantastic. Her commitment to her weight loss with New You enabled her to climb The Wrekin in Shropshire – no mean feat, standing proudly at 407 metres over the Shropshire plains. A massive well done Karen. I have climbed it too and it was utterly exhilarating.
So, how have the weight losses been this week? Pretty darn good if you ask me! The lovely Denice Tulloch-Johnson has been on plan for four weeks so far and lost 18Ib and dropped a whole dress size. WOOHOO!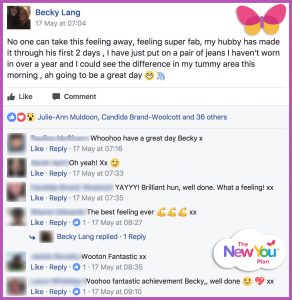 Becky Lang completed her first week losing an incredible 10.5Ib. She posted:
"So happy, thank you to everyone on this page for their support during my first week" – Together we can achieve so much!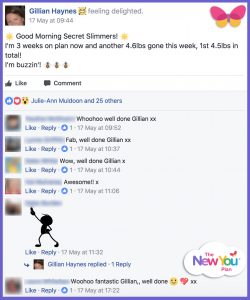 Our wonderful friend and Cheerleader, Val Mulraney is back to smash a few more pounds and lost 9Ibs in her first week back! Oh yes! And Gillian Haynes definitely impressed with her total loss of 1st 4lbs in only 3 weeks! Well done Secret Slimmers!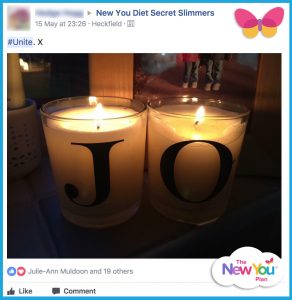 We have lovely slimmers all over the world and this week something rather special, moving and wonderful happened on Secret Slimmers. We filled the page with love and hope by taking selfies holding a candle. The idea was to unite all of us, that we are all on the same journey, no matter where we are in the world, and here to support one another. So many of you took part, posting beautiful photos, bringing us all together. Truly wonderful!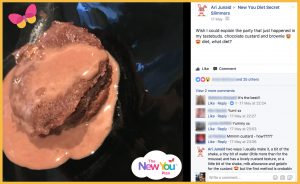 We are spoilt with the choice of gorgeous food we can eat on our diet. Getting creative with your packs makes it all the more enjoyable! Linsey Donaldson asked: "Diet? What diet!?" as she made the most scrumptious looking choccy brownie squares, all molten and melted in the middle. YUMMY!  Do post your culinary creations up on Secret Slimmers to inspire others to have a go!
Momentum Maintainers has been super active with some wonderful low carb recipes being tried and tested. The weekly Food Clinic has been popular, answering any of your food queries and suggesting recipes and alternatives. A big welcome to all the newbies. We'd love everyone to get involved and post their recipes up!
So, there we have it – another brilliant woohoo week. Don't start this week with broken pieces of yesterday. Every day is a fresh start, every day is a new beginning. Make this week the first day of your new life!


_____________________________________________________________________________________
Start Your TFR Journey Today!

Getting started is the first step in your journey to a brand New You! To help you understand fully how our plan works, our Get Started page was designed specifically for people new to the plan.
Head over to our site where you'll find tonnes of important information including how our plan works, the science behind it, loads of top tips, information on our meals, as well as real customer testimonials.
Click here to visit our Get Started page!