New You Plan Blog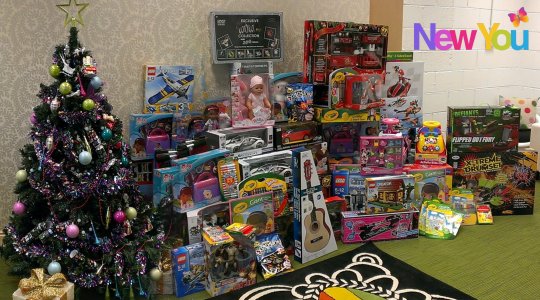 [COMPLETED] The New You Plan Christmas Toy Appeal WATCH OUR FINAL VIDEO
The New You Plan Christmas Toy Appeal HAS BEEN COMPLETED!!
THANK YOU TO ALL OUR AMAZING CUSTOMERS FOR HELPING US TO MAKE THIS HAPPEN!! WATCH THE VIDEO FOR THE FINAL UPDATE! XX
From the Start of the Countdown to Christmas Cracker Challenge until December 13th we here at The New You Plan donated a minimum of £1 from every order towards buying toys for the Christmas Toy Appeal organised by the Salvation Army and Saint Vincent de Paul. The toys have now gone off to find new homes with under privileged children this Christmas who without these donations would have no or very few toys. We are so happy to be able to make this Christmas special for so many children.
Week on week we built this up and thanks to our customers we had a truly astounding collection of toys to give to the kids this year.
I just wanted to take this chance to say thank you to everyone who has supported us over the last couple of weeks to make this all possible!!!
Progress so far…
Week 1
Week 2
Week 3!!!
Week 5!!! (After Santa's little detour!)
The Grant Final Week 6!
A very big thank you from all of us here at The New You Plan for what can only be described as a job very well done, which was only made possible by your support and over the next 24 hours I will continue to work on this page to and show you all just how impressive this event turned out to be!