"It's the fact that you're overweight that everyone hones in on, as if you're a bear that has mastered how to roller-skate."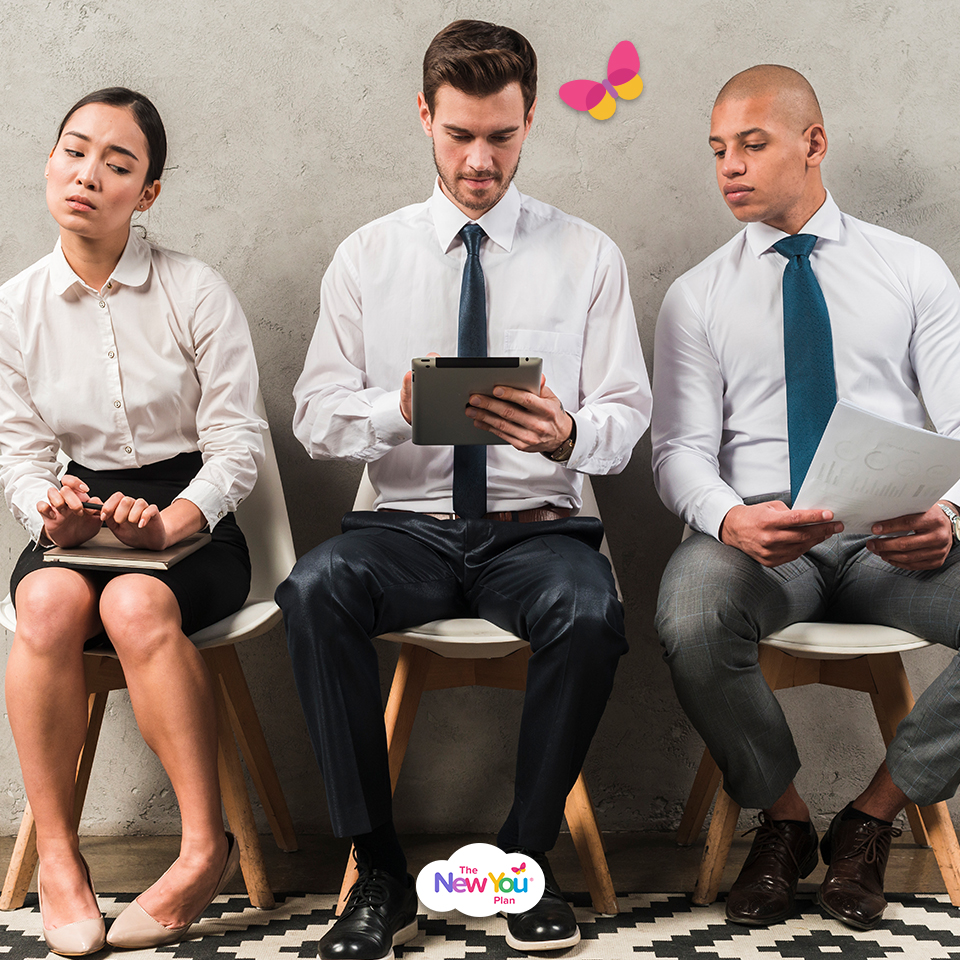 It happens quite by chance, this new realisation. You might stand at a bar for ages trying to get the attention of the barman. Or try to hail a cab in the street only for 3 to drive on. Maybe you struggle to open a door while holding heavy bags as people breeze past you. Whoosh – like Alice plunging down the rabbit hole. You are suddenly invisible.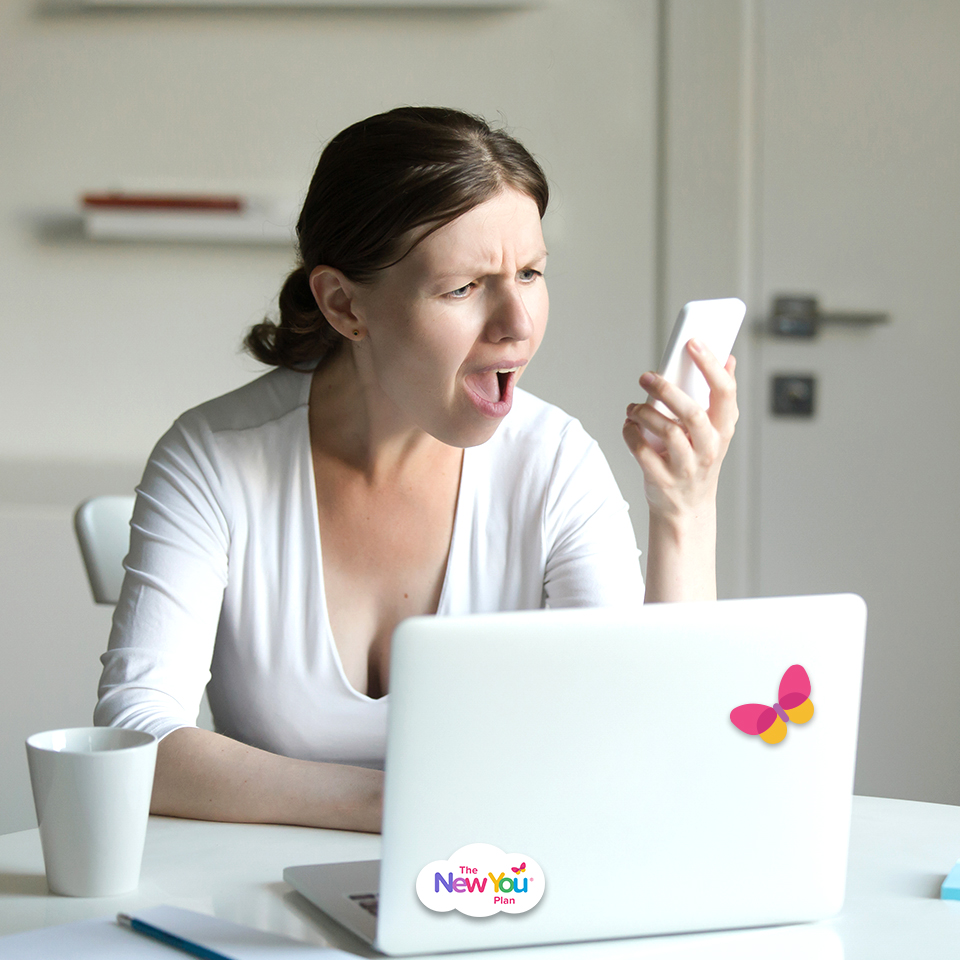 It doesn't matter at what age you get this superpower. Whether you have had it all your life or you develop it in your 20s, 30s, 40s or 50s. It's not a superpower that you particularly want though, in fact it's more of an insult than a magical power. You reluctantly don the uniform that comes with this superpower – it's usually black – and you try to blend into the background. Don't laugh too loud, don't draw attention to yourself. Try to make yourself smaller.
So how did you develop this superpower? Were you bitten by a radioactive spider or hit by gamma rays? Nothing quite as dramatic – you simply gained weight.
When you are overweight, people still see your size but they tend to stop seeing you. By being so visible and taking up so much room, in a strange way you are also quite invisible. People look at you and their eyes slide off you. They don't see YOU. The you that has an amazing sense of humour. The you whose intelligence is off the charts. The you whose kindness to others knows no limits. They just see your size.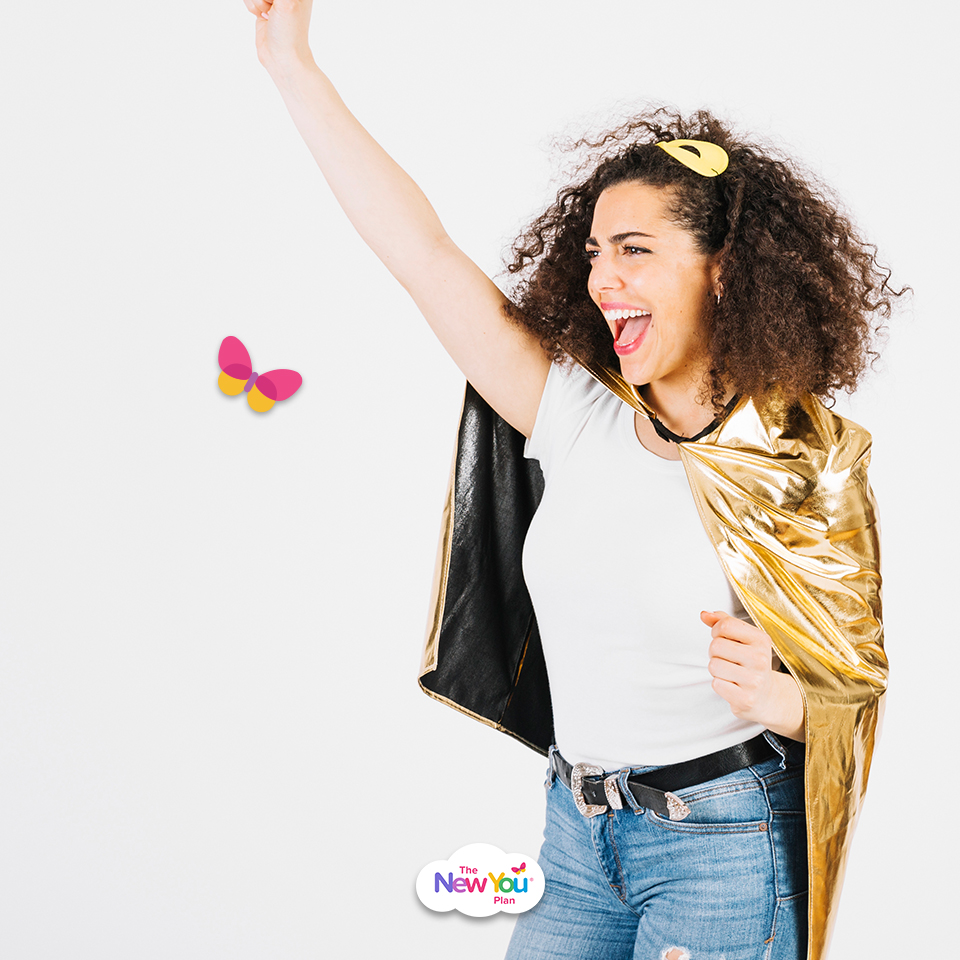 You could have eradicated world famine, come up with the answer to whether there are any odd perfect numbers, found the cure for some awful disease that's baffled medical science for centuries. It's the fact that you're overweight that everyone hones in on, as if you're a bear that has mastered how to roller-skate.
Our customers speak about how inferior they felt when people avoided eye contact with them. They were often treated rudely or dismissed. They lived in daily fear that their weight will be the thing that resulted in the worst possible scenarios. Things like being let go from their job because "you don't represent the company well," or of never finding a man to love them again because they are no longer feeling attractive. They wondered if people were embarrassed to be seen with them or would complain loudly that they had to sit next to them on an airplane. And yes, the big one, would they die young because of the fat on their body?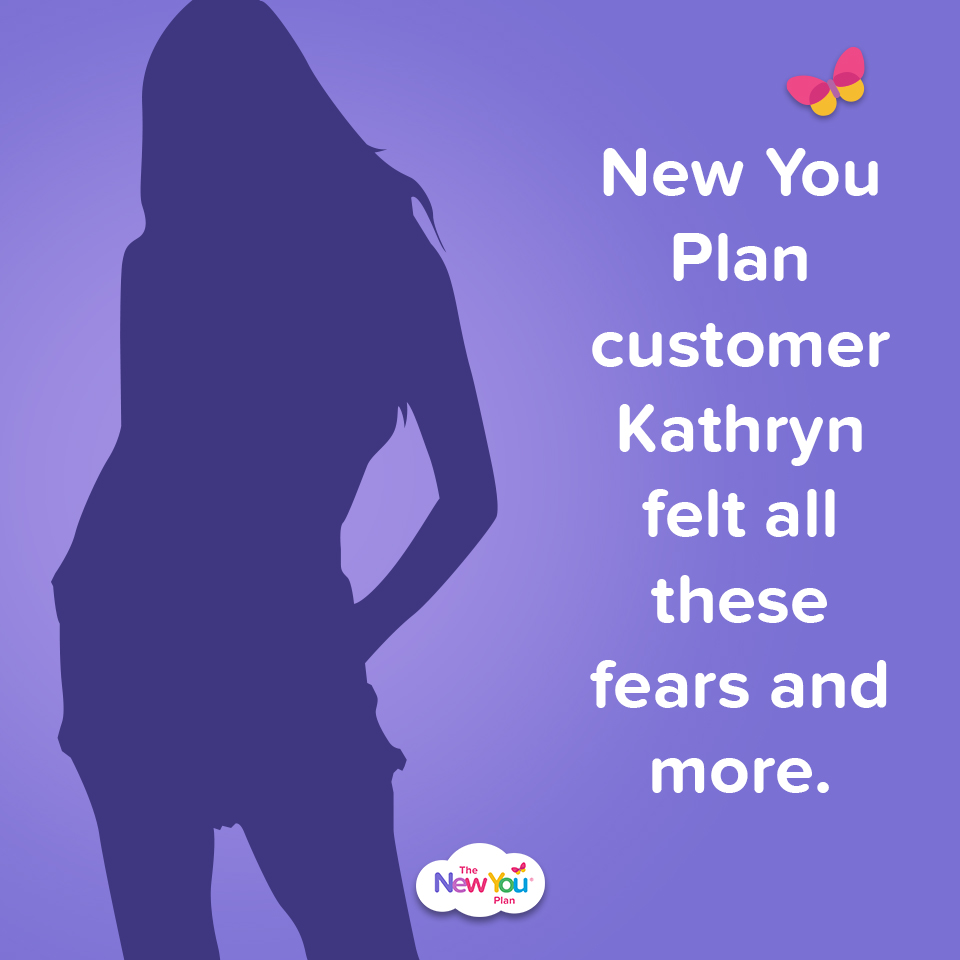 New You Plan customer Kathryn felt all these fears and more.
"I gained weight after my second baby. I had put on quite a bit during the pregnancy and then rather than going back to my pre-pregnancy weight – I gained another 3 stone.
I was exhausted juggling work with a toddler and a baby and just ate anything to give me energy. I was still wearing my maternity clothes a year after my son was born. My confidence disappeared, I didn't want to socialise and I noticed in work that I was often passed over for for client projects. Which of course made me feel worse.
I remember sitting in a meeting at work and my boss said 'Kathryn can get those files'. The man next to me actually said 'Who is Kathryn?' I truly felt invisible.
That night, I saw an ad for The New You Plan while scrolling through Facebook and placed my first order. I haven't looked back! I am back to size 12 and EVERYONE in the office knows my name. I am delighted to have found New You, the diet meals are so easy to make and taste amazing, but best of all, I love going out now. I was hiding away for far too long. I am so glad I am back to buzzing about and feeling great!"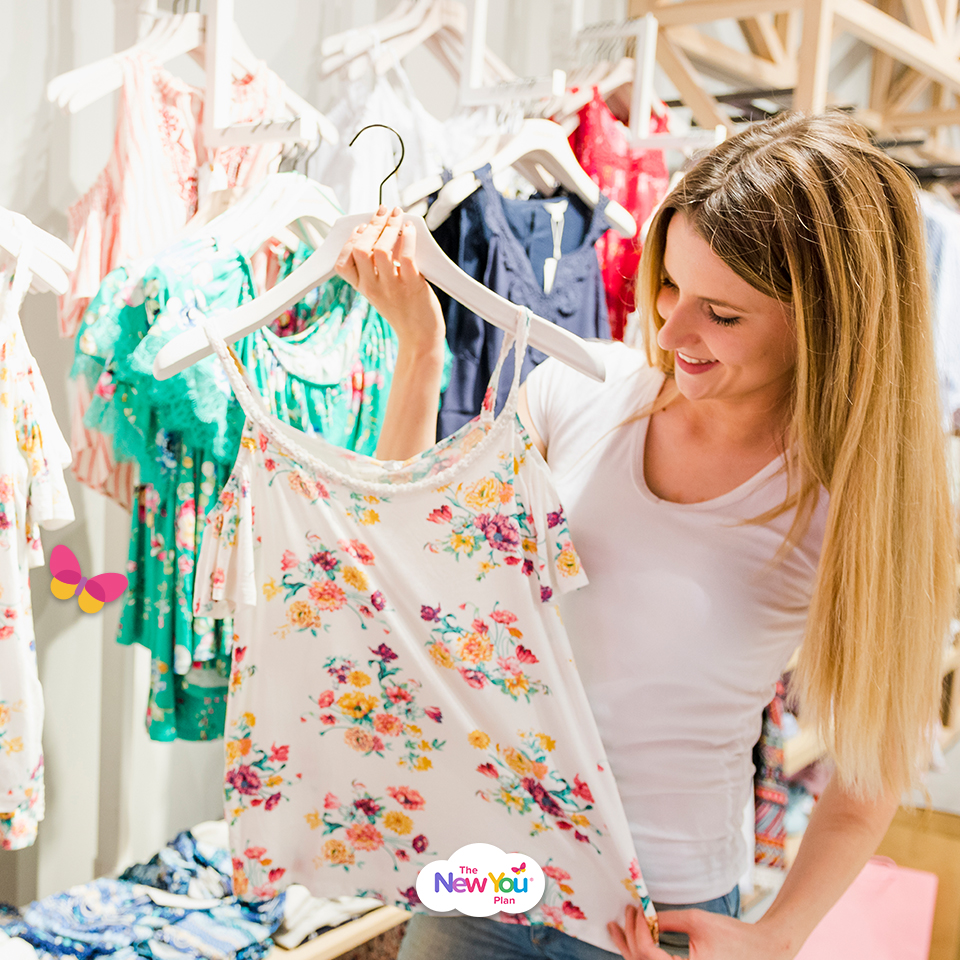 The thing about invisibility is that it creeps up on you. One minute you are happily accessorizing a fab outfit with a handbag and heels, the next minute you are flicking through your 5 pieces of clothing you wear on rotation. You know the ones…they hide your tummy/butt/chin/arms * insert body part of choice.
Perhaps you have just stopped. Stopped considering your food choices. Stopped putting on make up. Stopped choosing clothes that make you feel good. Stopped making eye contact with people unless it is strictly necessary. It's a kind of a weary acceptance. Particularly if you have tried and failed to lose weight in the past. 'It's too late now' 'I can't do it' 'This is just the way I am'. Sound familiar?
We have been there. We have stood exactly where you are standing today. Arguing with yourself about whether to want to commit yet again to another diet. We also know that there is a tiny little spark inside you though that occasionally flickers with hope. Hope that THIS time it will work. Hope that you could find a way to be the person you have always wanted to be.
Just for a moment imagine if you no longer had to brace yourself against the whispered comments about your size when you walk into a room or remarks about what you are eating in a restaurant.
Imagine you could find clothes in your size when you went shopping, and didn't have to worry that you might not get a job because of unspoken (but very real) size discrimination.
Imagine sleeping better, moving more easily, and perhaps feeling less pain from orthopedic problems caused by a heavier weight. Imagine being SEEN.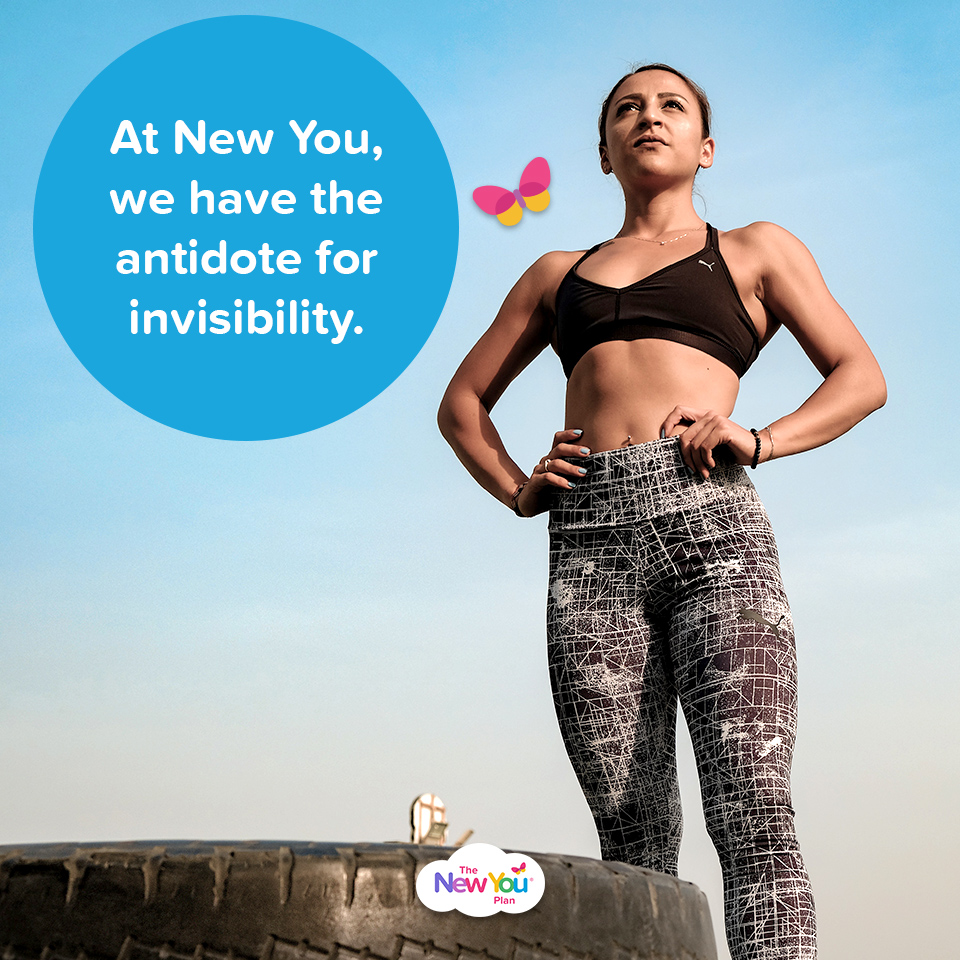 At New You, we have the antidote for invisibility.
What if we told you we could help you be visible again?
What if we had a solution to losing weight that wasn't that hard?
A solution where the usual problems of "diets" just didn't seem to get in your way. Where you never got that hungry. You didn't have to count calories or make any decisions about what to eat. As an added bonus you would be full of energy, have clarity of thought and sleep better. Would you be interested?
The New You Plan can offer you all this and more. We have developed a range of over 40 diet meal replacements which are nutritionally complete, satisfying and delicious. You eat 4 times a day choosing from soups, shakes, bars and meals. Each meal has 23 vitamins and minerals so when you consume 4 meal packs per day you will get 100% of your daily recommended vitamins and minerals.
Taking 4 of our meal packs per day, you will have around 600 calories each day which will help you to create a calorie deficit that is needed to lose weight without having to sacrifice on the nutritional requirements of your body.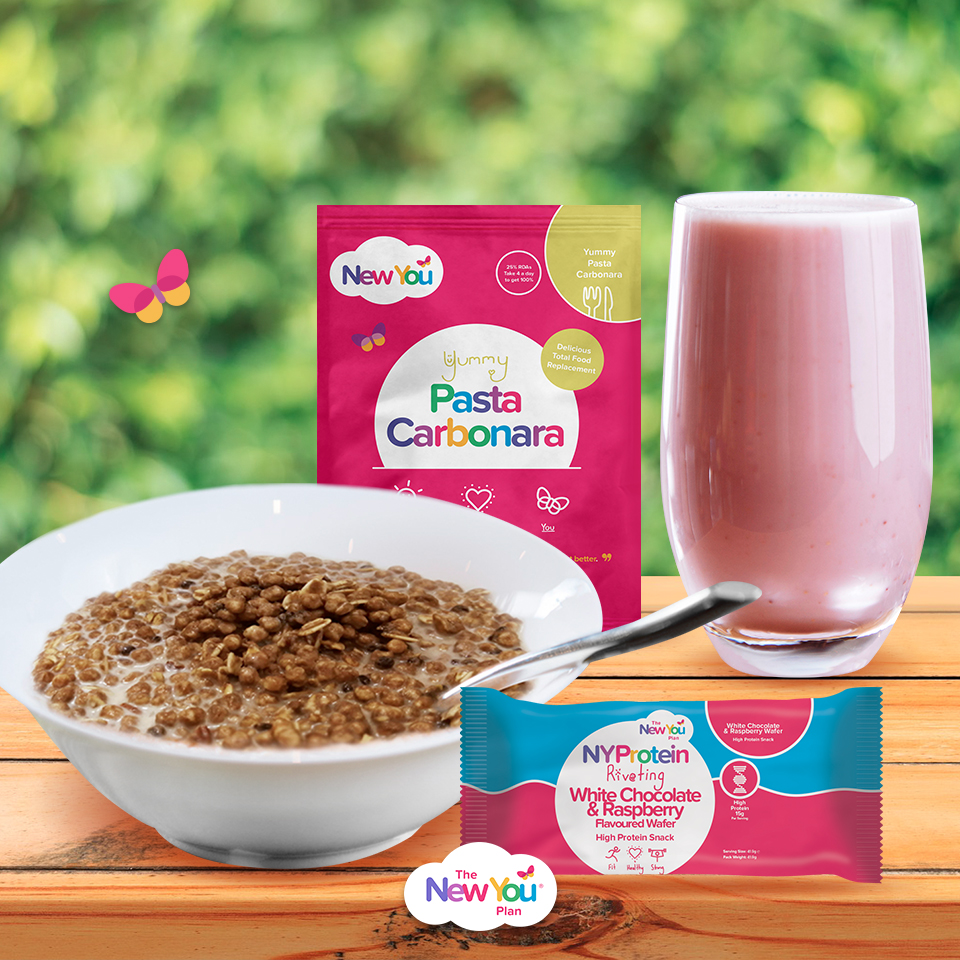 When The New You Plan diet meal replacements are taken on their own as part of a total food abstinence plan they create a natural fat burning process in your body called ketosis.
The key benefit of ketosis is that your body will switch its main fuel source to your body fat. Normally your body uses glucose sugar for energy, but when your body is in ketosis, it will use fat as the major source of energy.
It can take 3-5 days for your body to go into ketosis, when you are in ketosis you will normally find reduced feelings of hunger and increased energy levels.
There is no need to prepare meals or grocery shop either, simply add water to the packs or unwrap a bar. Imagine how much extra time you'll have to focus on YOU.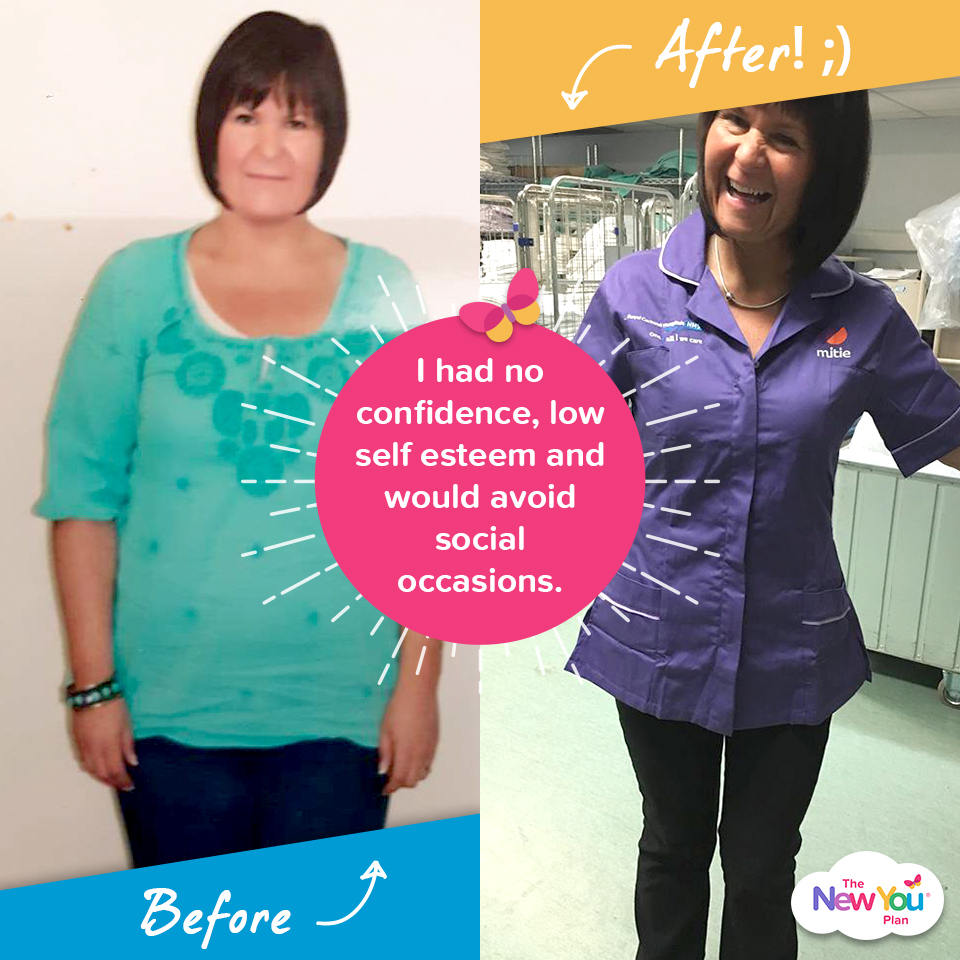 We have an active community of women just like you, who have decided to cast off their invisibility cloaks. Our online community is a safe place to share your journey and celebrate your success. The New You Team will also support you every step of the way which makes it that much easier, and the speedy results achieved while following our plan are true motivators.
If you are tired of being invisible, click here. We can't wait to see you.

Getting started is the first step in your journey to a brand New You! To help you understand fully how our plan works, our Get Started page with designed specifically for people new to the plan.
Head over to our site where you'll find tonnes of important information including how our plan works, the science behind it, loads of top tips, information on our meals, as well as real customer testimonials.
Click here to visit our Get Started page!