Tina Daniels from Galway has always been slim. Even following the birth of her children, she easily got back to her target weight. However, with a stressful job and a painful health condition, she turned to food for comfort. But one day, the realisation hit her that she had become overweight and so she vowed to do something about it. However, she quickly became disheartened when she tried so many diets, with no success. Luckily, she found The New You Plan. Today, in her New You Plan customer story, Tina shares details of her journey in the hope that she will inspire others. Listen to what she had to say and read her words below…

Tina, what do you think led to your weight gain?
Working for a financial institution, I do a lot of presentations to staff and customers so I like to look well and take care of my appearance. BUT, I also like nights out (and nights in!) with a nice meal and a bottle of wine. This resulted in a gradual weight gain over the years. One night, at a work event, I was literally bursting out of my jeans. I felt so uncomfortable all night and it was then that I vowed to lose weight, as I was about 2 stone overweight at the time.
A combination of stress and comfort eating definitely led to my weight gain. After both my children were born, I was below 10 stone and I had no problem losing the baby weight. However, with a busy job (which became even busier following a promotion a few years ago), I found the need for a glass or three of wine in the evenings to de-stress. But it wasn't just the wine. Savoury snacks go hand-in-hand with wine and I told myself I deserved them as a reward for my busy day.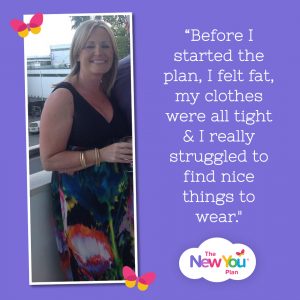 This, coupled with the fact that I struggled with severe period pains for 2 weeks every month, meant that I was comfort eating my way through the pain. Thankfully I've had a hysterectomy since.
Plus, I'm sociable and love meeting up with the girls for a meal out or a wine night (Yes, I know, wine was a big part of my life).
Tell us about when you started the plan
Before I started the plan, I felt fat! My clothes were all tight and I struggled to find nice things to wear for social occasions and I was so desperate that I sort of just resigned myself to being overweight as I didn't feel able to lose it and maintain a weight loss. I had tried everything and I mean EVERYTHING over the years, from Weight Watchers, to the cabbage diet (yuk!). I never stuck to any of them and I hate counting points etc.
Just by chance, New You popped up on my Facebook feed and I decided there and then to give it a try. It looked so bright and inviting, unlike so many other plans out there.
I decided on Total Food Replacement (TFR) at the beginning but I found Family Focus suited my lifestyle more.

Tell us about your journey
I lost the weight within 3-4 months using a mixture of Total Food Replacement (TFR) and Family Focus, and I have maintained, to within half a stone for the past 4 years. I've lost two stone to my ideal weight of 9st 13lbs, and I feel amazing. I now fit into my size 8 jeans and my tops are a size 10. Even my feet have shrunk!!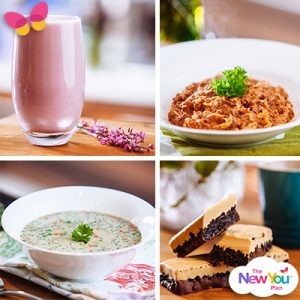 What kept you motivated throughout your time on plan?
Firstly, I have to say the support is amazing. A phone call or an email to the support page and you get a quick reply. Secret Slimmers isn't like anything I've ever come across before and it's what sets the plan apart from all others. The founder of The New You Plan, Julie-Ann is a successful slimmer herself so she understands exactly what each one of us is going through. She's so encouraging and a genuinely positive person.
Secondly, the food is amazing! My favourites are the Banana Shake for breakfast and the Coconut or Hazelnut Bars. I prefer these over the meals but everyone else finds them great! Oh, and the Chocolate Orange or Mint Chocolate Shakes hot are fab on a cold day (and I never liked hot chocolate before), as are the Soups. My favourite snacks are the Crisps or the Chocolate Wafers (YUM!)

Since reaching your goal, how do you feel now?
I feel FABULOUS!! Everyone says I look younger and I'm nearly 50! I love clothes shopping knowing they will fit and I feel more active and healthier, generally.
How have you maintained your weight loss?
I still use Secret Slimmers daily to keep my mindset positive and if I feel myself slipping, I read other people's stories and I'm re-energised and focused. If you join the group, introduce yourself and I'll say hi!
I NEVER want to go back to the weight I was. I know the old habits are gone and yes, I have cheat days, but then I re-focus the next day and remind myself how good my skinny jeans feel on!
I love positive affirmations which have been key to staying on-track. "Believe you can and you're halfway there" is a definite favourite. I'm a positive person and truly believe if you want something enough (like to lose weight), the only obstacle is yourself!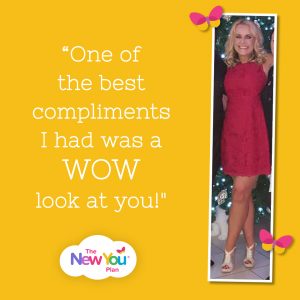 What's the nicest compliment you've received since losing weight?
One of the nicest compliments was a "WOW! Look at you!" from someone I hadn't seen for a while, and a guy at work called me "Skinny Minnie". Nothing beats a nice compliment! It made my day!
Do you think your relationship with food has changed?
Absolutely! I now realise that for me, the main problem was that I struggled with not seeing other things as a treat that I do now, like getting my nails done, a luxury bath, spa afternoon or skinny jeans shopping! Treats were always focused on food, but I've now realised that there's more to life than just food. Creating memories if far more important than having food as a treat.
What advice would you give someone starting their New You journey?
Use Secret Slimmers. It inspired me daily and all of the stories are amazing!! Everyone is so nice and supportive. We all have bad days and we all slip up, but the mantra is you try again, one day at a time.
Tracking your weight is so important. Take before and after photos and measurements. Take part in the challenges in Secret Slimmers to keep you focused!

And for anyone currently on plan?
I recommend everyone who wants to lose weight, see results fast and get fantastic support to join New You! You won't be disappointed! I promise!
Good luck on your journey! I hope to see you in Secret Slimmers.
Love, Tina x
*Weight loss results may vary. This is not a guarantee.
________________________________________________________________________________________________
Start Your TFR Journey Today!

Getting started is the first step in your journey to a brand New You! To help you understand fully how our plan works, our Get Started page was designed specifically for people new to the plan.
Head over to our site where you'll find tonnes of important information including how our plan works, the science behind it, loads of top tips, information on our meals, as well as real customer testimonials.
Click here to visit our Get Started page!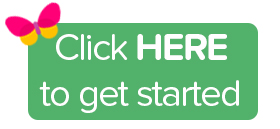 Tags:
before and after
,
customer interview
,
new you plan customer
,
tfr advice
,
tfr diet
,
Weight loss interview