Get all the details on our NEW 6 Week Spring Transformation Bundle & start your journey to a BRAND NEW YOU today!
While the weather might feel like it's the middle of winter at the minute, the fact is this… spring is just a mere matter of days away. Let's look at it this way…
2.5 weeks to Mother's Day
3.5 weeks to St Patrick's Day
4 weeks to spring officially starts
4.5 weeks to the clocks change
5.5 weeks to Easter
That's 5 big events all within a matter of weeks! Think about each of these occasions and imagine yourself being slim. Think about how you would be feeling. Amazing, we bet!
Spring really is the season of transformation. The new season sparks change and growth, and is a new opportunity for you to create a new you, and start living the healthy active lifestyle that you deserve!
Whatever your dreams, there is nothing that you cannot achieve!!
Do you think you are destined to be overweight? Do you think you will never be slim? Do you think you will never be able to run? Will you never be toned? Will you ever be happy with your weight?
There are millions of people who thought the same, and now they are slim, healthy and active. If they can do it, YOU CAN DO IT!
So are you going to make spring 2018, the season of change for you? Are you ready to start a new phase of growth in your life? Are you ready to get healthier, fitter, stronger and have more willpower and discipline than ever before?
Spring is the perfect time of year to make a change, as all around us, change is happening. Flowers are blooming, trees are growing, and everything is coming ALIVE! The nights are getting brighter and warmer, and the sun is coming out to play.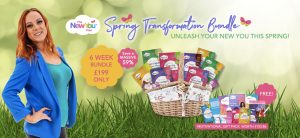 BRAND NEW 6 Week Spring Transformation Bundle
We thought about how we could help as many people as possible to make spring a time of total transformation and we've put together the perfect bundle!
Our 6 Week Spring Transformation Bundle is the perfect mixture of meals and mindset to maximise your journey!
For ONLY £199 (that's a mere £4.73 per day), you'll receive the following:
Your choice of 168 meals: Choose from our selection of over 40 Breakfasts, Hot Meals, Soups, Shakes & Bars
EXTRA LAUNCH BONUS: 10% extra FREE meals when you order before 1st March. That's 17 Meals (over 4 days extra) FREE
Branded New You Water Bottle: Free for the first 200 orders only, this water bottle makes drinking your daily water a breeze
20 Pineapple Boosts: A customer favourite, our Pineapple Boosts will burn that fat faster!
Cranberry Crush Water AND Berry Blast Water Flavourings: Delicious, fruity and thirst quenching, liven up your water with these tasty treats
New You Pen: You'll need it for filling in your amazing FREE journals
Magical Month Journal: Have a magical month thanks to the perfect journal, created exclusively by New You Plan Founder, Julie-Ann Muldoon
Personal Journey Journal: Keep track of the amazing journey that is New You
Blueprint: Create your own personal blueprint
Ali Campbell Project New You: Created exclusively by Celebrity Life Coach, Ali Campbell, this mindset overhaul will help you address your demons and adopt a new approach for success
Style video: Learn to dress for your new slimline figure thanks to these expert top tips
This FREE Motivational Gift Pack is with an amazing £153.86. To get your hands on it (plus those 10% extra free meals), shop now and start your journey to a BRAND NEW YOU TODAY!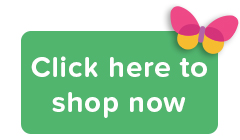 Tags:
diet bundle
,
Diet Plan
,
New You bundle
,
New You Plan Offers
,
TFR bundle
,
TFR offer