Your positive mindset totally has the power to make your diet a success. Here, our customers share their mindset tips to help you smash your total food replacement goals!
Being on Total Food Replacement (TFR) means that you are replacing all conventional food with 4 new you plan meal packs. Each pack gives you 25% of your recommended daily amount of vitamins and minerals. The meal packs are nutritionally complete and created to specifically kick start a natural fat burning process in your body called ketosis. Ketosis is when your body switches its primary fuel source from food to your body fat. Burning fat is what your body will do 24/7, and as it is tapped into a big supply of fat, this means you will have increased energy and won't feel hungry.
Being on total food replacement and in ketosis is an amazing experience when you get into the zone and find your flow with it.
A lot of your success on total food replacement comes from letting go of your attachment to food and focusing on the health and body that you really want.
Total Food Replacement is a mind set diet.
In order to succeed on your total food replacement journey, a positive mindset will help carry you to your end goal.
So how exactly do you ensure your mindset is totally positive and in the zone? Who better to tell you than our customers themselves?!
Here's what they had to say…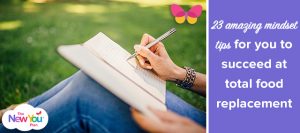 23 amazing mindset tips for you to succeed at total food replacement
✔ "Make a list of reasons you want to be slim and reasons you hate being overweight. Read and add to it at the beginning of each new week xx" (Lisa)
✔ "Keep ur next goal outfit in sight at home, it always motivates me to keep going!" (Emer)
✔ "Have mini goals to work toward & break down the journey. It helps me a lot. Then treat urself when u smash that goal! Size smaller pants or get your nails/hair done  xx" (Carolyn)
✔ "I have my skinny photo on the fridge… With the caption… 'Fridge pickers wear bigger knickers!'" (Samantha)
✔ "Make YOU the boss of what goes into your mouth, take control and don't let anything get in the way of your goal." (Karen)
✔ "Break your journey into mini goals and reward yourself along the way with non food items..(except new you snacks Delish)" (Karen)
✔ "Come onto the secret slimmers group if your having it tough" (Karen)
✔ "Most of all if you do slip, don't let it turn into a complete fail, pick yourself up dust yourself off, drink lots of water and carry on.  If you never give up you will still reach your goal xx" (Karen)
✔ "Take day by day, set mini goals and treat yourself when you've reached them. There are going to be highs and lows but when you step on the scales and see those lbs disappear its all worth it xx" (Leanne)
✔ "Mine is about how I "feel" I hate being fat, I hate getting hot and sweaty just climbing the stairs, I hate not fitting in my clothes, I hate almost getting there and going back to old habits. I feel sexy, confident, great, happy, I could go on but when I'm having a bad moment I think how would I feel if I let myself down, after all I'm the one in control."  (Michelle)
✔ "My fridge door is full of weight tracker, bmi calculator, motivational quotes and a picture of me at my biggest, visual aids are my saviour i have beads and pebbles on the window sill .xx 1 bead = 1 lb gone, 1 pebble = 1 stone gone. they are in small glasses .xx" (Melody)
✔ "Don't set too high of a goal , take it one day at a time ! The weight did not come over night !! So it's going to take time ! Sip sip all day & take it one meal at a time your worth it love your self first cos if you don't love yourself you'll fail ! Loving your self is the first step to getting down to WHY you got to this size in the first place" (Melanie)
Plus this MEGA advice from Catherine…
1. You can always drink more water! 
2. Don't leave it too long between packs and beverages. 
3. Always keep spare bars in bag, car, office etc. 
4. If you loose a lot one week, you might not the next, don't fret, if you are 100% then it will come off. 
5. Read all of the info in the boxes you receive, read all of the info on the web-site and read all of the FAQ's on the SS page…great info and helps keep you on plan. 
6. Log on to SS if you feel… down, falling off the wagon, or even in good spirits (can also be dangerous). 
7. Keep reminding yourself why you are on the plan, what you were feeling when you first ordered. 
8. This plan works, if you work it. 
9. Yes, you have to rearrange social events etc but at the end of the day others don't really care so long as you don't take their drink/food away! 
10. MOST IMPORTANT…Feck the begrudgers!" (Catherine)
What are your TOP FIVE things you do to keep your mindset focused on TOTAL FOOD REPLACEMENT? Tell us below!
_____________________________________________________________________________________
Start Your TFR Journey Today!

Getting started is the first step in your journey to a brand new you! So that you can fully understand how our plan works, our Get Started page was designed specifically for people new to the plan.
Head over to our site where you'll find tonnes of important information including how our plan works. Plus learn the science behind it, get loads of top tips, information on our meals, and read real customer testimonials.
You can visit our Get Started page by clicking here.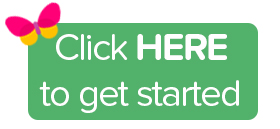 Tags:
diet mindset
,
diet tips
,
Mindset
,
tfr
,
Total Food Replacement (TFR)