Since January of this year, customer Leila has gone from a size 24 to a size 12. She last weighed herself in June and by that time, she had lost a whopping 80lbs, but admits, it's probably a lot more now. Choosing to focus on the number of dress sizes she's dropped than weight loss, Leila takes a different approach, which is working extremely well for her. Faced with the prospect of having Bariatric surgery, Leila vowed to do it herself, and that she did!
This is what she had to say…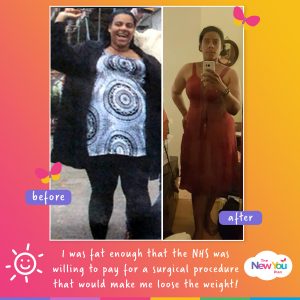 Leila, describe how you felt before you started the plan?
I didn't quite realise how fat I had become. I wasn't always fat but due to health issues I more than doubled my weight in less than a decade. It took me ages to get stable enough to try and loose the weight. We grow all our own food so healthy eating wasn't the issue. Portion size, cortisone and low metabolic rate were my downfall. My GP asked me to consider Bariatric surgery and that's when it hit me: I was fat enough that the NHS was willing to pay for a surgical procedure that would make me loose the weight. I got so shocked and offended by it that I wanted to prove to everyone that I could do it on my own, without the need for surgery.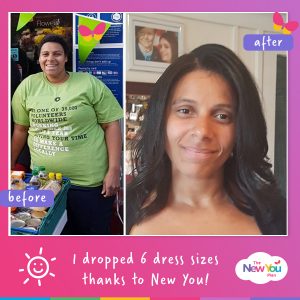 How did you discover The New You Plan?
I came across the plan online after a quick search. I was instantly intrigued and inspired by how much weight others had lost so I decided to give it a go. It was now or never.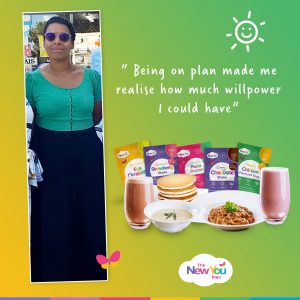 How has the plan changed your life?
Being on plan made me realise how much willpower I could have. I must admit when I started I didn't think I'd last this long. I've definitely surprised myself.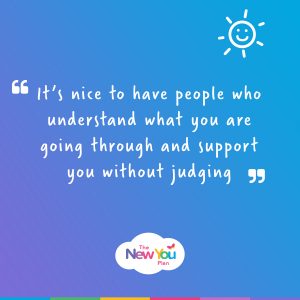 What was your biggest motivator in staying on track?
Dee, my New You buddy keeps me on track, as does everyone in the wonderful community that is Secret Slimmers. It's nice to have people who understand what you are going through and who support you without judging.
What's your biggest non-scale victory?
The moment I went into a shop and tried on a size 12 dress just to see how much work I still had to do to fit into it and it fitted! I couldn't believe it! And now all my clothes are a size 12.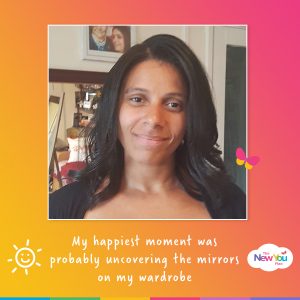 Since losing weight, what is your happiest memory / proudest moment?
Losing weight has helped me put the rest of my life into perspective. My happiest moment was probably uncovering the mirrors on my wardrobe. There are now mirrors in every room in my house, while before I would avoid them like the plague, not because I didn't like what I saw in them but because the woman in the mirror wasn't really me.
What is the nicest compliment you've received since losing weight?
People say I look much younger and  actually a lot more relaxed. It's as if stress was being kept inside these fat cells that went away, never to come back.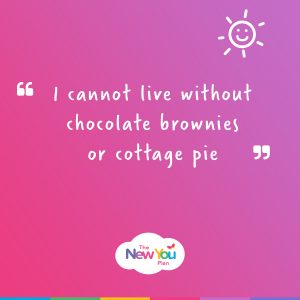 What are your favourite New You meals and snacks?
I cannot live without the Chocolate Brownies or Cottage Pie. These are my favourites for sure.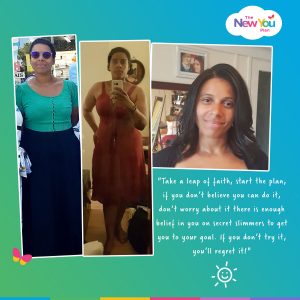 What advice would you offer anyone thinking of starting the plan?
Take a leap of faith and start the plan. If you don't believe you can do it, don't worry about it… There is enough belief in you from the people in Secret Slimmers to help you get to your goal. If you don't try it, you'll regret it.
________________________________________________________________________________________________
Start Your TFR Journey Today!

Getting started is the first step in your journey to a brand New You! To help you understand fully how our plan works, our Get Started page with designed specifically for people new to the plan.
Head over to our site where you'll find tonnes of important information including how our plan works, the science behind it, loads of top tips, information on our meals, as well as real customer testimonials.
Click here to visit our Get Started page!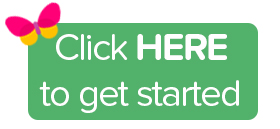 Tags:
before and after
,
customer interview
,
New you plan interview
,
New You Plan review
,
tfr diet
,
VLCD diet